LONDON is my #1 favorite city in the world. Apart from the tourist spots, museums and the unending things you can do, this is also a haven for shoppers and food lovers.
Whenever I visit London, I try to visit food markets and indulge in a number of cuisines. Being an international hub, this is a good place to go to if you would like to have a taste on what other countries and culture can offer in terms of food.
I asked a number of your favorite travel bloggers on their picks of the Best Food Markets in London. Check out their answers!

FULHAM MARKET HALLS
Picked by Annie from Off Goes Annie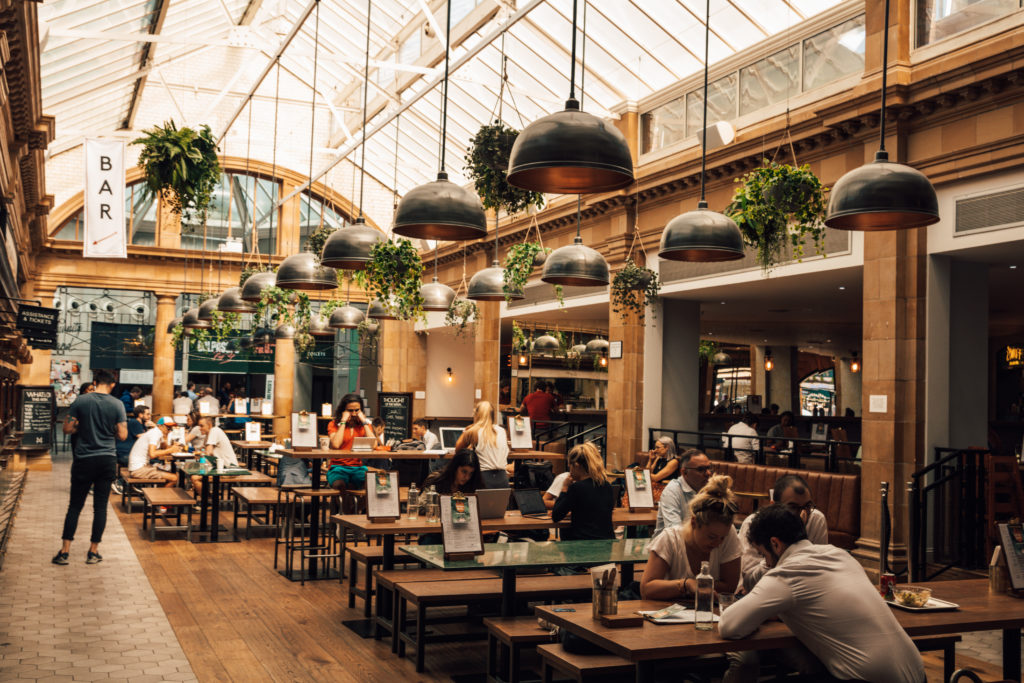 Fulham Market Halls is without a doubt one of my favourite London hangouts. Filled with some of the best pop up eateries, coolest bars and gorgeous spaces, this food market will not disappoint. The Market Hall itself is located within the old Edwardian entrance to Fulham Broadway, which shows off its uniquely ornate architecture and style.
Upon entering, you'll find yourself within the old Underground station, now complete with seven food stalls, a coffee shop, a bar and even a fitness studio. Food options range from poke bowls to BBQ burgers, so there's something to suit everyone, be it breakfast, lunch or dinner.
The ultimate must try dish is any of the pizzas from Made of Dough – trust me, the dough really is something to write home about. If you're visiting in the summer months, don't forget to check out the upstairs roof terrace for an al fresco dining experience. What's more, there are often events on with special discounts on themed nights.
Fulham Market Halls is very easily accessible by tube from anywhere in central London. You'll find this delicious food next door to Fulham Broadway station, which is in Zone Two, South West London, on the District Line.

BROADWAY MARKET
Picked by Maggie of The World Was Here First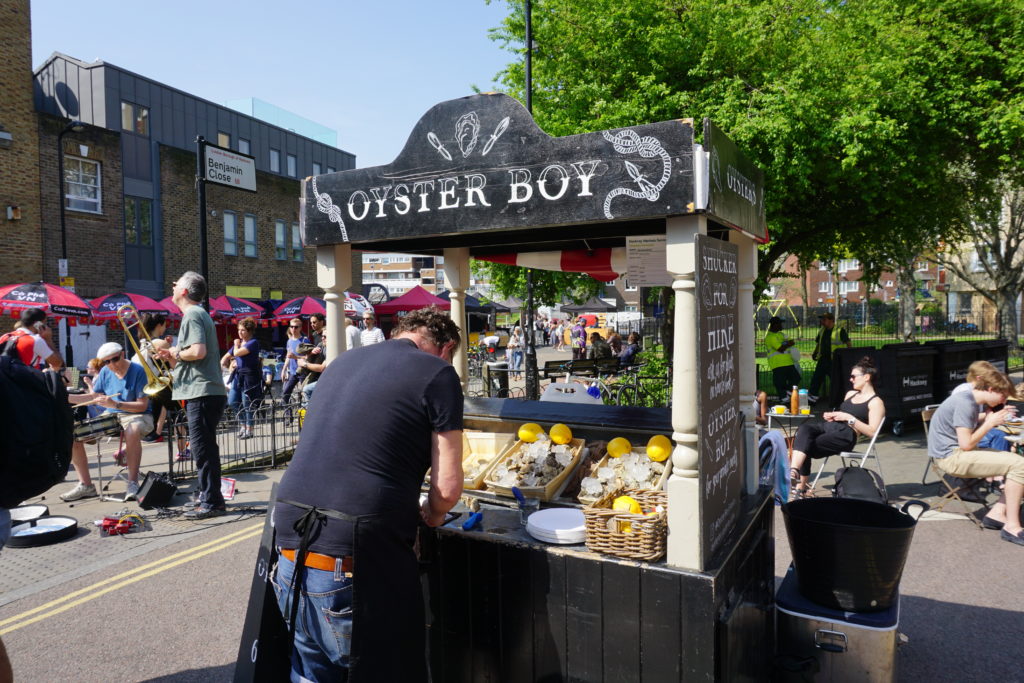 "One of the best food markets in London is undoubtedly Broadway Market. Running every Saturday in Hackney, between the Regent's Canal and London Fields park, Broadway Market is an East London hipster paradise and far more manageable and less touristy than markets like Borough and Brick Lane.
Though it runs year round, Broadway Market is best visited in the warmer months where you can enjoy the open air market before grabbing a bite to eat and lounging in London Fields or along the Regent's Canal. While the market only encompasses one street, it manages to pack in a lot and there are numerous different food stalls to sample and choose from. If you're a seafood fan, my personal favourite place to stop would be at Oyster Boy, where the owner sells delicious fresh oysters that he caught himself the morning of the market. You can get one oyster for £2 or 6 oysters for £10 and he also includes all of the fixings like fresh lemon, tabasco sauce, and mignonette.
There are also numerous stalls selling wonderful produce including delicious baked goods, gourmet cheese and cured meats, and artisan breads. One of our top suggestions (after you've filled yourself on oysters!) is to grab some different things from a number of the stalls and have a picnic in London Fields. Compared to the rest of the city, the food at Broadway Market also isn't too expensive, meaning it's a great place to go to if you're visiting London on a budget.
Broadway Market is located in the borough of Hackney in East London and isn't in the most touristy of neighbourhoods. Though it isn't close to a tube station, it is easy to reach via Overground (the closest stations would be either Haggerston on London Fields), or by bus. No matter how you get there, if you happen to be in London on a Saturday, you cannot miss Broadway Market."

CAMDEN MARKET
Picked by: Jessica of Unearth The Voyage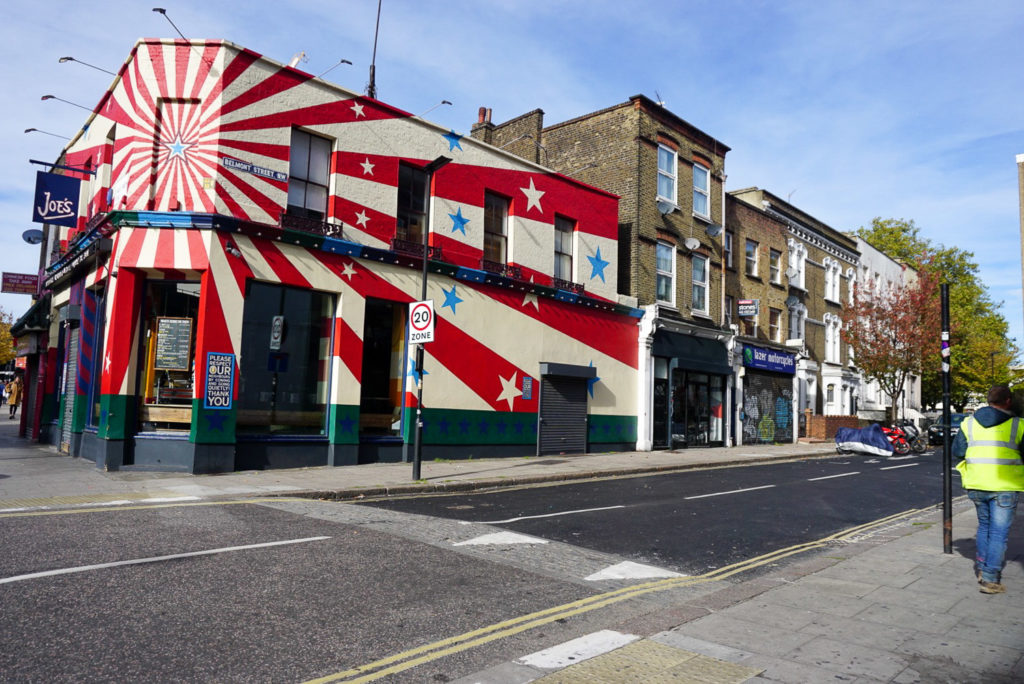 London has so many food markets but one of the best, in my opinion, is Camden Market. Camden Market appeals to the funky, hip, vintage-y crowd making it a blast to explore. There are food stalls serving all different cuisine, so if you are in the mood to sample food from all over the world- we suggest you head to Camden.
There are so many different cafes to choose from tucked away throughout the market you couldn't ever possibly explore them all. The main food stall area is also built around a canal where you can watch people hopping on and off tour boats. Don't forget to also check out the rooftop terraces where you can sip on a pint with a view.
Our most favorite food stall in Camden market was most definitely Oli Babas for its famous halloumi fries. We had never tried halloumi before and the fries from Oli Baba's was definitely the best way to enjoy our first bite! If you are coming to Camden market on the tube, Camden is in Zone 2 and the nearest station is Camden Town & Chalk Farm on the Northern Line.

POP BRIXTON
Picked by: Alex of Swedish Nomad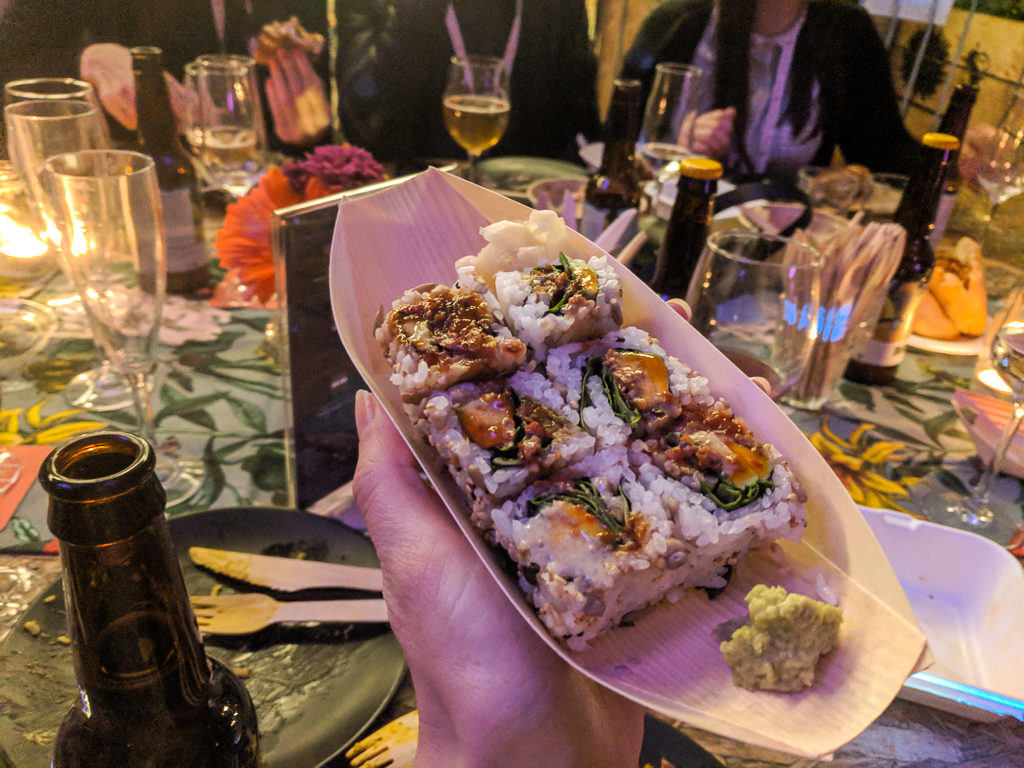 Pop Brixton is a trendy food market with a social atmosphere. It's kind of a mix between a restaurant and a bar and it's very easy to meet up with other people as well as hanging out with your friends. The food is delicious, and what's even better is that you can order food from any of the stalls, and still sit together with your friends where seats are available.
It's open every day from 9 am to 11 pm or 12 am. It's a temporary project which is said to remain to at least 2020, and hopefully, it will continue to exist longer than that. Pop Brixton has become a popular meeting spot with food from all over the world, and it typically attracts a younger audience between 20-30 years old.
I really loved their Sushi as well as the vegan options. Our friends had a pizza which was great too. What's also great is that you can sit down at a table and have your food served to your table, rather than having to stand and wait for it.
It's located in the heart of Brixton, and you can easily get there via the tube. Brixton station is the closest tube station, and you can get here via the Bakerloo line. From the station, you'll have about 5 minutes walking until you reach Pop Brixton.
BRICK LANE SUNDAY MARKET
Picked by Taylor of Travel Outlandish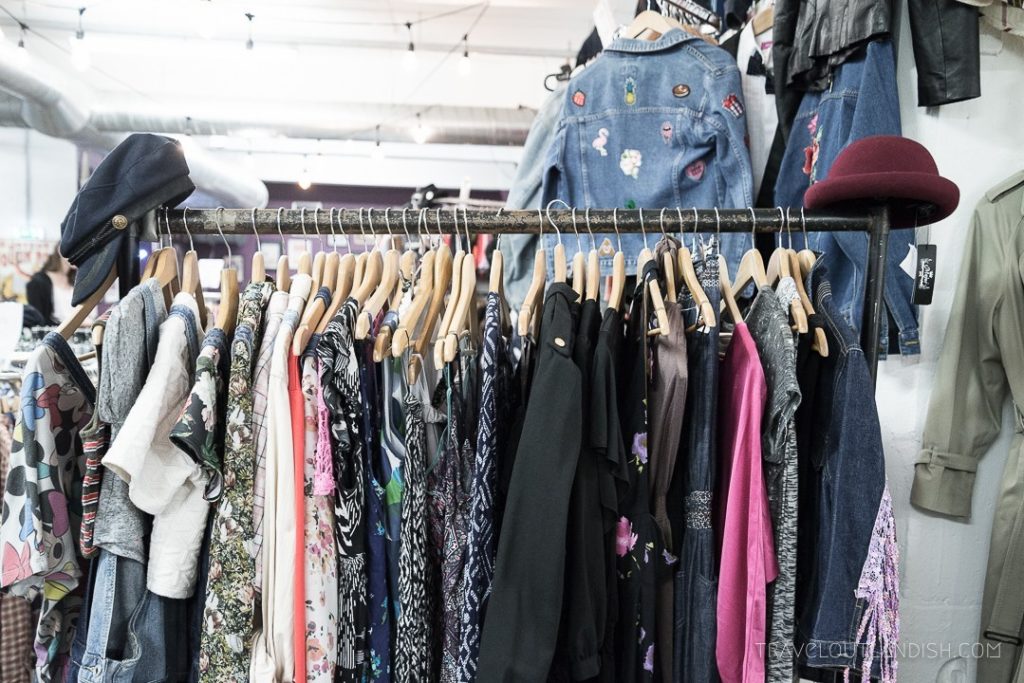 Brick Lane is already a pretty fantastic weekend hangout with street performers, secondhand shops, and plenty of spots to sip an outdoor cocktail, but if you ask me, the Brick Lane Sunday Market is the best part. Sure you'll find vintage shopping in the basement, but the highlight of the Brick Lane Sunday Market are the authentic food stalls at street level. There are dozens of vendors, so it's a good spot to pop in for an inexpensive meal with a group of friends who can't agree on anything in particular. You'll find Ethiopian, Korean, Indian, and other international foods alongside more standard British fare. And while the environment is more casual than the other London markets (think wooden benches and tile floors) the food is REALLY GOOD.
GREENWICH MARKET
Picked by Rai of A Rai of Light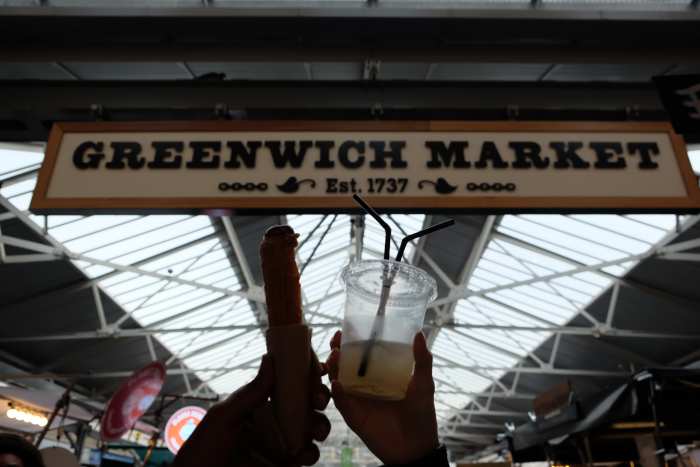 Artsy and lively, Greenwich market is home to over a hundred closely packed stalls offering a great variety of antiques, fashion, food, and drinks. Even though a couple of the stalls sell the usual standard souvenirs from London, there are many selling local arts and crafts, handmade jewellery, books and vinyl records. There is also a tempting assortment of food. Expect to find cuisines from around the world, the likes of Italian, Korean, South African, and Indian and I never visit without trying some new street food followed my fix of Brazilian churros.
The location adjacent to the Thames makes for a good day out by finishing off with a walk along the river. I was surprised to find out that the market is open everyday and is covered which means no worrying about the British weather. To get here take the Jubilee line to North Greenwich or Canary Wharf followed by a short ride on the DLR.
BOROUGH MARKET
Picked by Ayngelina of Bacon is Magic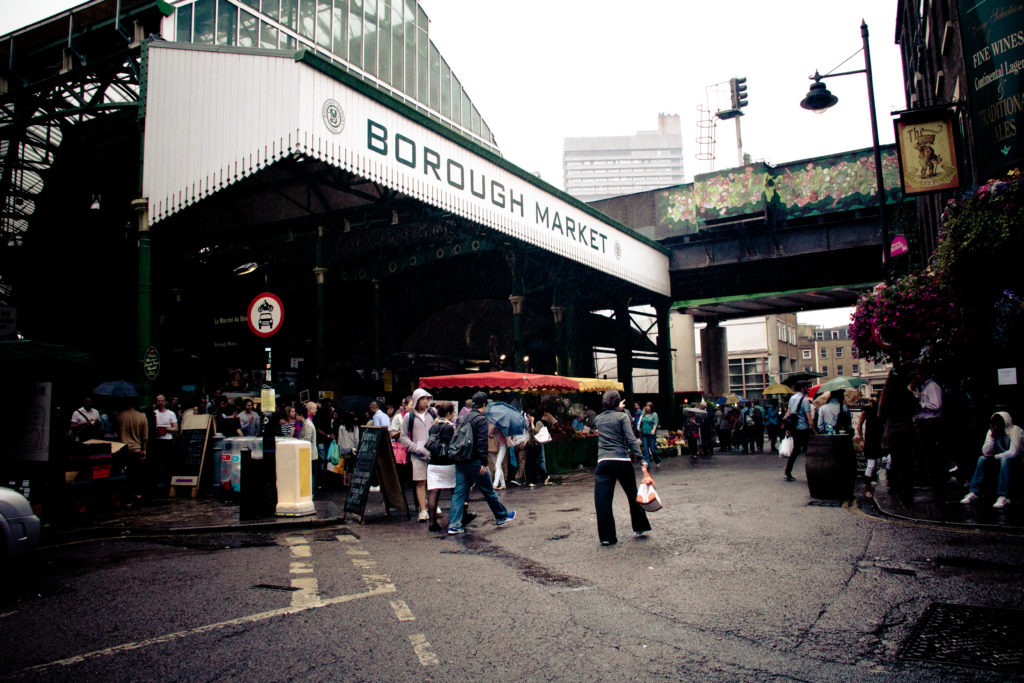 Perhaps one of the most famous food markets in London, Borough Market is one of the largest and oldest as well. In fact there has been some sort of market at this location on Three Crown Square since the12th century – older than countries in the New World.
The current building has been around since the mid-1800s and Borough Market. The core of the market continues to sell produce, fish, meats and cheese. The outside is now well known for selling speciality food from around the world and great hot meals.
As you walk in you pass by vendors selling Pimms drinks, roasted chorizo and meat sandwiches, oysters being shucked and delicious vats of interesting flavours like Thai mussels with chicken.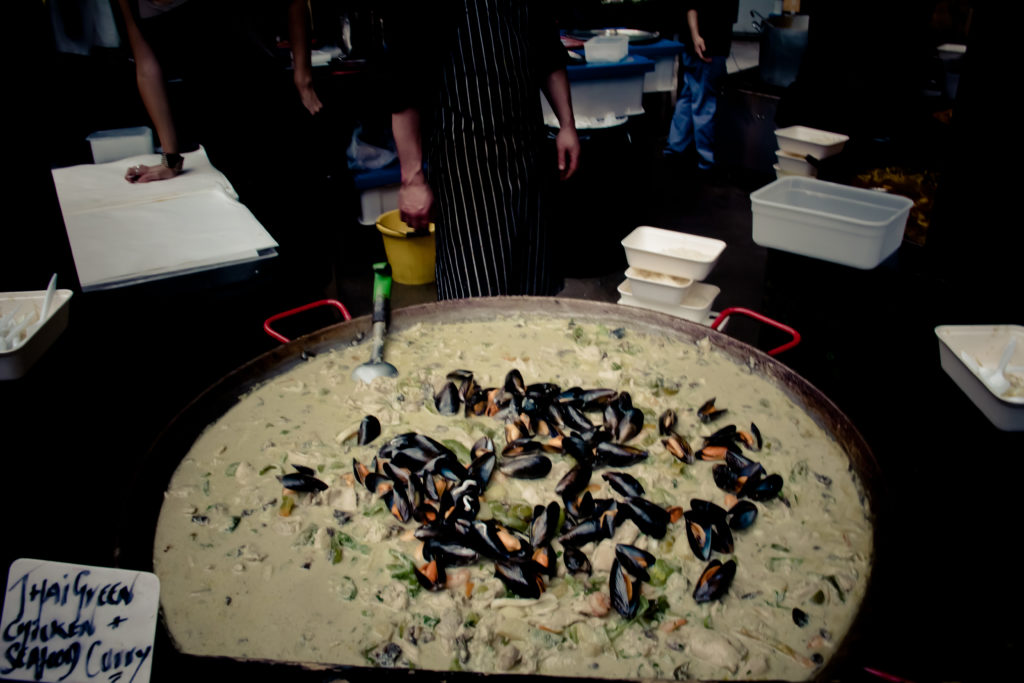 There are over 100 different stalls with local and international foods. One of my favourite vendors is Roast restaurant, which has roasted meat, fish and seasonal game. For only £6 you can get a pork belly sandwich with a generous serving of crispy pork skin and the sweet apple sauce.
It's an easy trip by public transit to Borough Market, the nearest stations are London Bridge, Borough and Southwark. Or you can also take the train as it's less than a five minute walk. from the London Bridge station.

OLD SPITALFIELDS MARKET
Picked by Larch of The Silver Nomad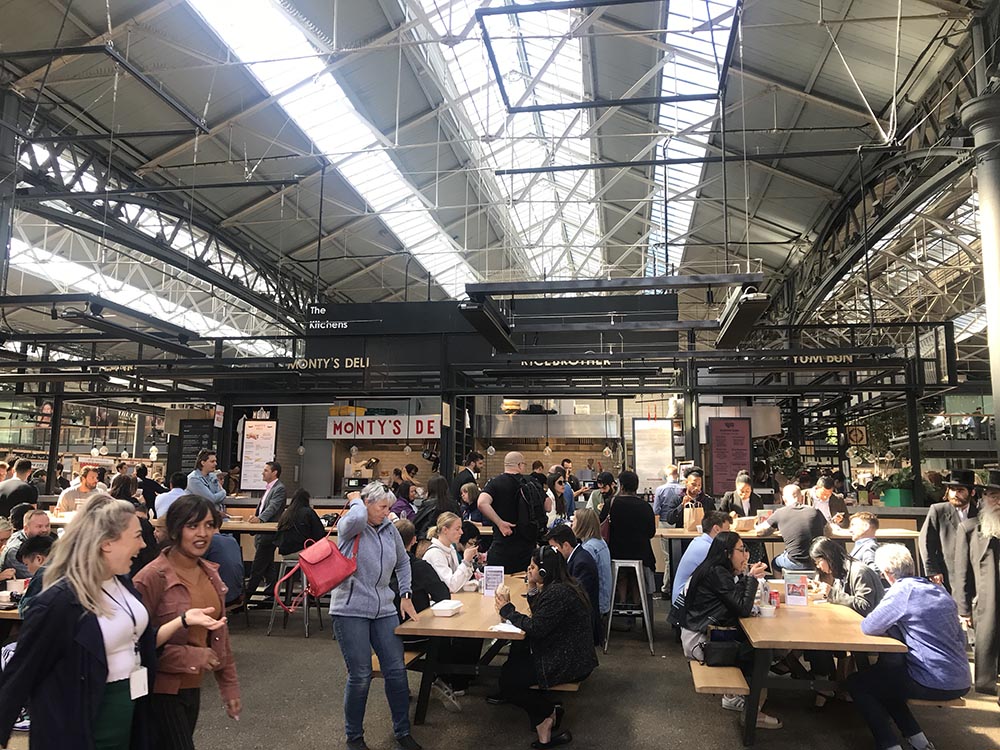 Even before you get to the entrance of Old Spitalfields Market, aromas of the many different cuisines entice you in. If you are expecting the normal high street chains, prepare to find yourself in a world of food and tastes.
Whether you are there for a grab and go lunch, a sit down to catch up with friends or workmates or even an early evening meal, Old Spitalfields Market is the place to go. Choose from Japanese, Indian, Vietnamese, Korean, Africa, Caribbean, Burmese and many more.
Whatever your food preference, meat, pescatarian, vegetarian, vegan, gluten-free, there is a stall for you. With over 40 different stands to choose from including The Duck Truck, Dirty Bagel, Big Donuts, Sud Italia the choice of street food is wide and varied.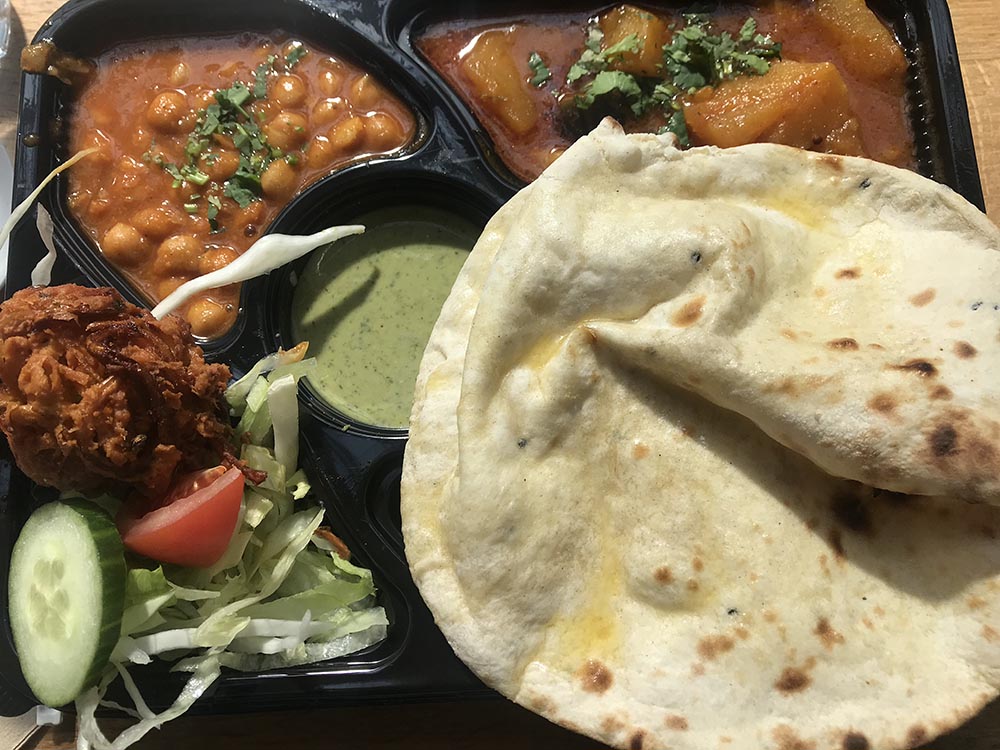 After wandering round for about ten minutes, I finally plumped for one of the delicious vegetarian curries with coconut and coriander relish, onion bhaji and naan bread from Indi-go. Sit at one of the tables and enjoy your meal and maybe indulge in some people watching.
Don't forget to have a look around the stalls of vintage clothing, jewellery and home items surrounding the food stands.
Over in the East of London, the closest Tube to Old Spitalfields Market is Liverpool Street on the Central, Metropolitan, Circle and Hammersmith & City lines (5 mins), but you can also catch a Tube to Aldgate East and Shoreditch. Head for Old Spitalfields Market, 16 Horner Street, London, E1 6EW.
The market is open 7 days a week from 10am to 8pm Monday to Friday and 10am to 6pm on Saturday and 10am to 5pm on Sunday.
Whew! There are so many nice Food Markets in London and we only listed some of them! Have you been to any of these food markets? Which one is your favorite?