Can you believe 2019 is almost over?! That means that Christmas time is approaching and so are Christmas Markets! Christmas is one of the best times to visit UK because it has some of the most beautiful Christmas Markets.
The cities, small and large, completely transfer into winter wonderlands with their festivities. The markets are different for each city celebrating Christmas, but this gives each city a different charm during the holidays. All Christmas markets though will have plenty of market pop-ups to shop for presents! You'll also get to try delicious international food and drink, along with live shows or other entertainment. Whichever Christmas market you decide to go to, you're guaranteed to have great time.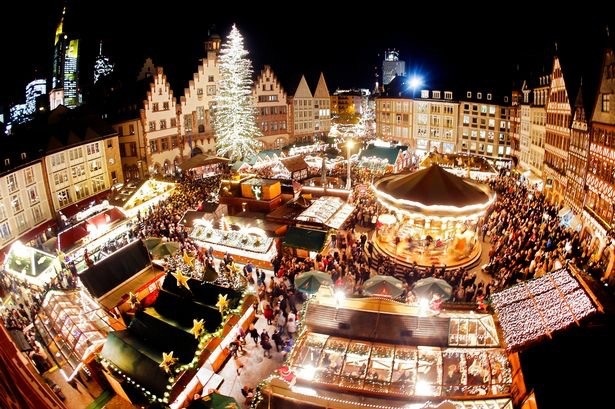 Birmingham, England
7th November – 23rd December
Birmingham is known for the Birmingham Frankfurt Christmas Market and the Craft Market, the largest German market in Europe, and the largest outdoor Christmas market in the UK. Just last year, 5.5 million people visited Birmingham's 180 market stalls!
Various crafts can be found at these markets, like Christmas decorations, handcrafted jewelry, toys, and tasty, traditional German food like pretzels and beer. I highly recommend the Glühwein, a hot red wine made with various spices and sugar, and Stollen, a German Christmas cake! There's also entertainment for everyone, such as the ice rink, the ferris wheel, and live music.
Find out more at https://www.thebfcm.co.uk/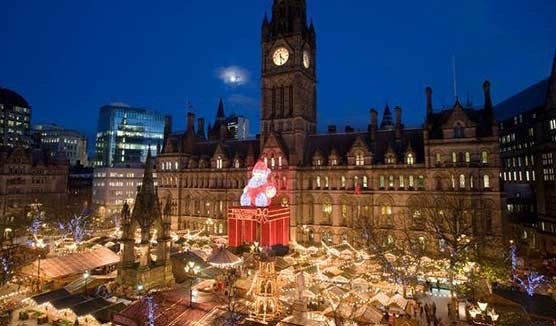 Manchester
9th November – 22nd December
Manchester has over 300 market stalls full of Christmas artisan goods, arts and crafts, and a food lover's dream! There you'll find international tasty food, from the French Profiteroles to Hungarian Goulash and Spanish Paella. This year the market will offer fun rides and entertainment including LED light performers, magicians and street theatre.
Find out more at https://www.visitmanchester.com/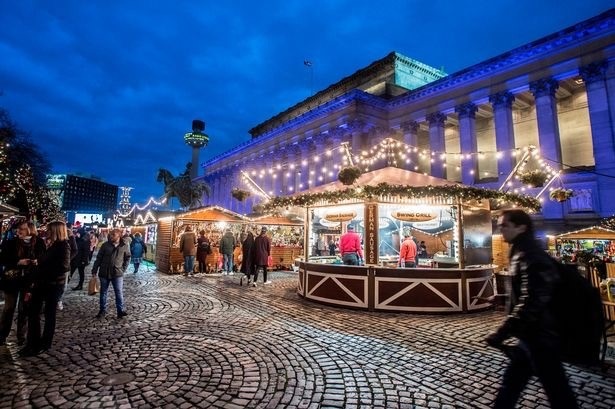 Liverpool
16th November – 23rd December
Liverpool's Christmas market opens on St George's Plateau. Liverpool's Christmas markets are known for celebrating Scandinavian history and the Vikings. At St George's Hall Markets you'll find 40 traditional-style festive cabins selling Christmas goods like jewelry, decorations, fragrances, clothes, and a wide array of festive food and drinks! You'll find traditional English food, like the Yorkshire pudding, but also try German bratwurst, Belgian waffles, Sui Mai, and so much more, along with drinks, whether that's wine or hot chocolate. For entertainment, you'll love the Liverpool Christmas Ice Festival and the iconic 30-metre Christmas tree on Paradise Street. Who can say no to all that?
Read more at https://www.visitliverpool.com/information/product-catch-all/liverpool-christmas-market-p444881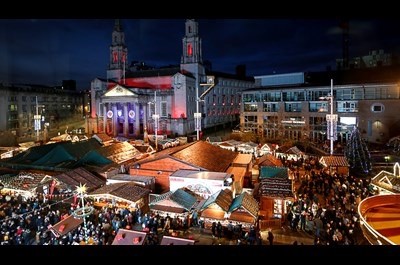 Leeds
8th November – 22nd December
The Millennium Square in Leeds City Centre will host 40 traditional chalet stalls with a variety of Christmas gifts like toys, jewelry, décor, etc. There will also be seasonal German food and drink such as bratwurst, goulash, gingerbread, and other sweet treats. For entertainment, there will be a Christmas carousel ride, live music, activities for children, and other family friendly activities.
Find out more at www.millsqleeds.com/christmasmarket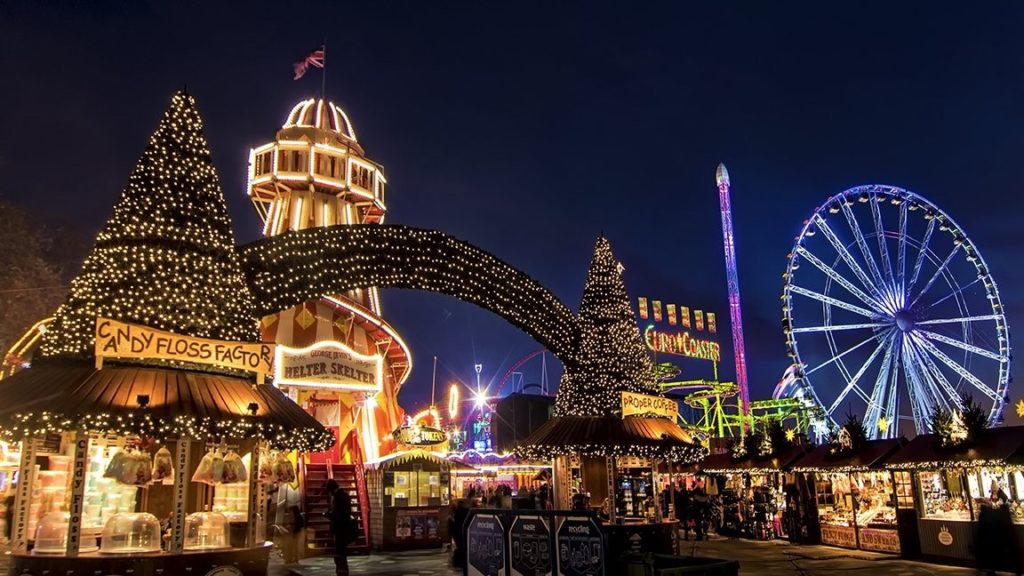 London
21st November – 6th January
London will have a variety of markets open for Christmas. Here is a list of these festive markets:
• Southbank Centre Winter Market at Royal Festival Hall Riverside from Nov 9 to Dec 27
• Hyde Park Winter Wonderland from Nov 22 to Jan 6
• Winterfall Clapham Common from Nov 15 to Dec 2
London hosts some of largest Christmas markets. The Winter Wonderland market offers fairground rides, like the Giant Observation Wheel, ice skating, Christmas markets, and family shows. There will be 200 market cabins selling Christmas gifts, handmade crafts, toys, etc. The Southbank Centre Winter Market has some amazing international cuisine and the artisan Christmas market. Christmas By The River at London Bridge City is another one you don't want to miss because of the stunning Tower Bridge and Tower of London scenic views. You'll also find beautiful gifts, delicious food, and fun workshops.
For more Christmas Markets in London, visit https://www.visitlondon.com/things-to-do/whats-on/christmas/best-christmas-markets-in-london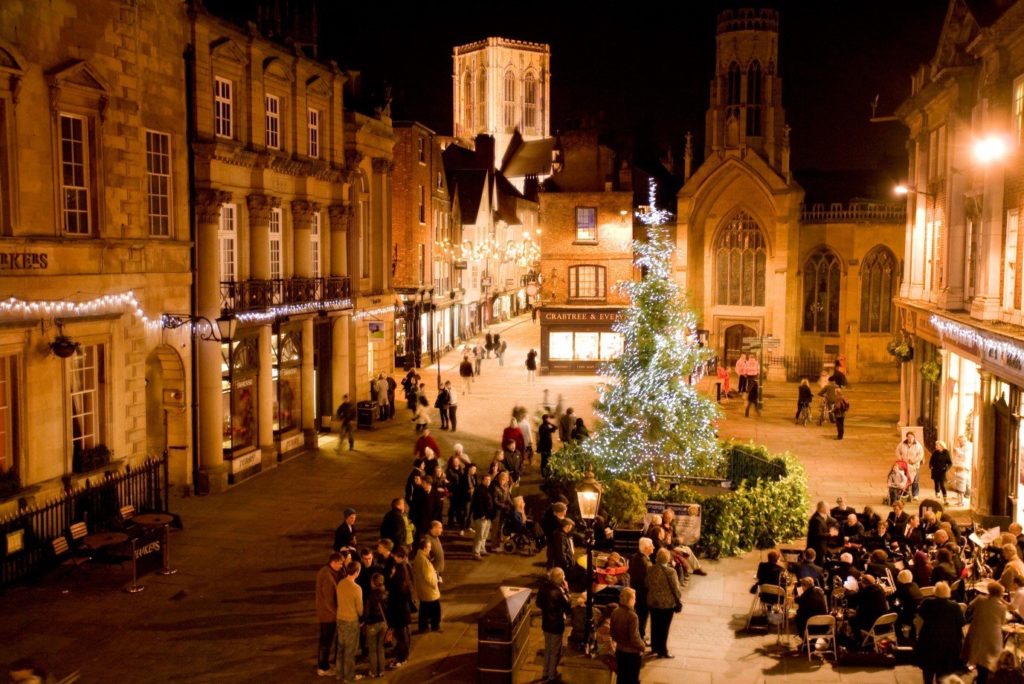 York
14th November – 22nd December
The York Christmas market is a great way to spend to get into the Christmas spirit. St Nicholas Fair is an iconic part of the festival, set in the historical centre of York on and around Parliament Street. There will be an ice rink, the markets, visits with Santa Claus, and the traditional pantomime run. The markets sell handmade crafts and presents, food and drinks, and you'll also hear carol singers!
Read more at https://www.visityork.org/whats-on/christmas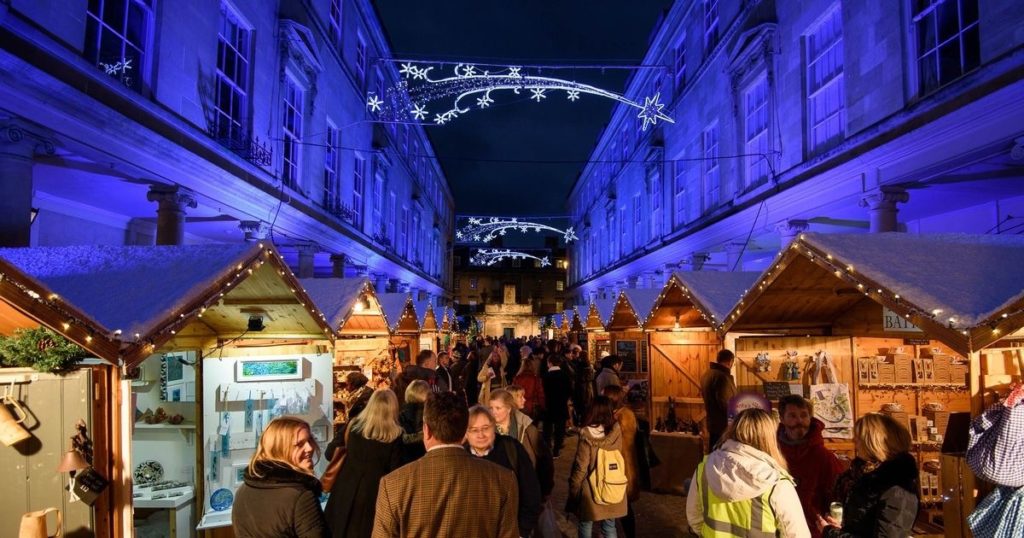 Bath
28th November – 25th December
Bath's award-winning Christmas Market is back for 18 days and will run from November 28th until December 25th! This is the perfect opportunity to do some Christmas shopping and grab some tasty food. The markets are full of variety, from Christmas decorations, clothes, toys, homeware, and lots of others. The products on sale are from the Bath local area or made by local suppliers. Besides the unique presents you'll find and the tasty food you'll try, you'll also enjoy the picturesque streets, the multitude of chalets, and the Christmas spirit! For more information about Bath's Christmas Markets, read more at https://bathchristmasmarket.co.uk/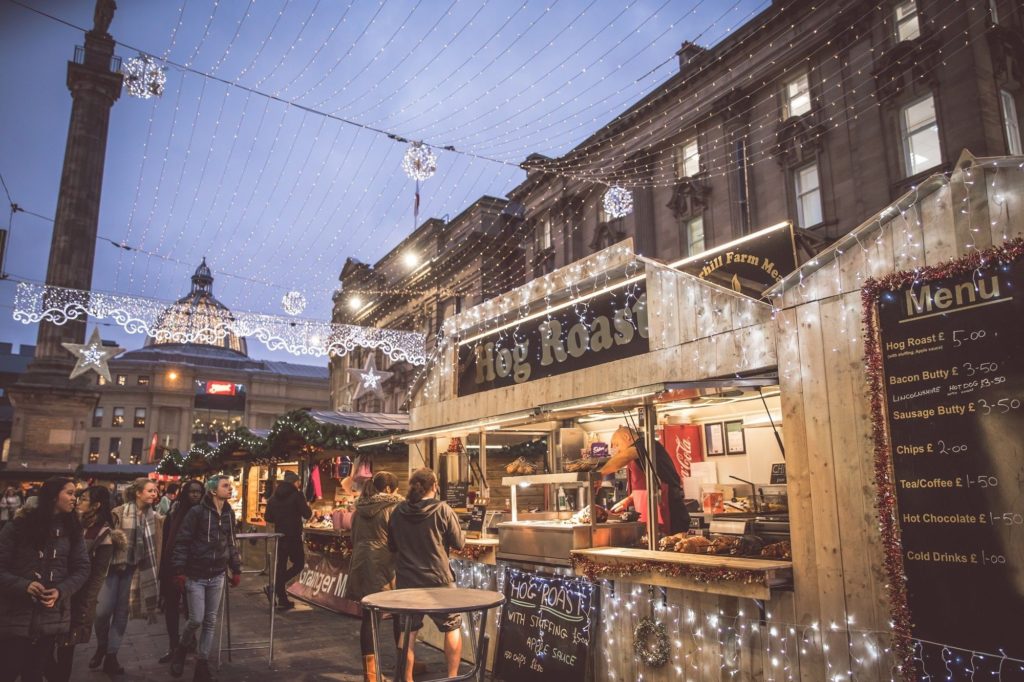 Newcastle
16th November – 16th December
Newcastle's Christmas Markets will be held at Grey's Monument, Grey Street and Grainger Street.
The Christmas markets will have gourmet European food ranging from Germany, waffles from Holland, paella from Spain, and crepes from France. You will also find microbreweries, home-made jams, tasty cakes and handmade chocolates. If the food wasn't convincing enough to go, there will also be market stalls to shop for presents such as bags, accessories, hand-made pottery, and other unique gifts.
Read more at https://www.newcastlegateshead.com/whats-on/newcastle-christmas-market-2019-p844621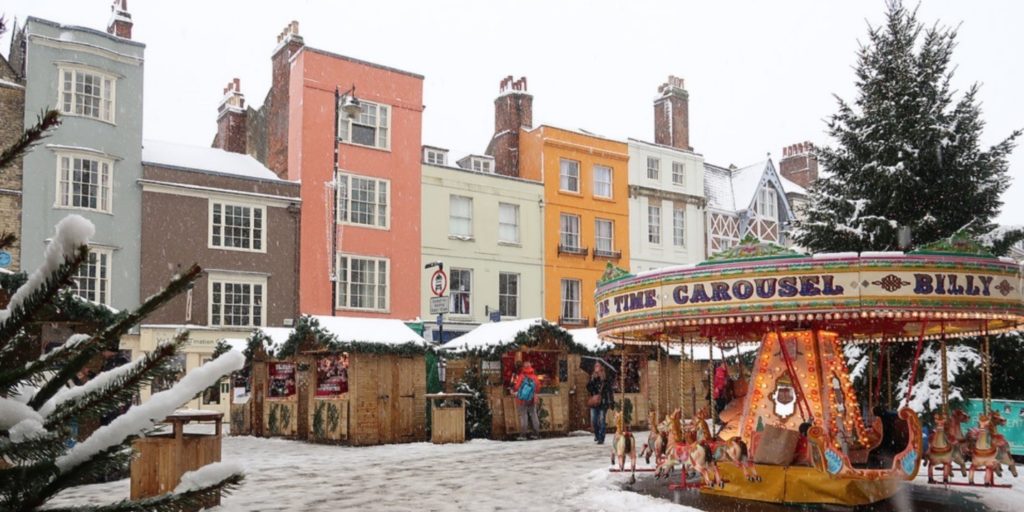 Oxford
5th December – 21st December
Another festive Christmas market to consider is Oxford! Oxford Christmas Markets will be held on the historic Broad Street. You'll enjoy Christmas carols, market pop-ups to buy special and unique gifts, taste some mulled wine, and try delicious snacks and baked goods.
Read more at https://www.oxfordchristmasmarket.co.uk/
I hope this guide was helpful. Each Christmas holiday season, the UK is flooded with Christmas markets. I know having so many options to choose from can actually make it harder to decide, but you have plenty of time to visit your favorites, and there's always the next year. After all, you'll find special gifts, enjoy the festive entertainment, and eat wonderful food!

 So which Christmas market are you going to attend? Which UK Christmas Market have you been to in the past? Leave a comment below!
Happy Holidays Everyone!

MEET THE AUTHOR: AMY TRUMPETER

Follow me as I travel the world finding the most amazing temples and historical sites along the way. I travel despite several chronic illnesses and also help others to become digital nomads. When I'm not blogging about Europe, Asia and the Middle East you will find me at home in Liverpool with my husband and Blake the Patterdale terrier! Follow on Instagram at @Templeseeker