BRIGHTON is one of the places in the UK that I've been wanting to visit. Aside from the fact that it is a seaside community, it is also unofficially called the "Gay Capital of the UK". As someone who loves drag queens since 2012 (Thank you, RPDR!) and wanting to attend a bigger pride event, the opportunity to be a part of Brighton Pride 2019 is a dream come true. Add the fact that this is a family trip!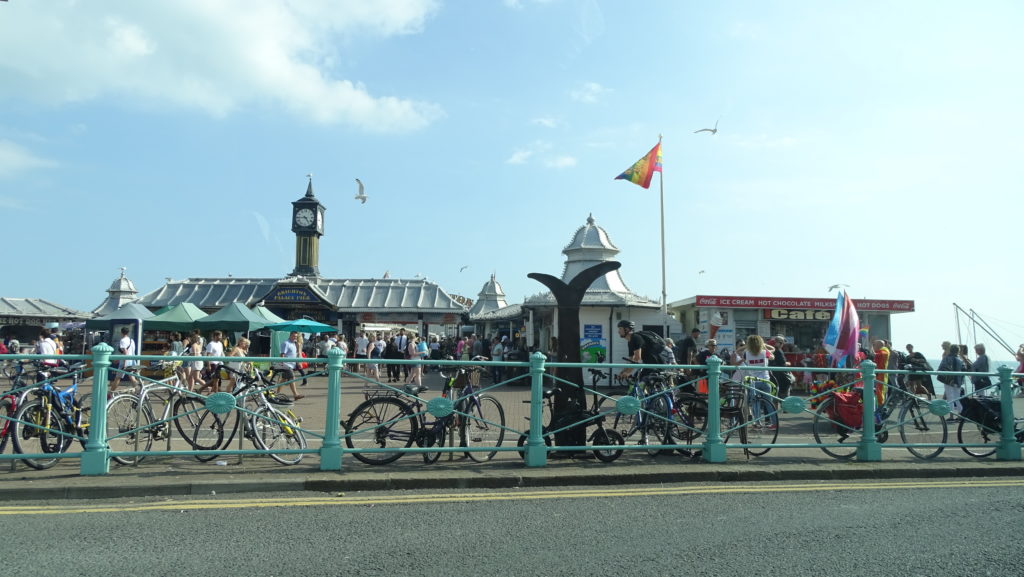 Honestly, the turning point in giving this trip a go is Kylie Minogue. The Australian Goddess of Pop is the headliner for 2019 as the finale of her 'Golden' Tour. I was able to watch her perform live in the Philippines years ago during her Aphrodite Tour and I instantly became a mega fan. Well, I was a fan already, but my love for her just flourished and I took the time to really review her songs from the 80's after that jaw dropping Manila concert.
But I am not the #1 Kylie fan in the family. I will let you guess that one LOL!
HELLO, BRIGHTON!
We left the West Midlands before lunch time in order to avoid the expected traffic jam to Brighton. We arrived at The Old Ship Brighton just in time for the allowable check-in time. We were all excited especially my younger brother Carlos. He wanted to buy his own Rainbow Flag right away and took selfies in front of the balloons. We were also offered welcome drinks and snacks, which is what we all wanted after a long drive. I'm glad we were able to book a room in this hotel which is just walking distance from the Brighton Pier and is considered as one of the oldest hotels in the area.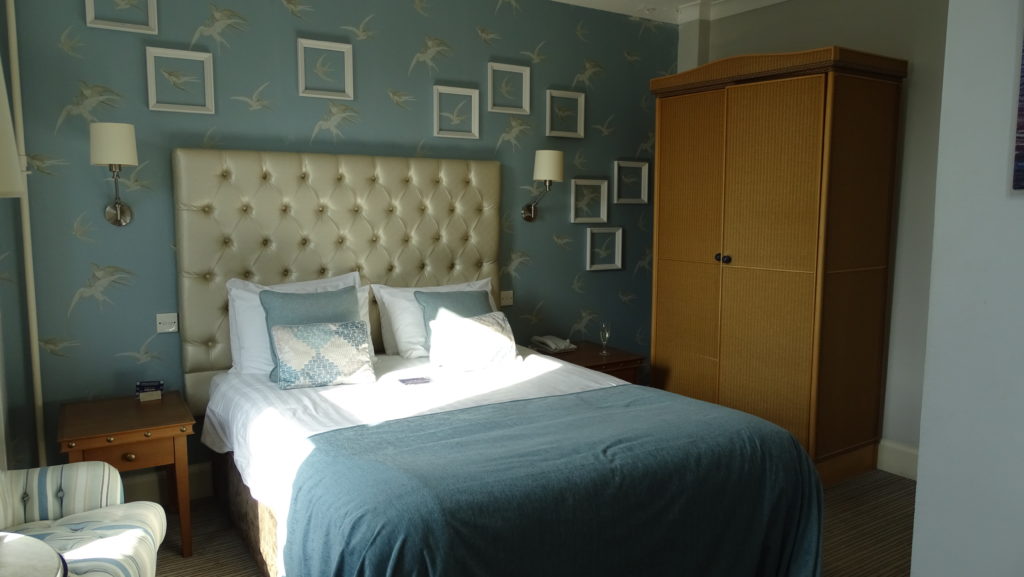 We stayed here for three days and two nights. I wasn't able to take photos of the Breakfast Buffet, but it was massive and we overstayed.
Instead of dozing off, we all went to the al fresco dining area to join a group of guests listen to live music. We were being prepared for the Brighton in the Park celebration that's why the singer accommodated requests for Kylie Minogue hits. They also played some gay anthems much to our delight. Time to get the party started!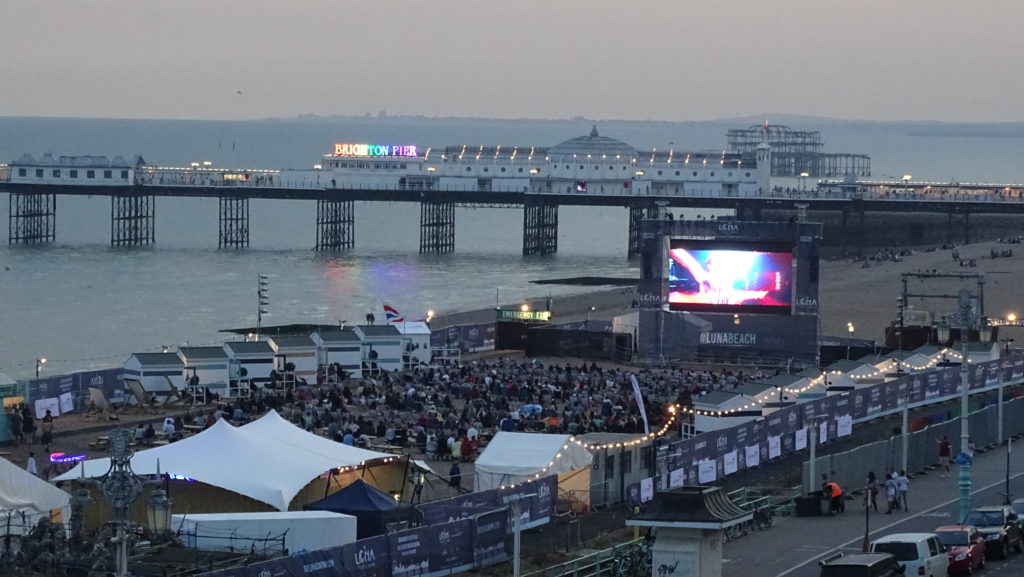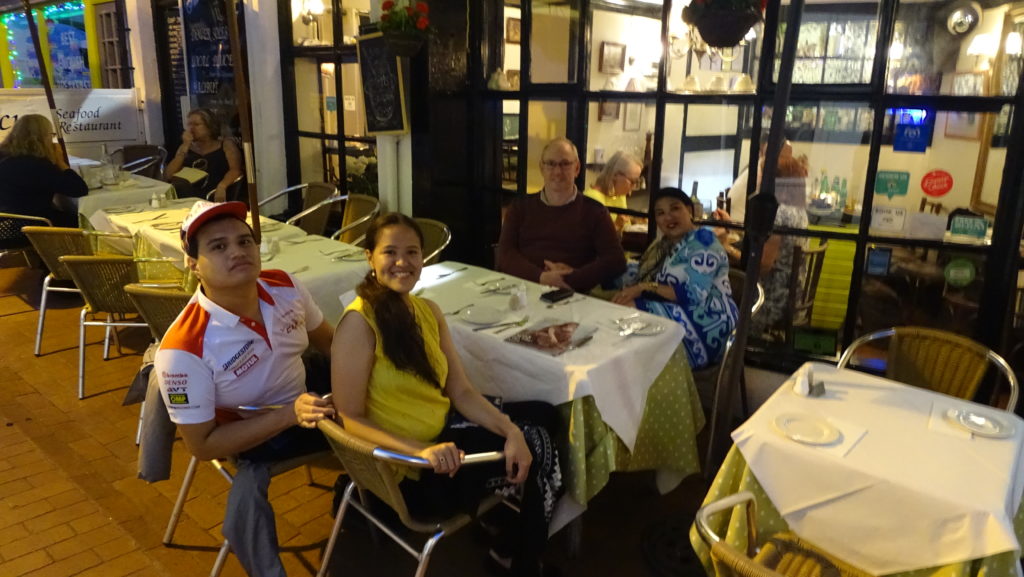 We walked around the city center by late afternoon until lunch time, where we had a lovely dinner at Darcy Restaurant. Seafood Pasta ftw!
BRIGHTON PRIDE PARADE 2019: A Short Preview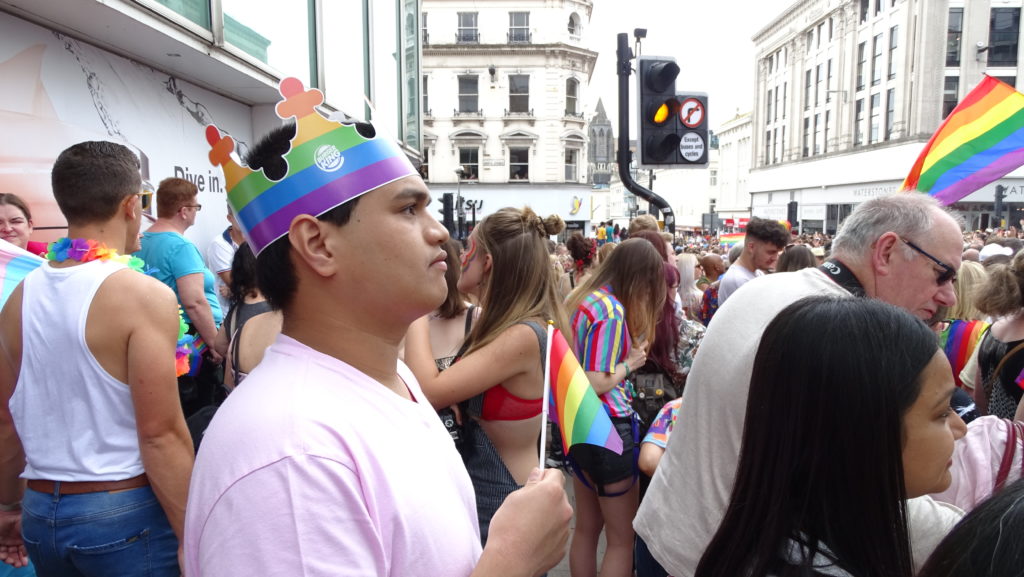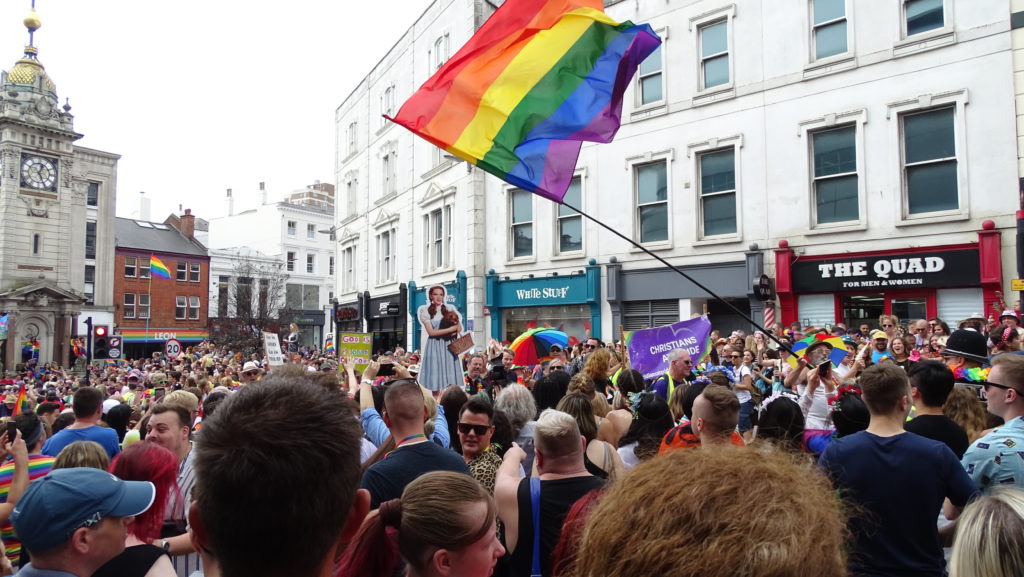 Everyone in the vicinity were excited for the first day of the parade. In our hotel alone, several guests wore their amazing costumes in time for the parade. My brother Carlos got Burger King Rainbow Crowns for us and we bought a small flag. Time to celebrate!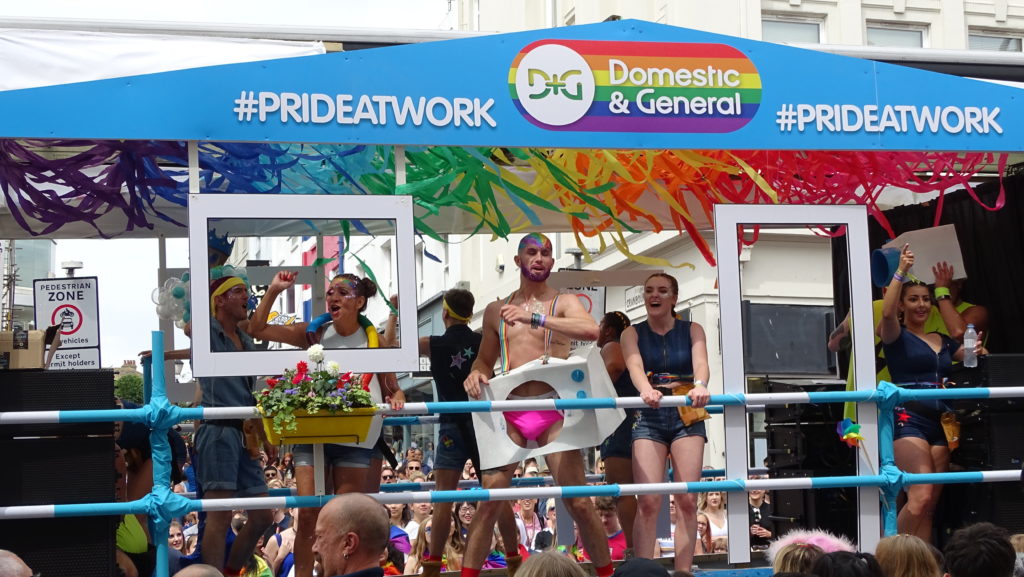 Pride Events are not just a celebration of freedom and individuality. It is also a form of protest due the stigma the LGBTQ+ community is receiving up to this day. This year's Pride Event is particularly special because it is also the 50th celebration of the Stonewall Riots that happened in New York.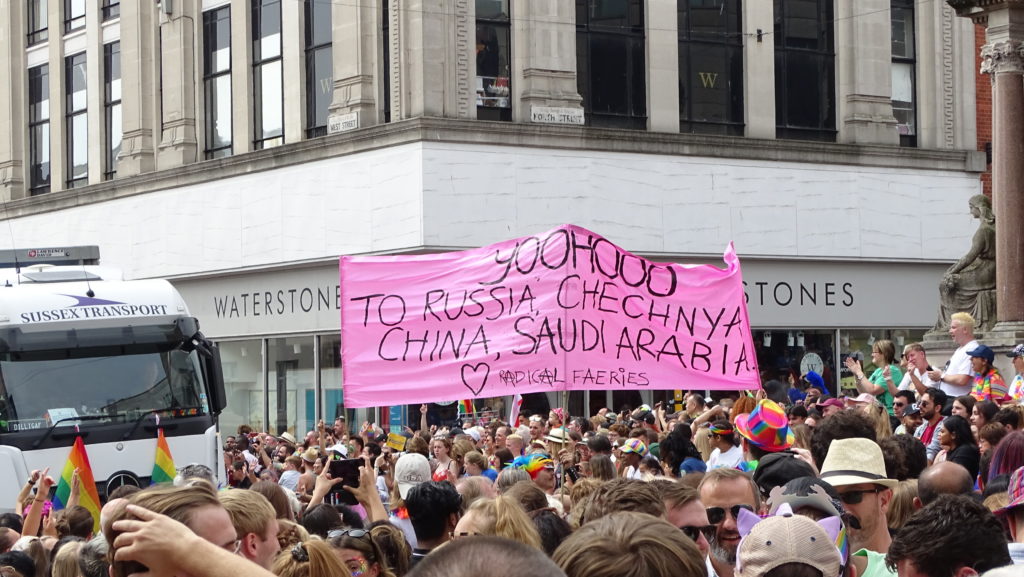 Acceptance is still an issue in some countries. This made me realize how lucky I am that in the Philippines – despite some of the ongoing issues, we still enjoy a certain level of freedom. Even our biggest celebrity is a gay icon and we are proud of his achievements. It is a different situation in other stricter countries.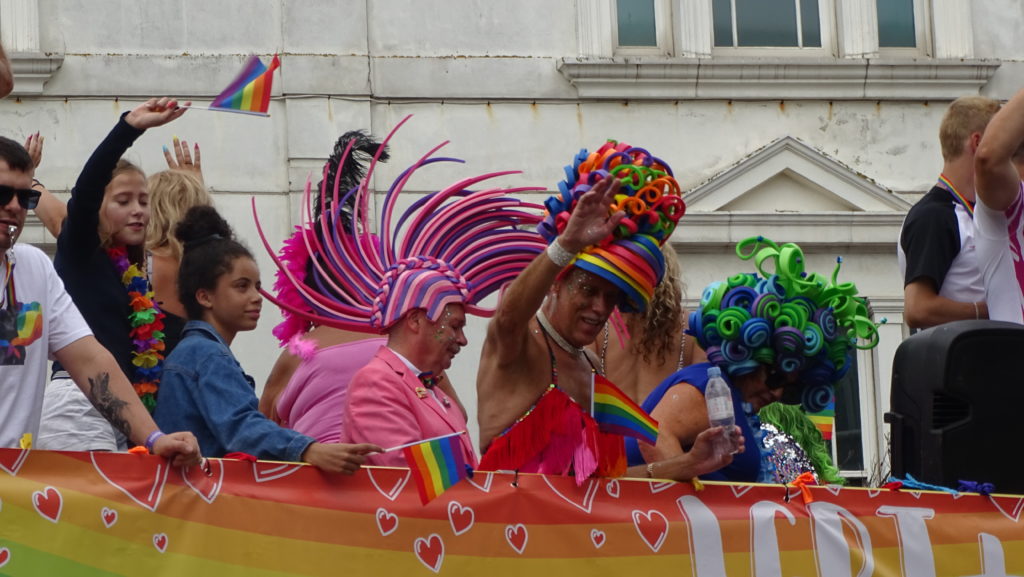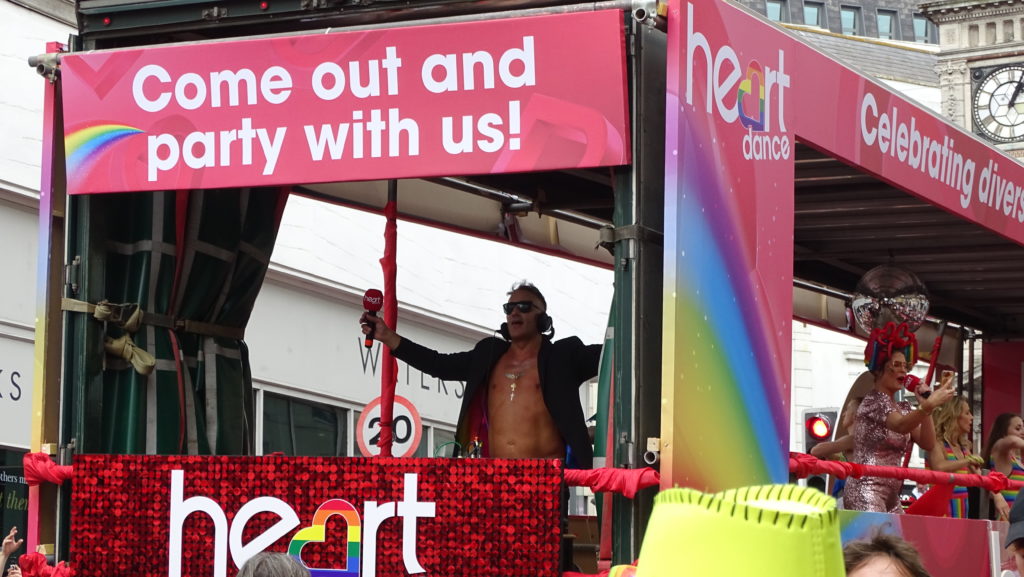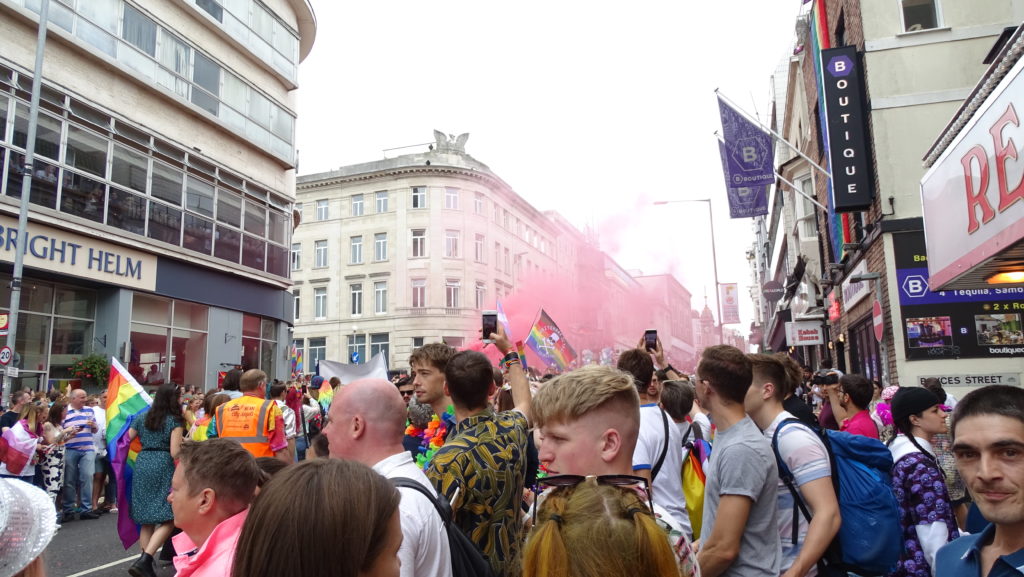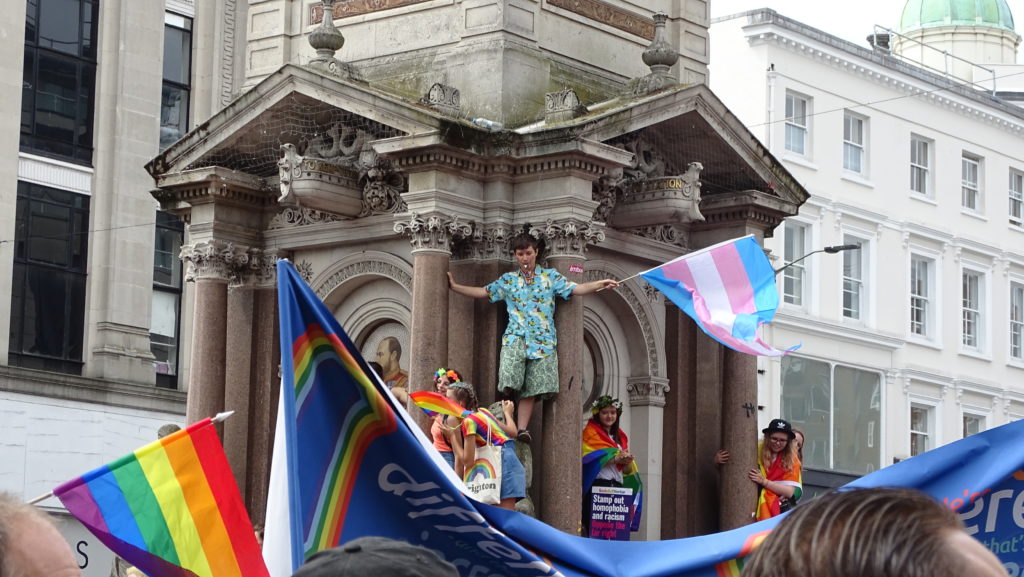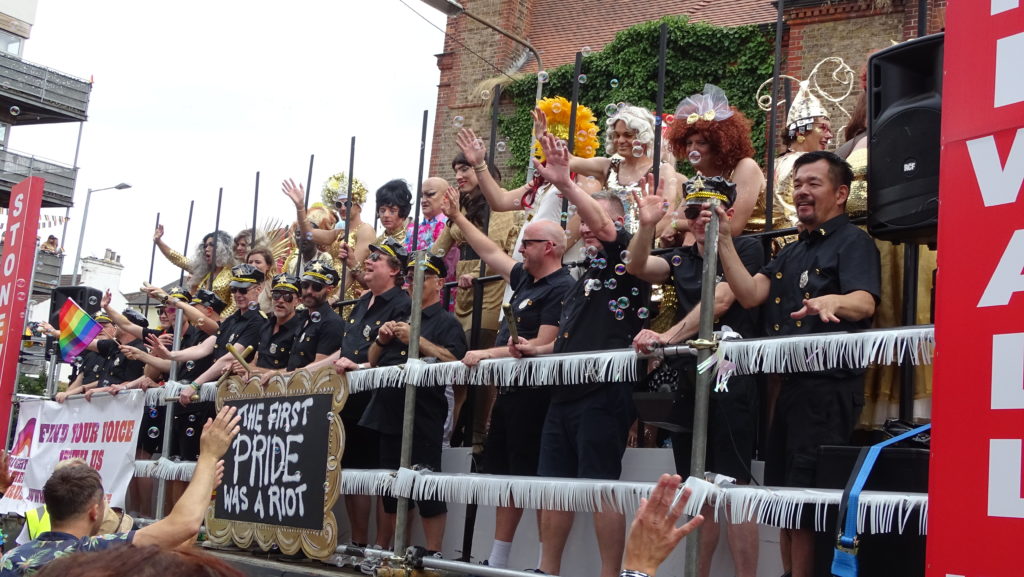 All in all, the parade was full of life and fun! Various floats had their own presentation and they entertained the crowd well. We weren't really able to get a good spot to take clearer and nicer photos, but every corner of the Brighton Parade looked fabulous in photos. I will publish a photo gallery post shortly.
PRIDE AT THE PARK: WAITING FOR APHRODITE KYLIE AND DISCOVERING EMERGING TALENTS
THIS IS IT! This is the time of the day that we've been waiting for! Pride in the Park Day 1 with Kylie Minogue as the headliner!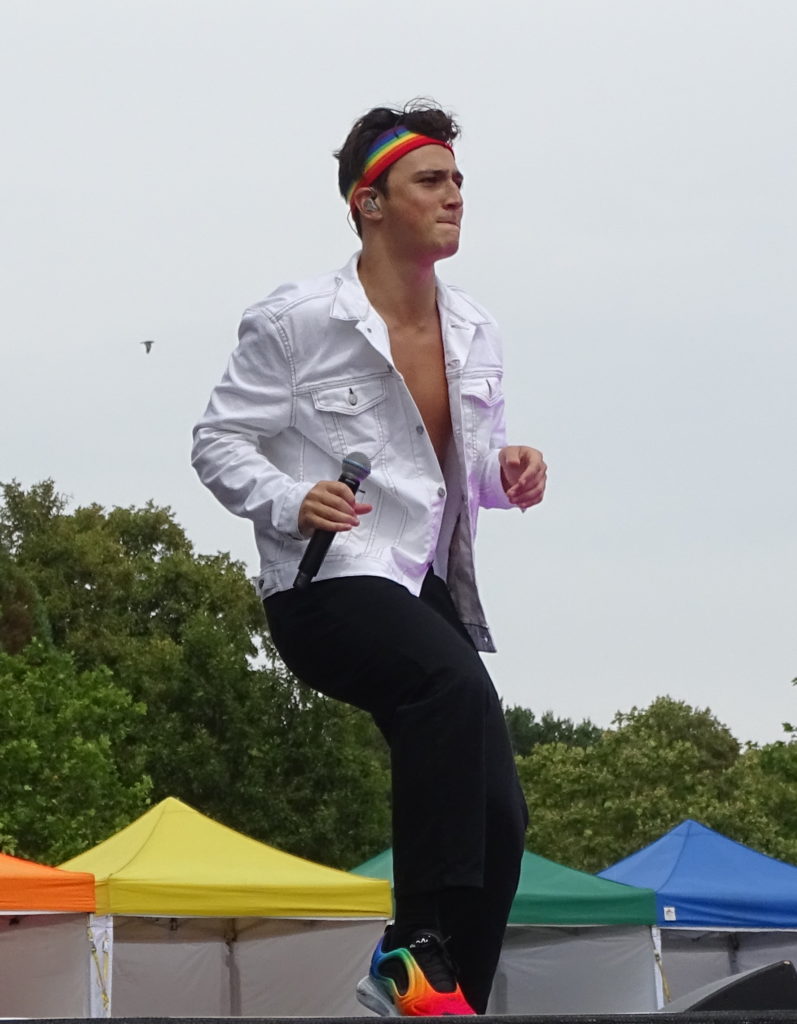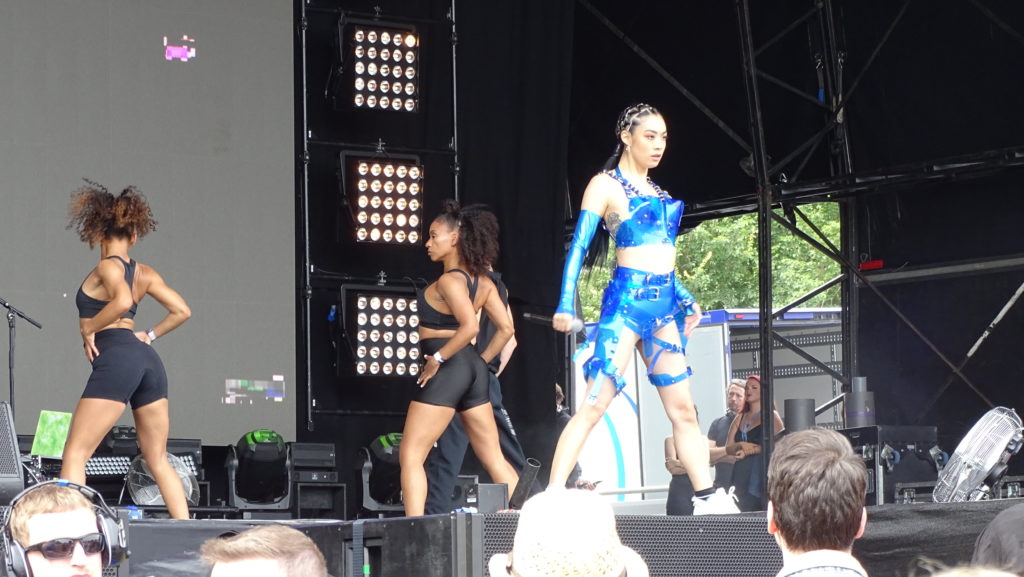 We were already there by 2PM. Some of the performers we were able to catch include Zak Abel, Rina Sawayama, Bjorn Again (ABBA Tribute Band), Fleur East and Clean Bandit. The beautiful Alice Chater performed first, but we missed her set. I saw her in the VIP area but I was shy to ask her for a photo lol. Now I regret it.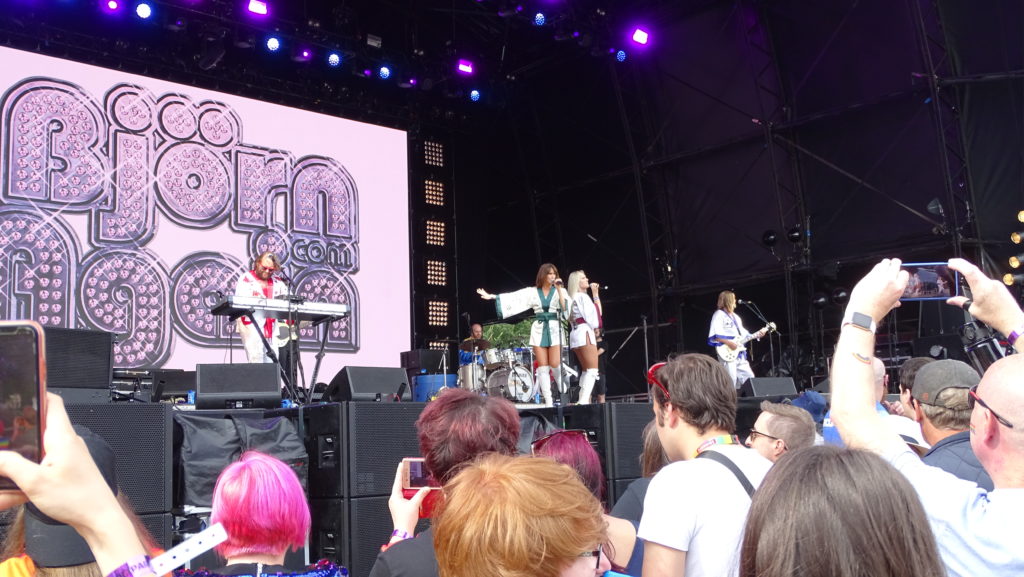 Specifically, my mom and stepdad enjoyed the ABBA set. It's like watching the real deal and everyone was just singing and dancing with them. I believe they're the top ABBA Tribute Band in the world. They're even going on tour!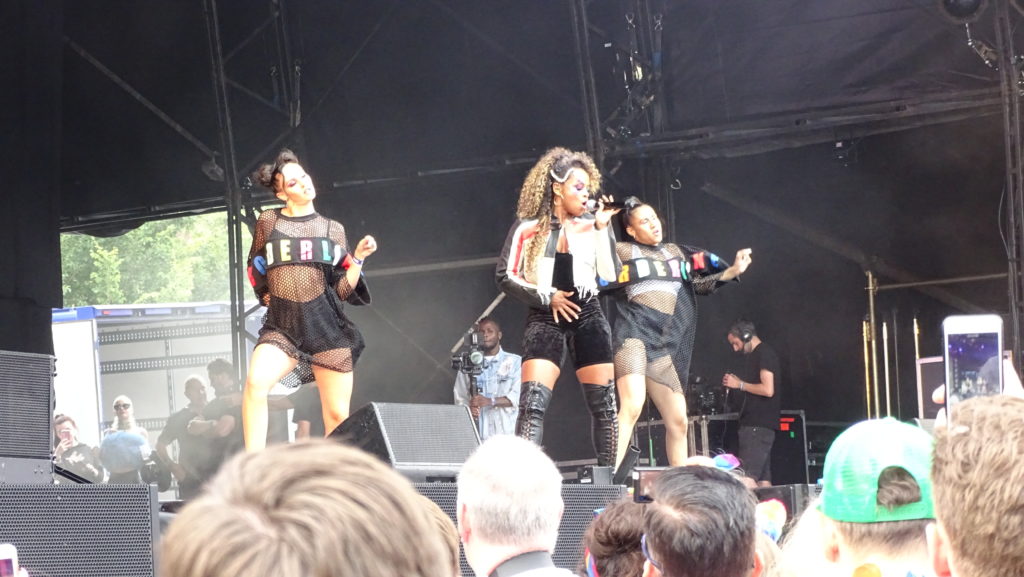 I know some Fleur East songs, but I didn't know she sang those songs. My brother likes her and he ended up dancing like no one is watching (meaning jumping around and just grooving). I'm glad that the people around us showed compassion and some even approached us to tell that he is a good dancer. (In case it is your first time in my blog, my brother is a special child and I love him so much!).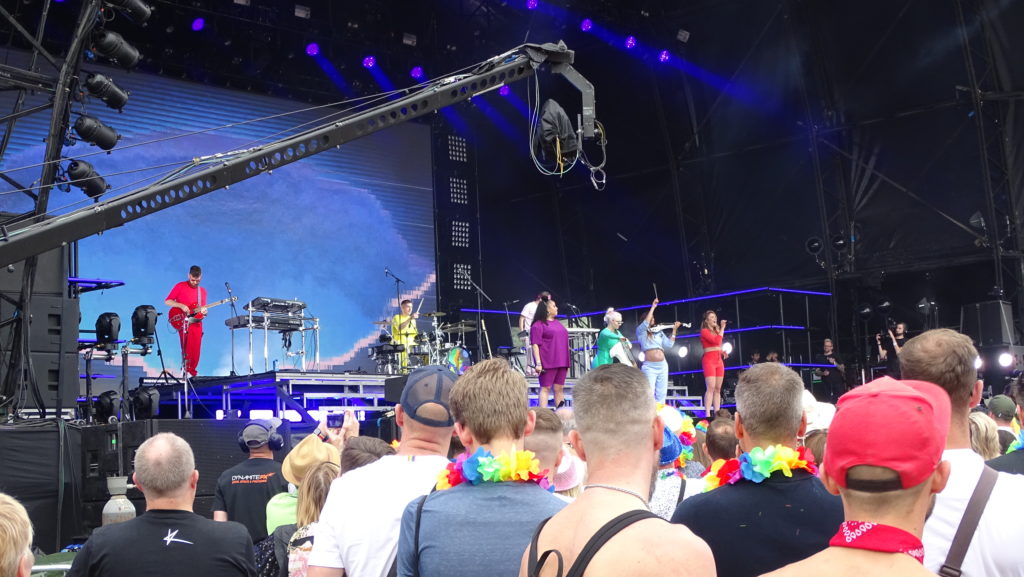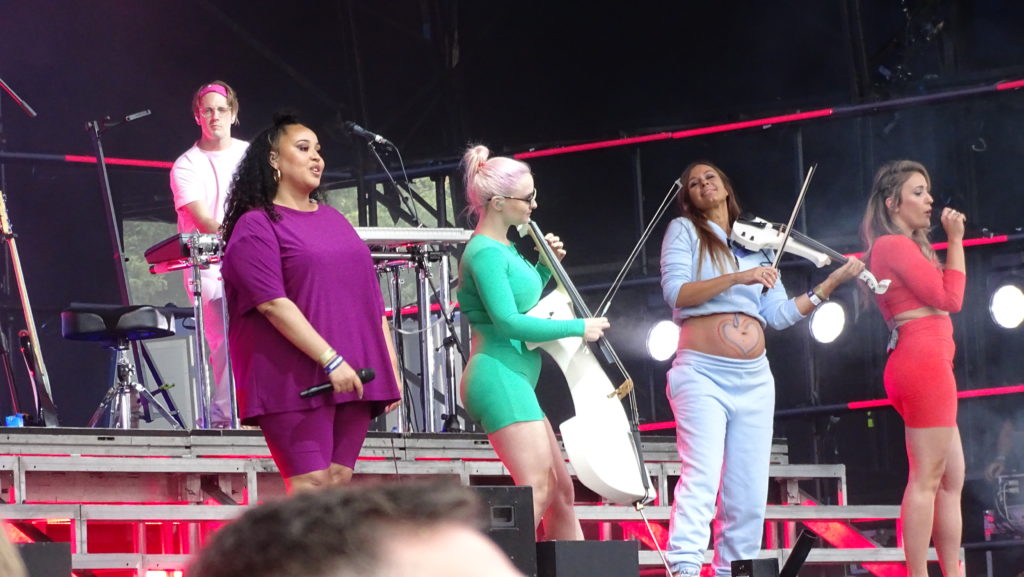 The next to perform is the super talented group Clean Bandit. For my brother though, it was time to grab something to eat and drink as the grounds get crowded. He is quite overwhelmed with the crowed at first, but he managed to get through it. I am so proud of him!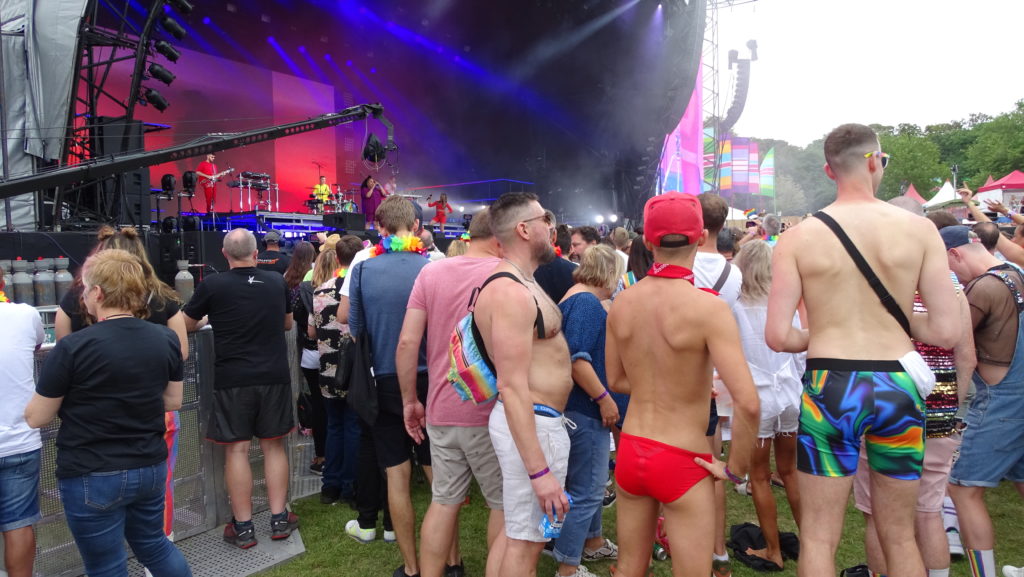 A night before the event, the organizers announced that there is a special surprise guest before Kylie's set. I checked for guesses on Twitter. Some were thinking it might be Melanie C due to her scheduled performance at the Pleasure Gardens (Old Steine Brighton) by 10PM. She can perform a 7PM set before running towards her real announced set. Some also believe it will be Emma Bunton due to her new album 'My Happy Place' which unfortunately, she isn't actively promoting. (I mean girl, don't be lazy! Get up and tour like Melanie C!). Some were thinking Melanie C might've convinced Emma to finally do her solo set. Some hopeful fans also thought of Take That because of the teaser tag 'we'll Take That!' on the official page. One even mentioned 'All Saints' because they were also touring the UK. Any of the guessed special guest would be fine with me!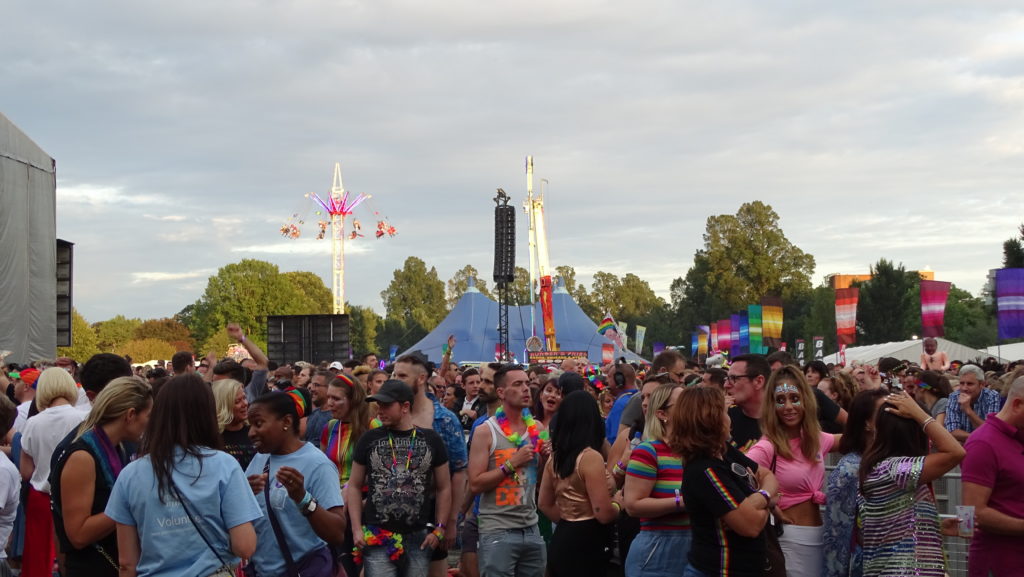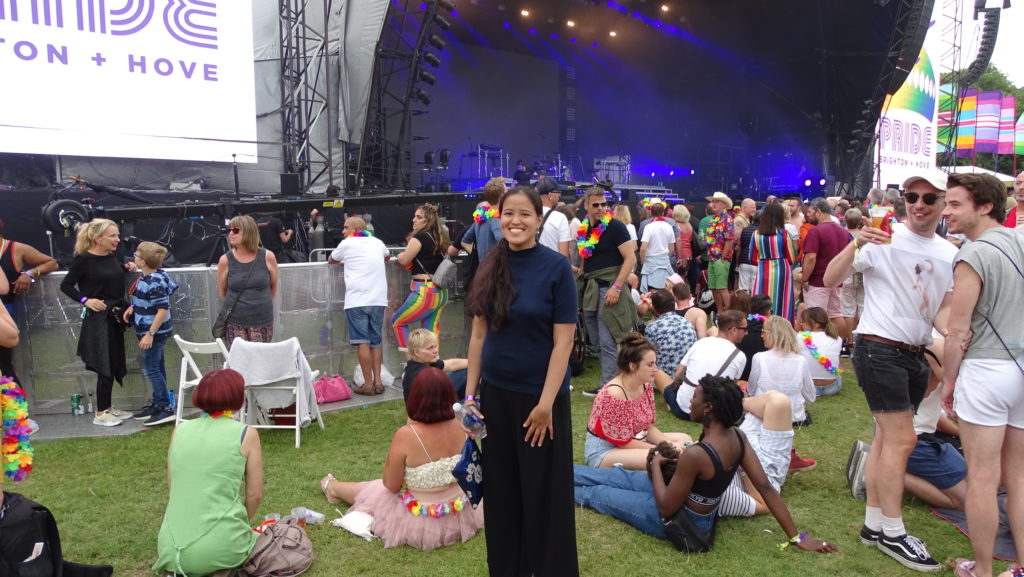 But Emeli Sande ended up as the surprise guest. She's talented, but I don't know much of her songs. By this time, my brother was also too tired so we took the opportunity to just sit down and hydrate in time for Kylie's set.
NOW IT'S TIME!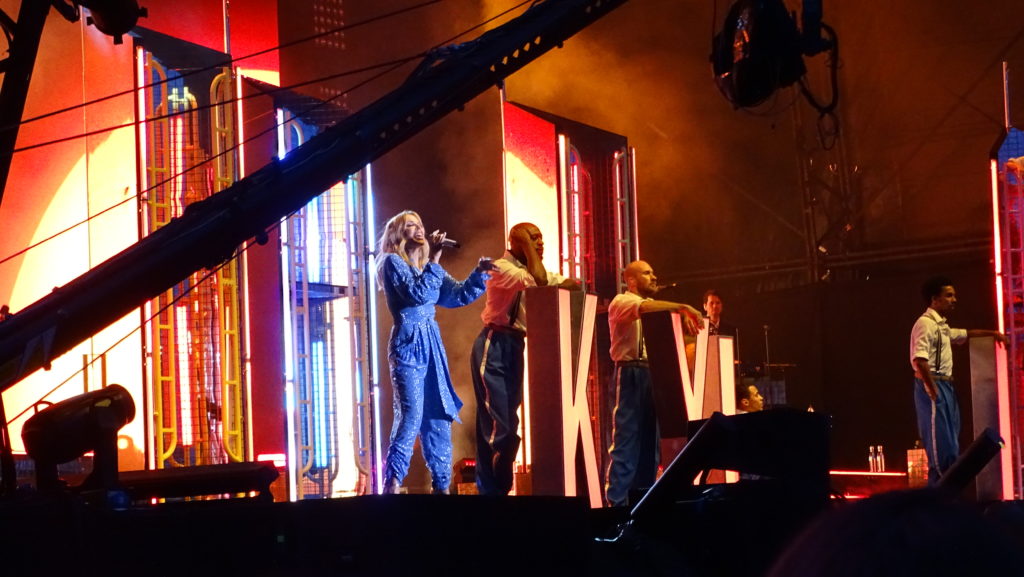 QUEEN KYLIE IS HERE! This is also my brother's first festival/concert experience. It was fun seeing him watch the crowd sing participate in whatever Queen Kylie demands us to do and he is also amazed with the fact that Kylie Minogue is performing in front of him. I think it took a while though before he realized this is reality. He grew up listening to some Kylie songs (because I played them constantly specifically the Light Years and Fever era). He knows most of the songs, which made it fun!
Kylie opened the show with Love at First Sight and indeed, it was love at first sight! My favorite part of the program is when she sang the not-so-famous but gay anthem 'The One'. Love me, love me, love me, love me!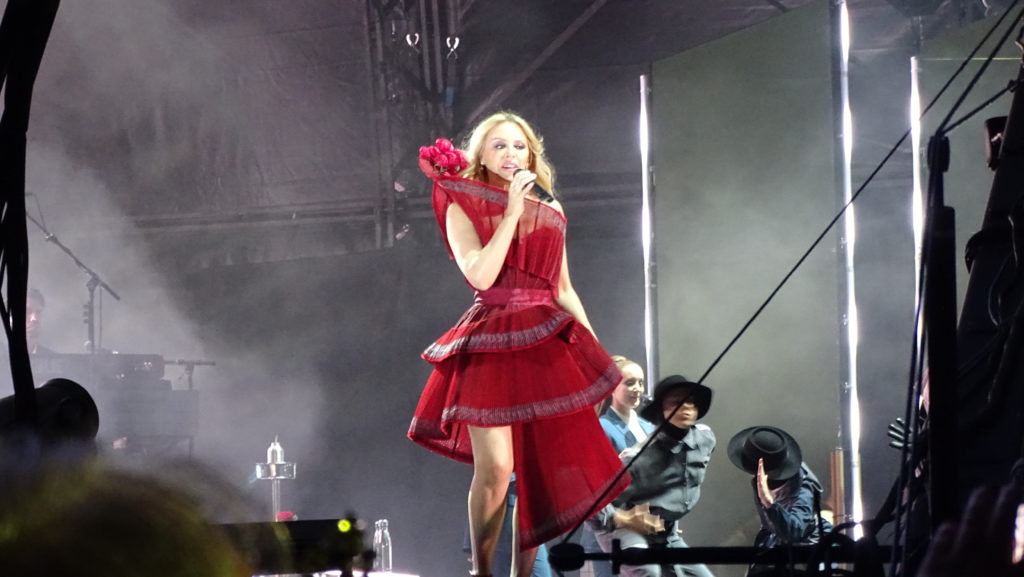 And of course, 'All The Lovers'! By this time, most of the couples hugged and kissed. Singing 'Especially for You' aloud while putting our hands up in the air is like attending a fellowship program. Queen Kylie, we're not worthy! The people there had a hoot, this reminded them of the fun times at Nightclubs near Rochester.
Kylie fans from the 80's to the present were all having the time of their lives singing and dancing to her most loved hits. On a night like this, I want to stay forever! <3
Just like the first time I ever saw her perform live, Kylie surpassed our expectations. Even my mom who is a reluctant faney ended up playing more Kylie songs by the time we get back home.
We were all so tired but happy that night. We didn't have the time to explore Brighton further, but I will be back next time for sure.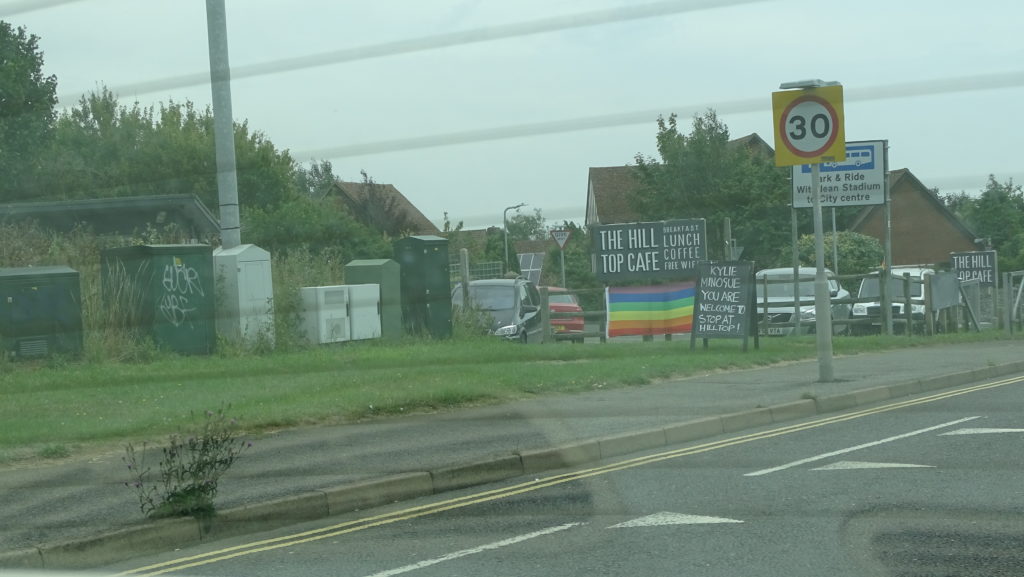 Will I attend another Brighton Pride? Definitely! I will even extend for a few days so I can visit the clubs and party with my LGBTQ+ brothers and sisters. Love, Love, Love!