A trip to Bohol Island in the Philippines is better spent with the family or some close friends. It was my first time to visit Bohol last March and I'm glad that my close friends namely Ada, Maire and Dylan joined in this trip. We all needed to escape from our routines and explore what Bohol has to offer.
After eating dinner somewhere along Alona Beach during our first night in Bohol, we were able to talk to a van driver and hired him to facilitate a Bohol Day Tour. He informed us that we will be joined by a family. We're lucky because the Manabat Family turned out to be a cool and funny bunch! The four of us felt that we had an instant family outing. Ang saya-saya!
I am planning to blog about all the destinations we've been to in Bohol since every spot has an interesting story to tell. For now, let me share this preview post about our Bohol adventure!
Reminisce History at the Blood Compact Shrine
If you did well in your Civics and Culture subject way back in Elementary and Philippine History in High School & College, most probably you've heard about the Blood Compact Shrine. It is one of the historical marks of Tagbilaran City since the very first Treaty of Friendship between Miguel Lopez de Legaspi (the first Governer-General in the Philippines) and Datu Sikatuna. A blood compact ritual was done as a sign of friendship where they drink each other's blood. Hmm… Yum?
Say a Little Prayer at the Baclayon Church
The Baclayon Church is considered as one of the oldest Churches in the Philippines. What captured my attention is the image of Padre Pio found outside, which gave me goosebumps.
We all went inside and I consider Baclayon Church as one of my favorite Churches in the Philippines. I guess it is the serene feel that made me feel at peace. There is also a corner there were colored candles symbolizing health, love, purity, career among others is for sale. We all lit our chosen candles and one prayer was answered recently. Yihee!
Meet and Greet Prony the Python… and watch Marimar Live!
Meet and Greet Prony, the largest python in captivity in the Philippines. We were really surprised on how big he is! When we went there, some of his friends were with him in the cage and to make our stay a bit more entertaining, a tour guide named Marimar shared some interesting facts about Python and even rendered a Regine Velasquez impersonation presentation.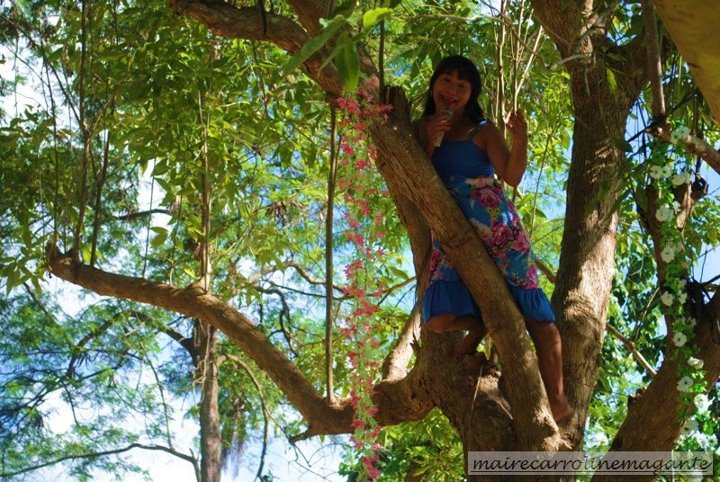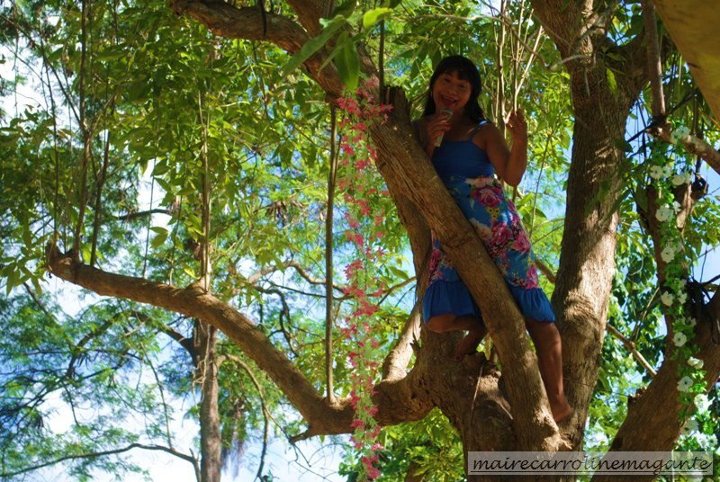 You already, Go Gurl! #meynteyn
Bohol Butterfly Conservation Center
There is a number of Butterfly Sanctuaries in the Philippines and you'll find one in Bohol too. While most of my companions devoted their attention in learning the Life Cycle of a Butterfly and taking photos, I devoted most of my time looking at the souvenirs for sale and bought a Tarsier bonnet. Supposedly, it is my gift for my brother. I ended up wearing it since it is too comfy and cute!
Mahogany Man-Made Forest
We had a short stopover at the Mahogany Man-Made Forest on our way to our next destination. Rain starts pouring in when we arrived, but that didn't stop us from taking pictures! This is man-made! Amazing, isn't it? It is also a perfect setting for a Koreanovela-ish type of movie.
Visit the Philippine Tarsiers
The Philippine Tarsier is the smallest primate in the world and I didn't really expect that they're that small! Considered as an endangered specie, I had mixed feeling upon visiting the sanctuary. I still suggest though that you visit but please, be a responsible visitor!
The Chocolate Hills Wonder
I remember asking my parents if the Chocolate Hills are edible when I first read it in a magazine as a kid 😛 On our way to the viewing deck area, we were already in awe on how it was formed. There is no known scientific explanation nor a legend that can narrate its existence. The Chocolate Hills is one of the must-see sights in the Philippines.



Buffet Lunch at the Loboc River Cruise
Instead of the usual lunch route in a restaurant, we group decided to try the buffet lunch offered in the Loboc River Cruise. We were surprised because it's almost 2pm when we arrived yet there's so many hungry tourists on queue! The buffet lunch in our Bangka is sold-out. Enjoy the scenery and the smooth-sailing cruise. I have to admit though that I am interested with this particular destination because Dagupan City's Dawel River Cruise are quite vocal that they got the inspiration from this one.
Refreshing Delight at the Mag-aso Falls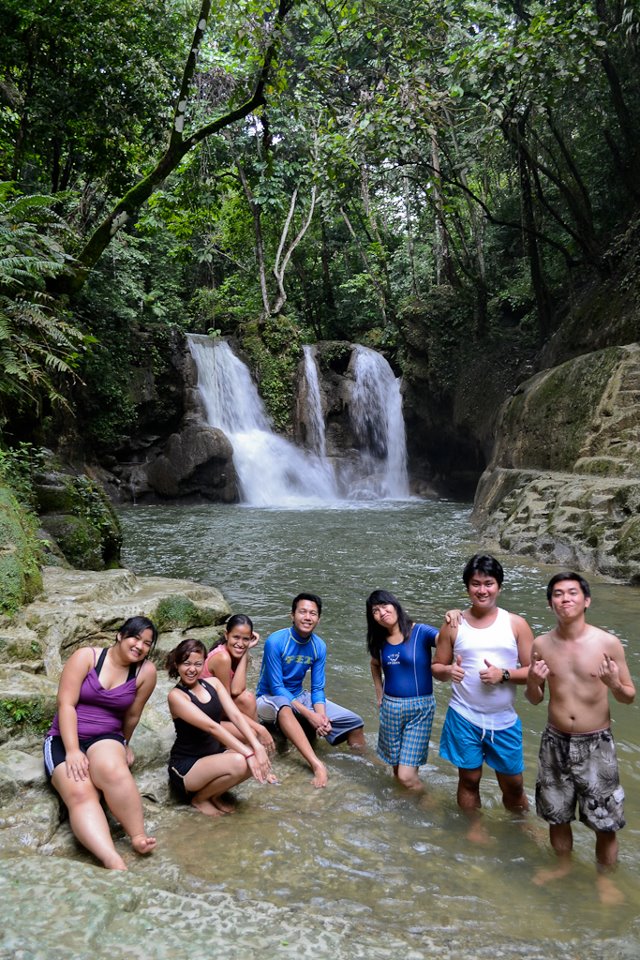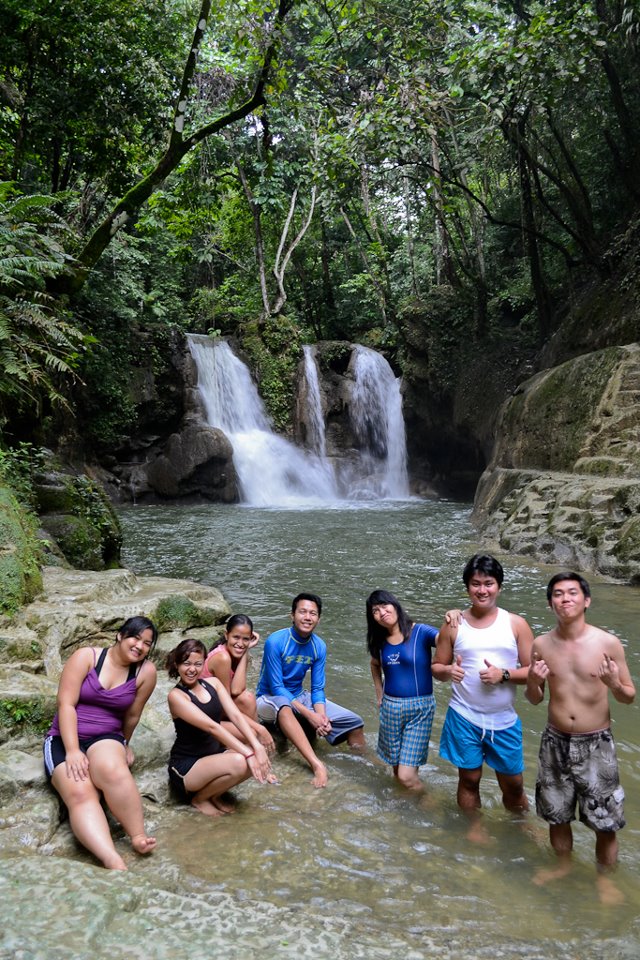 – Feeling sleepy? You will surely be forced to wake up once you step in Mag-aso Falls is found in Antequera, Bohol. I love this part of the trip since we took lots of pictures and I almost jumped – but I backed out the last minute LOL. This destination is out of the way from the usual route so you need to allot extra travel time.
Beach Bumming at Alona Beach
Alona Beach in Panglao, Bohol is one of the best beaches in the Philippines. Why should you miss this part?
We only stayed in Bohol for 2 Days that's why we weren't able to do the following: Buffet Lunch and Tour at Bohol Bee Farm, EAT Danao Adrenaline Rush Adventure and Bohol Island Hopping (Balicasag, Pamilacan etc.). All in all, our trip is a short but relaxing one. Perfect to reminisce while listening to a Reggae song 😛
Have you been to Bohol? What can you say about the Heart of the Islands, truly Philippines slogan they launched a few weeks ago?