Before the first ever Enhanced Community Quarantine here in the Philippines which was implemented sometime in the third week of March, I had a weekly routine whenever I am in Metro Manila. I wake up at 12PM, have lunch with my grandpa, spend my afternoon in a nearby coffee shop to work, go home in time for dinner and spend the whole night either working or relaxing. I am the type of person who has no problems dining out alone. I enjoy my 'me' time inside the cinema. I prefer to shop on my own (I rarely shop though) and I do love people watching when there are interesting strangers around me.
I remember my last trip to the nearest major mall in my city. I bought my first ever BTS Mini Figure in the Toy section of the Department Store. There was only one Mini Figure left and I bought it. It was Jimin in his 'Idol' music video outfit. He was pointing at me as if telling me he chose me as his new owner. Of course, I gave in. I then decided that I will scout for the rest of the BTS members in other toy stores. Buying online will be my Plan B.
Just three days after that trip to the mall, ECQ was implemented. I checked online and found out that only Jungkook's mini figure is available. I will have to hunt for the rest of the members.
I made it a mission to complete the whole set. I will own BTS Mini Figures wearing their IDOL MV outfit. I assumed that the covid-19 pandemic is over once I complete all 7.
But I was wrong.
I purchased Suga a month after, then found RM & Jin (last stock!) then J-Hope (shipped from Korea) and the hardest one to find V. I found him through a buy & sell website. This was around June.
I completed the whole set and now BTS formally introduced these little friends as 'TinyTAN' and released the TinyTAN Mic Drop Edition line, but the global pandemic is far from over. In fact, it is getting worse.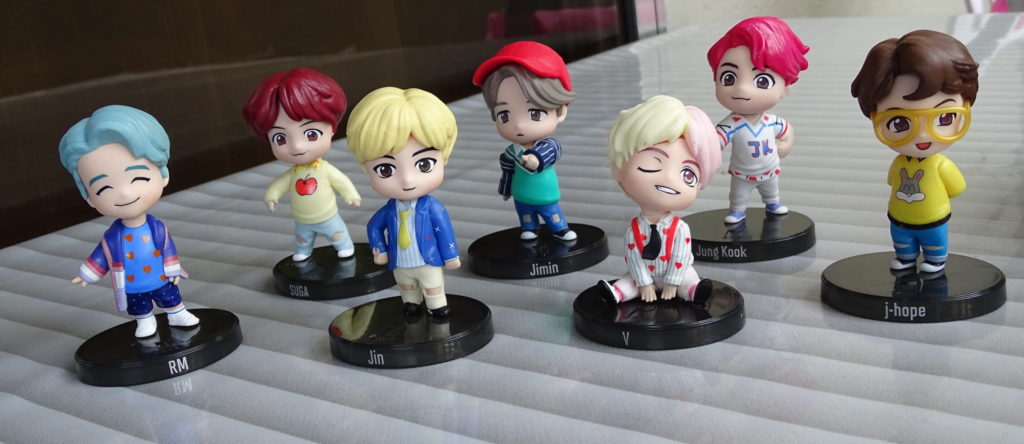 I became a REAL BTS ARMY. What do I mean by REAL? I became one of those fans who would listen to their songs majority of the day, check social media for new updates about them, get excited when they're online (even if I don't understand Korean), bought merchandise, purchased their paid content on Weverse and also fell in love with their babies called 'BT21'. Particularly, I became a collector. My childhood dream of buying merchandise with my own money (Spice Girls) is now a reality. Thanks to BTS and all the pasabuy stores, I now know the meaning of 'budol' in the Kpop world.
Trips to the Mini Grocery While on lockdown
During the whole duration of the ECQ – MECQ – GCQ, I would go out from time to time to buy grocery supplies (household tribute represent!), stay for a bit in my favorite coffee shop when they were permitted to accept dine-in customers and also gave in to app/online deliveries (mostly my 'budols'). Before the pandemic, I would rather go to the mall and do all my errands in one trip. Now, I have adapted to 'the new normal'. I am also now maximizing my Netflix subscription by watching KDramas and interesting films with my grandfather. I also have YouTube and VLive installed on our TV (Kpop fans know why for the latter).
TRIP TO THE BIG MALL!
Exactly six months after, I finally had the chance to visit Festival Mall!

My uncle offered to drive us to the mall. While they were busy buying grocery items, I  went around.
Mall hours now start at 11AM. Only the Department Store was open so I went around with my two imaginary kids – the Kind Alpaca RJ and the Sleepy Koala Koya.
I bought an important office supply and decided to go around while there were less people around. I didn't have the energy to shop for clothes or shoes even if I need it (I only had 3-4 hours of sleep so I was still in zombie mode). But you know what caught my attention? This.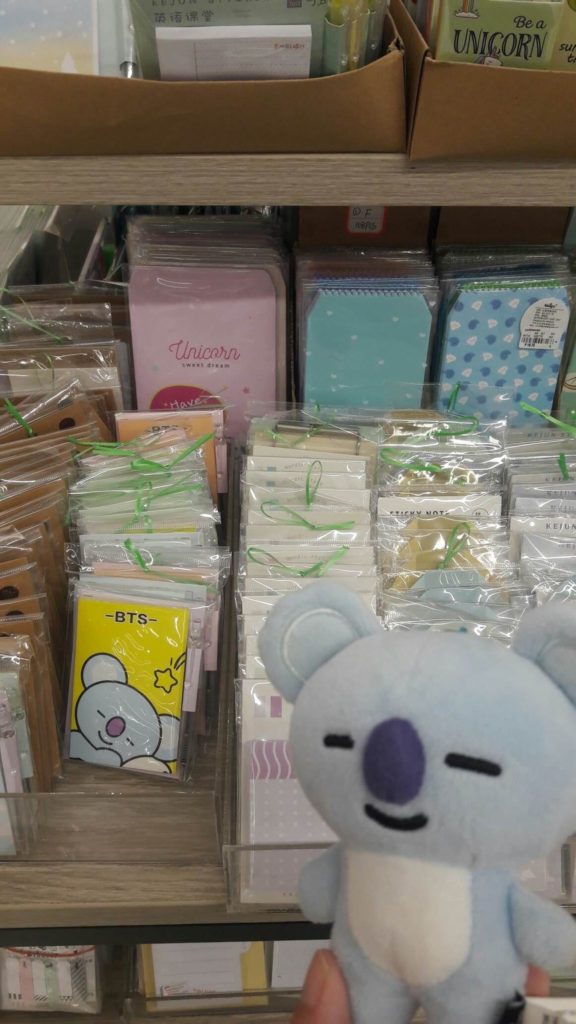 I asked the sales lady if I can take pictures. I'm glad they allowed me to. I bought these too because it was BTS RM's birthday and I was in celebratory mood. BTS RM is the father of BT21 Koya. I don't know why I am saying this, but you get my point, right?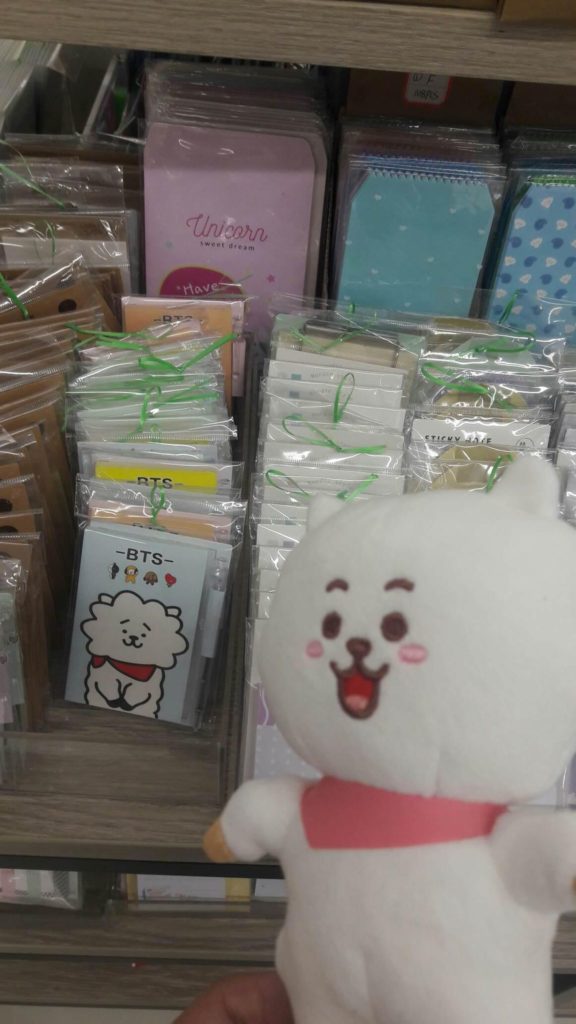 When the doors to the main mall finally opened, I went straight to an electronic store. The queue was already long and I didn't have the patience so I moved on. I decided that I will just order what I needed that time online.
I went around and saw the stall of Vice Cosmetics. Why? Nope, it's not because of Vice Ganda. Yes, there is an ongoing sale (buy 1, take 1 and up to 70% discount on some lipsticks!), but that wasn't the reason why I got attracted to the stall.
It is because of BT21.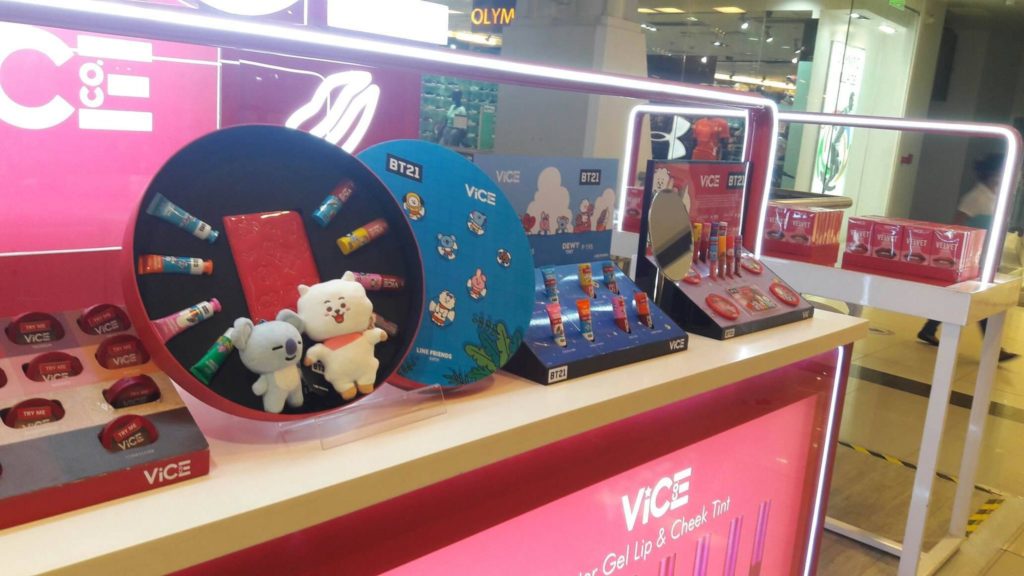 Yup, Vice Cosmetics have an ongoing collaboration with BT21. I remember passing through that stall last year and wondering why are there cute characters in the packaging. Now I know why and I fell in love with these kids. I rarely wear make-up, but wouldn't it be nice to own a liptint with RJ's face in it? What about an eye palette with the whole group in the packaging? What about buying more Vice Cosmetics x BT21 items even if I know that it is no use right now because we are all required to wear mask outdoors anyway?
What about I take a photo with RJ and Koya on a date?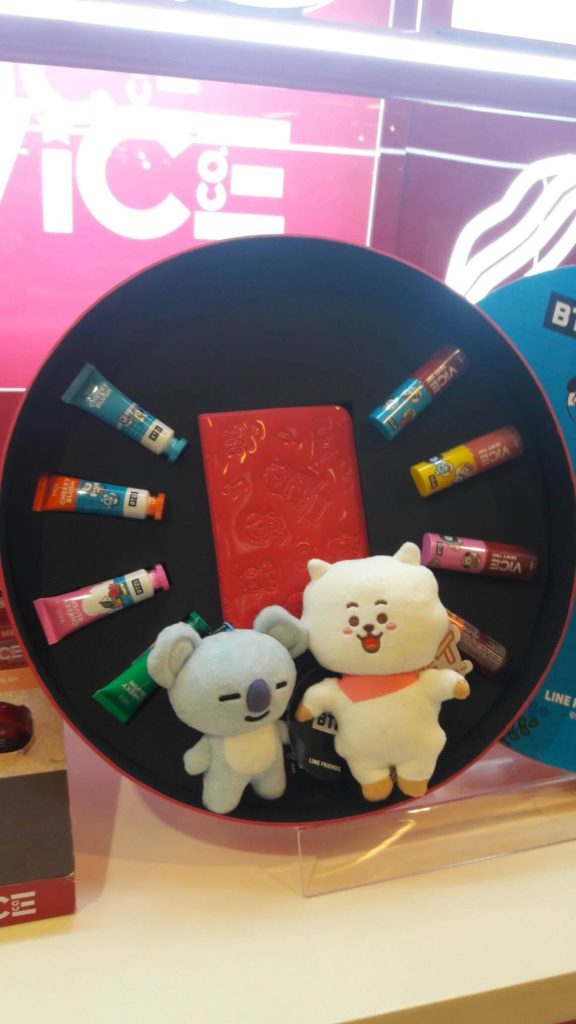 I bought an Aura Duo blush. with RJ and Mang on the package. I didn't buy more items because I can still control myself. I prioritize budols that are 'essentials'.
And also, I already ordered some items online so I don't need more supplies HAHAHA
CINEMA, how I miss you!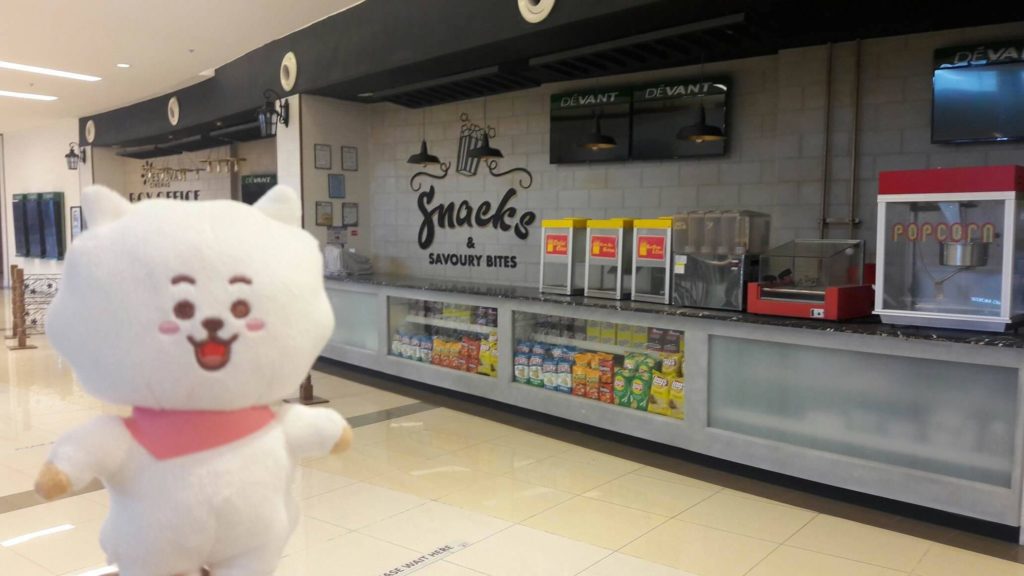 I went straight to the Cinema Section and it made me reminisce the times I'd go to the cinema to relax. It was also an excuse for me to order Sour Cream/BBQ Mega size Potato Corner and large coke. At times, I order popcorn and hotdog plus an iced latte. I already have a default food bundle when I go to specific cinemas. There are also times when I just go inside and concentrate on the film.
Just last December to January, I spent way too much time in the cinemas. I went with my grandfather to watch MMFF 2019 entries Culion and Mindanao. We also tried the 3D Cinema (Jungle) and the SM Cinema Club (for Culion). We watched the award-winning films like Jojo Rabbit, 1917, Parasite and many more. I also went on some alone. Literally, alone. No other moviegoer. I was just alone. And I loved it. I miss that feeling!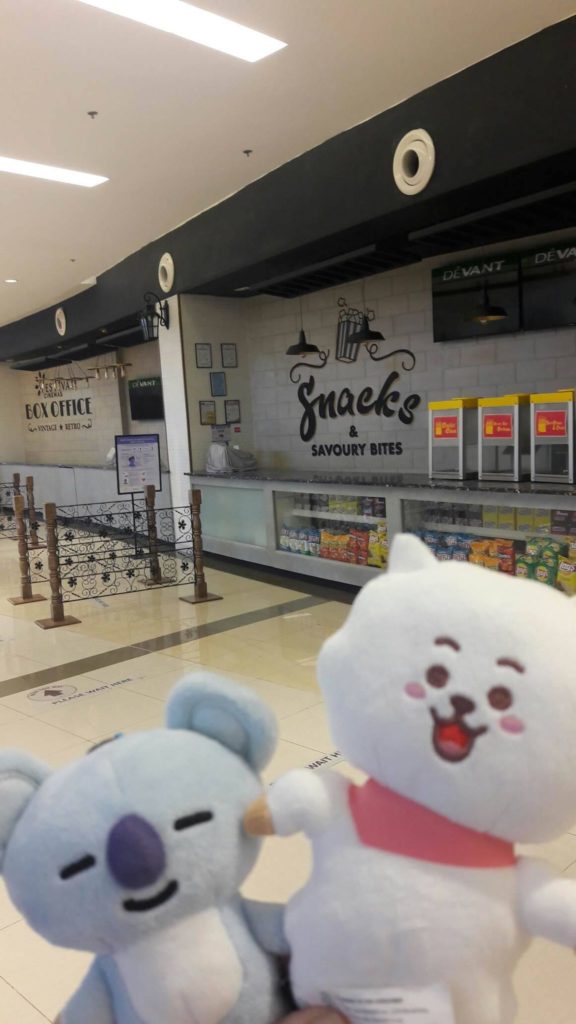 Now, all I can do for now is take pictures of RJ and Koya outside the cinema. I am eager for the day when I'll line up to buy a movie ticket, buy popcorn and drinks and immerse in a story line to escape from real-life for at least two hours. GOD, I MISS THAT!
Though cinemas are not yet opened officially here in the Philippines, I already know which movie I will catch and that is Break The Silence: The Movie starring BTS. Yes, they have a documentary movie!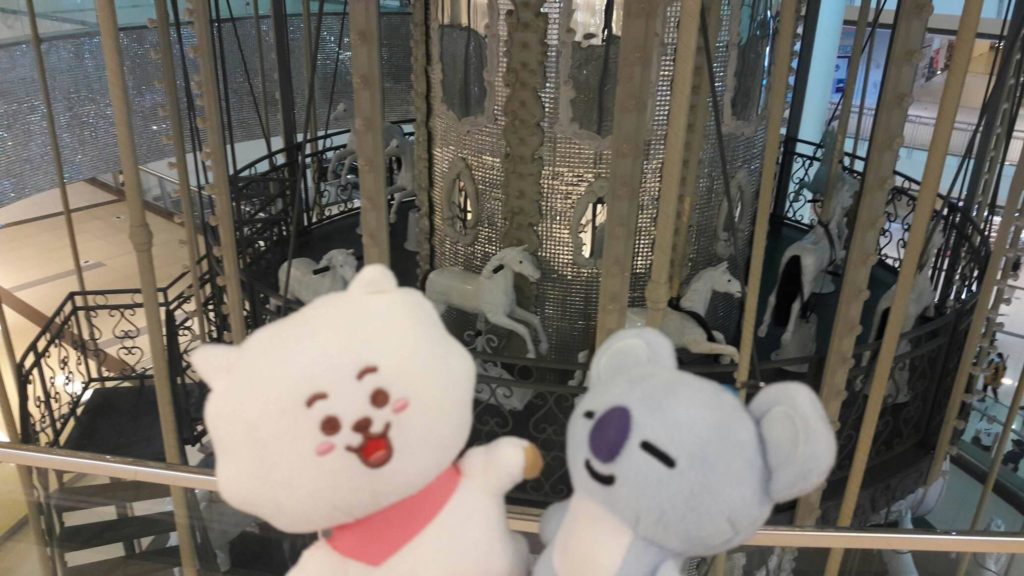 I also miss dining out though this is not a big adjustment. These days, they only allow 50% of the sitting capacity. Thankfully, I grew up loving home-cooked meals and I started exploring the kitchen because of my favorite BTS member. Yes, becoming a BTS ARMY is the biggest blessing of my 2020.
Though six months had passed, it felt as if I was in that mall just a week ago. I still have that urgency to play Blue Jay Way of The Beatles after watching a LFS (Last Full Show) movie screening. I will still play that song while it is dark – even if I already partially outgrew my obsession with The Beatles.
I am listening to George Harrison's Blow Away as I type this. Why does this sound bittersweet?
Anyway, that's it for now. I still plan of writing more BTS content and occasional quarantine life updates here. When I earned the energy and courage to write about my 2018 and 2019 trips, I will do that.