When they claim that quarantine life is boring, that's not the case for BTS Army Worldwide. After giving us a marathon of 8 of their earlier concerts from 2014-2018 through Bang Bang Con Marathon last April and the highly successful and record-breaking BANG BANG CON: The Live Online Concert last June, Big Hit Entertainment had announced last month that BTS, the fabulous seven, will be having their concert Map Of The Soul ON:E. And we can watch and enjoy it from the comforts of our homes!
The concert is scheduled this weekend – October 10 (Saturday) at 6PM Philippine Time (5PM KST) and October 11 (Sunday) at 3PM Philippine Time (4PM KST). The concert could be streamed in ultra-high definition.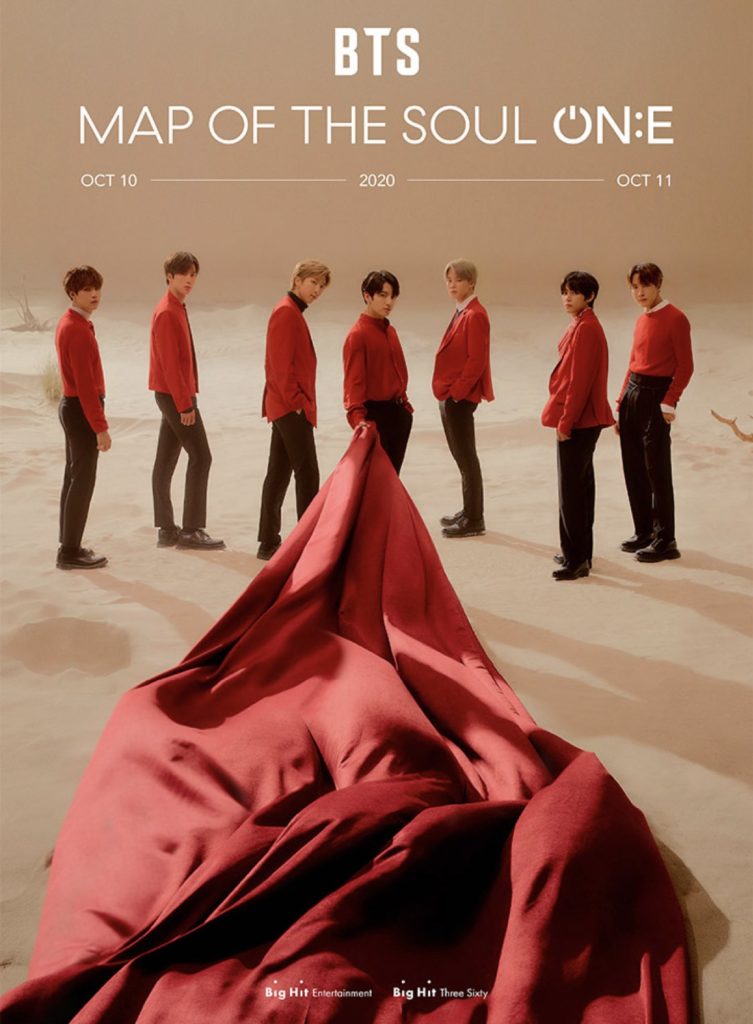 The two-day livestreams will provide fans and concert viewers with six multi-view screens, which would help the fans feel that they are physically in the actual performance. The lucky official members of the BTS Army Fan Club on Weverse had the chance to purchase tickets at 4K resolution which sold out right away!
Where to Pay
It could be very confusing to some people about the process of buying the tickets. I had compiled the step by step process to take the stress off your shoulders. This process should be fun right? Just follow these steps.
1.     By now you should have the Weverse shop app in your phone. If not, you could download it here: https://www.weverseshop.io/
2. After downloading, you can change the language if the upper right corner. (English, Korean and Japanese)
3. Of course, you can change the currency to avoid confusion. Select USD by going to More, then Currency, then USD if you want to pay in US dollars. As for those who do not have a PayPal account, do not fear! You have the option to check out as a guest in purchasing the tickets.
4. Then, you can enter the BTS shop.
5. The links to the ticket are right in front of you. Click and purchase.
6.     After purchasing the ticket, you will be given your link to watch the concert. You will need this link, your Weverse Shop account and password, so make sure to save it.
How to Watch the BTS Concert?
Upfront, I'm going to tell you not to be confused on where to buy the tickets and where to watch the concert. You will be needing two separate links. This paragraph will explain how you can enjoy the BTS concert Map Of The Soul ON:E.
1.     Go to  BTS KISWE CONCERTS. This is the site you will stream the concert.
2. Same as the Weverse Shop app, you can change the language by selecting the globe icon. Choose between (English, Korean, Chinese and Japanese)
3.    Click Log In.
4.  A window will appear on the side.
5    Type in your credentials (from the Weverse app) then click Log In.
6. You will be led to a window. Write your nickname (if this is your first time).
7. If you've already paid, you have to VERIFY your ticket. Once you log-in to the main page with your Weverse credentials, you will see a button under the Concert Date (Day 1 – October 10 and/or Day 2 – October 11). Click VERIFY. Wait for the confirmation.

8. From there, you can now enjoy the streaming!
You can finally start the live stream by using the link to the multi-view live streaming page that could be found on the Weverse Shop. As I've said earlier, as a ticket holder you will have access to six multi-view screens so you could never miss on any of the action! This allows you to have a deeper and more vibrant as if it was real concert experience!
The Map of Soul ON:E could be streamed simultaneously in two devices with a purchase of a single ticket. Subtitles in Korean, English, Japanese, and Mandarin will also be available during the live stream.
What to Expect
According to Big Hit Entertainment, fans should brace themselves as the concert will give the viewers with never-before-seen in terms of stages and different setlists. It's honestly quite exciting since with BTS concerts, expectations and performance are usually high-caliber and over the top (in a perfectly good way). With the promise made by Big Hit, we could honestly expect the best.
Originally, the boys were scheduled to do a Map of the Soul: 7 World Tour this year. Since this virtual concert might be the only chance for them to perform the songs from the album of the same title, I'm quite sure that they will perform majority or ALL of the tracks from Map of the Soul: 7! Last June, the rapline gave a teaser to 'UGH!' and the vocal line sang a snippet of 'Zero O'Clock'. What about the solo sets? Are you ready?!?!?!?!
Not only that, the Map Of The Soul On:e has also prepared a month long exhibition. Virtual of course, from October 13 to November 12. This virtual exhibition, in English and Korean, will showcase BTS memorabilia which are also available for sale through the Weverse shop. Although, of course, some items and products could only be availed by the members of the BTS Global Official Fanclub. The exhibition itself is accessible only for 24 hours after installing the program and could be accessed only on computers and not mobile devices.
DELAYED SINGLE-VIEW STREAMING OPTION
For fans who wouldn't be able to attend the live concert, Big Hit got your backs! As a ticket holder, you can enjoy a delayed single-view streaming wherever you are. This is simply a replay of the live event that happened the previous day. Although it is delayed, there are specific times when the concert will be aired. October 10 performance could be viewed at October 11 at 10AM Philippine time. While the October 11 performance at October 12 at 10AM Philippine time as well.
I know, it is too much to take, particularly if you've seen the different combinations of what they are offering. Making decisions is difficult if BTS and Big Hit Entertainment spoils us like this right? As of now, prepare your devices, concert outfit and make sure you are ready to have a great two-day experience this coming October 10 and 11!
Important Reminders

1. In case you're wondering how much the available tickets are, the available prices are as follows:
* October 10th Multi View -$44.55 / with exhibition – $54.90
* October 11th Multi View -$44.55 / with exhibition – $54.90
* October 10th and October 11th Multiview (2 days) – $81 / with exhibition – $90.89
* All 4K packages are sold out.
* You can buy the Exhibition ticket on separate later on at $13.50
* You have the option to buy a CARD TICKET (with 7 Card Tickets of the members) for $17.09. This is only available AFTER you finish watching the concerts. This is a good remembrance from this memorable event! You may also want to check out some of the BTS Map of the Soul ON:E Merchandise on Weverse.

2. Remember to VERIFY your ticket on the BTS Kiswe Site at least one hour before the show.
3. Two devices may use one account simultaneously. If you want to save some money, I highly suggest partnering with a friend and just split the cost.
4. If you have an army bomb, you can sync it!
5. Just enjoy and have fun! You deserve to be happy!

Here are some last-minute cutie reminders from TinyTAN!
That's it for now! I hope this simple guide will be able to help you out in securing last minute concert tickets. Enjoy and let me know who is your bias and which songs are you most excited about. Borahae!