JAPAN is one of the countries that is so near from the Philippines, yet so many Filipino tourists are hesitant to visit. Why? Because of the visa application requirements.
I do admit that prior to the Japan trip, I don't really feel the urge of visiting the Land of the Rising Sun. It all changed when my bestfriend moved there after she got married to a US Navy. Not seeing her in person for more than a year is too much to bear so I had to find ways to visit the cutest expat lovebirds in Japan.
What I will share through this post is my experience while applying for a Japan Visa. I went there under the SOFA Status option (Invited by US Military Personnel).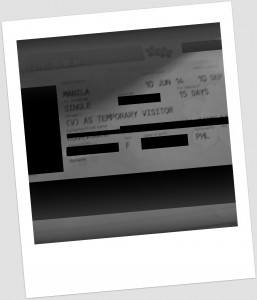 THE REQUIREMENTS
1. Philippine Passport – There should be at least two (2) blank pages and signature at the back.
2. Visa Application Form – Download Here
3. Photo – (4.5cm x 4.5cm, white background) – Must be pasted on the application form. Check the photo guide here.
4. NSO Birth Certificate – Must be authenticated at least 6 months prior to application. I had to go to the NSO Quezon City branch the last minute.
5. Daily Schedule in Japan (or Itinerary) – Download Sample Itinerary
6. Letter of Reason for Invitation – this will be provided by your guarantor (Download Here)
7. Letter of Guarantee – An assurance that your guarantor will cover your expenses for your stay in Japan. Must be handwritten.
8. Statement of Service
9. Documents or Photos to Prove Relationship – I submitted 5 photos with my friend.
10. ITR or Employment Certificate – To prove that you have strong ties with the Philippines
11. Bank Statement – of Guarantor if he/she will shoulder your expenses in Japan
12.Most Recent Income Tax Return of Guarantor (Form 1040 and Form W-2)
13. Marriage Contract (If Applicant is Married)
Additional Notes:
* If you're connected to the Guarantor's Wife, it would be best to get a scanned copy of her passport with all the stamped pages. The agency asked me to submit it the last minute.
* Apply two weeks in advance to make sure you get the results before your scheduled flight. Processing usually takes 3-5 days. I got my passport with the Japan Tourist Visa a few hours before my flight at believe me, the uncertainty of whether you'll get your visa or not a day before your flight is so stressful.
For more information on Japan Tourist Visa Application under SOFA status, click here.
Where to Apply for Japan Visa:
There's a number of accredited agencies, but I applied via Reli Tours & Travel Agency SM Megamall branch. The staff were very helpful and accommodating. The processing fee is Php 2,000.
For the complete List of Accredited Agencies by the Embassy of Japan, click here.
Other helpful links:
How to Renew Philippine Passport in Japan
How to Get Japan Tourist Visa While in the US
Japan Tourist Visa Application FAQ
There you have it! Looking at the list of requirements might be overwhelming at first, but submitting the right documents will surely increase your chance of getting a Japan Tourist Visa. The news is out that the Japan Embassy won't be as strict as before since they aim to attract more tourists to visit their awesome country. Tara na sa Japan! 😀