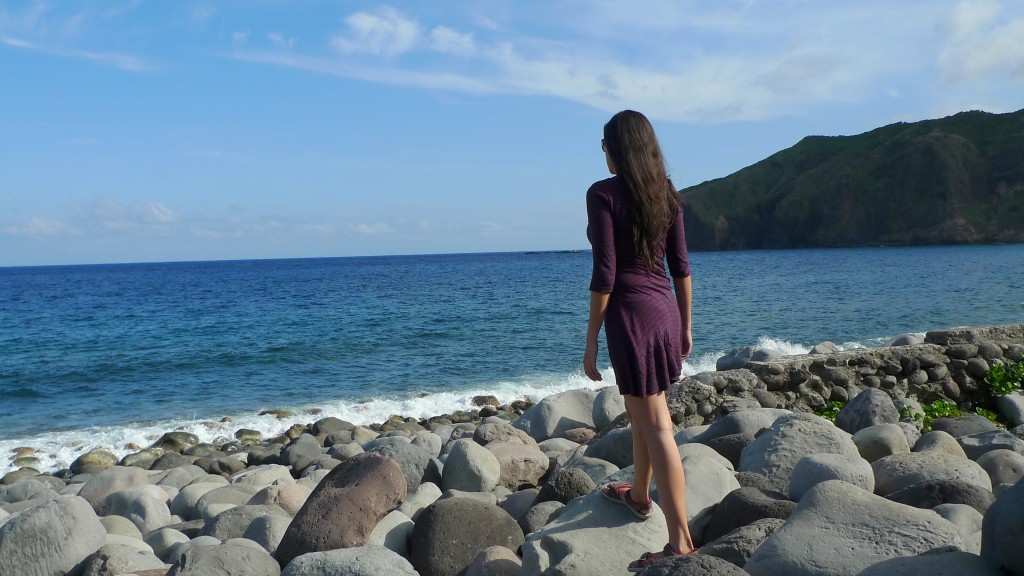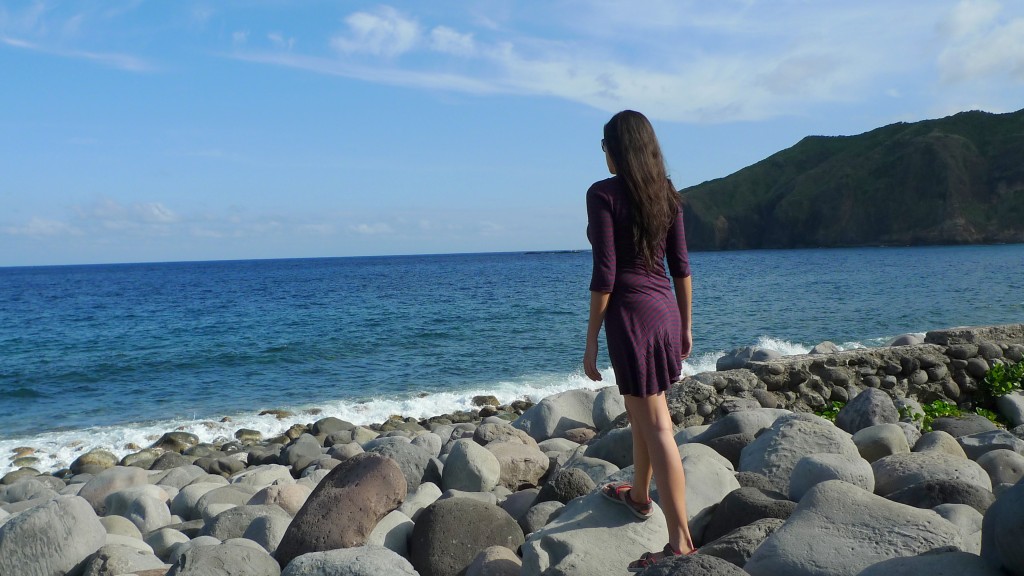 I was in Baguio with my grandparents when I read Brenna's post about the Travel Expo at SMX. I've never attended to one, but fellow travels flock to that part of Pasay to purchase cheap plane tickets or book hotels for a discounted rate.
Being the generous girl that she is, Brenna shared the news about the Php2,100 RT Manila-Basco tickets. I sent her a message asked if the same rate applies for the May travel date.
"Yup, that rate is for May!" she replied.
PAL Express offered promo fares in the past which is cheaper, but I wasn't that excited because I would rather go to my dream destination with the right weather and it would be more special if I get there on my birthday.
The original plan is to go to Batanes with my high school best friend Maire, since she's also celebrating her birthday on May 10. Technical glitches happened when Brenna was about to book her tickets. Toinks.
The ending? Solo Trip.
Hearing stories about how unpredictable the weather is and how expensive a solo Batanes trip is almost made me back out. Maybe my determination to visit my dream Philippine destination is just too strong. Yeah, I may not have written Batanes on this list because I didn't imagine I'll be able to visit this year especially on my preferred day, which is my birthday!
Everyone's excited for me. The first on the list is my grandfather, who for one week reminded me on what I should bring, which proper outfits to wear (which I end up breaking) and photos to take.
"Don't forget to take a photo wearing the Ivatan headdress" he reminded me a night before my flight.
I was tired from the bus trip from Dagupan to Manila, but I am just excited to travel solo in an unfamiliar place again. It was just a bit frustrating that I end up reading about Itbayat Island just hours before my flight. I wasn't able to allot money for it so I won't pursue that trip for now.
I cried while in the airport out of desperation with my booking. All the while, I thought check-in is included in my airfare, but it isn't. It's my fault because I should've called the agency days before my trip. I cried because the money I set aside to splurge for was spent on something I could've fixed prior to my flight.
But in life, shit happens. Extra baggage as such must be left in the airport! I took a deep breath and went straight to a nearby coffee stand. I need all the caffeine to keep me awake and positive. Might as well Php140 for a coffee for my sanity!
The flight wasn't full and I noticed that majority of the passengers were senior citizens and Ivatans. I spotted a group of yuppies and I even think they're all flying to Batanes for work.
I glance through the window and guess what? I'm at the wrong side of the plane! So if you're reading this, choose window seat F when flying to Basco, then take the window seat A when going back to Manila.
But oh boy, the arrival at the Basco Airport is priceless.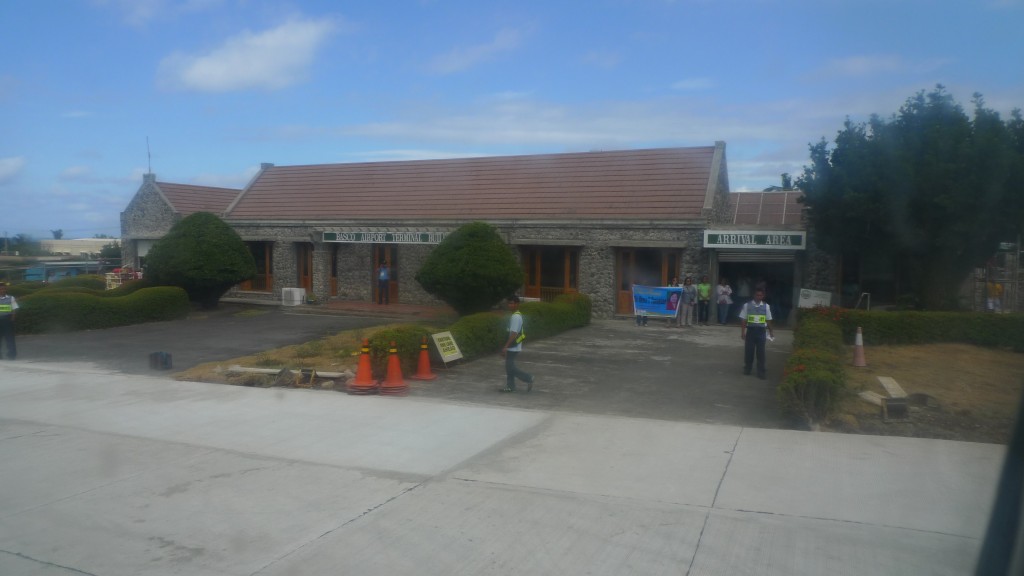 I spotted Ate Linda of Time Travel Lodge. She told me that Kuya Lito, the tricycle driver recommended by my cousin is already waiting for me. Both of them greeted me a Happy Birthday.
This is my first solo birthday trip and I'm loving it already!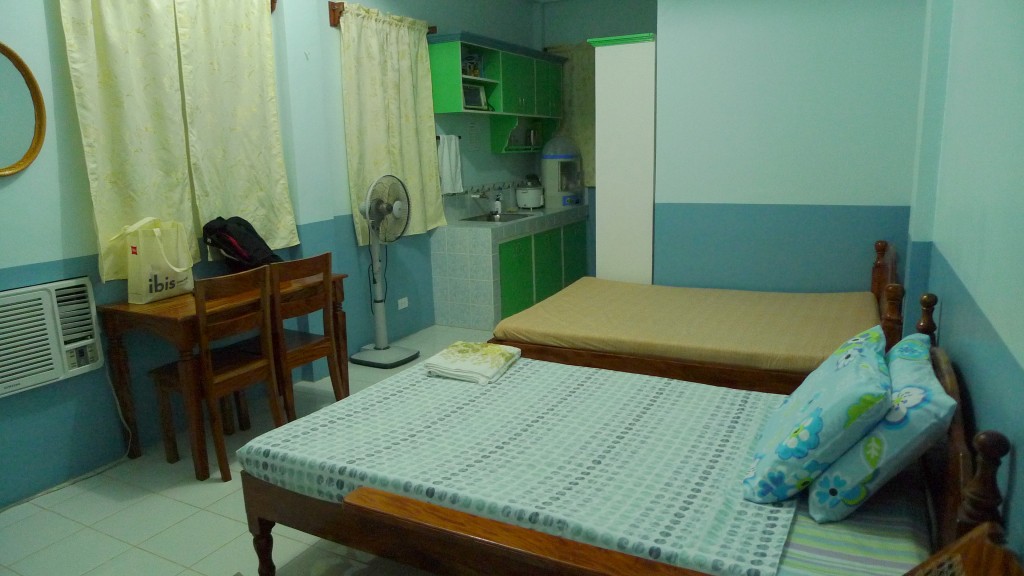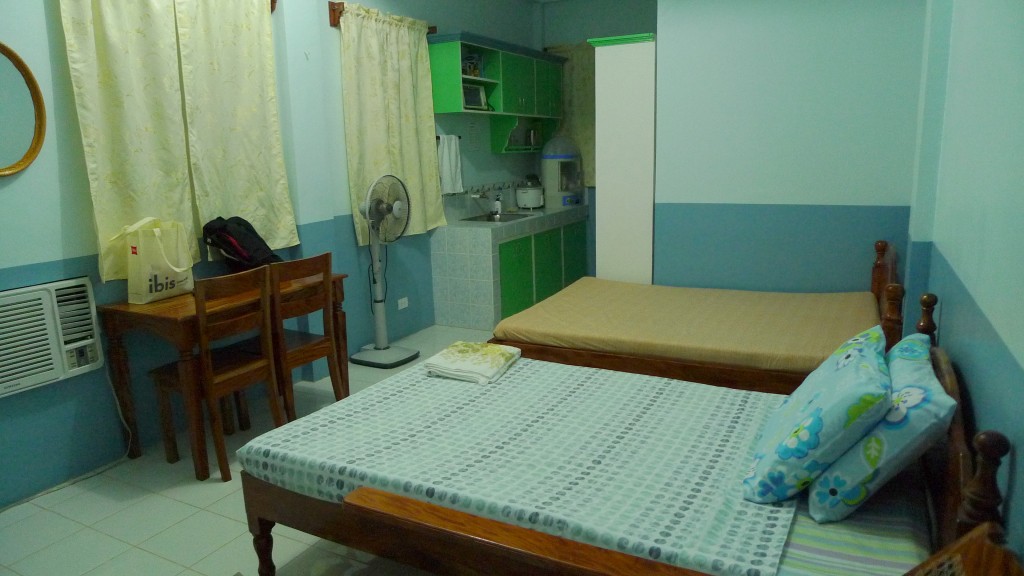 All the negativity from Manila was scrapped out of my system. I went straight to Time Travel Lodge to take a nap. Surprised with my spacious room!
Woke up in time for lunch and ate lunch at Ella's Foodhaus. Pag-aari ko ba ito na hindi ko alam? Haha 😀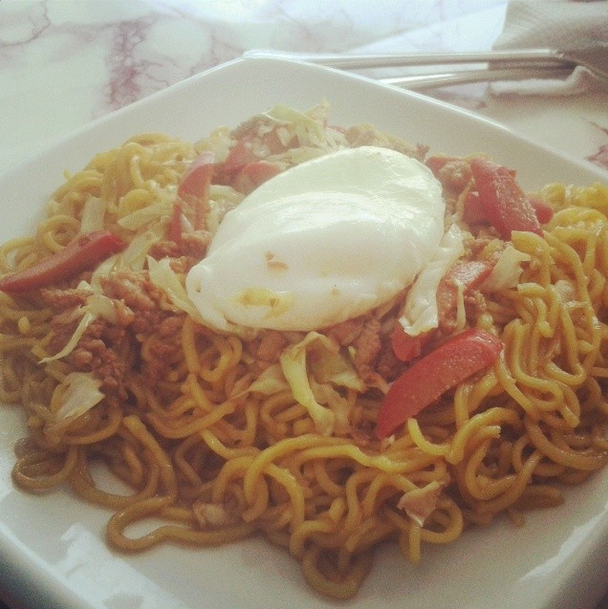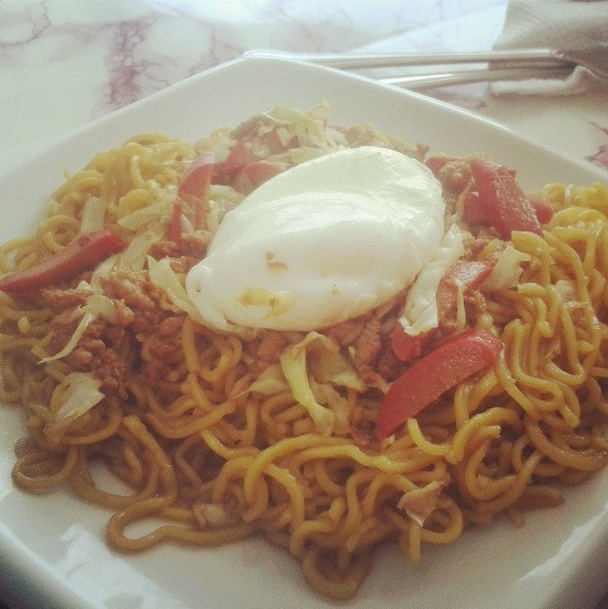 It's my first time to eat Pancit Cabagan from Cagayan. As if on queue, I heard Jessie J's 'Domino' three times on my first two hours in Basco. Okay, time to smile!
I started with the North Batan Tour that afternoon. Honestly, I was worried about the budget. Traveling solo in Batanes can be expensive as what my friends said. I even thought of approaching another solo traveler at the airport just to lessen the cost, but I also figured out that it's my birthday, I'm gonna do what I want! I'll spend as if I'm Jessie J!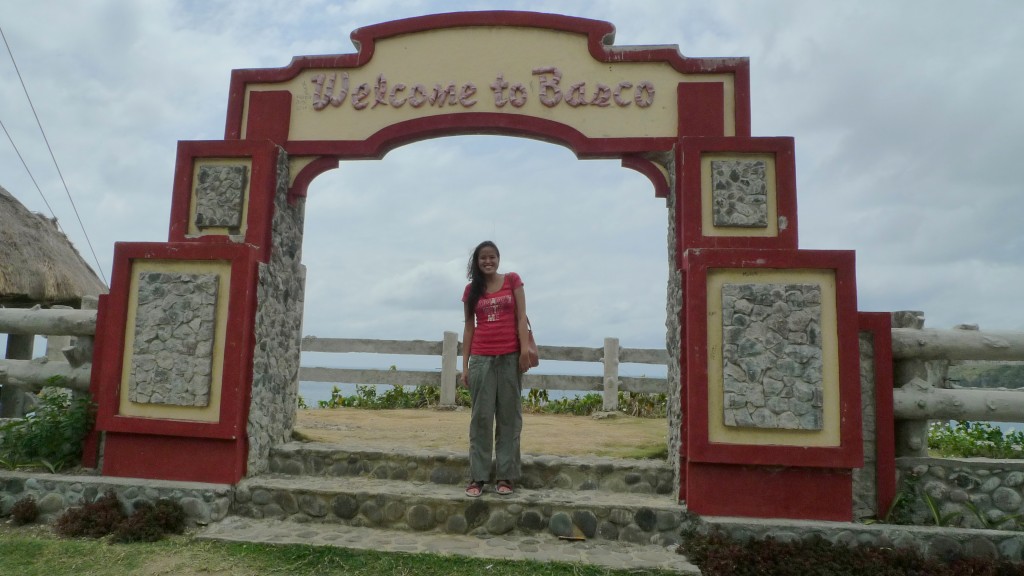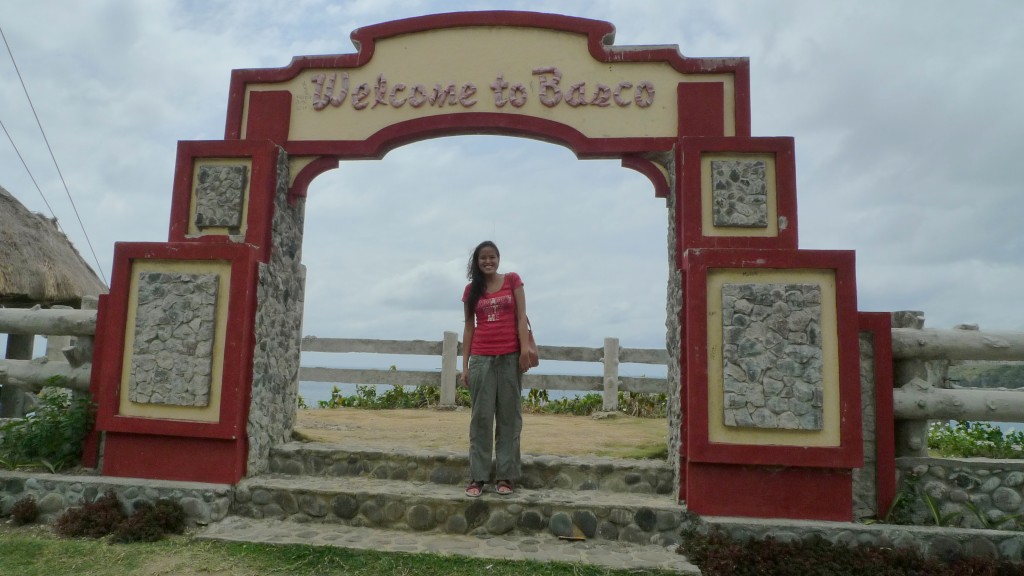 My mood that day is as gloomy as the weather. Did I arrive at the wrong time? I was close to frowning when Kuya Lito suggested that I take a touristy photo beside the Welcome to Basco, Batanes sign. SMILE! Iz yo bertdei! 
There's something about the wind and the scenery that makes every tourist fall in love with this Batanes. I haven't seen so much, but I do get what they mean when they say it is a Breathtaking place.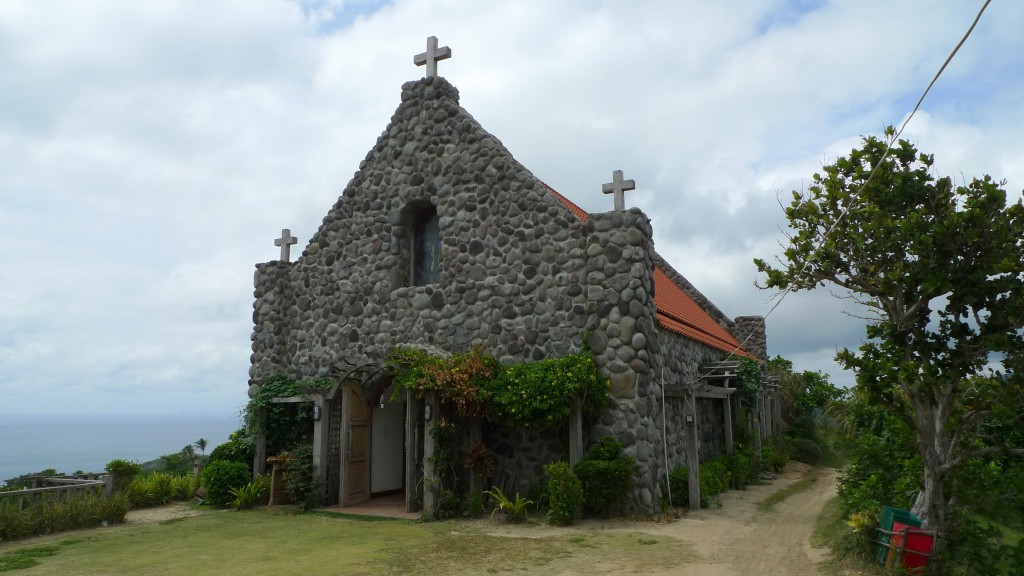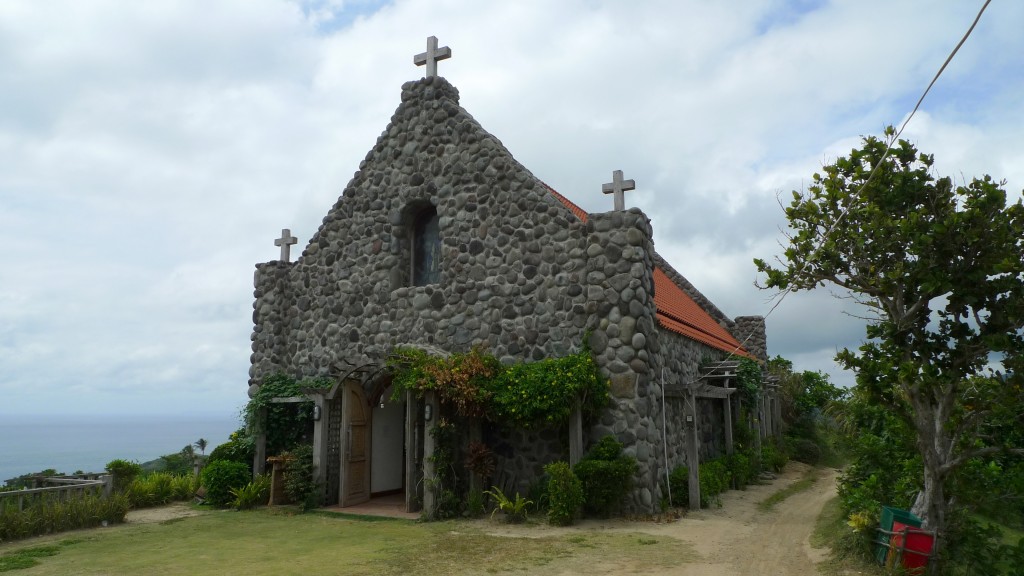 "Now let's go to the chapel since it's your birthday" Kuya Lito said. I don't attend Sunday mass on a regular basis, but I do pray and thank Him for all the blessings. Being in Batanes for my birthday is already a big blessing, I must say.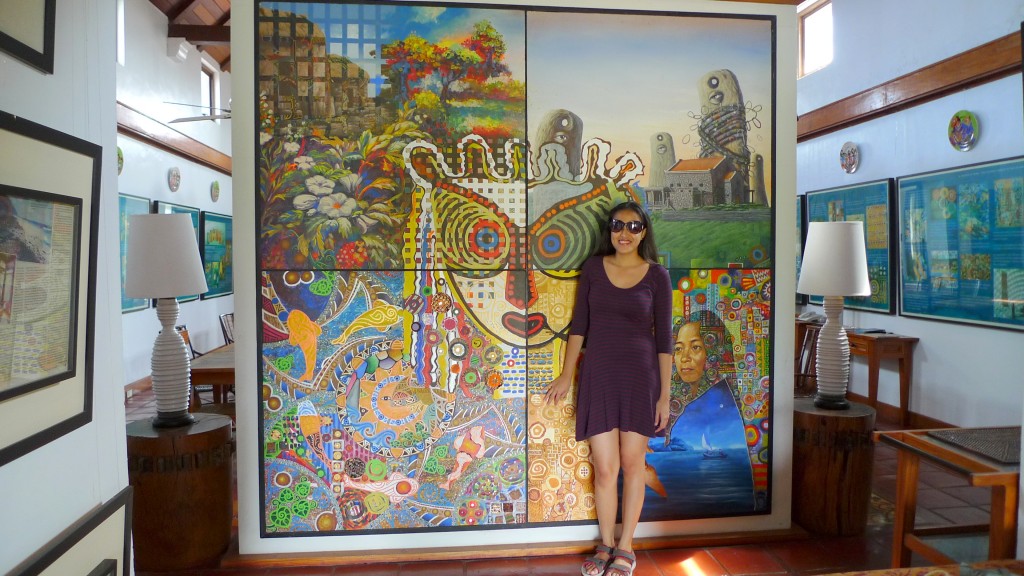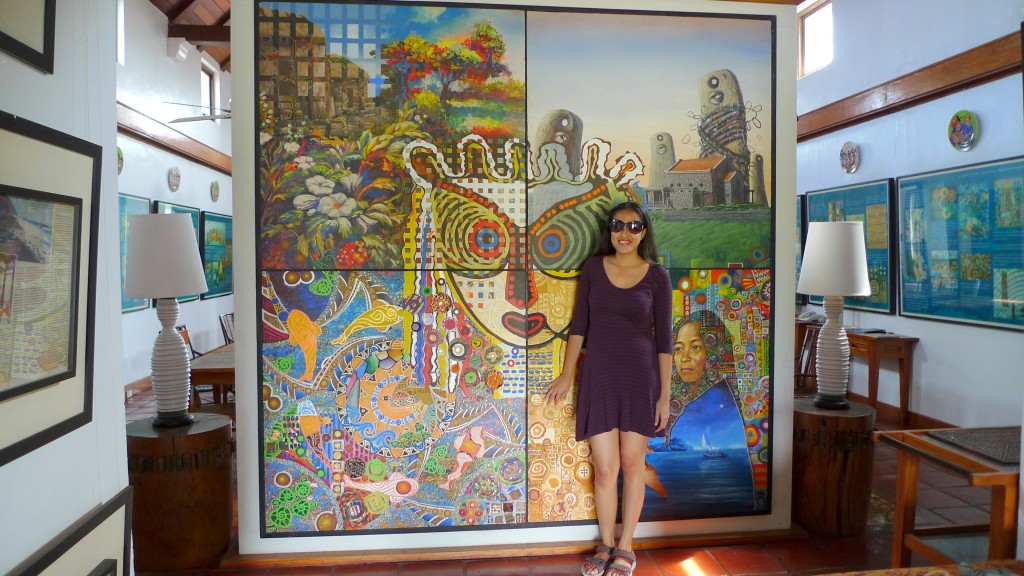 As if on queue again, the sun eventually showed up when I changed my outfit at Fundacion Pacita Haha 😀 I'm just like the weather – never the same 😛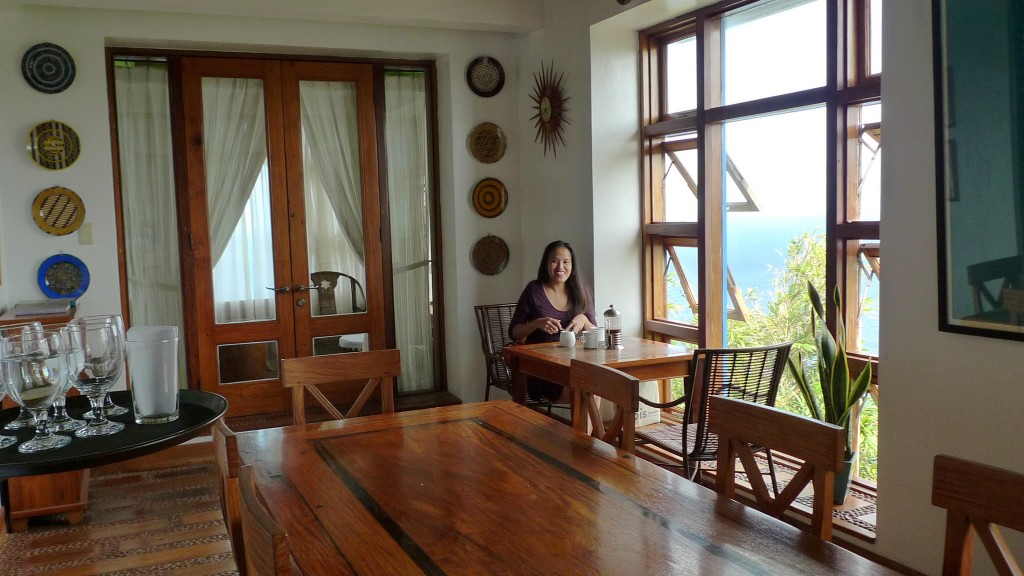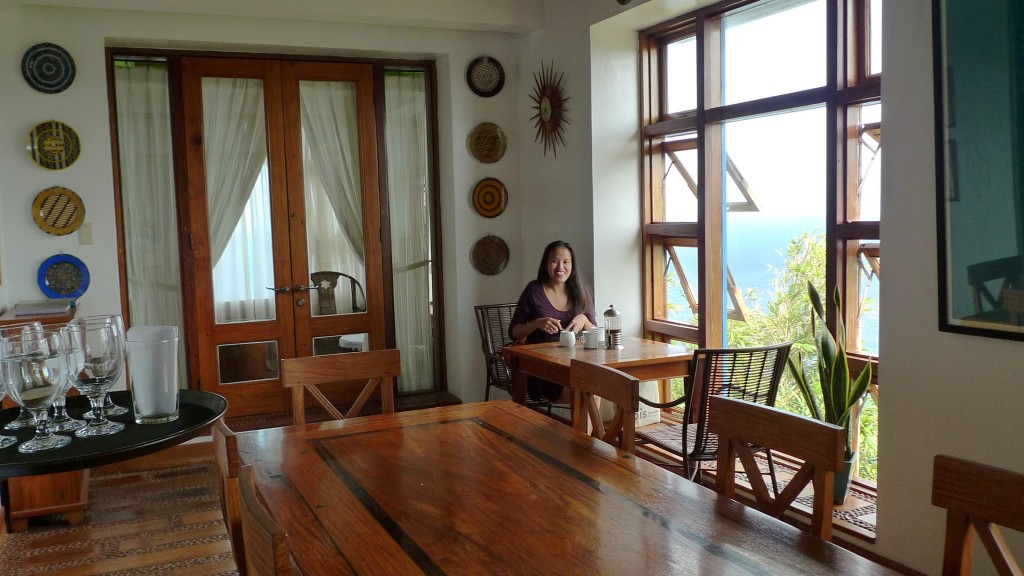 I took this opportunity to take a break and appreciate the simplicity of drinking brewed coffee while staring at such scenery. It reminded me of the time when I stepped in Siquijor for the first time. I'll write a separate entry about it.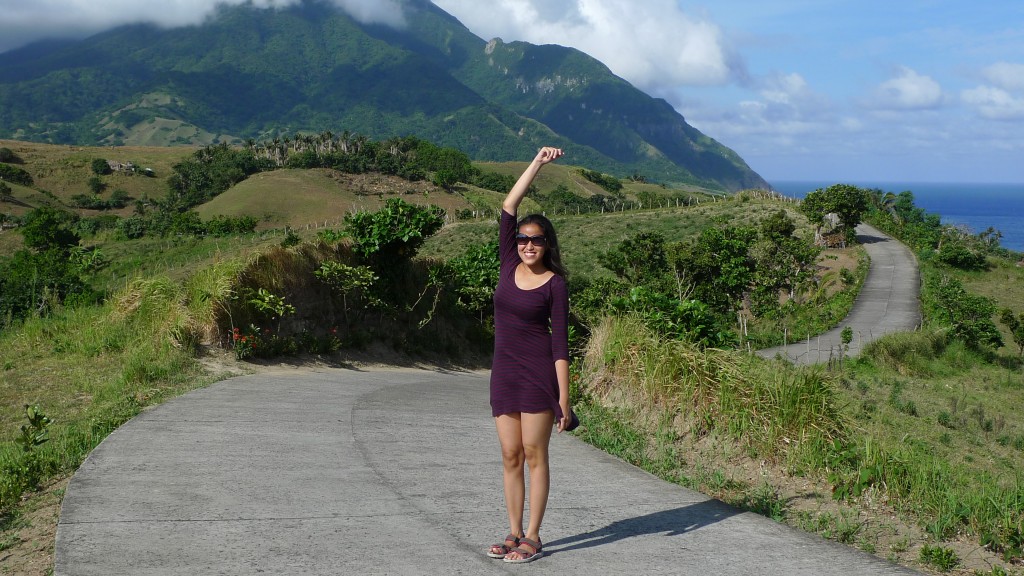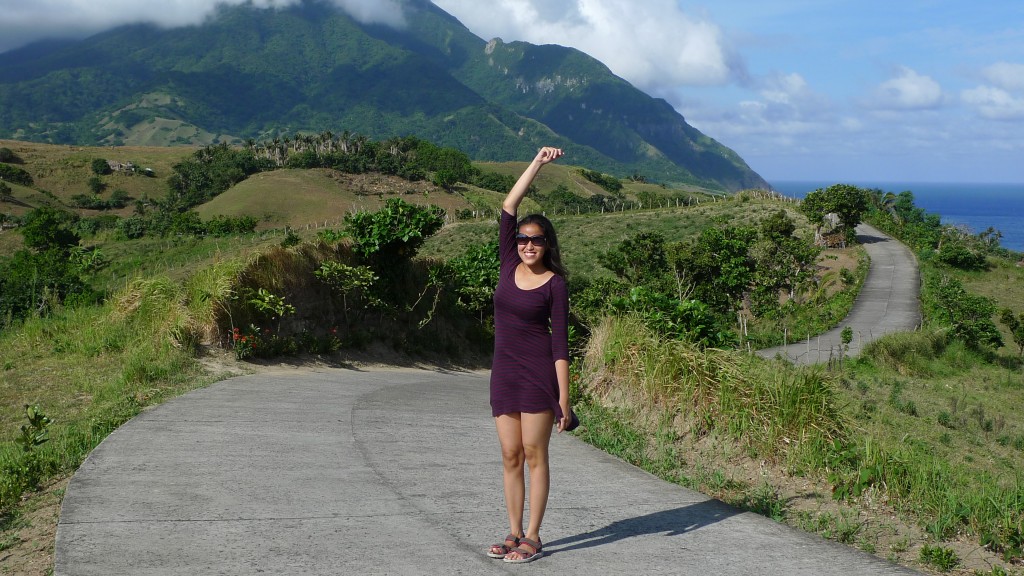 Then the North Batan tour pushed through with a sunny weather. I felt like a kid again exploring this part of the Philippines for the first time. This is not a dream anymore, Micaela. This is reality!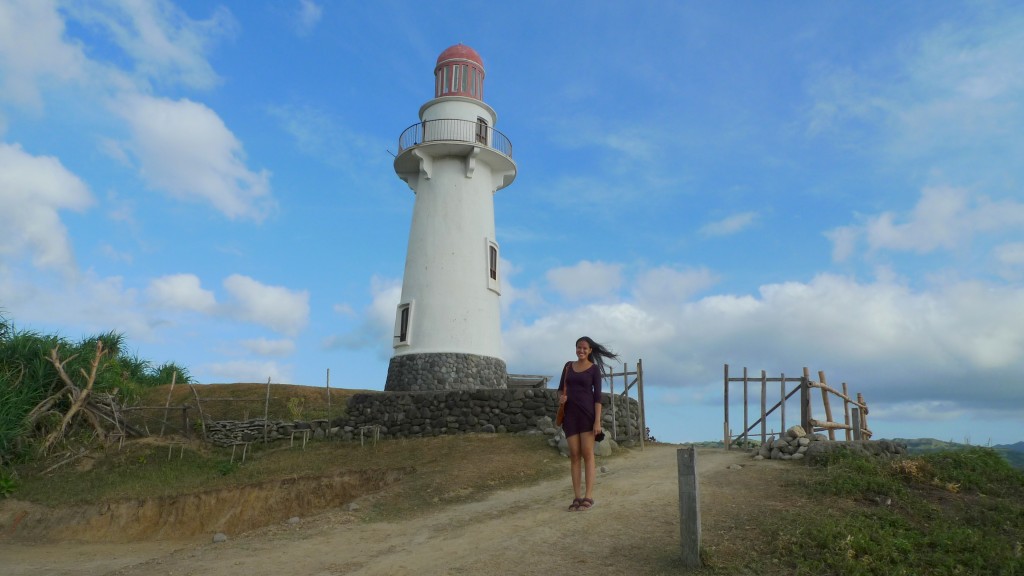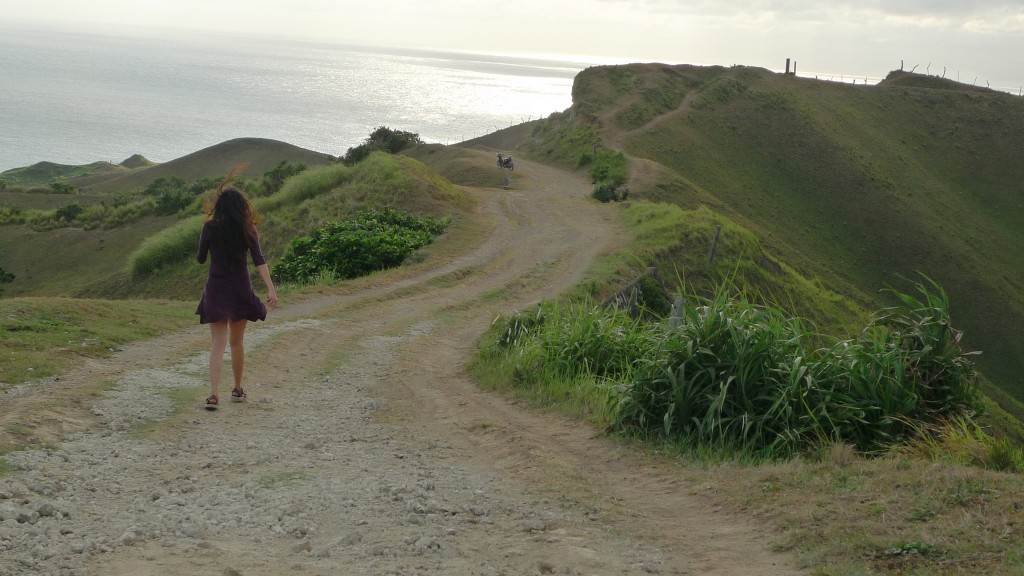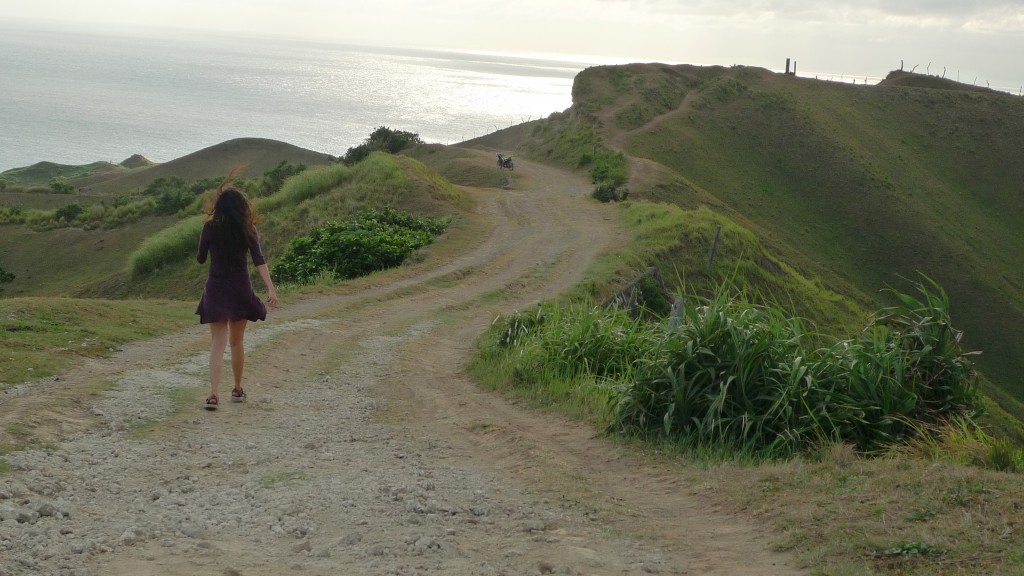 The tour ended at around 5PM. I didn't bother waiting for the sunset because I am too happy and I didn't want to feel emotional again. Quota na. Gutom na rin ako.
What's for Dinner? I was hoping to taste the popular Coconut Crab, but a kilo is around Php700-800. Wah. I wasn't even sure if I can finish all of it and it is too expensive if I'll eat it alone.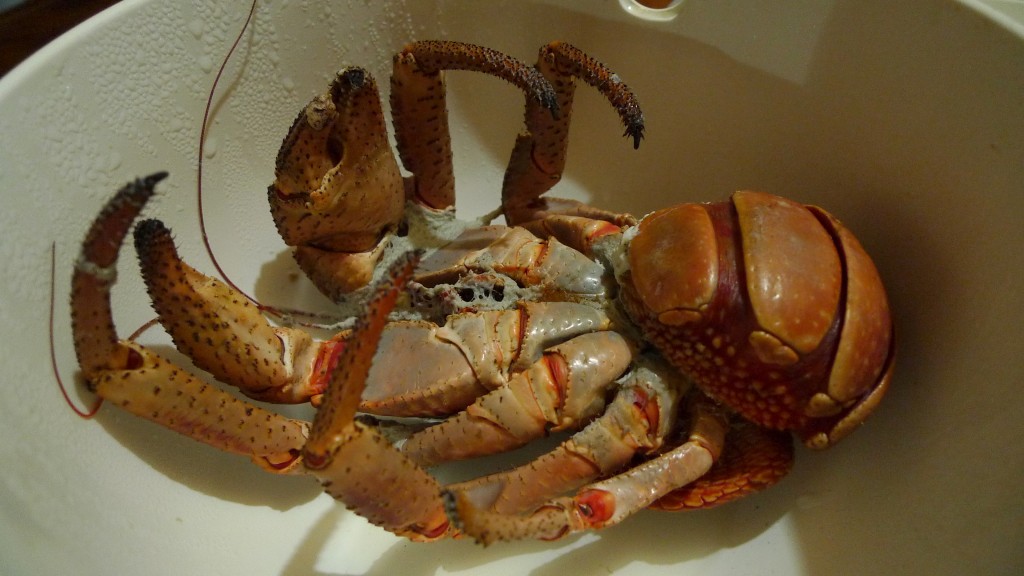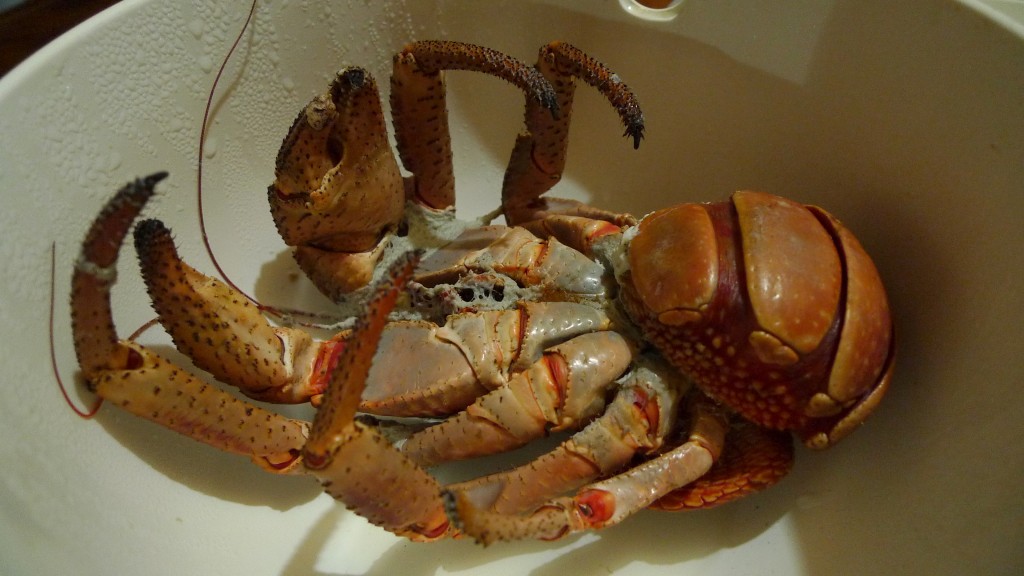 Little did I know that Kuya Lito prepared Coconut Crab for me as he said it is my birthday gift! It's my first time to meet him and I find his gesture sweet and sincere. Even Ate Linda gave me some fruits during my stay. Through them, I experienced the hospitality of the Ivatans.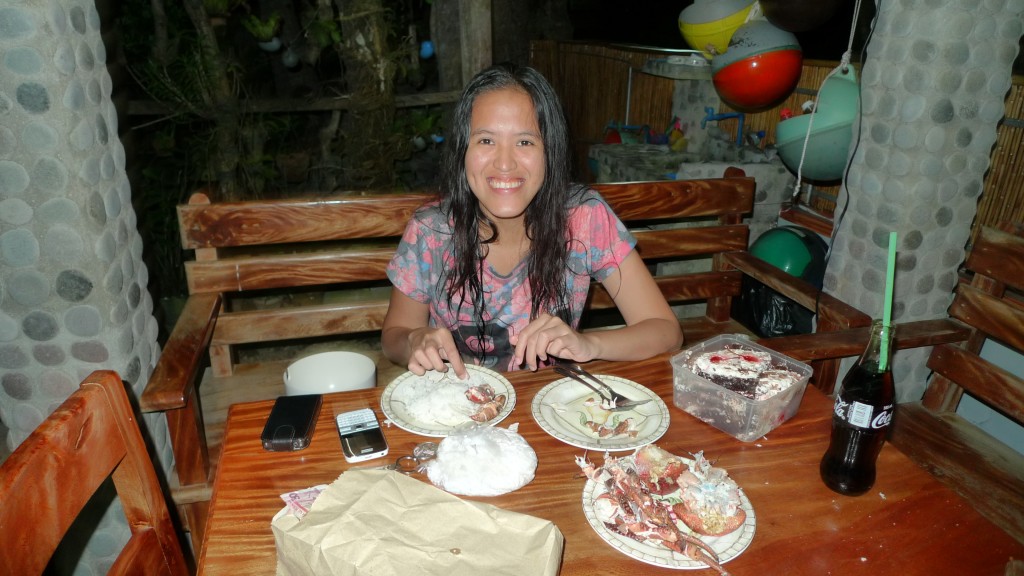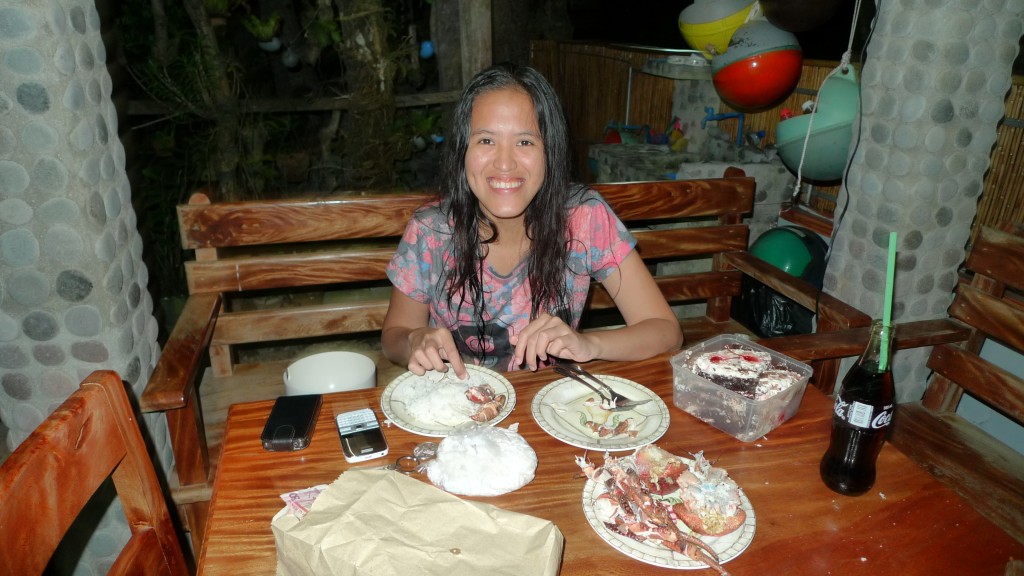 The rest of the night was spent answering birthday greetings online and thru text. The internet connection that night was too slow so I didn't upload much photos even if my grandfather and my mom were bugging me to send photos on Viber Haha 😀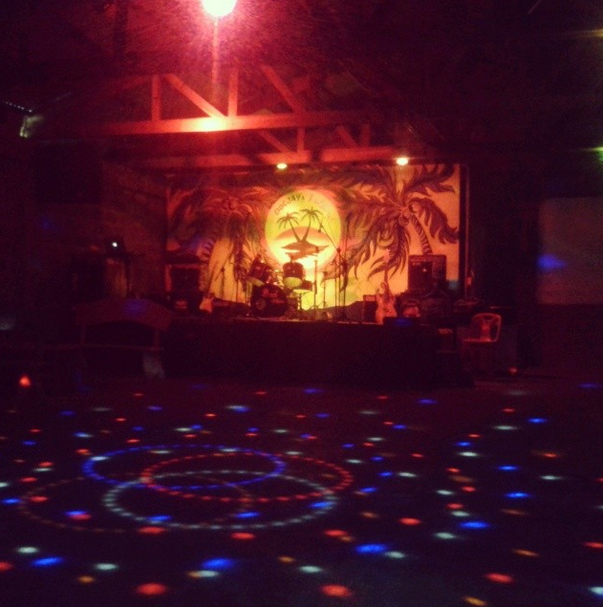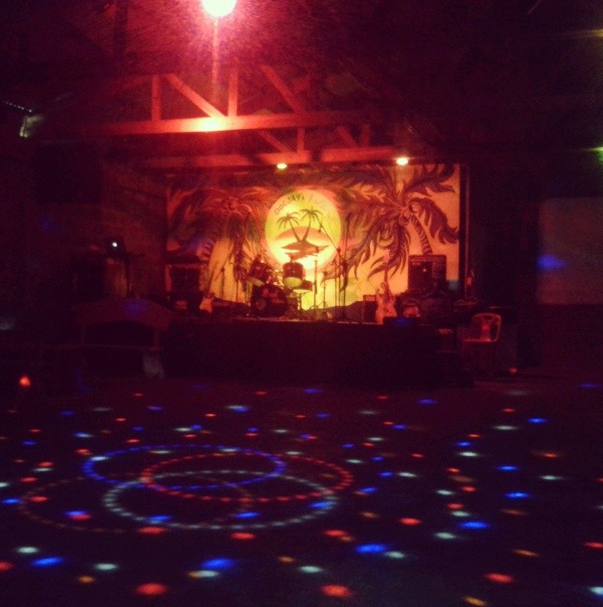 The succeeding days were spent exploring Sabtang, South Batan and the Ivatan nightlife. What I love about this solo trip of mine is that I am in control of my own time. I don't really like to rush and explore as many tourist spots. I am in Batanes not just to take beautiful pictures. I want to appreciate this part of the Philippines. Too bad my budget wasn't enough to pursue an overnight trip to Itbayat.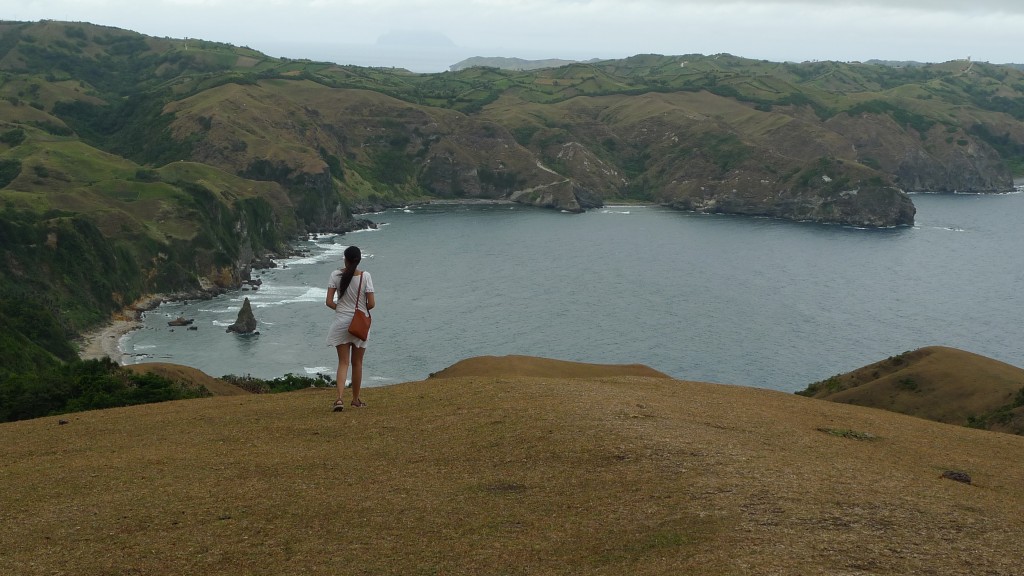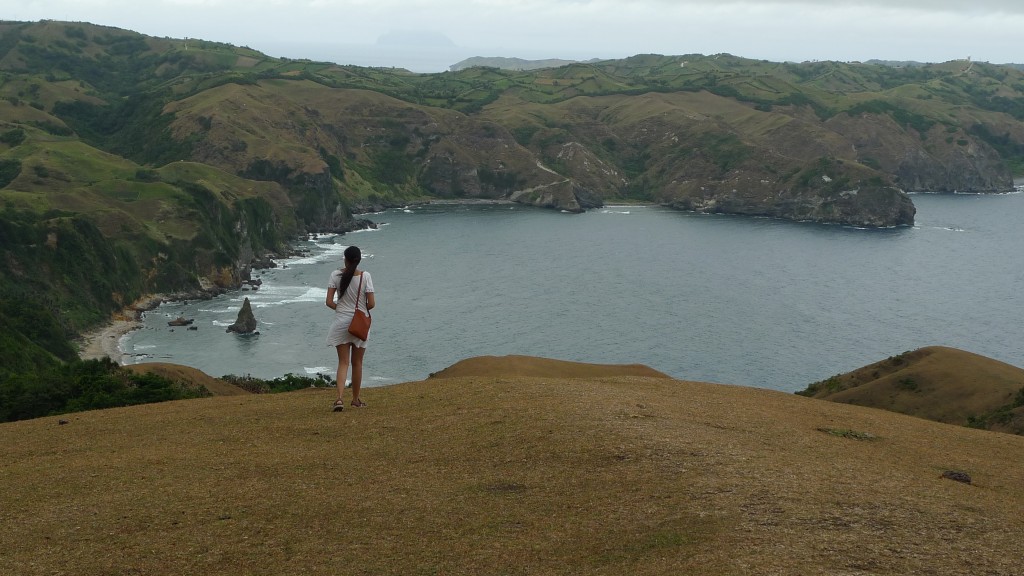 To sum it up, going Solo in Batanes for my 27th birthday is the best decision ever. It is nice to celebrate your birthday in a place with no pollution, heavenly scenery, genuine people and just chill with no pressure or whatsoever. Traveling solo is something that I do really enjoy and I would like to take advantage of the fact that I can still do this. I want to bring my family though when I return 🙂
I will write a more detailed post regarding my North Batan, Sabtang and South Batan Tour soon. If you're looking for a reliable Tricycle Driver/Guide to tour you around the mentioned places, I highly recommend Kuya Lito Alcantara! You may reach him at +639182167440
Have you been to Batanes? If yes, what are your most memorable moments in this part of the Philippines? If you haven't, you must visit soon! 😀