Beach lover? You will surely enjoy a beach hopping adventure in Pangasinan particularly in the Western part. Although I was born and raised in Pangasinan, I didn't really get the chance to explore my beloved province that much. In fact, I enjoyed a Hundred Islands Trip in Alaminos City for the first time two years ago and  revisit some of Bolinao's hidden treasures.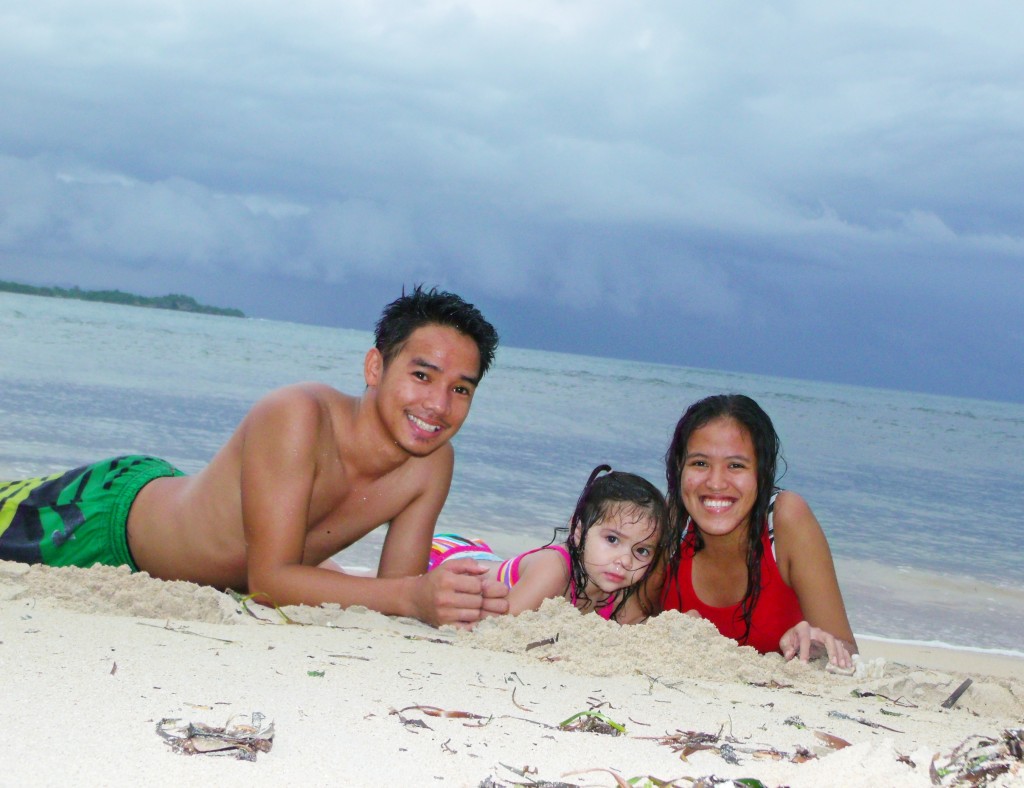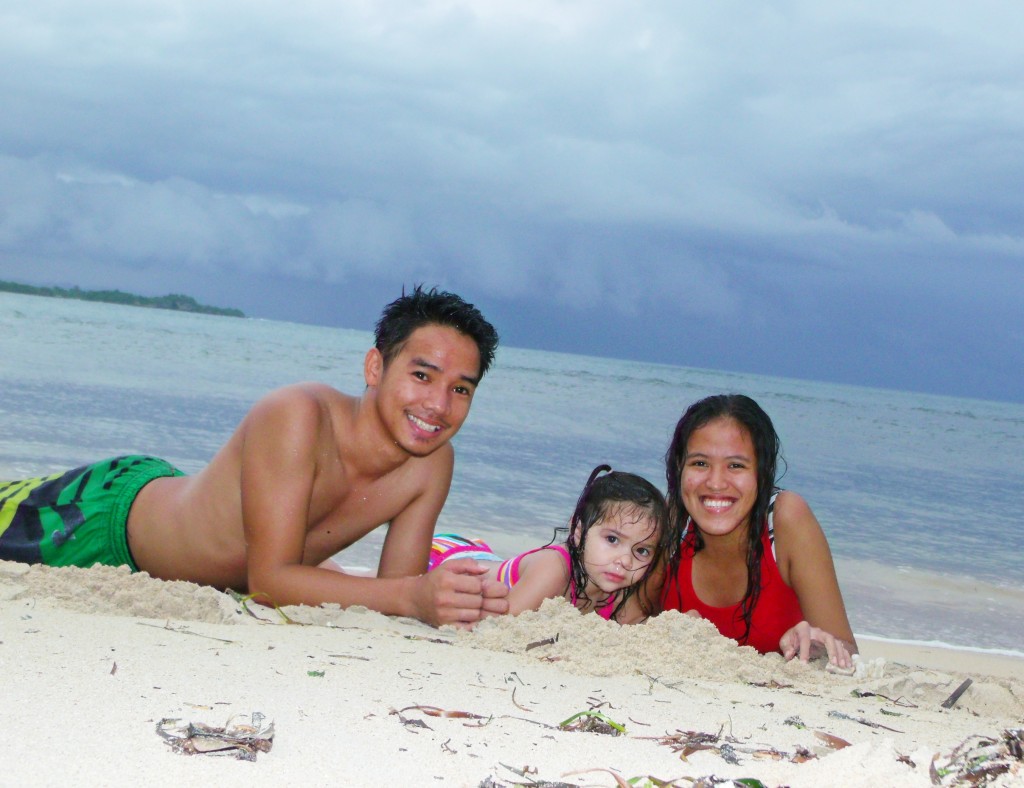 To celebrate Independence Day, we planned a trip to Tambobong Beach in Dasol, Pangasinan. I remember passing by Dasol as a kid when we're on a roadtrip to Zambales. This time, I am about to enjoy a trip with travel blogger friends + a bohemian bebe girl.
Darwin arrived early morning in Dagupan City on the 12th of June. Â We met up with Gay, Baby Luna and Tita Miriam (Gay's cool momma) Â at Cafe du Marc and enjoyed a Boneless Bangus breakfast meal. The heavy rain downpour didn't stop us from pursuing the trip. Initially, I was a bit worried for Baby Luna. It is my first time to travel with a kid who hasn't even turned two years old yet! 😛
From Victory Liner Dagupan, we took a non-airconditioned bus trip to Burgos via Sta. Cruz. The trip lasted for two hours (due to the stopover in Alaminos bus station). We were able to talk to a tricycle driver and asked on how we can possibly go to Tambobong Beach. He said that he can bring us there, but the trip will be approximatel;y 45 minutes. We asked if he can recommend a place on where we can eat lunch and he suggested a simple restaurant near the market.
While we were eating our lunch (Igado, Dinuguan, Papaitan etc), we asked if they can recommend a place on where we can stay. The owner suggested that we contact Ms. Vivian. We tried calling other resorts within the Tambobong Beachfront, but we find their rates too expensive. I'm glad that we asked as we found the perfect place for us.
Darwin and Gay went to the market and bought something that they can cook for dinner and brunch for the next day. I took charge of taking good care of Baby Luna. Wah. Now I know how it feels like to babysit! Luna loves to walk and gets attracted to moving objects easily. I think I did a good job by looking after her. Pre-motherhood training LOL.
Our 45 minutes tricycle ride to Burgos Public Market to Tambobong Beach is a tricky one. We were ok on the first few minutes since the road is good. Just like in any romantic relationships, the rocky part made us worry a bit since we brought some bottled drinks with us (a.k.a. Tanduay Ice) and some eggs as well. Talagang kwinento halos lahat eh, noh? 😛 I'm proud that the youngest member of the group is ok with it and she slept at the middle part of the trip.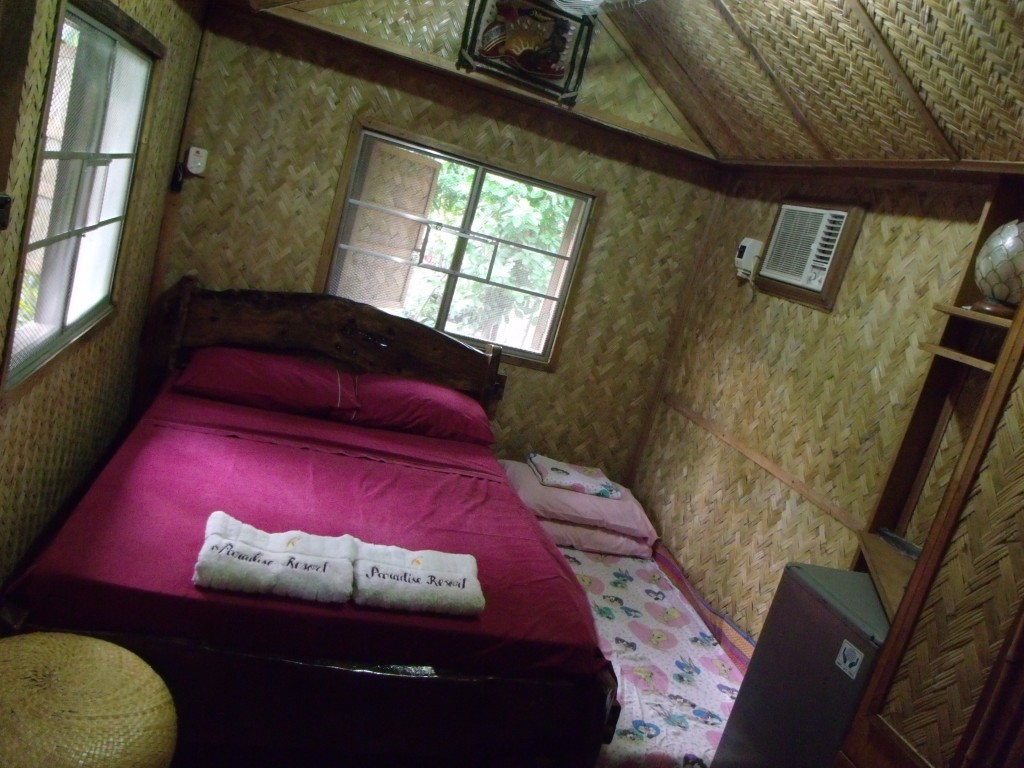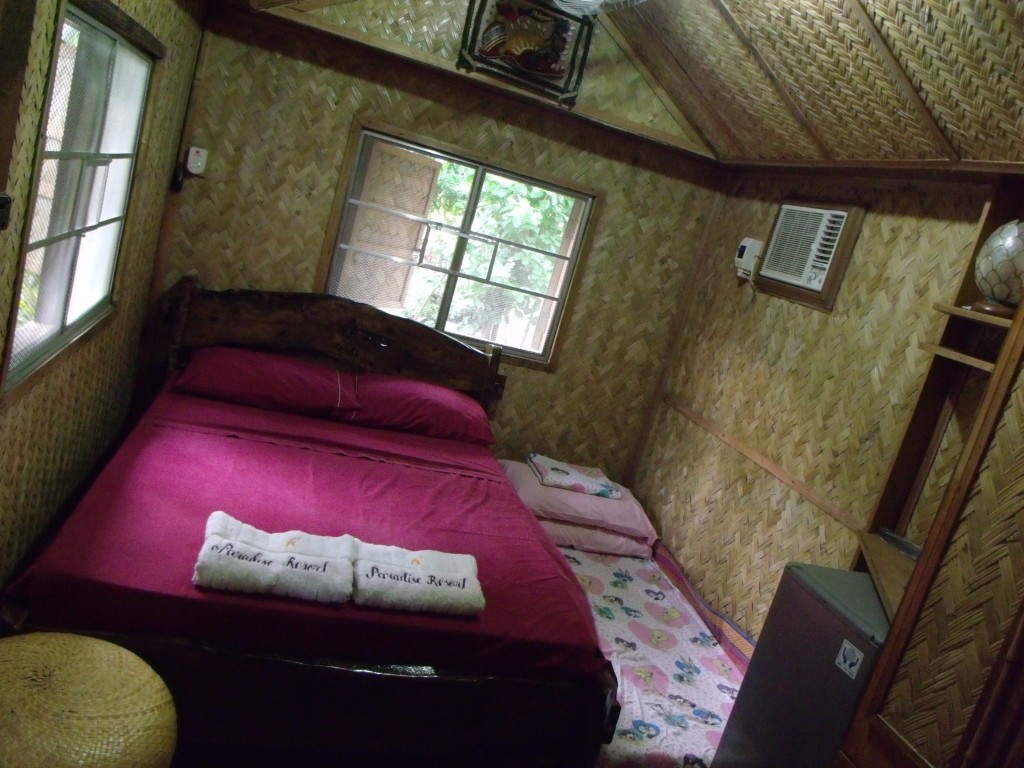 When we arrived, we were directed to a beachfront residential home and it turned out to be the accommodation being offered by Ms. Vivian. Obviously, the place is still under renovation. She showed to us two villas that is newly-constructed and guess what? We loved it.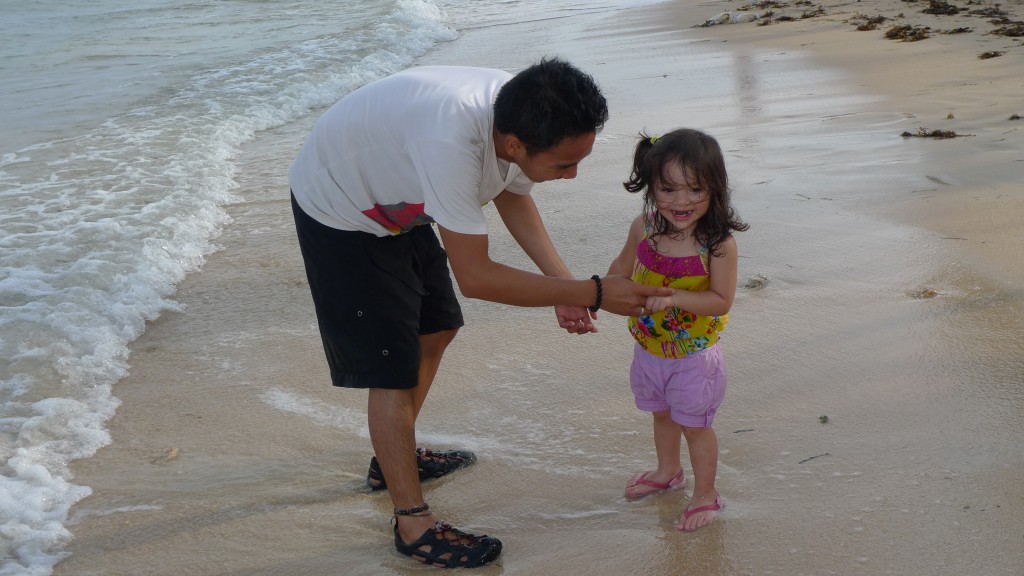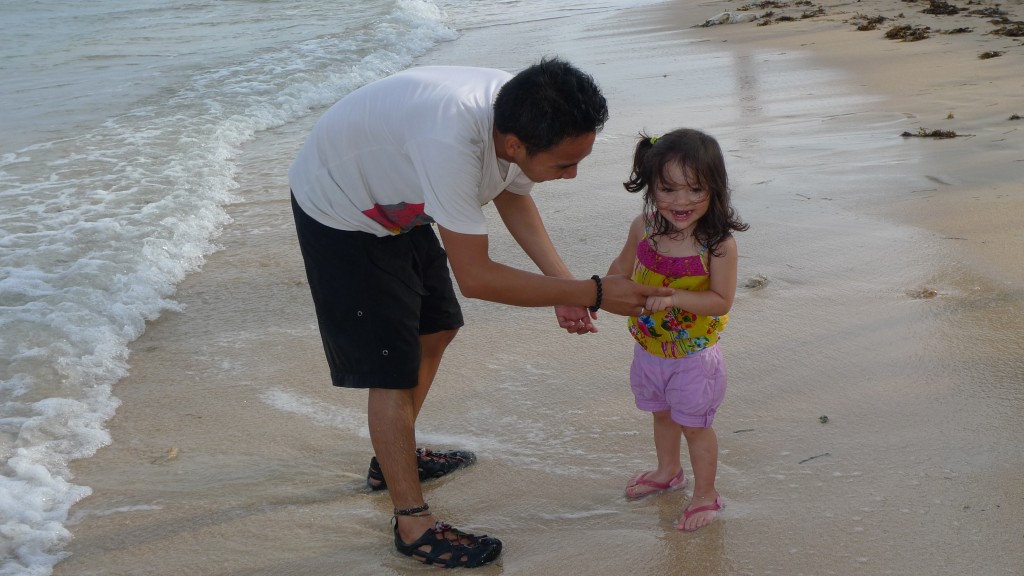 We all went straight to the beach with hopes of catching the sunset, pero fail toinks. I remember feeling a bit high when we finally went to the beach that afternoon. Baby Luna was excited and she isn't afraid to fun after the waves – not at all! Darwin played a little game with her called Patintero =))
Later on, Doc Wends arrived. It's amusing on how his trip that day went: He arrived in Manila from Hongkong in the morning and rode a bus to Alaminos via Camiling route. Woot! From Hongkong to Tambobong! It was my first time to meet him and I am really glad that he went to Pangasinan. He originally planned to visit some parts of Ilocos and Tuguegarao. The unpredictable weather of the North and the fact that we're in this side of Pangasinan made Doc Wends decide to join us the last minute. Doc Wends took some pictures while Baby Luna is the center of attraction among little kids. 'Batang amarkano' kunada met 😛
I also had the opportunity to talk to Ms. Vivian, who shared an interesting story about her love for Tambobong Beach. I can also see myself buying a beachfront property once I reach my 30's.
I can't cook, so Gay and Darwin took charge in the outdoor kitchen. I volunteered once more to be Luna's babysitter. This kiddo is full of energy yet looking after her is fun. Why? Because she is not as hard-headed as other kids her age.
Our dinner that night reminded me of past outdoor gatherings with my relatives. Beach outings are best spent with cousins and all you need to do is swim, eat and enjoy! Eating simple good food for dinner with friends is fun lalo na kapag kamayan. Add the fact that we had a number of interesting stories to share 😛
Baby Luna and I slept early that night because I lack sleep. Being awake for 30+hrs + full stomach = Food Coma.
I woke up at 6:30am the next day. What a gloomy morning! I stayed in the beach front for almost two hours thinking of several things. Later on, young kids with their school bags passed by. Miss my school days and I wonder how it is to bring your own kids to school. That time will come soon.
I'm alone and I appreciate it. I went back to our room and everyone's still asleep. I went back to the beach and took some pictures and observed the morning routines of the locals.
Everyone's up at 8AM. We all went straight to the beach to swim a bit. Darwin, Luna and I stayed a bit longer and even recorded a few videos (mostly dancing in the beach hehe). Gay prepared for our brunch. Tuyo + Fried Egg+ Sinigang na Hipon (thanks Ms. Vivian!) = Bonggang Tambobong Brunch!
Here's a teaser video that will give you an idea on how fun (and windy) our trip was! 😀
Ms. Vivian, her kids and the staff were really nice and accommodating. They made us use the kitchen free of charge (our prize for not using the aircon LOL) and they did help us in some errands. We will surely come back to the place soon. Hopefully, the weather will cooperate LOL.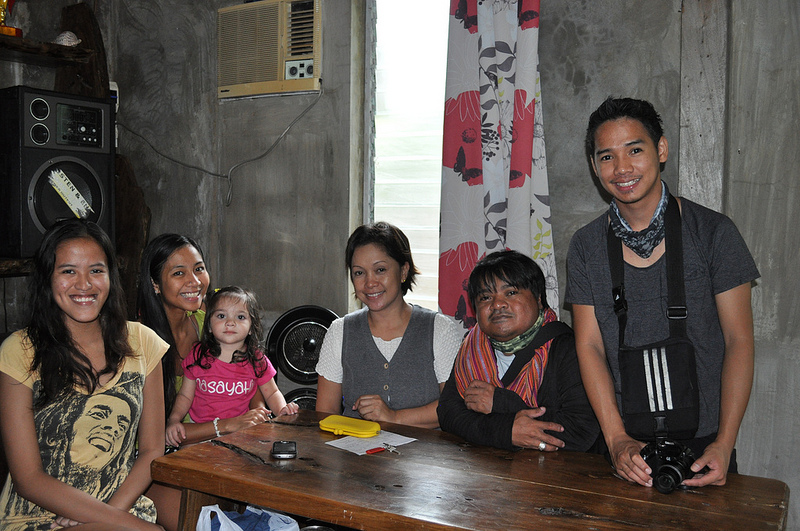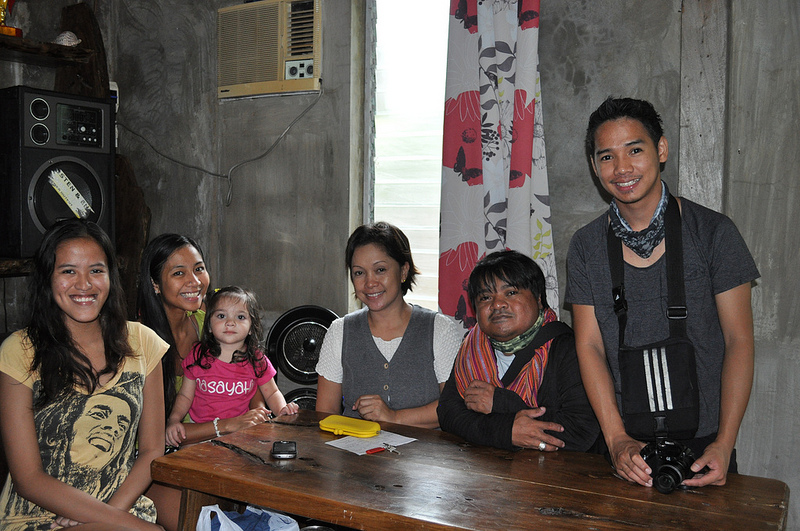 We went back to Burgos for our late lunch (same restaurant as previous day- just forgot the name LOL) and stayed there for more than an hour. The tricycle trip back to the town proper is a bit more challenging due to the rain and mud. Fun pa rin 😛
A month has passed and I am set to invade another part of Pangasinan soon. I would like to give my link love to my travel mates Gay, Doc Wends, Darwin and Baby Luna! 'Till our next trip! 🙂
How to Get to Tambobong Beach
From Dagupan – > Daily trips are offered in hourly basis Victory Liner and Five Star bus (Sta. Cruz, Zambales route). Ask the conductor to drop you to the Burgos Public Market. You can rent a tricycle from there (300-400). Rates depend on the weather. The tricycle trip is close to an hour.
From Manila -> Ride a Alaminos-bound bus (Victory Liner or Five Star are highly recommended). From there, you can ride a jeepney going to Burgos and ask the driver to drop you off to the Burgos Market. One can hire tricyle from there. You can also contact Kuya Ronnel (+639082378794)
Where to Stay in Tambobong Beach —> R PARADISE BEACH RESORT (contact Ms. Vivian at 0908 820 2016Â ). The rate is a bit cheaper compared to other accommodations. Â If you prefer the rural feel in a homey ambiance, I recommend this place. The owner and the staff are very accommodating.
In this trip, we weren't able to do the Island Hopping Tour due to the weather. We were discouraged since our safety is the main priority. Hmmm… another reason to go back teehee 😀
Have you been to Tambobong Beach of Dasol, Pangasinan? Let's all explore Pangasinan!
* Photos without watermark grabbed from Tracking Treasure and Journeys and Travels.