Corregidor is one of the destinations in the country that is quite accessible from Metro Manila. I've heard about Corregidor and its importance during the World War II specifically on the American-Japananese war. Surely, it was bloody as hell. I'm glad that those days are over!
Corregidor is now being promoted as a tourist destination. It caters mostly history enthusiast and those who would like to know more about bits of our history.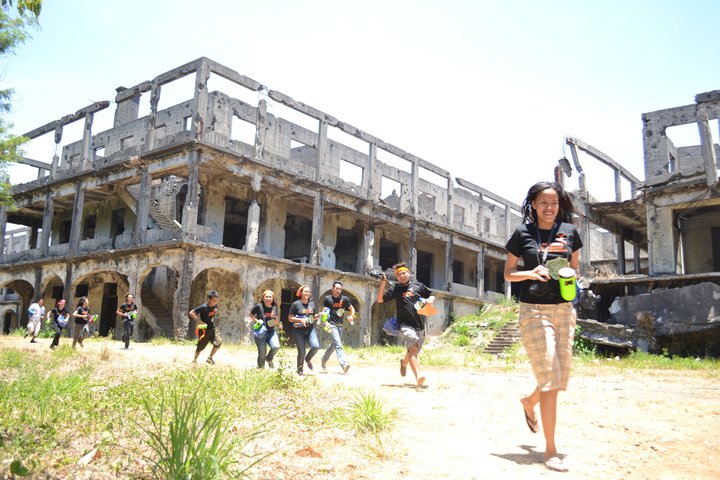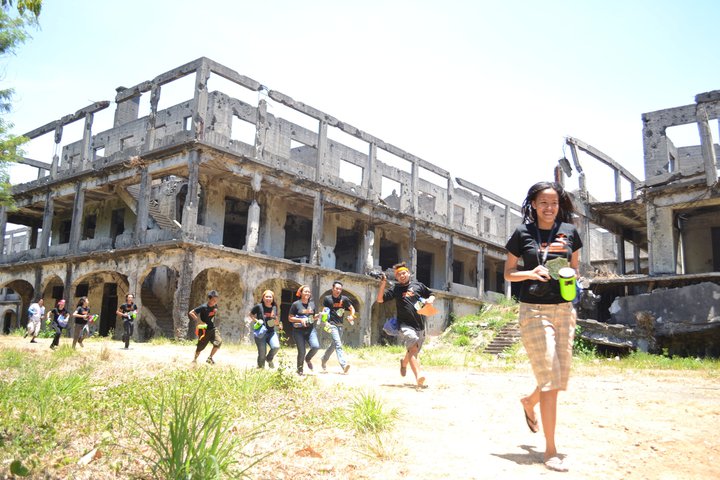 When I saw Ivan Henares' announcement at the Pinoy Travel Bloggers group for a Corregidor AdvenTour Trip, i signed up immediately. I also felt the need to go out of Metro Manila that time. It is also a chance to meet some of my fellow PTB members.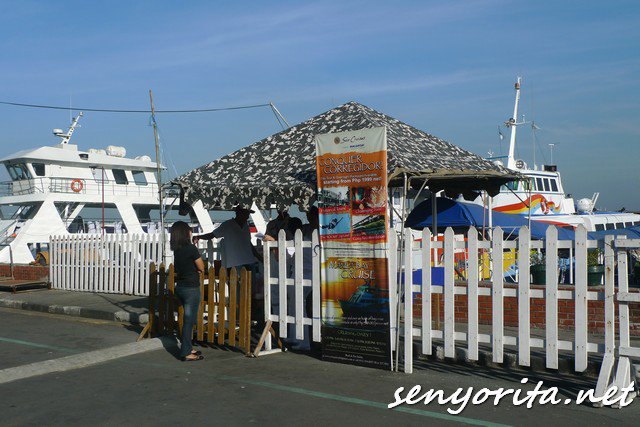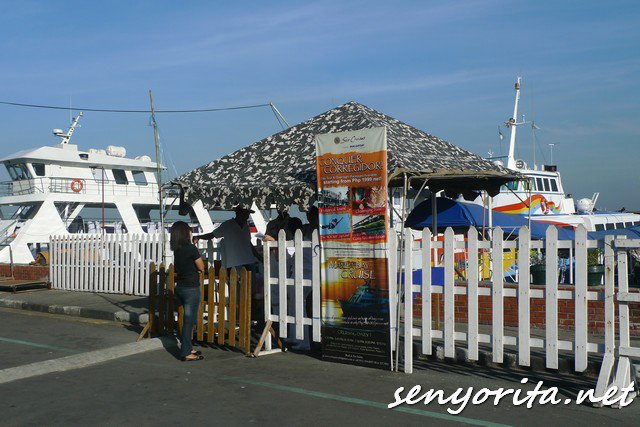 Ada and I met up at the LRT Vito Cruz station and rode the orange jeepney to the CCP Complex.We went straight to Harbour Square to locate Sun Cruises' Office. We were then instructed to go to the Sun Cruises Port with the abandoned Jumbo Kingdom Restaurant as the landmark. There I met some of the Pinoy Travel Bloggers for the first time (except for Ada, Nicely, Marcos and Ferdz).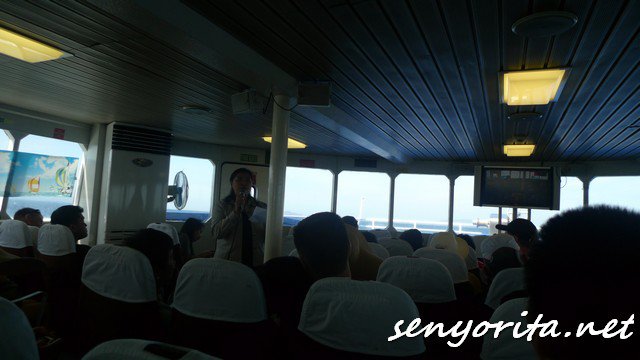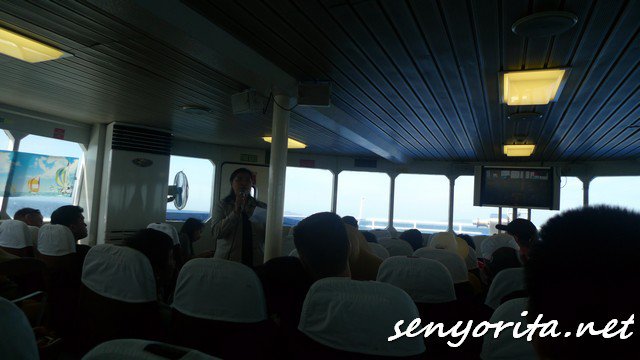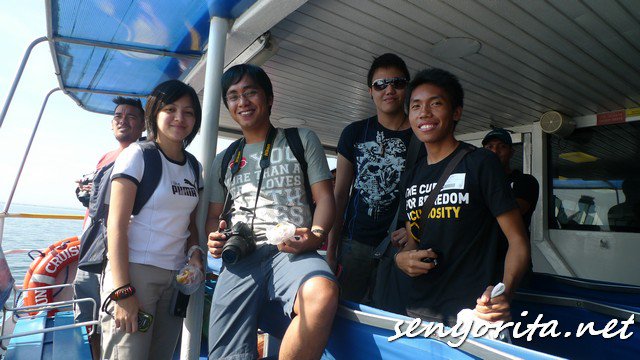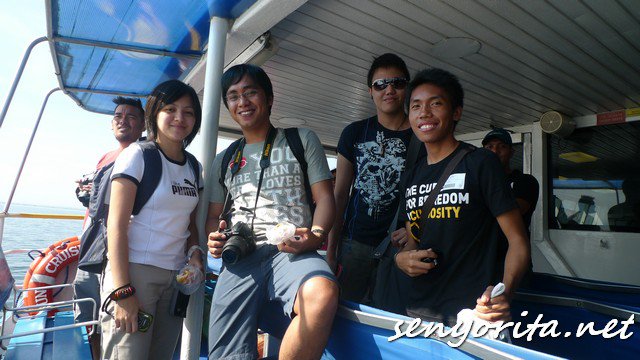 If i'm not mistaken, all of us were first timers. Just imagine the excitement on our faces when we were at our respective seats inside the Sun Cruises Ferry. The trip is approximately 1.15 hours long. Most of the time, we were at the outdoor part of the ferry taking pictures and getting to know each other. It's a major eyeball on a ferry, baby!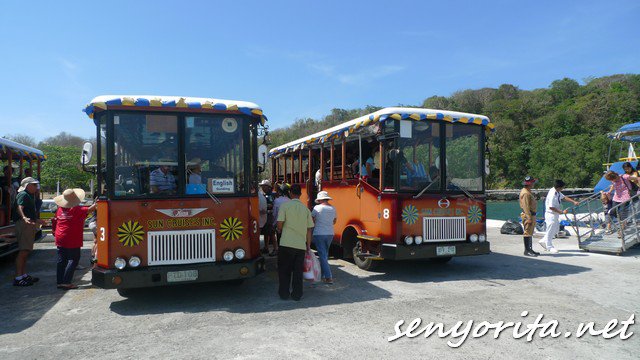 And we arrived! I'm glad to know that there are other alternative tourist destinations that is quite accessible from Metro Manila. During our trip, i noticed that there were a lot of Americans in their 50's above on board. I assume some of them have relatives who fought during the World War II and wants to take a glimpse of what their ancestors had to go through that time. Just a guess 🙂
The PTB gang rode the Corregidor Tranvia for the tour. We were given a fun historical tour to the different spots of Corregidor. We saw the five star hotel in Corregidor called Corregidor Inn. Why is it tagged as Corregidor's Five-Star hotel? It is the one and only hotel in the island that can accommodate guests hihi 😛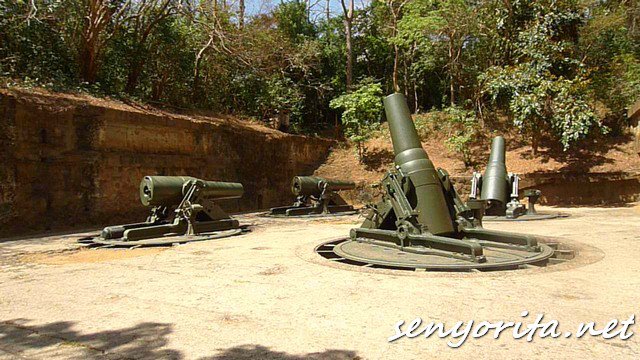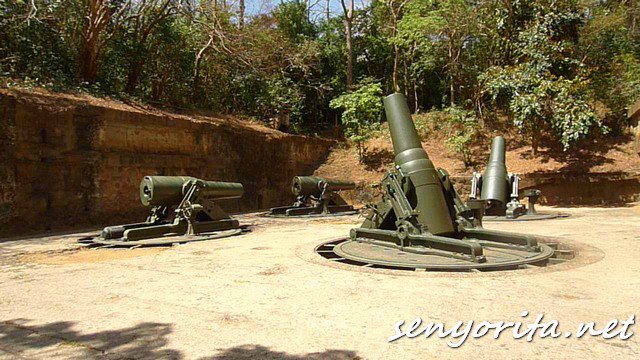 The first stop of our tour is the Battery Way, where some of the big cannons used by the Americans againsts the Japanese invaders are located. From here, i felt so lucky that today, Filipinos and tourists are going to have a photo souvenir taken there. Imagine how it was to live there during the World War II T___T
They handed out our Corregidor Adventour shirts to remind us that we'll be having a very energetic day! Yay!
But before that, pikturan muna 😛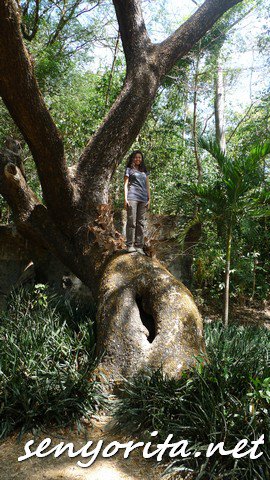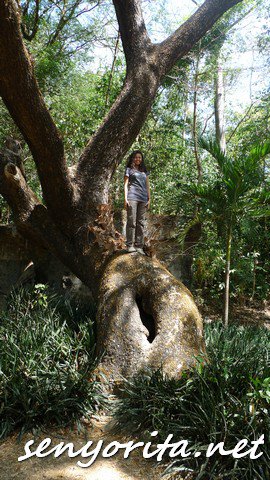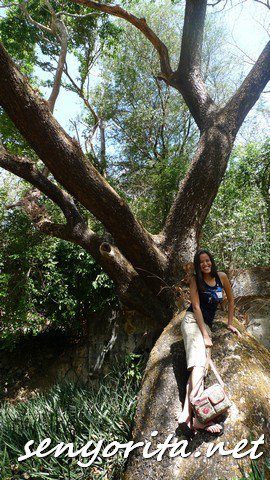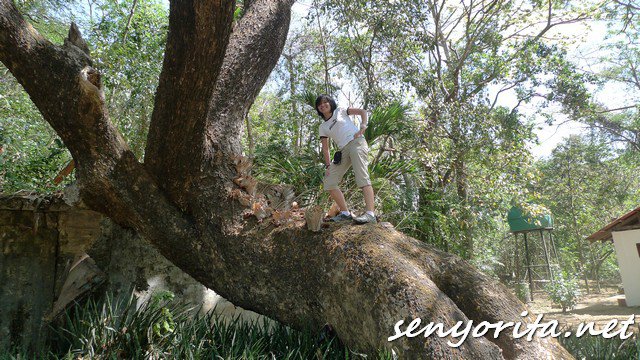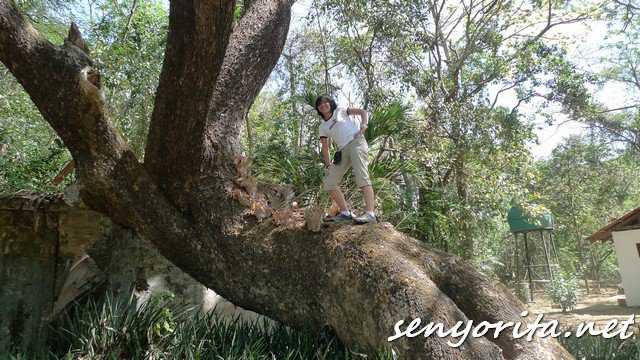 Our transportation brought us to a place where orange and red balloons are hanged. The group is then divided into two: TEAM HORSE (RED) composed of Ada, Marcos, CA, Marinelle, Leo and Lloyd. Our group is called TEAM JUMPSHOT (Orange) and my co-members are Aleah, Nicely, Ian, Chinchan and Ivan.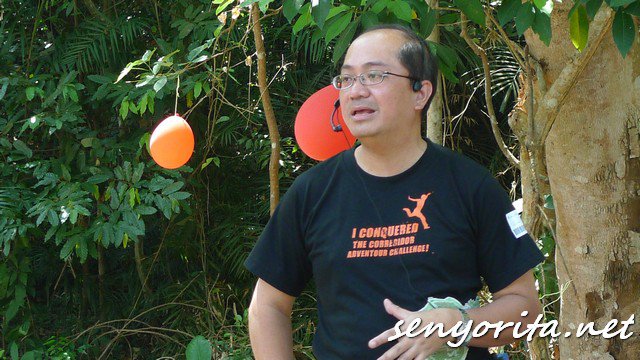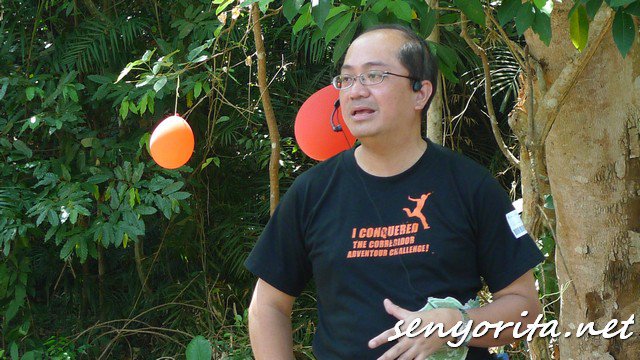 To be honest though, I was unsure if our group would win. Although i was quite sleepy, I have this competitive vibe with me that day. Maybe it's because my soul sistah partner in crime Ada is on the other team nyahaha =))
LET THE COMPETITION BEGIN!
Our first task is to pop out the balloons for clues for the map puzzle. The other team went on first and our team is in the 'relax lang tayo, enjoy lang' mode. When our leader Ian read the first clue, we all did our best to run fast and catch up. At least we exert effort *blushes*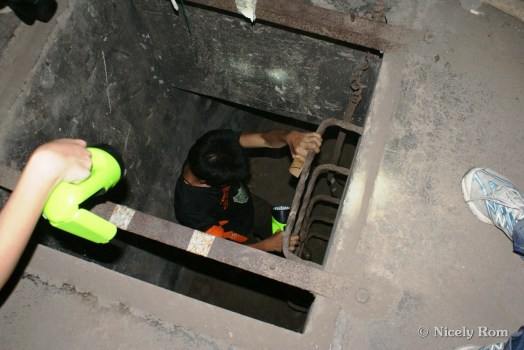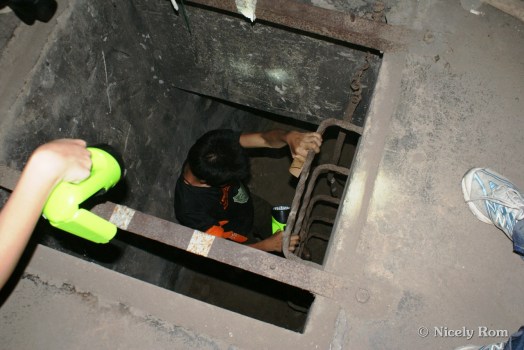 We need to go to the Battery Hearn, Battery Smith and the Battey Grubbs in order to complete the map. Grabe, ang dilim! Pakiramdam namin may makakasalubong kaming hapon anytime hehe 😛 Imagine how it was way back. Dark and Scary 🙁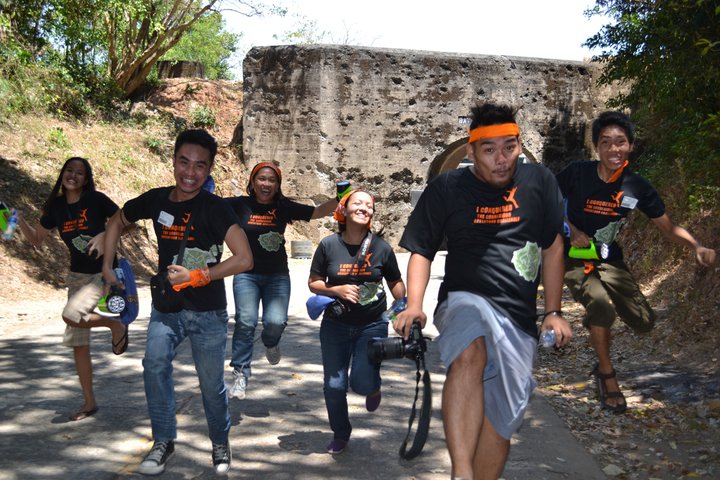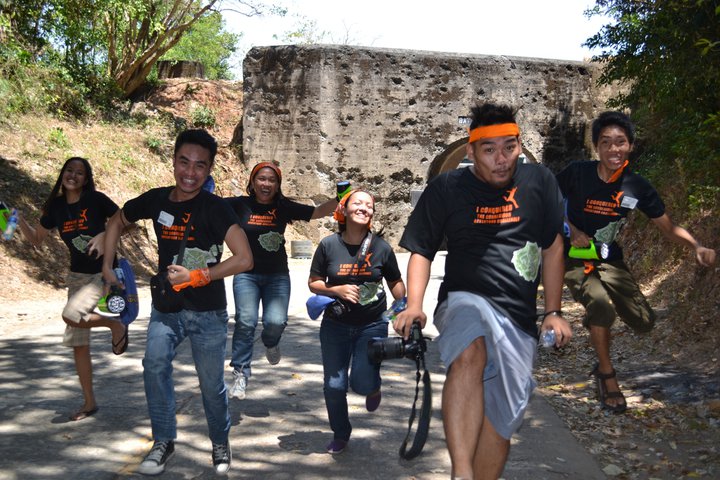 The funny thing about our group is that we were quite relaxed, although the competitive girl in me wants to push them to run faster nyahaha =)) I'm glad that our guide understood the camwhore in us so he kept on taking pictures using Aleah's camera. Siya pa nga nagsu-suggest ng mga poses namin. Fun Fun Fun!
We didn't realize that we are already ahead of the Red team teehee <3 We went to the Duck Tunnel and i am happy that I didn't push through with the plan of wearing skinny jeans. Para kaming mga Doctor Quack Quack trainees hehe 😛 Again, imagine how it was way back. Imagine how the people managed to surpass the challenges coming their way (literal at figurative).
That was a long Duck Tunnel! I'm glad we are doing this for fun and not to escape from a horrific event. 😐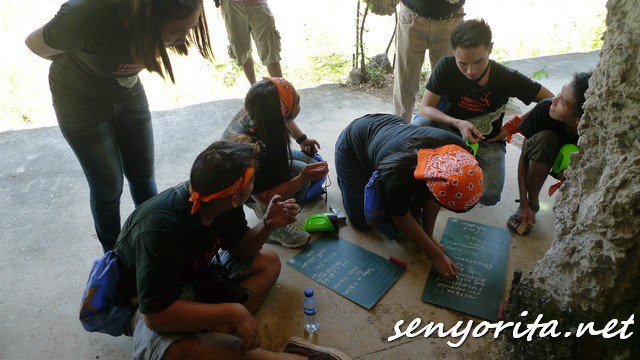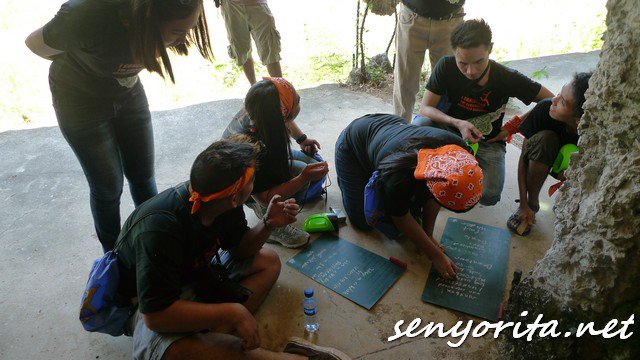 The next stop is the Red Cross Hospital. There are rumors that Japanese ghosts are showing up at night. We tried to solve some mind boggling puzzles and I was imagining a lot of scenarios from there. This caught my attention: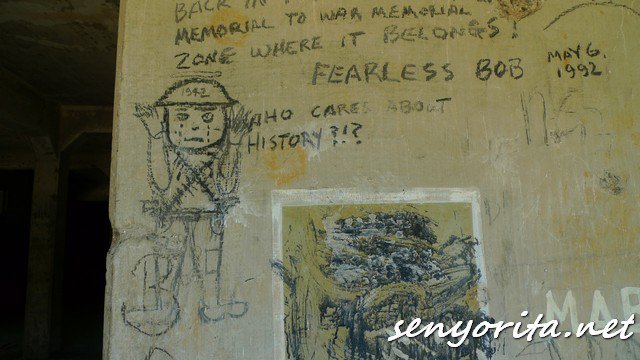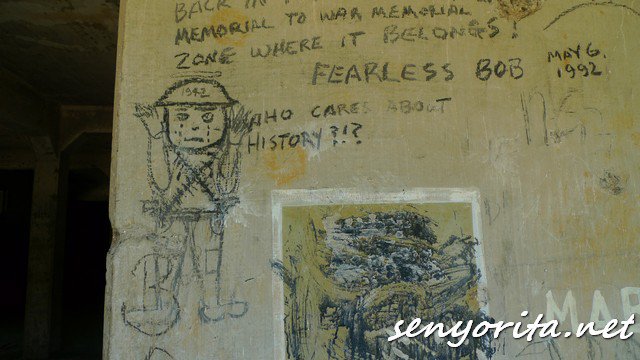 Now I get the importance of organizing team buildings within schools and companies. Then off we go to the next stop!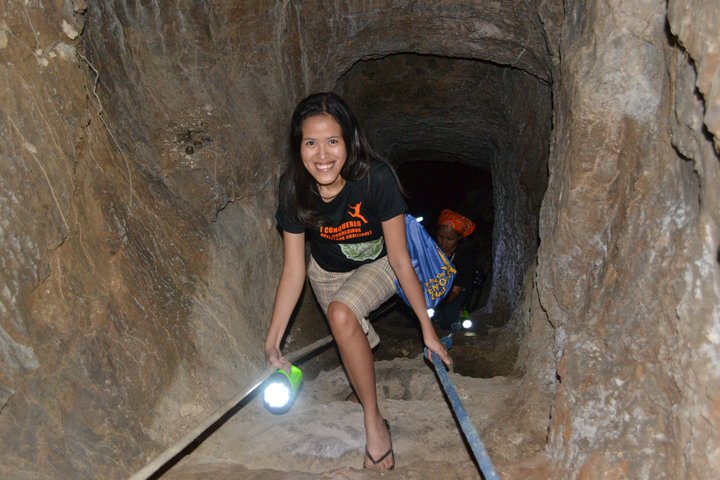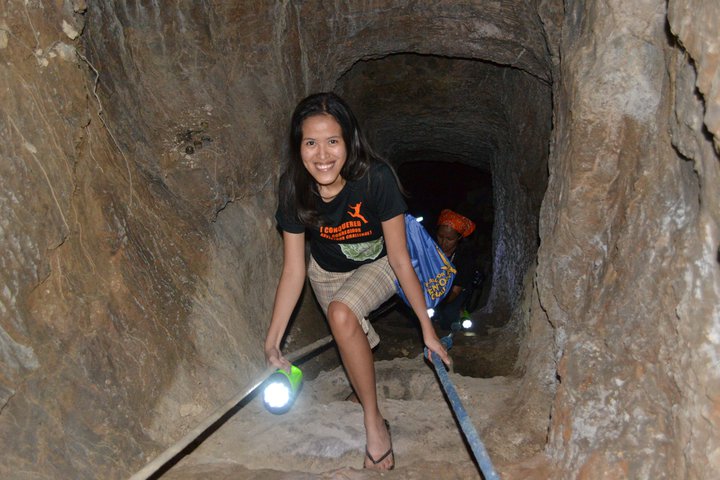 Now here's the highlight – The Japanese Tunnel! I hope we're not entering in a horror tunnel or something. I picture a number of Filipinos tortured and prisoned in the tunnels of Corregidor. To be honest, we Filipinos are not the only victims here. Even the American and Japanese soldiers are victims of the war.
The steel stairs on the way up to the Japanese Tunnel is quite scary and stiff. I was a bit conscious because i might accidentally hit someone while climbing my way to the top. Thirsty and tired, we all tried our best to reach our goal. Sunlight, shine on us!
When we reached the top, we had to solve yet another mind-boggling puzzle. I took this opportunity to catch my breath haha 😛
Did you know that the longest barracks in the world is found in Corregidor? The Ruined Mile Long  Barracks is found in Corregidor and was destroyed during the war. Just imagine if the place was bombed while over 80, 000 military soldiers are on it. That is mass destruction 😐 We played Pass-The-Ball game here and then the Red Team finished it first. Boo to us 😐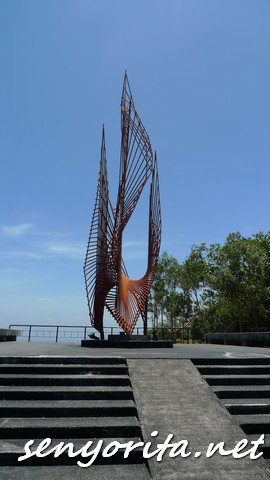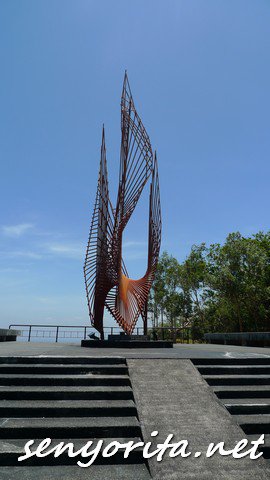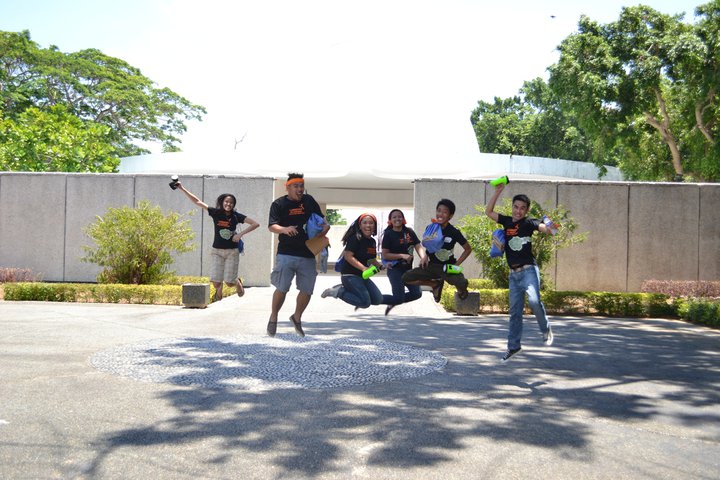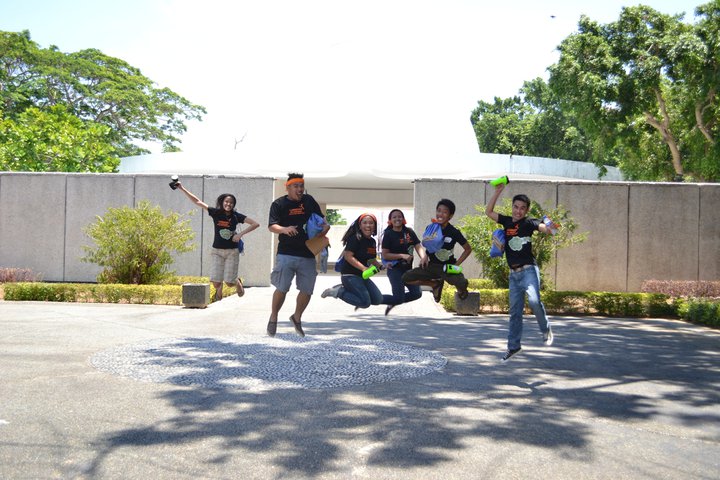 The group went on and saw the Eternal Flame statue and the Sundial Clock. Team Jumpshot, let's take a Jumpshot while the other team is busy trying to win! 😛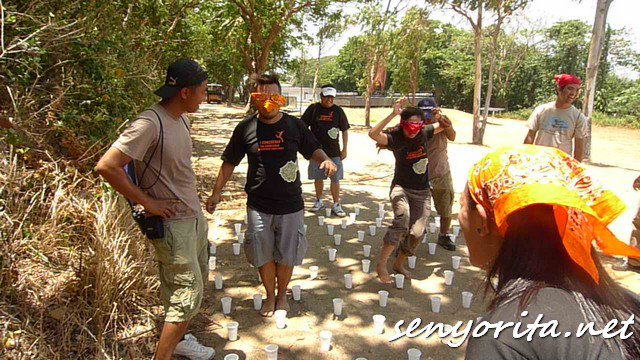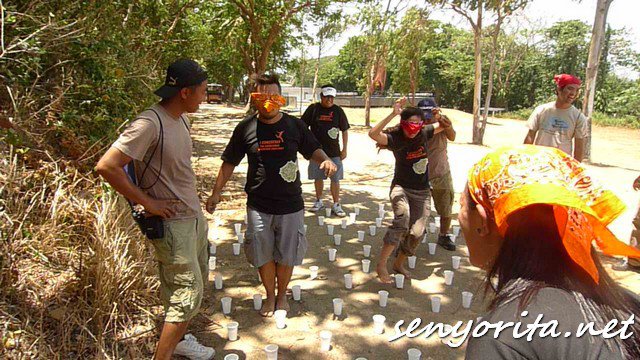 After taking scenic pictures, we saw the Red Team focusing on the next task. Only two members per team are allowed to play. For our team, Chin and our leader Ian played. The other team is being represented by Marinelle and Ada. Through this game, we managed to regain the top spot once more.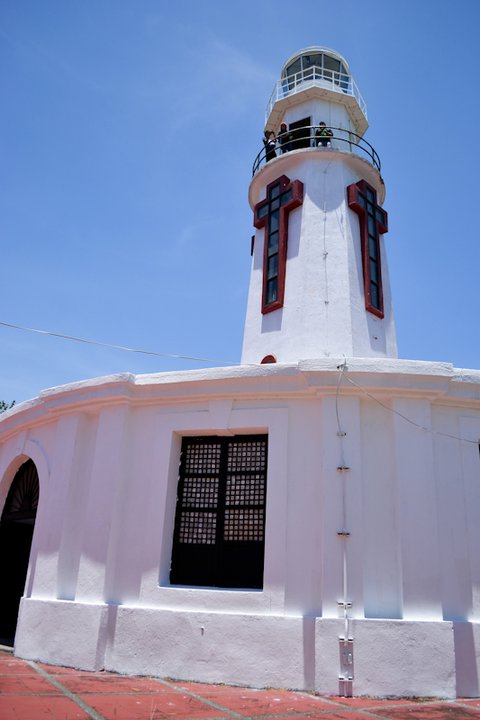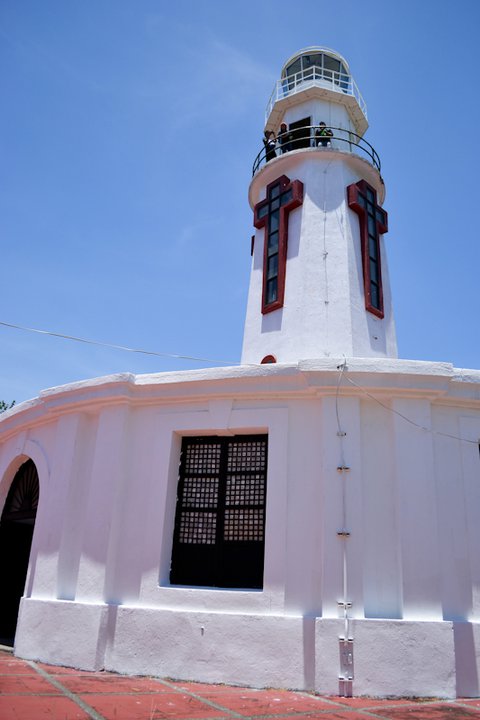 And the last destination is the Corregidor Lighthouse!! Up there, we found the puzzle of the movie 'Gone With The Wind', which is the last movie shown in the destroyed Cine Corregidor.
Oh wait. We're not yet done! The last task involved balls, bamboos and baskets. This proves that Teamwork and Hardwork will work! WE WON!!!!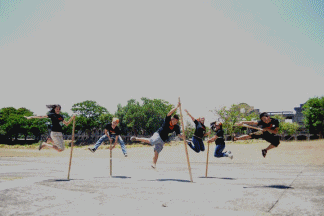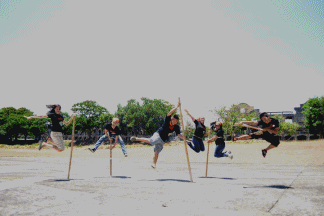 Now I know how it feels like to be involved in a Company Team Building! I strongly suggest to companies to try and inquire in Sun Cruises' Corregidor Adventure Tour. Learning a bit of our history while playing will surely keep its participants happy and fulfilled. Yahoo!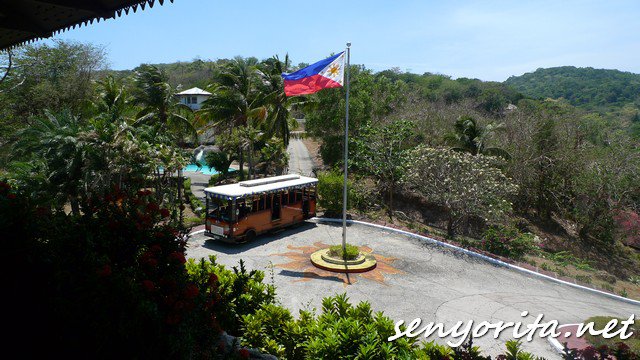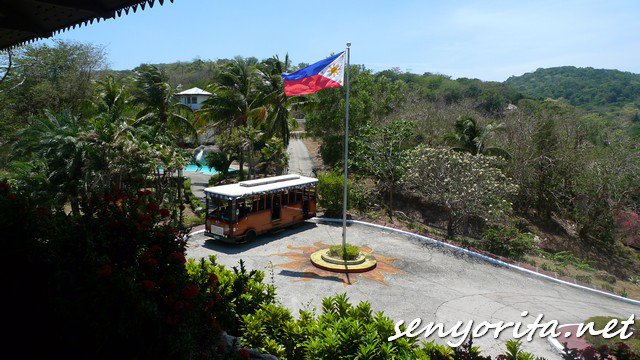 We team went to Corregidor Inn for the buffet lunch. I just love the view.
After eating, most of us tried the Zipline. I think it was the first time of some bloggers to try it. It may not be as long as the one from Davao or Gen San, but it is worth the try 🙂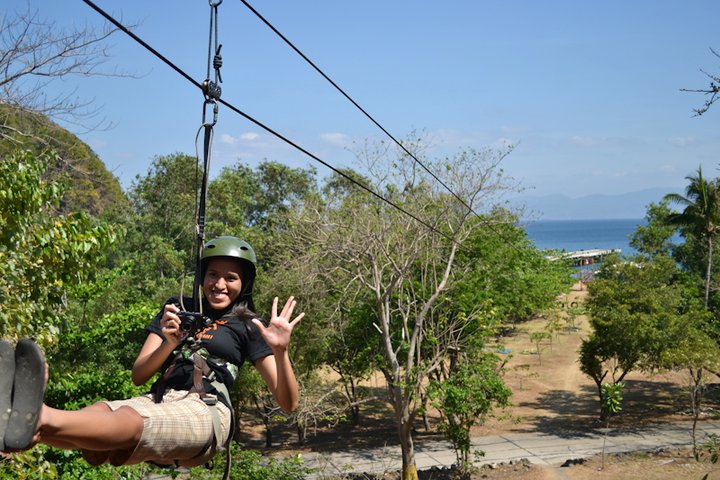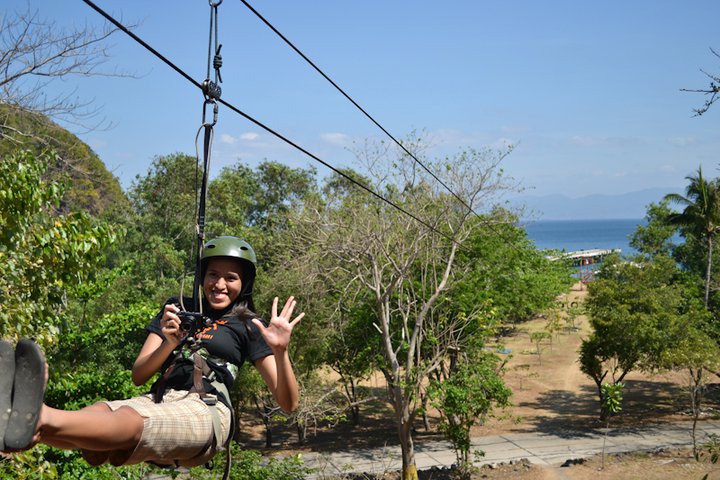 We went back to the ferry at 2PM. I'm happy to spend short yet quality time in Corregidor with people who shares the same passion with me. 🙂
Ooops…. Sun Cruises also surprised us with the Manila Bay Dinner Cruise! 😀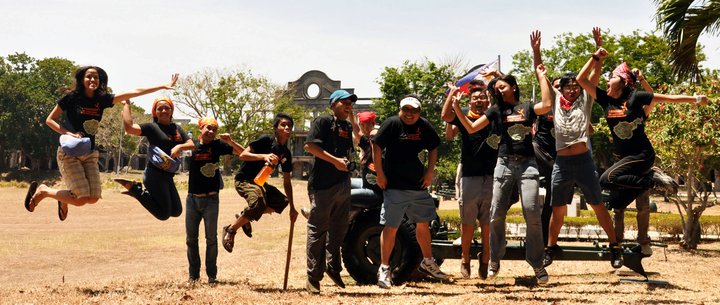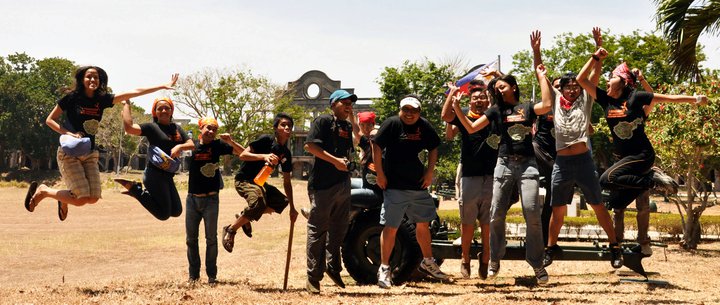 Thank you so much to Ivan Henares and the Sun Cruises Team for inviting us to this fun-filled Corregidor Adventure Trip.
Senyorita's Realizations: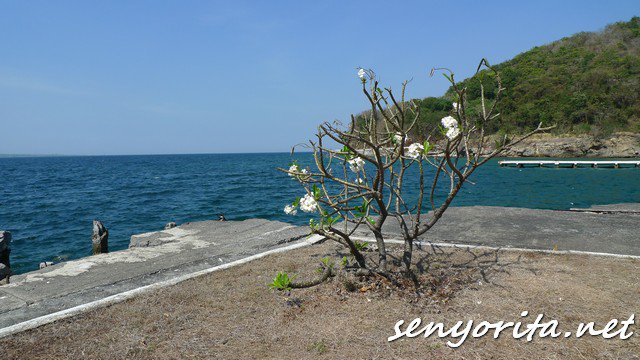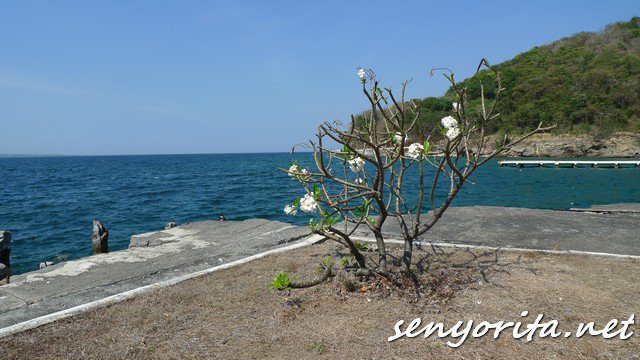 We are lucky because Corregidor is now a prime tourist destination. If we lived during the World War II, I bet most of us are terrified once we hear the island's name.
The Filipinos are not the sole victims of the war that happened in the country during the World War II. Even Americans and Japanese soldiers sacrificed a lot just for the honor of their country. Most of them went back home defeated or dead.
Who Cares About History? Like, Really. Who? There are few interested individuals who are passionate about enriching their knowledge about Philippine History. I somewhat blame technology for that.
Original Travel Date: April 13, 2011
Photo Credits: Ada, Aleah, Nicely and Ian
Thanks to Sun Cruises and Mr. Ivan Henares for this PTB Treat! For more information about the Corregidor Adventure Challenge, you can read more here.
*** Corregidor Adventure Challenge Video Blog to be embedded soon 😛