BTS ARMYs unite! We are blessed yet again with another event to look forward to this June! BTS 2021 MUSTER SOWOOZOO is another event you should all be saving in your calendar.
This June 13 and June 14, our favorite group will have a two-day livestream in celebration of their eighth anniversary after debuting. As always, we could expect them to put on hilarious skits and perform various songs from their discography.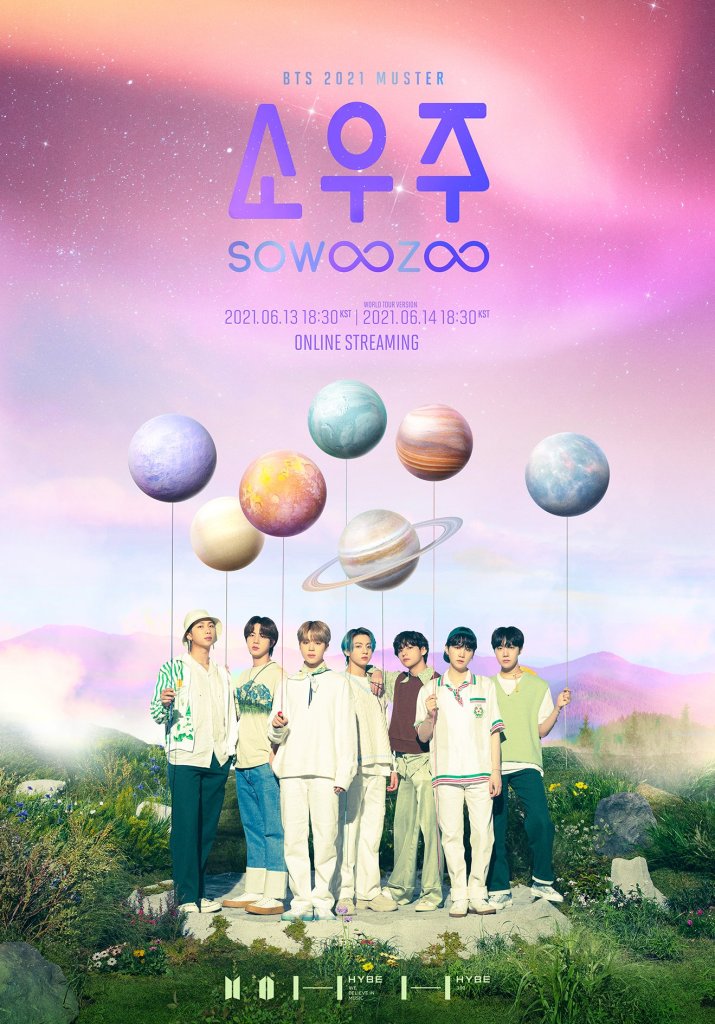 To know more about these glorious events, read on to know more details!
WHAT TO EXPECT
Due to the COVID19 virus, the two-day concert will be held online. But fear not my friends, what this lacks in personal participation makes up for the awesomeness we are going to be treated to.
For the first event, on June 13, we should expect the show to start at 6:30PM KST (5:30AM EDT).
For the second event, on June 14, we get to hear the men perform some of their non-Korean singles with the setlist (their World Tour Version) from 6:30PM KST (5:30AM EDT).
WHERE TO BUY TICKETS
The tickets are already on sale since at the Weverse Global Shop since May 26. The last day you can get your hands on to the first day event tickets will be on June 13 at 6:29 EDT. For the tour version of the tickets (second day) you can purchase them until June 14 at 6:29 EDT.
Link: https://venewlive.com/concerts/bts-sowoozoo/#/
TICKETING OPTIONS
There are numerous ticket option available. For one, even if you are not a member of the fanclub, you can choose the HD single-view ticket for either the first or second day (at $45 each) or the HD single-view 2 Day pass which covers both days (at $81, so you totally save if you buy the 2 Day pass).
If you are a member of the BTS Global Official Fanclub ARMY, then you know that you are to be treated extra well. The HD single-view tickets are available for you as well as the HD Multi-view tickets for either June 13 or 14, the HD Multi-view 2-Day Pass or the 4k Single-View plus an HD Multi-view ticket for June 13 and 14 shows at $53 each. Access to this viewing options require separate ticket purchase.
DELAYED VIEWINGS
For fans who wouldn't be able to watch the concerts live, do not worry, BTS got your back! With your ticket, you are able to watch delayed streaming of the two events. For the first day, you can rewatch it on June 18 at 9PM EDT (or June 19 at 10AM KST). The second event will be streamed once again on June 19 at 9PM EDT (or June 20 at 10AM KST).
HOW TO WATCH THE ONLINE CONCERT
Watching the events is easy, all you need is to follow these steps:
1.After purchasing your tickets, you can view the first and second event on this link, so make sure to save it – https://venewlive.com/concerts/bts-sowoozoo/#/.
2. Log on using the Weverse Shop details you used to purchase the tickets. If you used your social media account to purchase the tickets, then make sure you use the same account information.
3. Verify your ticket by just clicking the verify button.
4. Click the event date to verify – if you get the June 14 ticket, make sure to click the June 14 verify button. Same goes for the June 13 ticket.
5. Wait for the confirmation.
6. After you see the confirmation, enjoy the show!
Easy as breezy right? I've written all the things that I know and researched about the shows, so all you have to do is start purchasing your ticket (or tickets) and mark your calendar. Make sure to have your ARMY bombs ready!