Bali, Indonesia is a dream destination for everyone who has a sense of wander. From stunning beaches to lush tropical waterfalls and a beautiful culture, there is so much to admire on this amazing Indonesian island.
Before traveling to Bali for the first time, there are a few things you must know prior to your arrival in Indonesia. Between what areas to stay in, where to eat, how to get around and the best sites to visit, this guide will dive deep into everything you need in order to have the best time on your Bali trip.
Getting to and Around Bali
The best way to get to Bali from around the world is by flying into Denpasar, Ngurah Rai International Airport. When you arrive in Denpasar, you will need to get a visa on arrival. It is free for most countries, but if you want to stay longer than 30 days or you decide you want to extend your time in Bali, it is best that you pay $35 USD. Click here to learn more about the Indonesia entry requirements.
When it comes to getting around Bali, it is important to know that the roads are pretty busy with public transportation, pedestrian cars, taxis and scooters. There is a lot of traffic and there are no major highways. If you are not comfortable driving in those conditions, it is best to get around by hiring a car or driver or even taking a taxi or requesting an Uber. It is important to note that before hauling a cab, it is best to negotiate a price since most tourists are a target for scams. Please also note that it will take you twice as long to get somewhere in Bali because of the traffic. Other ways people get around the island is by renting a scooter, which most locals do as well as digital nomads who reside in Bali, along with taking the Perama bus. Unlike many other countries in Southeast Asia, there are almost no tuk tuks in Bali.
One thing to note about flying into Denpasar is that a lot of international flights will arrive late at night. If your flight arrives in the middle of the night, it is recommended to book a room at the Novotel right next to the airport. It is in walking distance from the arrivals terminal and there are signs that lead you to the front desk.
Where to Stay in Bali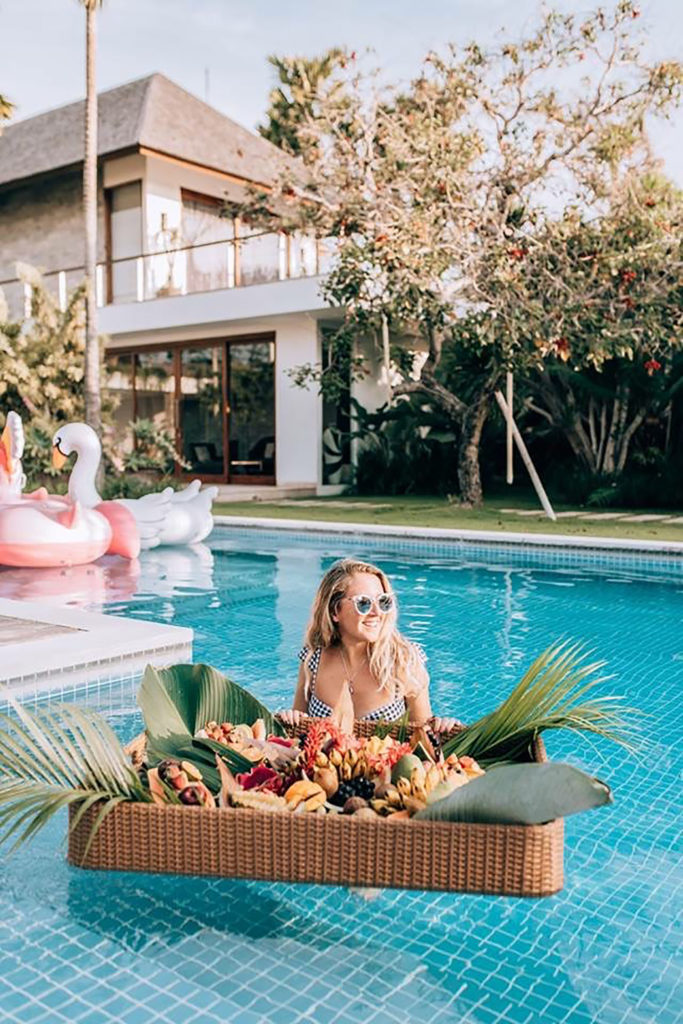 The four best areas to stay in Bali are Seminyak for solo female travelers, couples and families; Ubud for solo travelers, art enthusiasts and yogis; Uluwatu for couples and families and Canggu for backpackers and solo travelers.
When you travel to Bali, it is recommended that you stay in a villa. Most villas in Bali range from mid-budget to luxury, but you could also find some budget villas along with hostels. Most villas are spacious and include a kitchen, workspace areas, private pool and more. There are also nice hotels and resorts in Bali, but you will not get the same experience as you would by staying in a villa.
Where to Eat in Bali
Below are the best places to eat in the most popular areas of Bali: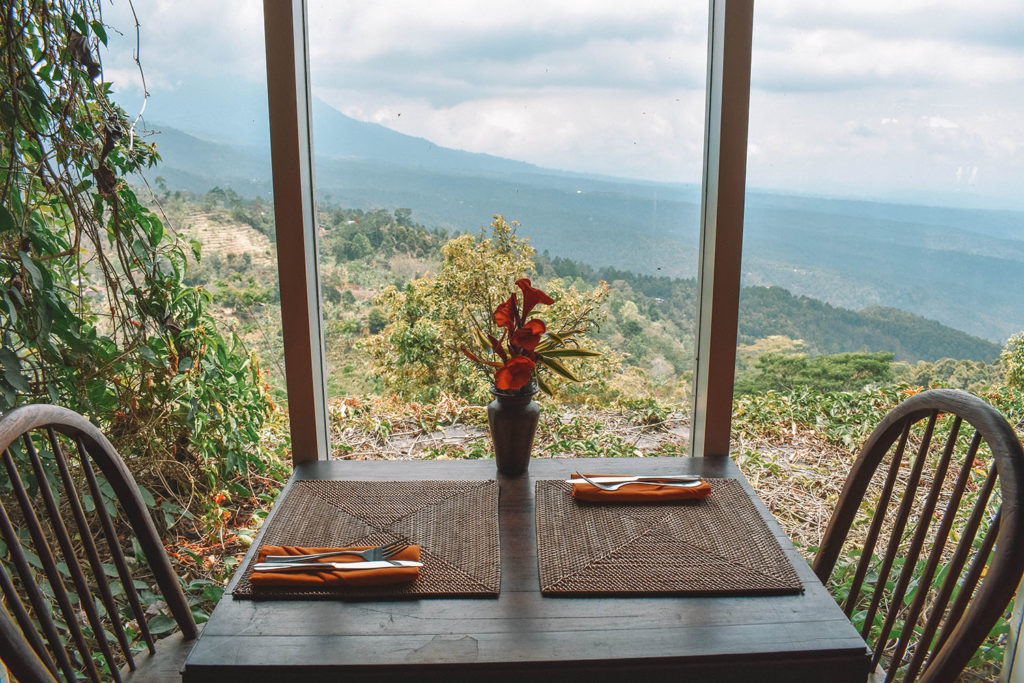 Places to Visit in Bali for First Timers:
Ulun Danu Temple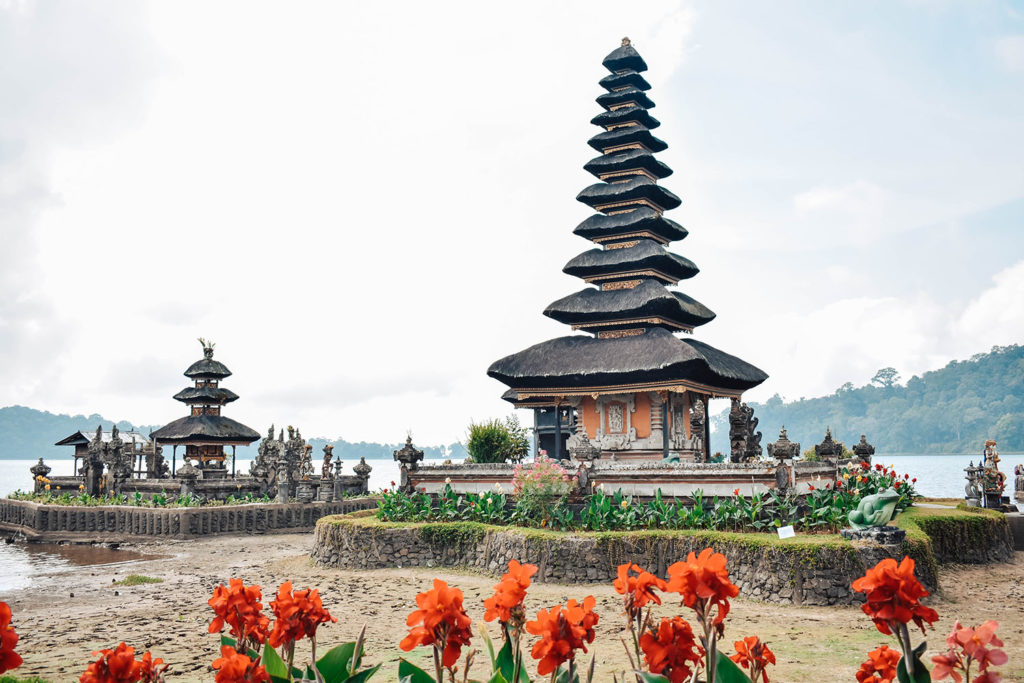 One of the most beautiful temples to visit in the north of Bali is Ulun Danu Temple. Bali is a multi-religious island that is comprised of Christians, Muslims and Buddhists. The predominant religion in Bali, Indonesia is Hinduism, but the Balinese have their own form of it called Agama Hindu Dharma.
Ulun Danu is a breathtaking temple complex on the Beratan Lake and it was built in the 17th century in worship of the main Hindu trinity, Brahma-Vishnu-Shiva along with the lake goddess Dewi Danu. Another interesting fact about Ulun Danu is that it is considered a floating temple complex during high tide. When the lake is low tide, you could actually walk out to the temple.
Handara Gate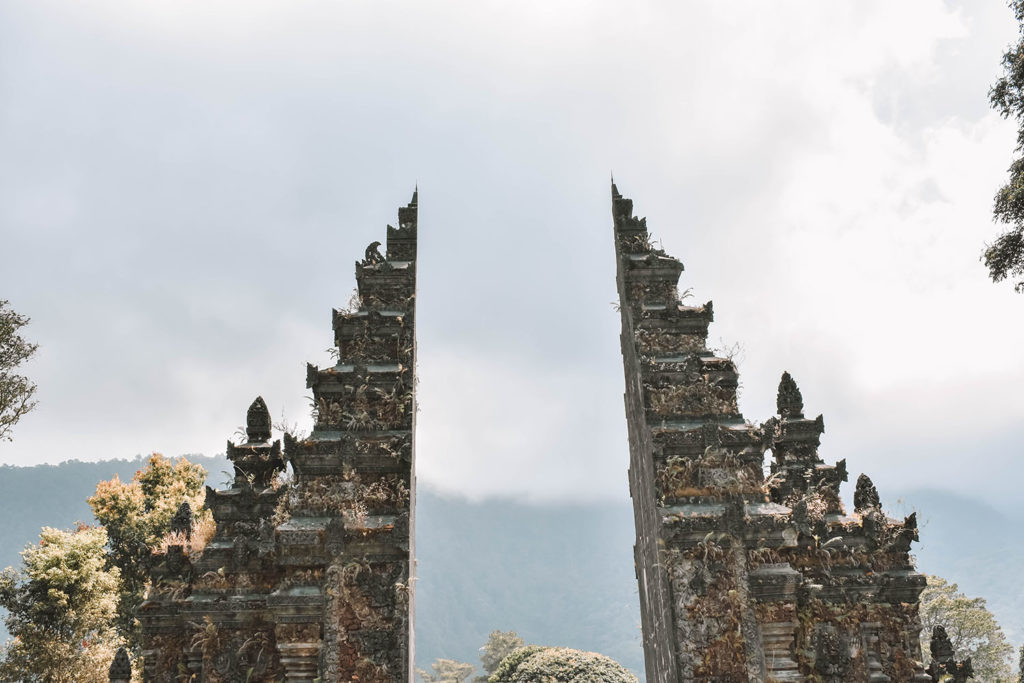 Known as one of the most famous Instagram spots in Bali, Handara Gate is considered the pathway to serenity amongst locals. What a lot of visitors do not know prior to going to Bali is that Handara Gate leads to a well-known golf course. Besides being a stunning photography spot, there isn't much else to Handara Gate.
Wanagiri Hidden Hills
Another fun part of North Bali and a great Instagram location is Wanagiri Hidden Hills. This adorable area features nests, swings and bamboo lookouts that create a visual illusion. Throughout the island of Bali, you will find swings! The first official Bali swing started in Ubud's famous rice terraces. Since the swing in Ubud attracted many tourists, locals decided to add more throughout Bali. You will definitely have a great time on the swing in Wanagiri Hidden Hills and the views are phenomenal!
Air Terjun Waterfall in Munduk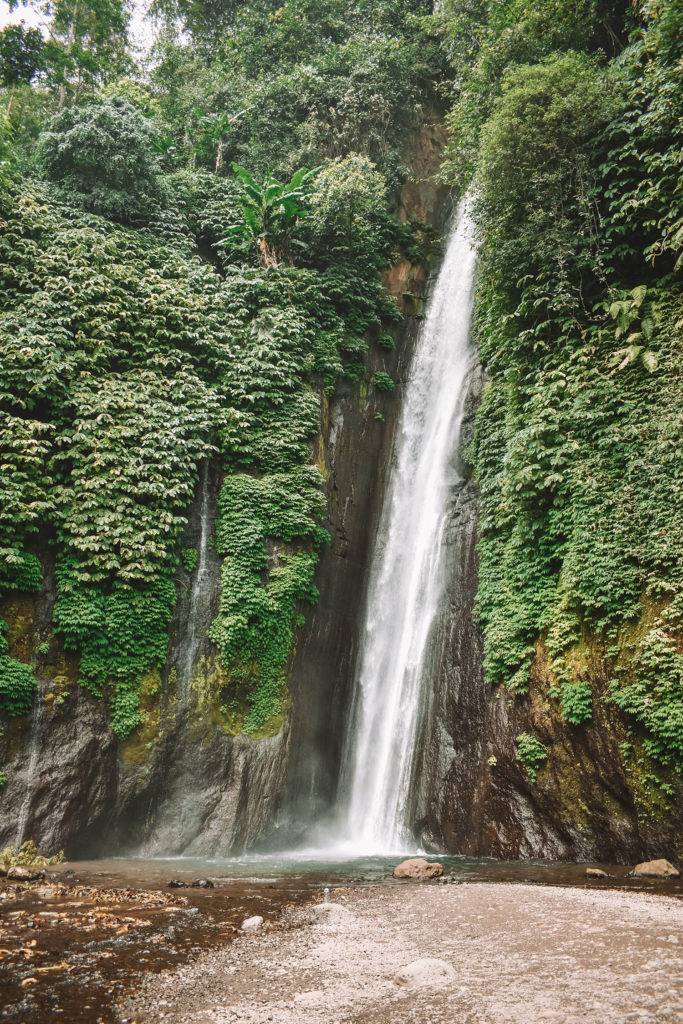 You cannot visit North Bali and not see a beautiful waterfall. You could find mystical waterfalls all throughout Munduk, but it is recommended to visit Air Terjun, which is a hidden waterfall that could be found through a luscious rainforest path. The hike itself to the waterfall is mystical and it is a wonderful way to see authentic Balinese homes, breathtaking nature, balanced rocks and beautiful wildlife.
When you visit any waterfall in Bali, you should bring water shoes because if you are looking to actually get in the water, there are a lot of rocks and pebbles, which makes it difficult and painful to walk over.
Beach in Uluwatu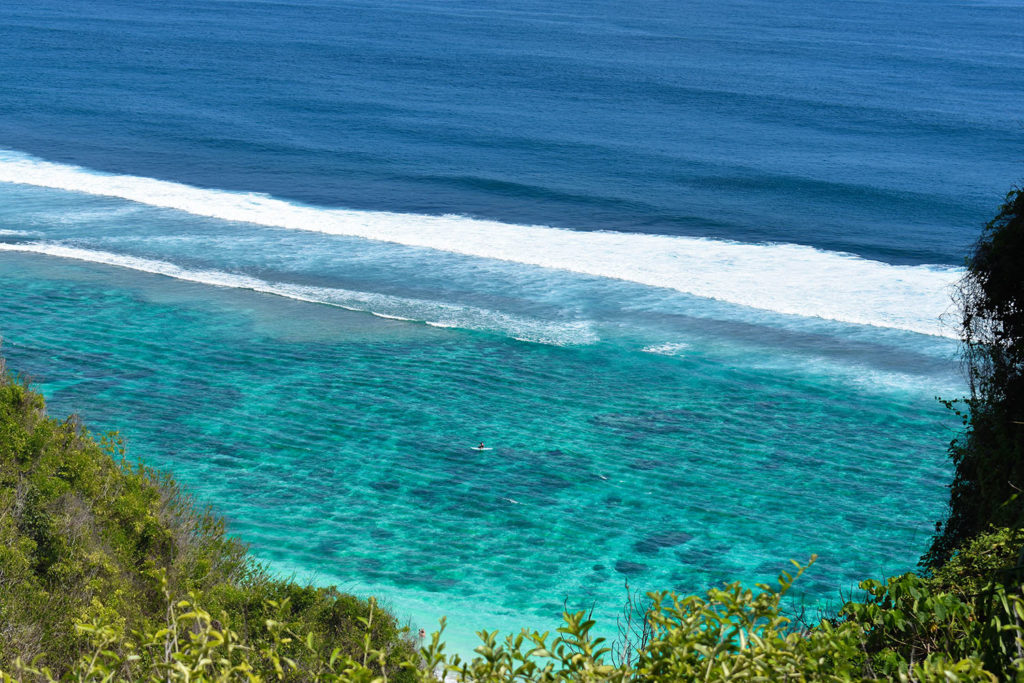 If you want to enjoy the beach in Bali, it is best to go to Uluwatu, which is located on the southern part of the island. Situated on the Bukit Peninsula is Sundays Beach Club. It is known to be on one of Bali's most pristine private beaches and it includes a crystal blue lagoon with scattered rock pools, breathtaking views, complimentary water sports, a great beachfront restaurant, lounge areas, bon fires and a gift shop.
All along Uluwatu's coastline is a stunning white sand beach and admirable rock formations. Located on the Indian Ocean, you could also go swimming in Uluwatu. The water is clear, warm and calm! In addition, golden hour in Ulutwatu will feature one of the most amazing sunsets you will experience. The sky will light up with purple, red, pink, orange and yellow tones!
Tegallalang Rice Terraces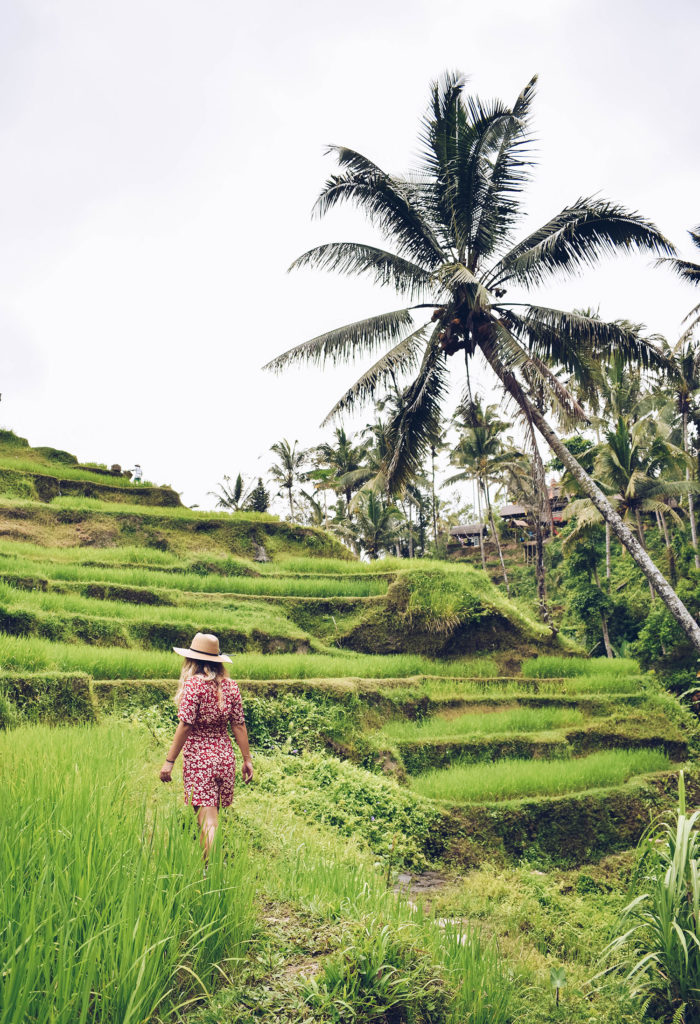 The most beautiful and iconic rice terraces in Bali are located in Ubud. The Tegallalang Rice Terraces involve subak in their rice paddies, which is a traditional Balinese cooperative irrigation system. The rice terraces in Ubud are one of the most popular tourist attractions on the island and it is important to be mindful while you're there. The locals may ask you to pay a small fee as you wander through the rice terraces and the temperature will get hotter as you maneuver your way deeper into Tegallalang.
In addition to walking through the rice terraces, you could also enjoy a lot of the cute Instagram spots such as the swings, the "I love Bali" sign or you could cool off with a refreshing coconut or ice cream at the café that overlooks the rice paddies.
Ubud Monkey Forest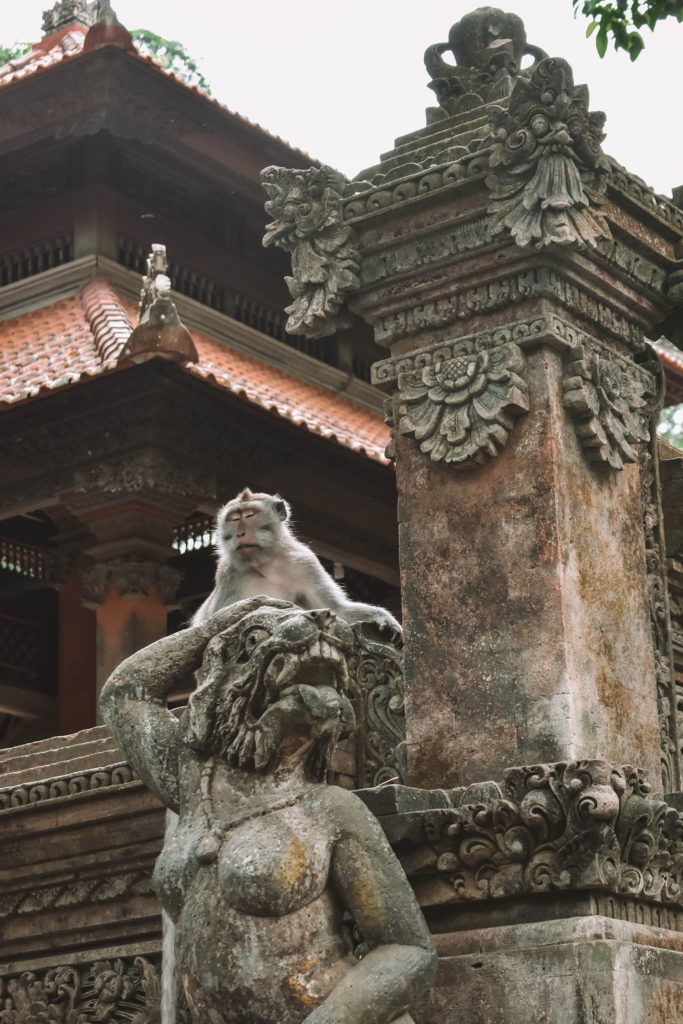 Also known as Mandala Suci Wenara Wana, the Ubud Monkey Forest is the primary sanctuary and natural habitat of the Balinese long tailed Monkey. In the area of Padangtegal, there are an estimate of 750 monkeys living in this spiritual, economic and educational conservation center.
Located within the Ubud Monkey Forest, you could see infant monkeys (0-1 year old), juvenile 1 monkeys (1-2 years old), juvenile 2 monkeys (2-4 years old), sub adult male monkeys (4-6 years old), adult female monkeys (5 years and older) and adult male monkeys (7 years and older). During your time at the Ubud Monkey Forest, you could feed the monkeys with bananas, but please do not feed them other human food items because they could get sick. It is also important to remember to keep your bags securely closed and do not put them down because the monkeys could easily go in and grab your belongings. Please also keep an eye on infants and young children during your time at the Ubud Monkey Forest.
Pura Gunung Lebah Temple
Another wonderful Balinese landmark to visit in Ubud is the Pura Gunug Lebah temple, which is also known as the lotus temple. It is absolutely beautiful as it is surrounded by bamboo forests and the Campuhan River flowing below it, which has hundreds of lovely lotus flowers and lily pads. It is a very peaceful place!
Ubud Art Market
A fascinating place that you cannot miss out on in Ubud is the Ubud Art Market, which is an artisan and handicraft marketplace located in the city center. The Ubud Art Market is where you could find local goods that are made within the surrounding areas. At the market, you could purchase clothing items such as dresses, sarongs, elephant pants along with jewelry, basket bags, dream catchers, home décor, shell or beaded chandeliers and so much more!
If you have been to any other Southeast Asian country, it is pretty common for shoppers to bargain their way through a local market. The same goes for the Ubud Art Market where you could put your negotiation skills to the test!
Have Fun in Canggu
Bali is known for its dreamy restaurants and bar scene. The best area to have fun in Bali is in Canggu. It is recommended that you come to this area around sunset for happy hour drinks followed by late night fun. One of the dreamiest spots in Canggu is La Laguna, which is located on Berawa Beach. When you first enter La Laguna, you will be greeted with decorative vintage caravans. They are so adorable! When you make your way into La Laguna and on to the beach area, there are beautifully sewn bean bags, alfresco seating, stunning gardens, wooden teepees and stringed lights everywhere.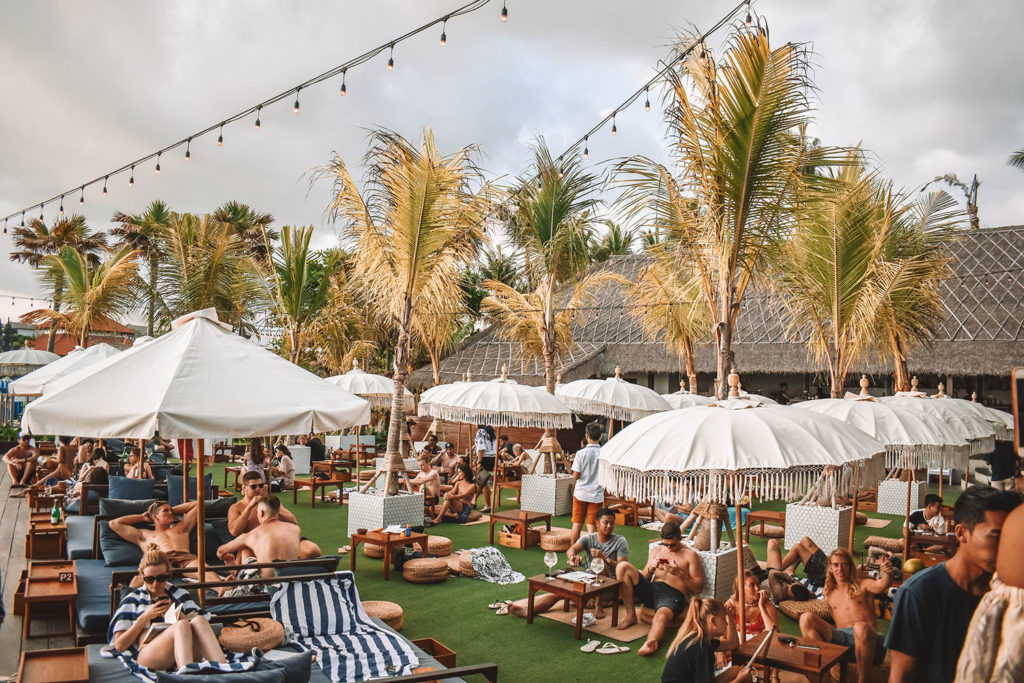 Another hip spot to have fun in Canggu is The Lawn. It is at this great beach bar where you will find locals, expats, digital nomads and vacationers relaxing and enjoying time with friends and family. This bar is also a great place to meet people if you're a solo traveler! Not only could you sit on the beach, there is also a lawn area with lounge chairs and seating, a restaurant and an infinity pool that overlooks the ocean.
If you are looking for a fun, casual and cheap bar in Canggu, I recommend Old Man's! This great bar offers the best of island party life with tiki bars, surfboards and great music. It is the perfect bar to sip a few Bintangs, which is the popular beer in Indonesia.
ABOUT THE AUTHOR:
Taylor is the millennial, boutique travel blogger, writer and content creator behind Brown Eyed Flower Child. Originally from New Jersey, outside of New York City, Taylor enjoys traveling all over the world and showcasing everything she experiences "through her eyes" on both her blog and social media. Along with traveling and blogging, Taylor's hobbies include being active and going hiking, skiing and ice skating as well as doing yoga and dancing. She also loves to read; visit wineries and discover hidden food gems.