"I just need to go to the beach and unwind. I long to soak my body in the cold, blue water, enjoy some sunshine and think of nothing. I need my vitamin sea!"
I've been telling that to myself for months. I knew I need a quick escape  due to some disappointments that I've encountered which caused my anxiety. I feel stuck and uninspired.
I hate this feeling.
When Boracay reopened in October of 2018, I wanted to book a flight and go. My documentary project occupied half of my year and I had a hard time detaching even by January. Some circumstances that I can't control started making me feel questionable about life choices specifically with my career. I'm not-so-young, feeling a bit d*mb and broke. Huhu.
When a blogger friend asked if anyone wants to avail his voucher to go to any domestic destination for a discounted price, I just messaged him and asked if I can take it. Gladly, he accepted.
Boracay is one of the happiest places on earth. It's my escape destination. Normally, I just go there. I take a stroll on the beach in the morning, lounge in my accommodation, drink beer as I wait for sunset and watch a fire dancing show at night. If I am travelling with friends or meet new companions staying in the same hostel I am in, most probably I'd end up dancing the night away in Summer's Place or Epic Bar.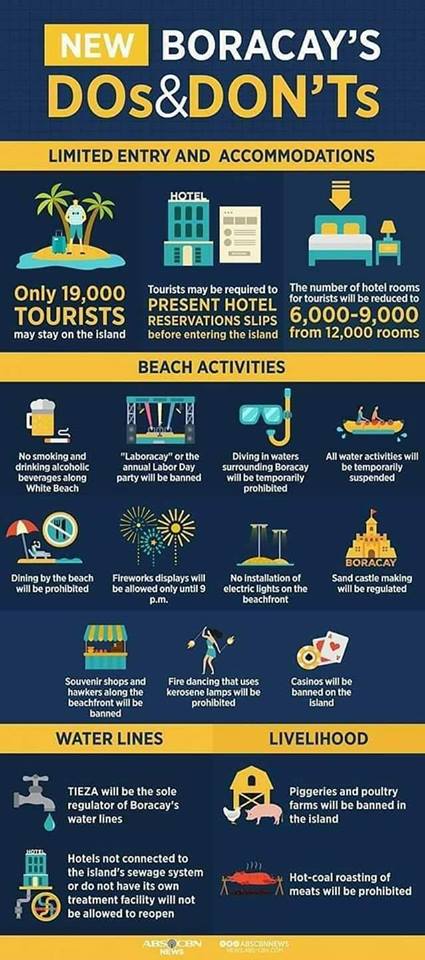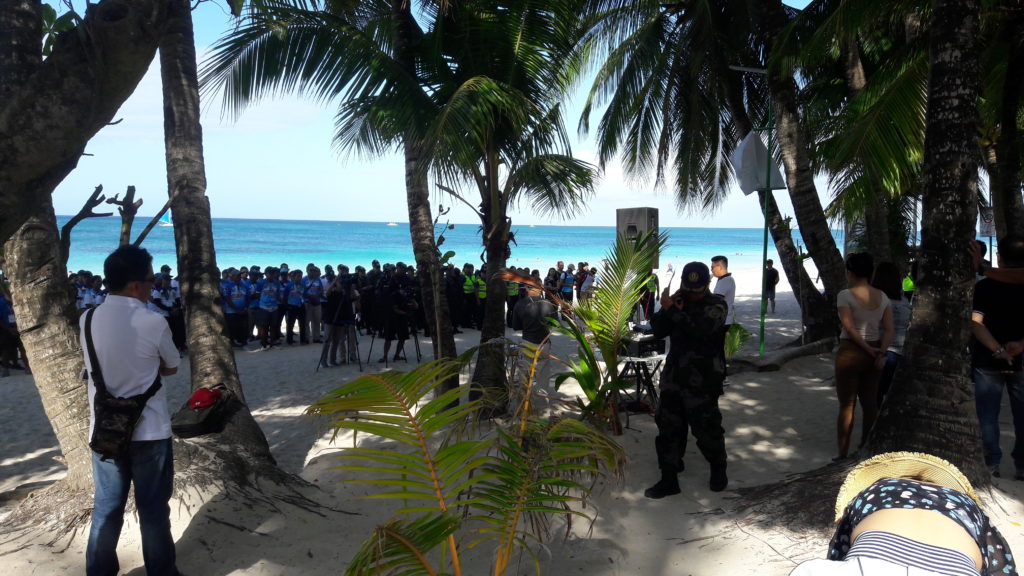 Some friends of mine told me that there are big changes in Boracay's Rules and Regulations. I am excited and nervous at the same time. Excited because surely, the beach area improved in terms of cleanliness. Nervous because I am not sure if I am willing to let go of the 'fun' side of Boracay that I knew. It's like meeting an ex-boyfriend after two years and you see drastic changes in him – whether the good, bad or the ugly.
So anyway, here's my adventure!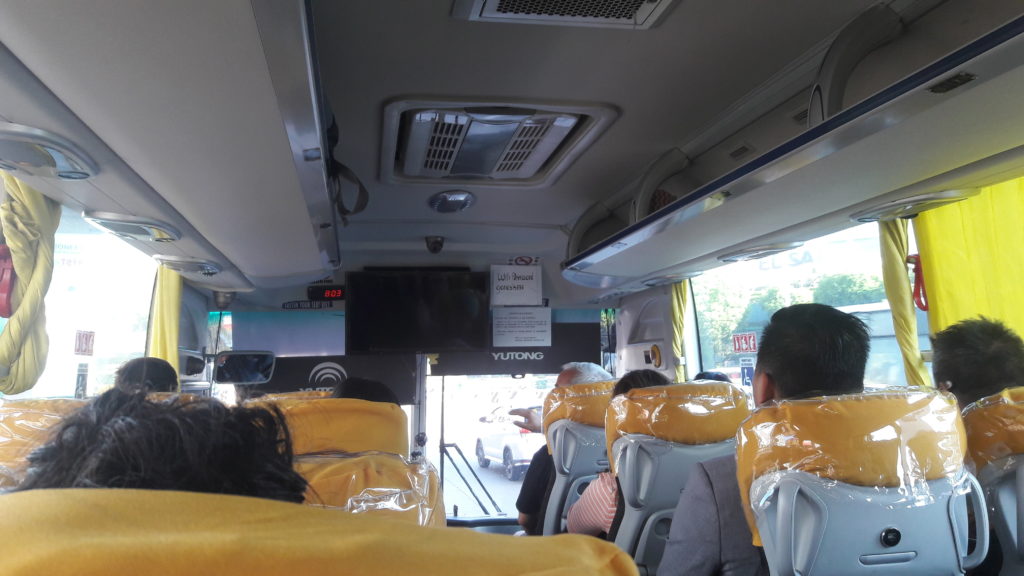 P2P BUS: TRINOMA TO CLARK
It's been a while since I traveled to Clark Airport from Manila by commuting. This time, I rode the Genesis Point-to-Point bus from Trinoma to Clark for Php 280.
I am impressed with the USB sockets where you can charge your phone or any other gadget. Even if it is considered as a P2P bus, they have two quick stopovers. To be sure, better go to the P2P station at least 4 hours before your scheduled departure time.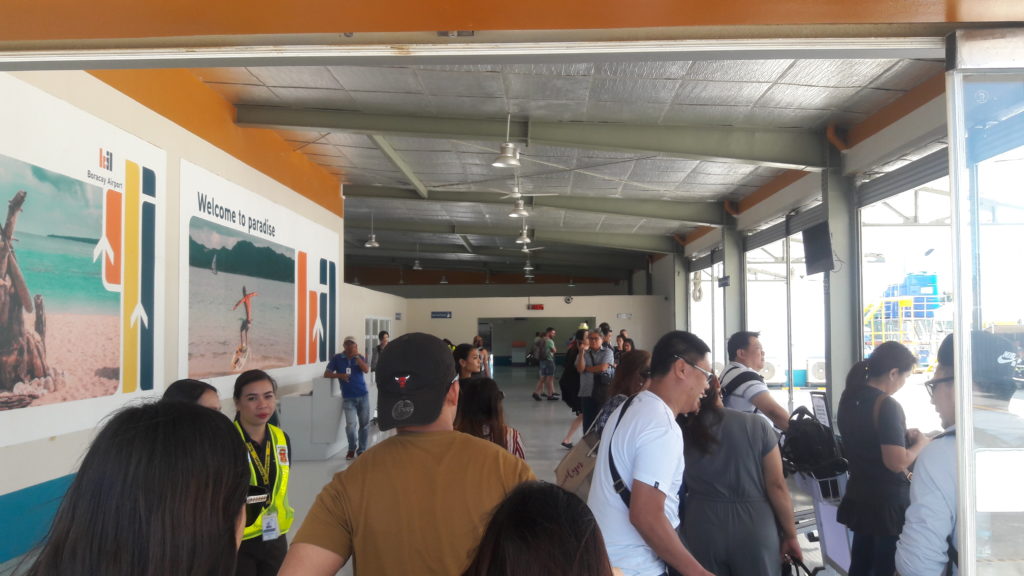 UPON ARRIVAL IN CATICLAN AIRPORT
I was surprised in a positive manner when I stepped inside the arrival area of the Caticlan airport. If I remember it right, the airport from two years ago was a bit chaotic. The new light blue and green color scheme of the arrival area is pleasing to look at.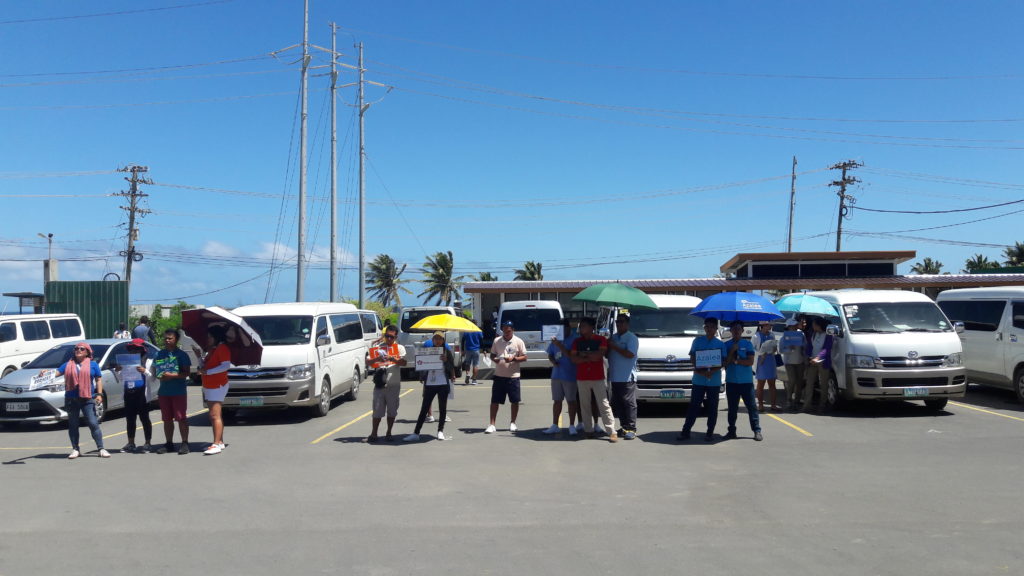 You have the option to book for a hassle-free land and boat transfers from Caticlan Airport to your hotel in Boracay. I suggest one that is listed in Klook which a friend of mine availed weeks before I flew to Caticlan.
If you're like me who's in the mood to do everything DIY style, you can hire a tricycle to take you to the port area (75 to 100 pesos per tricycle). What I did is I asked a couple if I can join them in the trike ride to lessen to cost. Read this [Boracay article by Guide to the Philippines] to know more.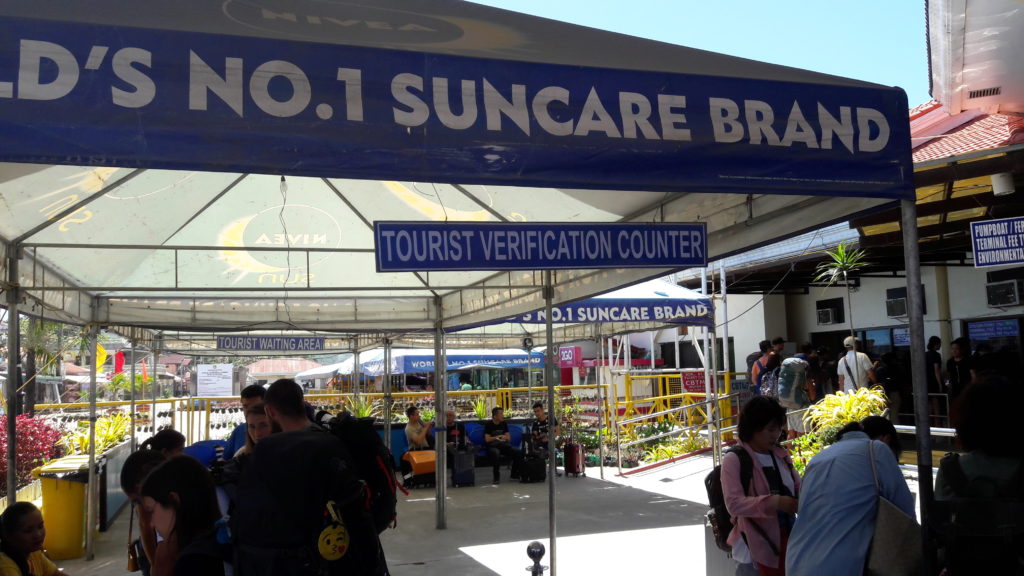 REQUIRED: HOTEL BOOKING CONFIRMATION
Every international or Filipino guests are required to register and show their hotel booking confirmation upon arrival. I witnessed one foreign traveler who was asked to go in one side and book his accommodation before he is allowed to go inside the port area and pay for the fees.
To make this part of your trip hassle-free, it is better that you print or keep a PDF file of your hotel reservation. The best thing to do is booked in advanced via online travel agencies such as Agoda, Booking or TravelBook.
The next step is paying for the Pump Boat (Php 30) or Oyster Ferry (Php 100). I got confused so I lined up in the Oyster one. I was tired and hungry I didn't bother to double check.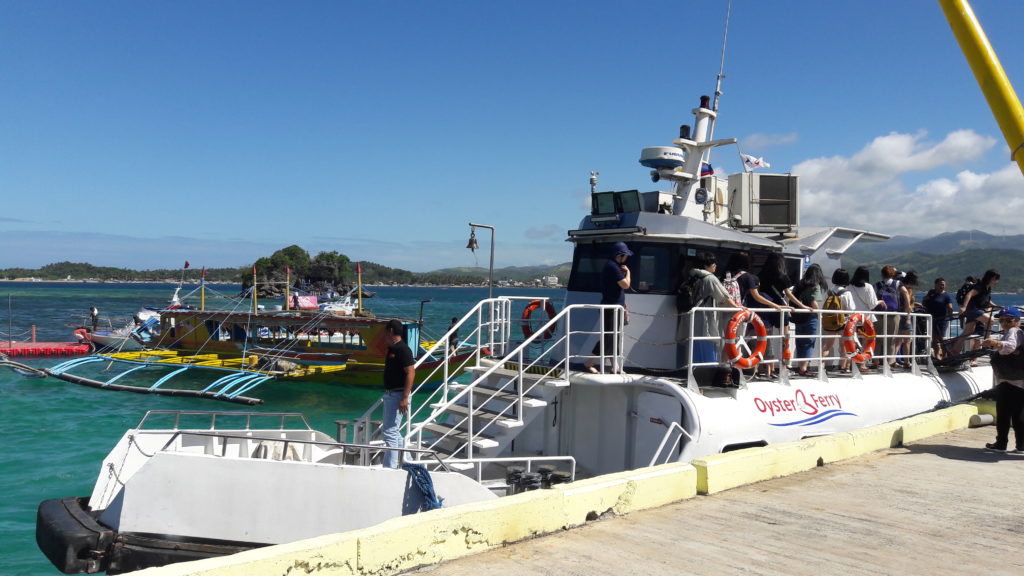 Once you reach Jetty Port, you can hire a tricycle from there or ride in one of the mini jeepneys. Once again, I shared the ride with locals and other travelers. I paid Php 20 to be dropped near my accommodation for this trip.
RELAXING AT ASTORIA CURRENT
My motivation in going through the challenging land and boat transfers is the fact that I will be staying in one of Boracay's best reviews hotel-slash-resort – ASTORIA CURRENT!
Just look at this room…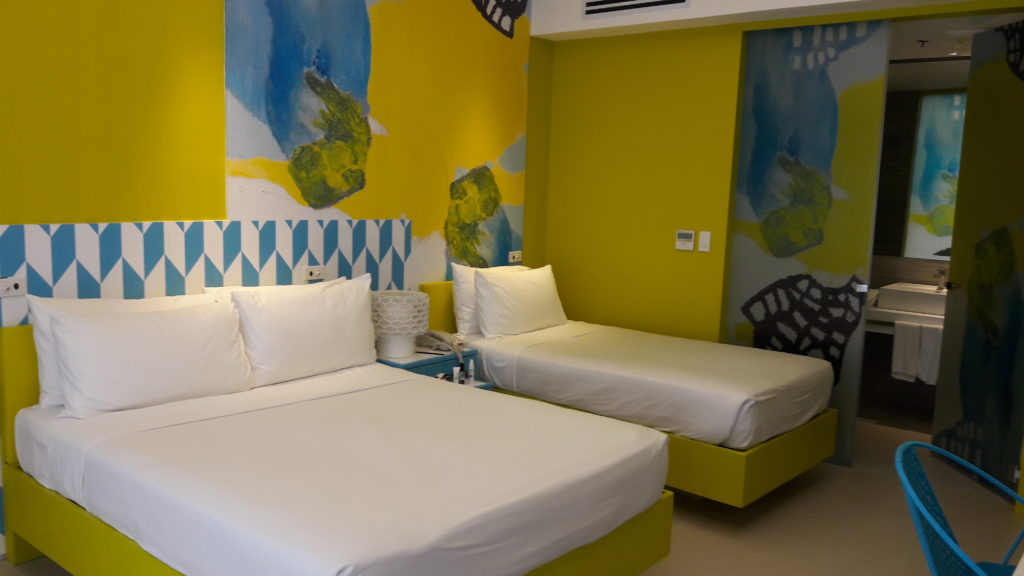 And its connecting room..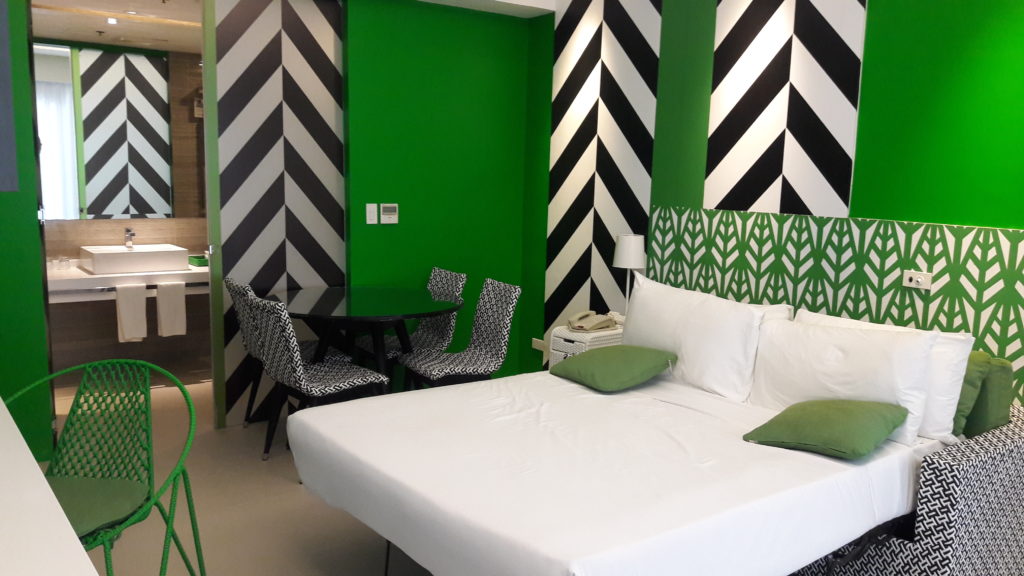 And the pool area..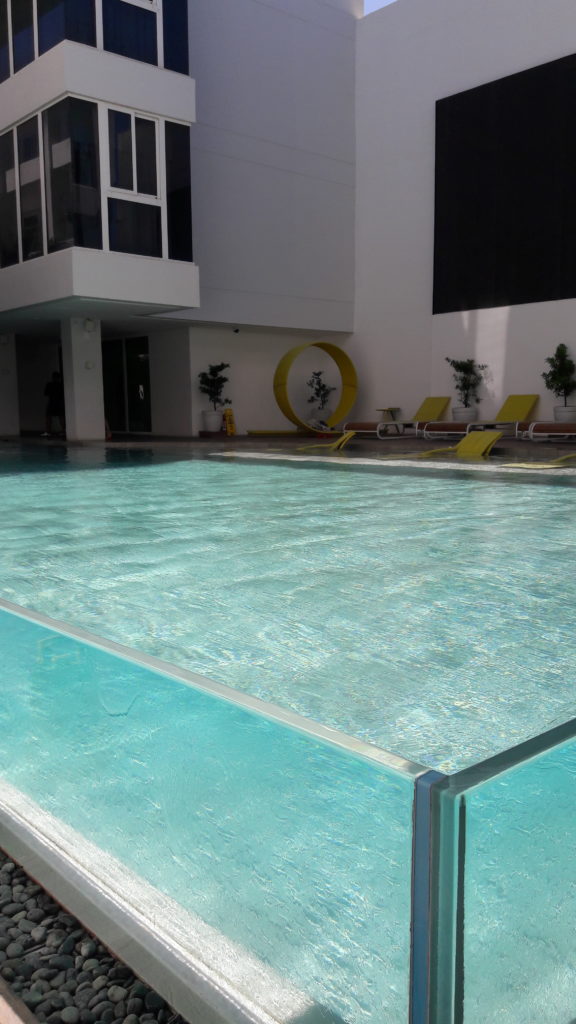 Okay, I didn't take much photos. I spent the whole afternoon catching some sleep and by sunset time, I went to the beach and viola, the Boracay Sunset that I truly miss!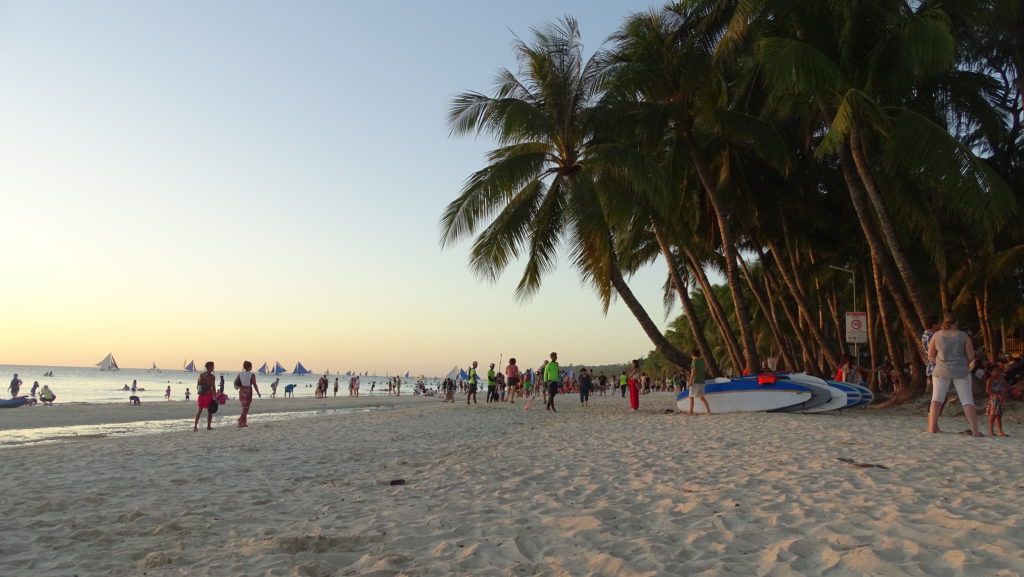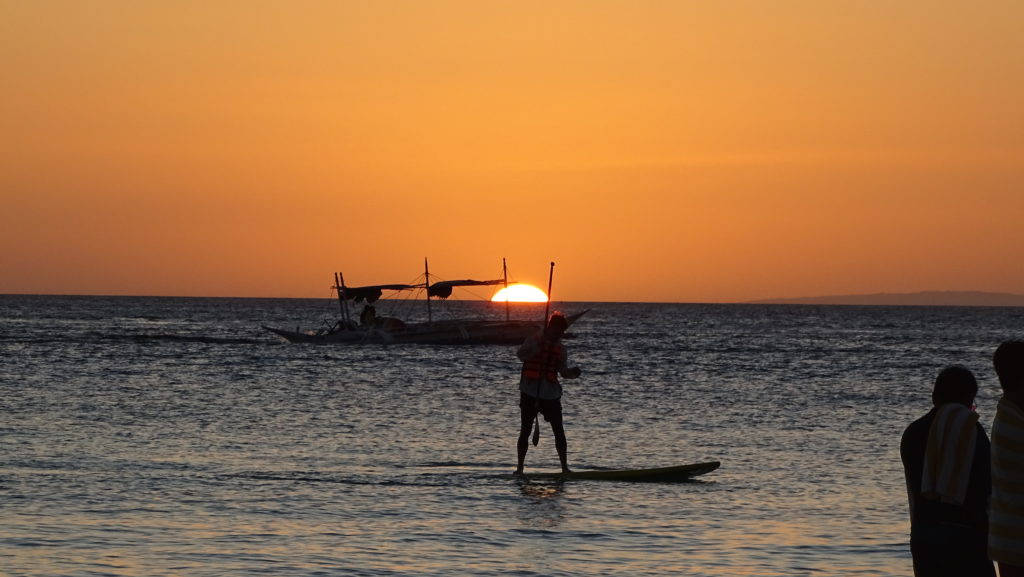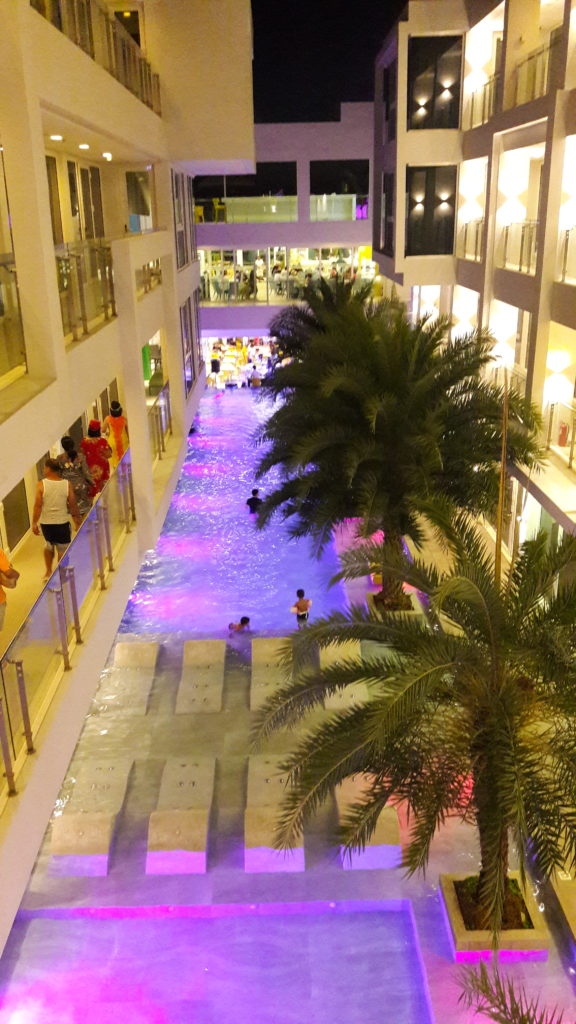 I spent the next two days maximizing my hotel stay and by just chillin' in a nearby coffee shop. And yeah, I did some online work. I didn't stay online that long though and I ran straight to that beach like a kid. Mine mine mine! HAHAHA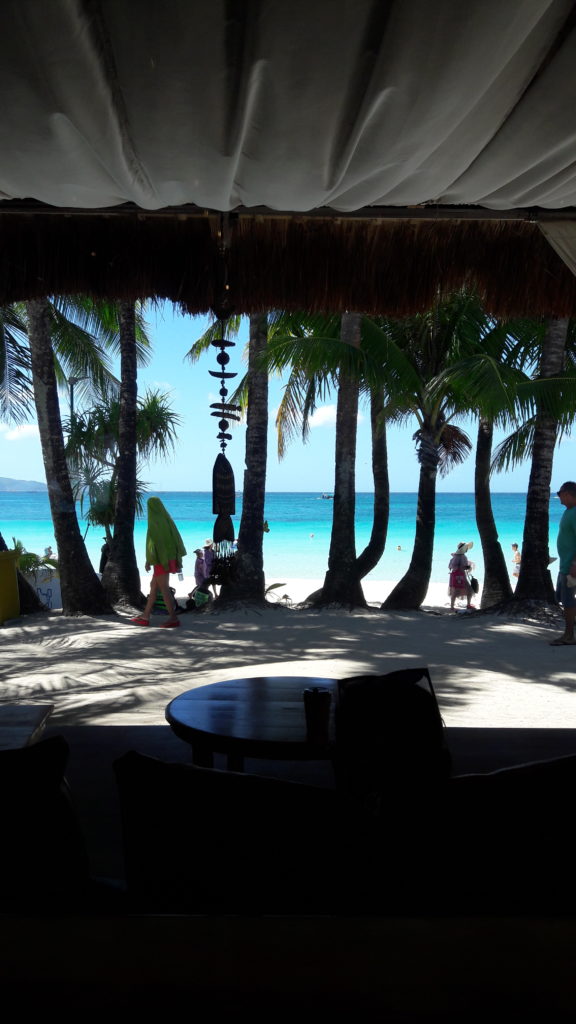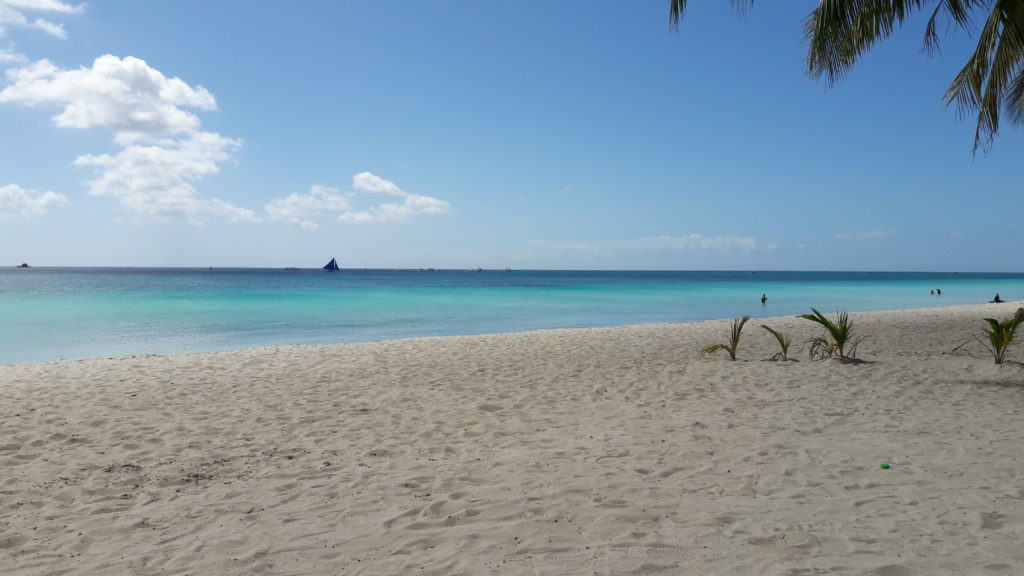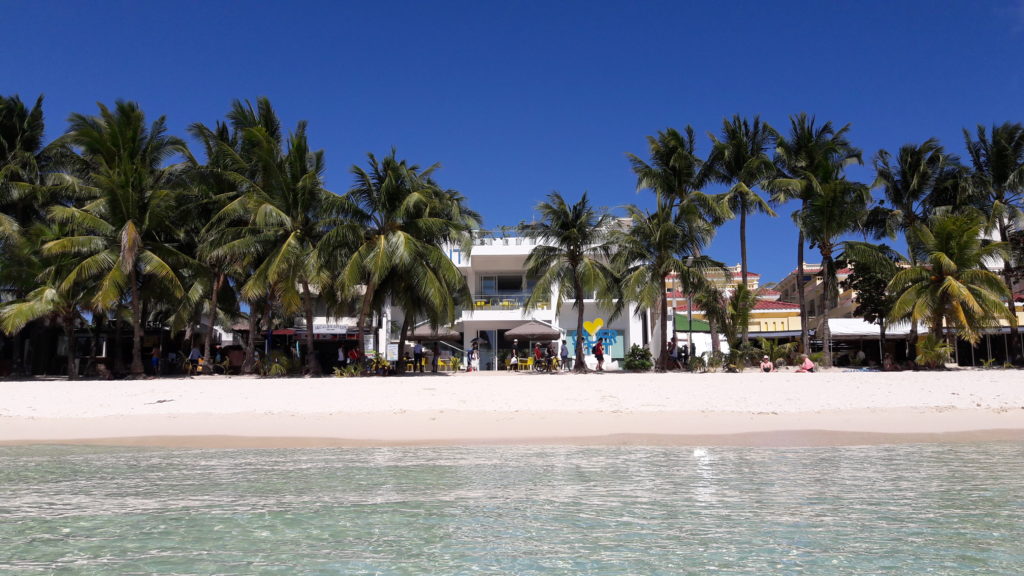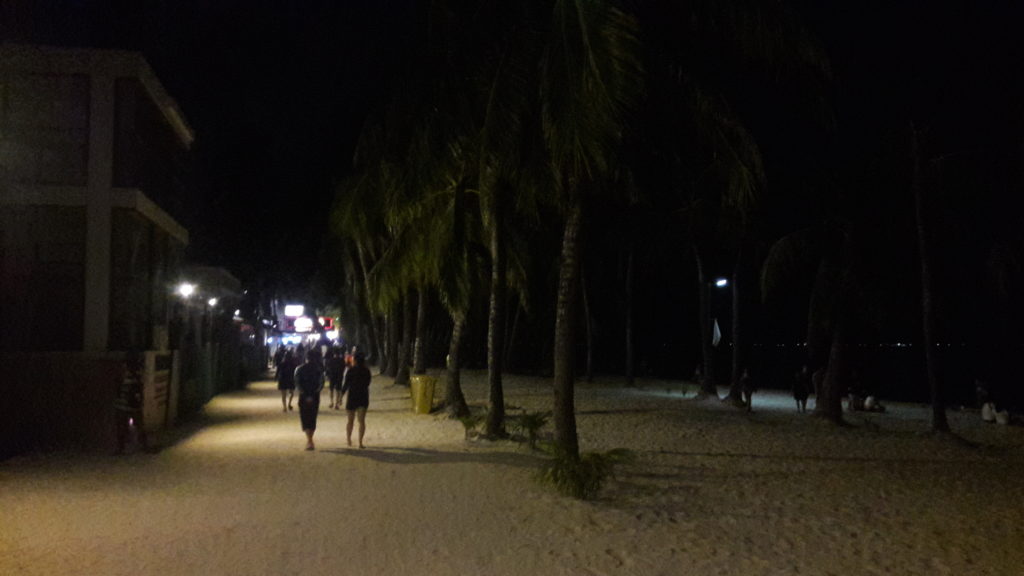 BORACAY AT NIGHT MINUS THE FIRE DANCERS
One of the reasons why I kept on visiting Boracay is the fire dancers. I just love watching them even if I know most of their dance routines by heart. Special mention to Carla a.k.a. The Fire Diva whom I met way back in 2010 and had been a good friend of mine.
I know that performing such acts is dangerous and hazardous to one's health (and the environment too), but I can't help but feel sad about it. Where are the other fire dancers now? How were they able to cope up with these changes?
A QUAINT HOSTEL EXPERIENCE NEAR DINIWID BEACH
For my last night in Boracay, I decided to go to Diniwid Beach area and stay in a flashpacker hostel that's been receiving good reviews online – Chillax Flashpacker Hostel.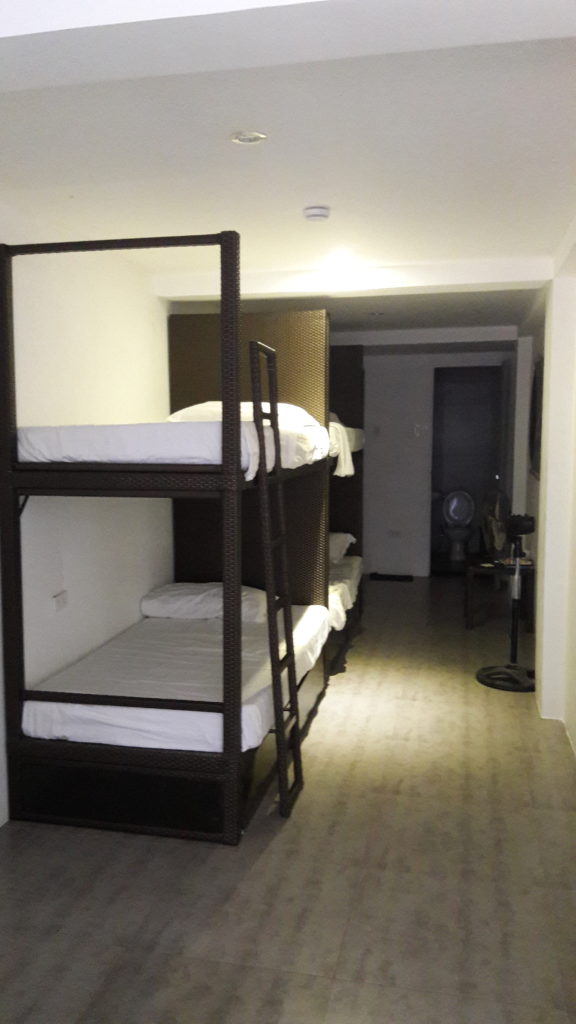 Initially, I booked this place because of the rooftop pool photo, free breakfast and its accessibility to Diniwid Beach. I once stayed in Microtel Boracay due to an online writing contest and formed friendship with the bloggers I met during that time.
I remember Diniwid Beach as this quiet and clean one. Imagine my dismay when I went there with this view: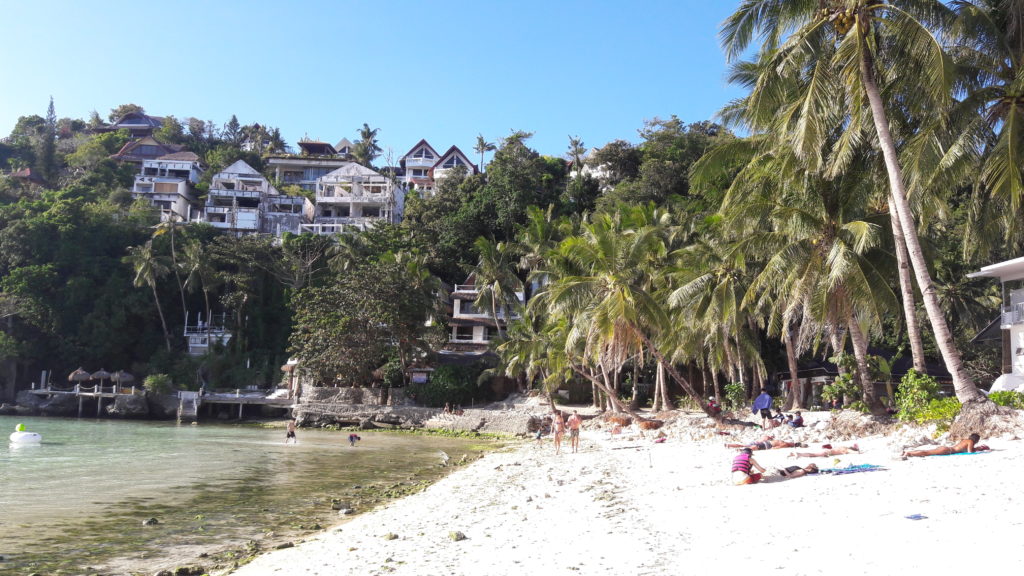 That didn't stop me from taking a dip. It was weird. I preferred the main beach area now compared to Diniwid.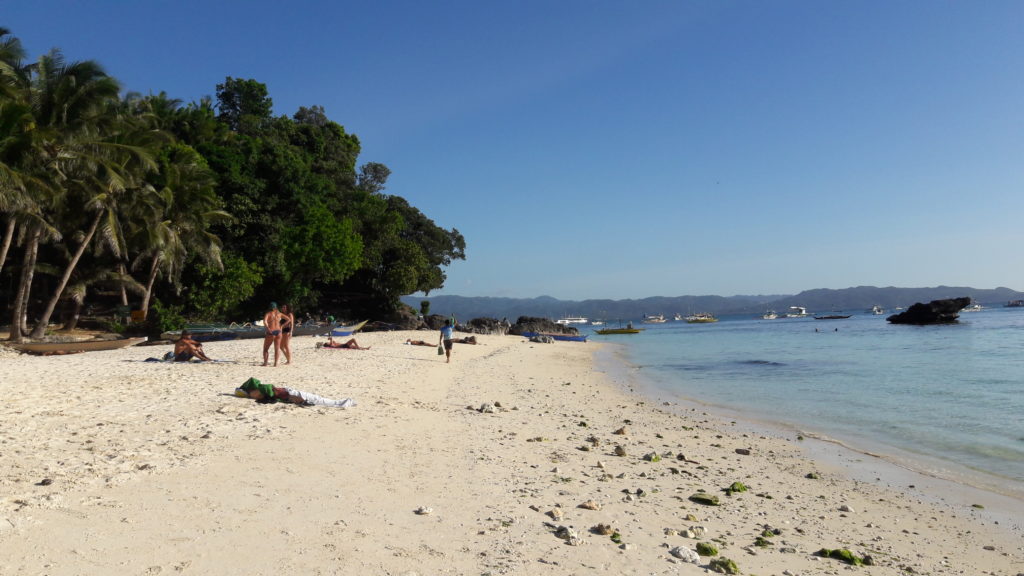 I went back to the hostel to freshen up and I met some Filipino backpackers there. We decided to chip in and go to where the action is.
For my last night, I went to Exit Bar and partied the night away at Epic Bar. The part where we were singing Spice Girls, Backstreet Boys and Queen songs was the highlight for me. Ang saya!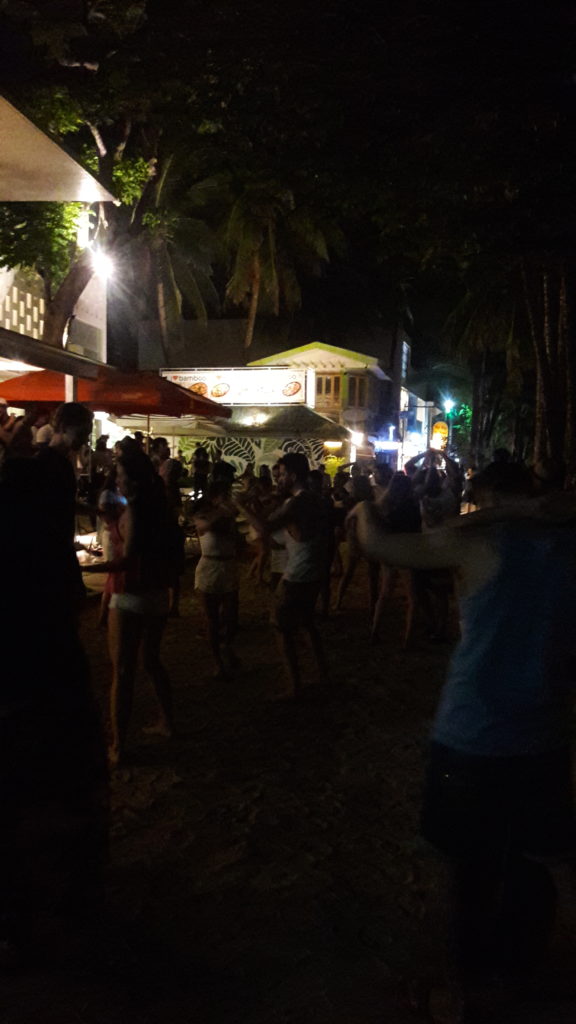 It was also that night when I asked myself if I am old for this Boracay tgsh tgsh nights. The answer? Hell NO. I'm glad my hostel mates were game. We meddled with party boys and girls in their early 20's. Love it. The night is still young and so are we! 😛
GOING HOME: Hello, Friday Traffic Jam!
The reason why I chose Clark Airport is the convenience of choosing whether I'll go to Dagupan or Manila. I chose the latter because I miss my grandparents.
On my way home, I took the Genesis Bus P2P to NAIA Terminals 1-4 with a stopover at Robinson's Galleria for Php 330. The truth is I got more stressed on my way home due to the Friday traffic jam. Nooooo!
From Robinson's Galleria, I took a cab to Ayala 30th where I was able to catch the last trip of the Ayala 30th-Alabang Town Center P2P Bus for Php 140. Again, the Friday Traffic Madness is horrible.
TAKEAWAYS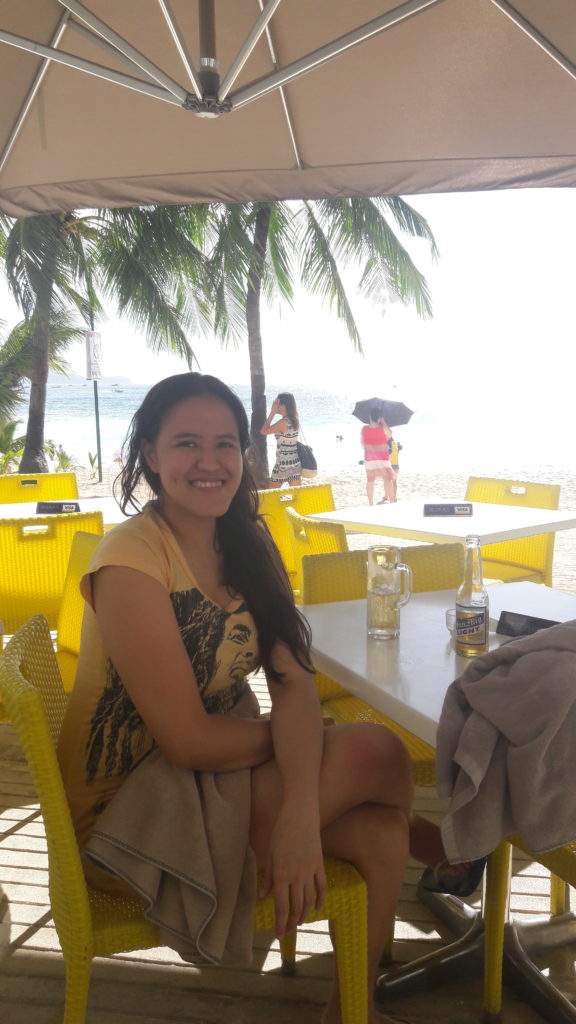 1. A change of scenery helps in your productivity – Being anxious and 'creatively lazy' can make one feel stuck. Going to a place that is not in your usual routine helps big time. This doesn't mean that you have to take your work in that destination (although I am guilty about this part – I can't help it at times!). You can just relax and do what you want to do to recharge and surely, you're full of energy and you have a fresh perspective once you go back home or in your workplace.
2. You deserve a break – Don't be too hard on yourself. Go take that vacation! Why work hard if you won't even enjoy the fruits of your labor? It's okay to spoil yourself from time to time.
3. Don't just travel for Instagram likes – Yes, it is okay to share your travel snaps on your social media accounts, but don't just take those pictures, upload and that's it. Go and swim, drink that beer, maximize your accommodation, eat a lot, do water activities, drink that beer again, meet new friends, dance the night away, drink that beer again and more! People may 'like' your photo a million times, but in the end, your happiness and satisfaction must matter the most.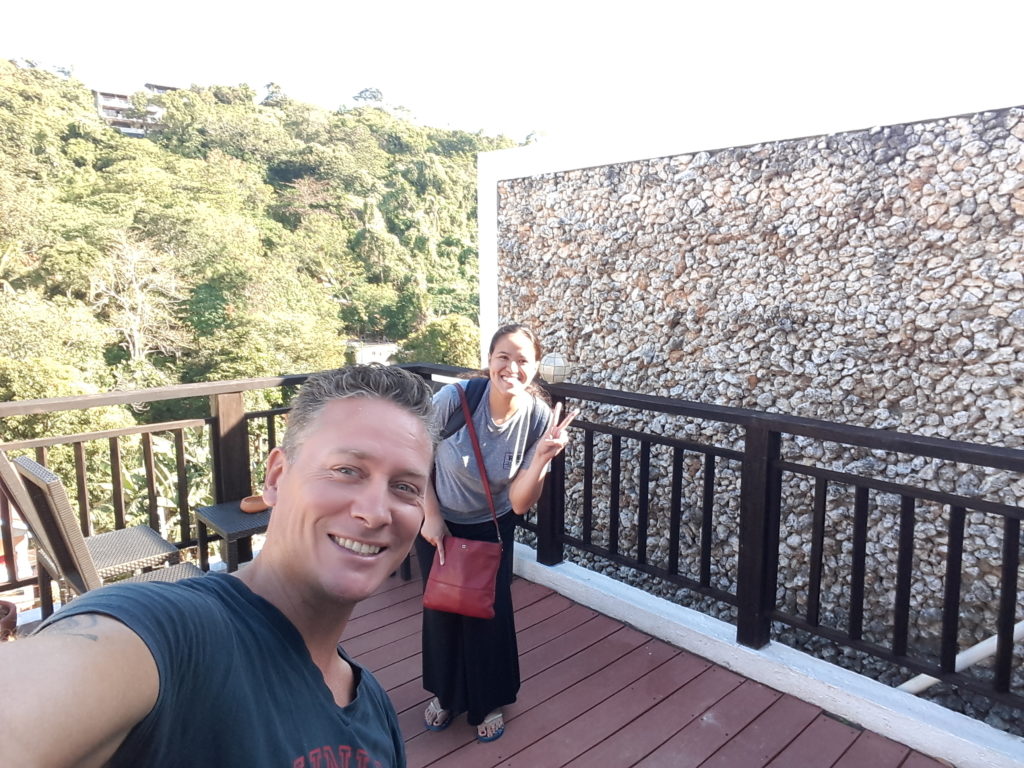 4. It's okay to let loose sometimes – Just be responsible. Go drink that beer!
5. I still miss the fire dancers of Boracay – Environment advocates, I'm not against you. We must take care of our surroundings and I know the hazardous effects of fire shows, but I can't help but miss them.
6. The Party Scene of Boracay is NOT dead! – LaBoracay might be dead, but the night scene is not! You can still party and dance the night away in a responsible manner. Just make sure you follow the rules and you're good to go!
7. MASARAP ANG CHOPSUEY NG ANDOK'S! – Best Discovery in terms of food LOL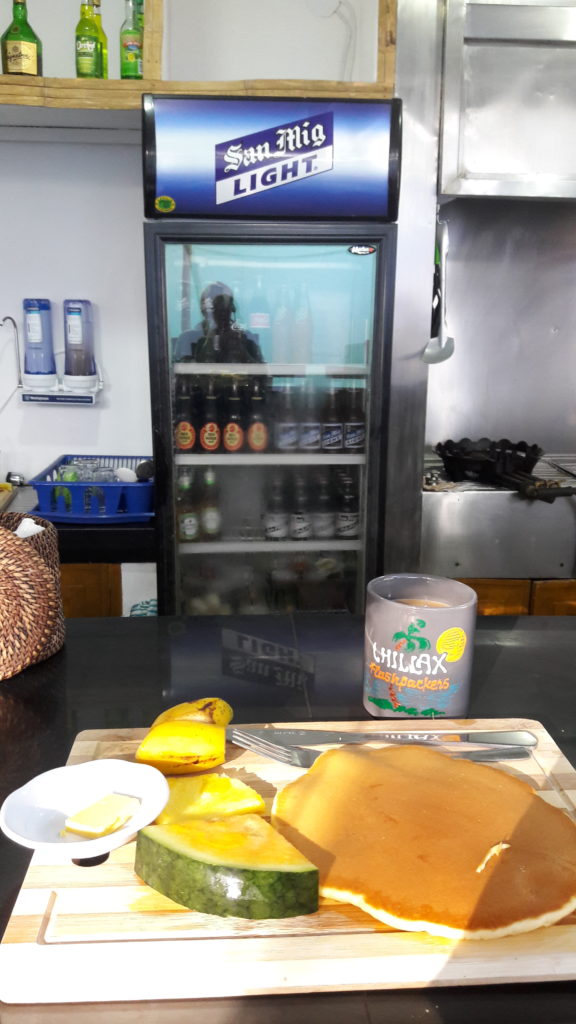 8. MASARAP DIN ANG FREE BREAKFAST SA HOSTEL! – Love my simple but yummy free Pancake brekkie! Hello, beer!
So that's all for now! I'm looking forward to more Boracay trips in the future!
Have you been to Boracay since it reopened? What are your thoughts? I highly recommend that you visit Boracay soon!
PS: This post is NOT sponsored by Astoria Current, Chillax Flashpackers Boracay, Cafe Maruja, Andok's Chicken or San Miguel Beer 😛