When I booked my flight for the Kerala Blog Express, I looked for the cheapest possible connecting flight to Trivandrum. I settled with the Manila-Singapore-Colombo-Trivandrum route.
I was thrilled when I booked a flight thru SriLankan Airlines. It's my first time and I'm quite curious since most of the reviews online are positive. Also, the fact that the base is the Colombo International Airport means I have the chance to go out and take a sneak peak of the typical Sri Lankan life.
Sleepless before the flight, I looked like a zombie when I landed Singapore's Changi Airport. I had 6 hours to spend. I attempted to sleep in one of the comfy couches, but I failed. I also ate lunch in an overpriced place and didn't realize I ordered a super spicy meal. Gee, is this destiny's way to prepare me for India?
By the time I reached the boarding gate, I realized that I'm the only Filipino in the flight. This is interesting.
SRI LANKAN AIRLINES REVIEW
Happy upon reaching my assigned seat in the aircraft. Let's just say that my first SriLankan Airlines experience was a memorable one because it surpassed my expectations.
The food was great, in-flight entertainment movie and music choices were good and the male cabin crews were tall, approachable and hospitable. Truly living up to their company tagline!
LONG LAYOVER IN SRI LANKA: FREE TRANSIT VISA FOR FILIPINOS
A night before my flight, a good friend of mine told me that Sri Lanka requires advanced Online Tourist Visa on Arrival for Filipino tourists like in India. I almost panicked because I already booked a place to stay in Negombo and I want to get out of the airport. My only options left include overstaying in the Coffee Bean and Tea Leaf branch inside the airport (they have free wifi), stay in one of the benches and try to sleep or stay in the transit hotel for $58 good for only 6 hours.
By the time I reached the Immigration desk, I told them that I'm a Filipino and as far as I know, I am allowed to get a Transit Visa for free.
"Why not stay in the Transit Hotel?" the officer asked.

"It is expensive, Sir. I just want to take a glimpse of your country. Please?" I replied politely.

He smiled and stamped my passport right away. I need to go back to the airport the next day.

"Enjoy your short layover here in Colombo. You should stay longer!"

"I will soon."
I was worried when I didn't see my stuff at the baggage carousel. I then remembered that yeah, I took a connecting flight, which means I'll get my stuff the next day on Trivandrum.
I approached the SriLankan Airlines help desk and boy, I was right.
Me: You mean I won't be able to get my stuff today?
Staff: You'll get it tomorrow in Trivandrum.
Me: Oh no!
Staff: Oh, yessss.
I left the airport and several tour agents tried to get my attention to take one of their packages. I informed the guest house owner that I'm expected to arrive at around 3PM. I don't have a smartphone (well, I have an unreliable one) so I only depend on his instructions that I should stand in one of the phonebooths.
So I did.
It was a hot and humid day. With no sleep, I'm starting to get cranky.
I'm glad he approached me right away. From then on, I knew I'll have a safe time in Sri Lanka.
COLOMBO to NEGOMBO
The road trip from Colombo to Negombo is just between 20-30 minutes. While driving, the hostel owner tells me stories about pursuing his dream. He was formerly a government employee who earns a decent salary, but she had less time for himself and his family. After saving enough money, he resigned from his work and pursued his dream of having his own hostel. He also plans to visit the Philippines soon particularly Palawan due to numerous positive feedbacks from friends.
HOSPITALITY AT MARINE TOURIST GUEST HOUSE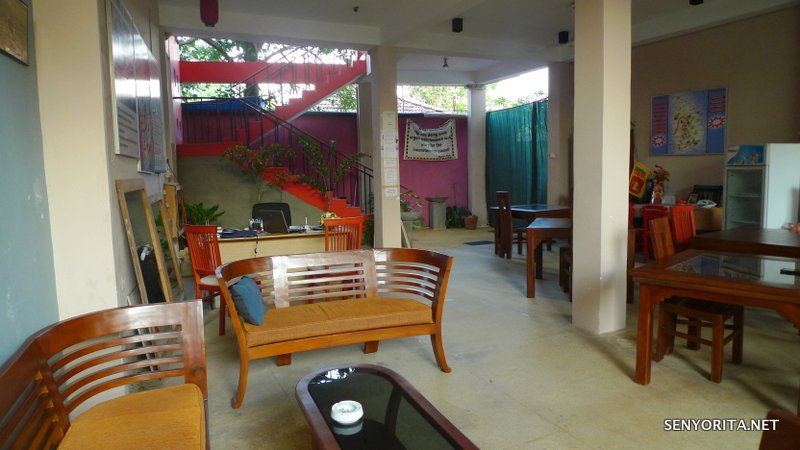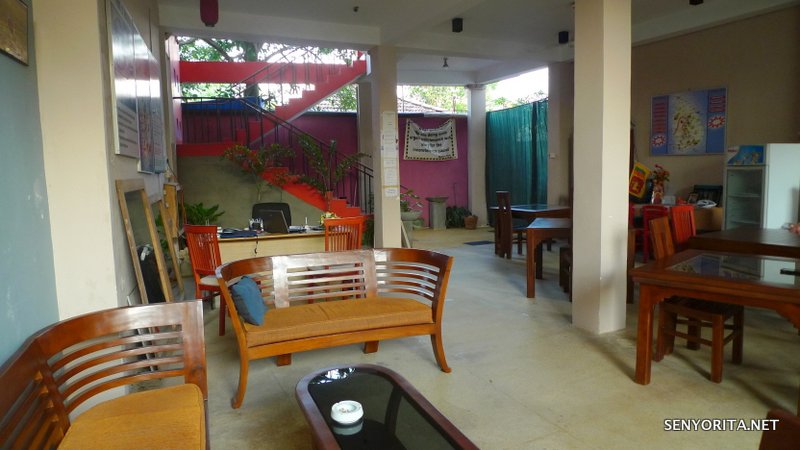 Marine Tourist Guest House is just five minutes walk from the famous Negombo Beach. I went straight to my room to change my top. I'm glad I was able to bring some extra clothes!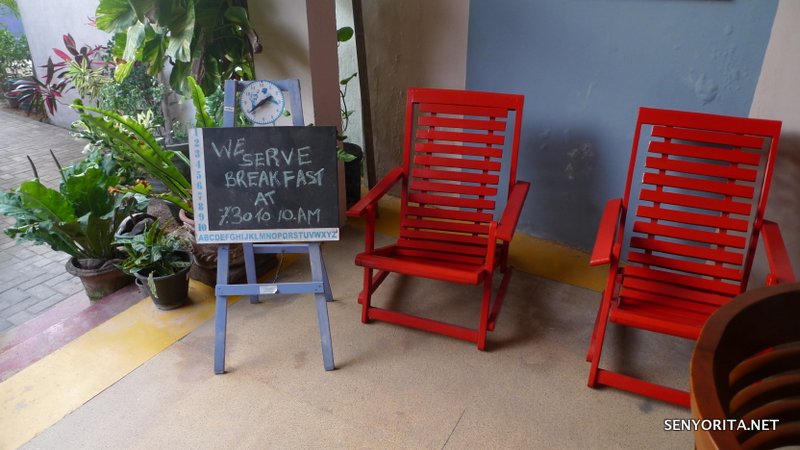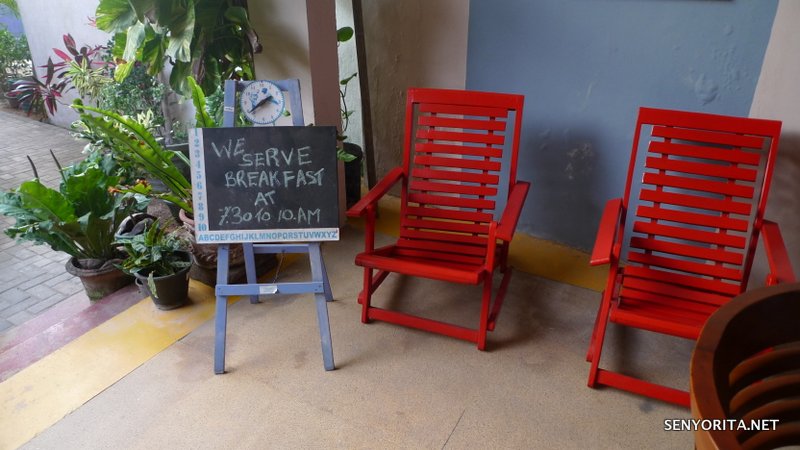 The assistant asked me to wear something that will cover my shoulders and reminded me that I can only wear sleeveless tops when I'm about to swim. I have to be careful.
That statement almost scared me, but I really want to go to the beach side! I don't have plans of swimming, but I just want to hear the waves and feel the sand and water on my feet. I was also craving for fresh coconut juice.
So I went there on a humid afternoon (4:30pm i think) with my long sleeves, camera and some money for buko juice.
Gee, this place reminds me of Patar Beach in Bolinao! I saw some locals having fun with their home clothes on, while Western tourists are in their swimwears.
I went back to the hostel to buy food supposedly for dinner, but I wasn't comfortable alone on the road. I just headed to a nearby store to buy some snacks and went back to my room to freshen up.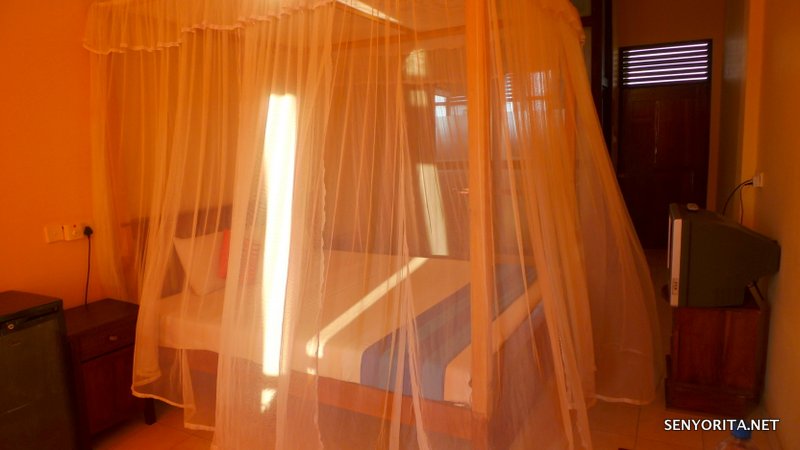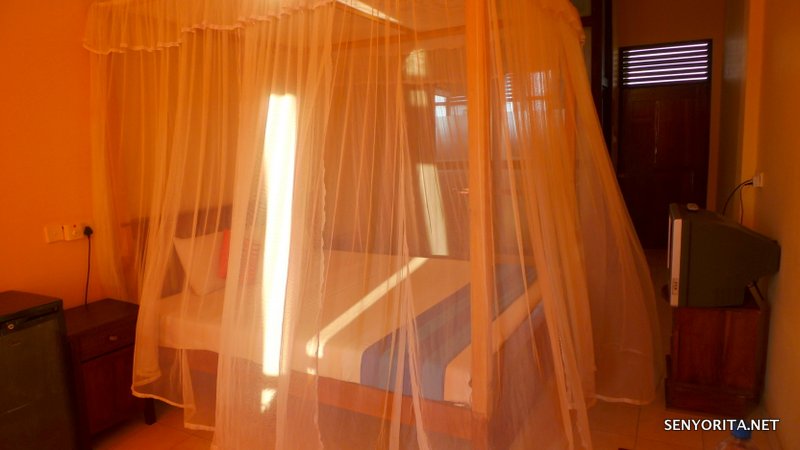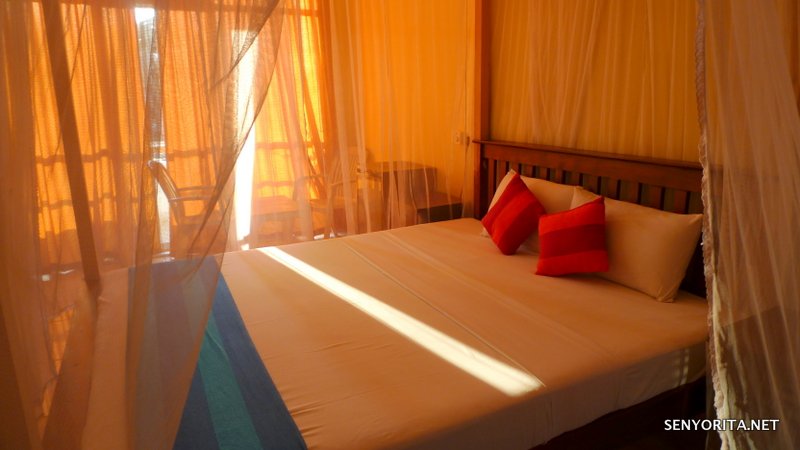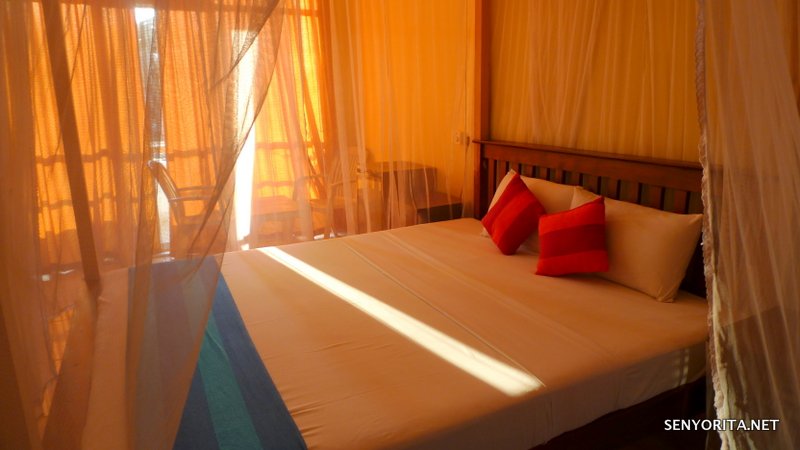 By 7PM, I was super hungry. Nishan, the guest house owner offered to get me something to eat since he wasn't comfortable to let me get my own food outside. I almost declined, but he insisted. I appreciate this kind gesture.
So this is what I had for dinner 😀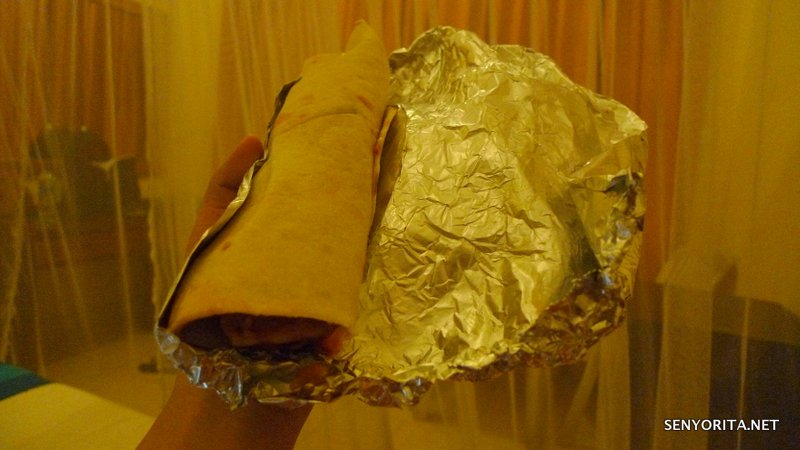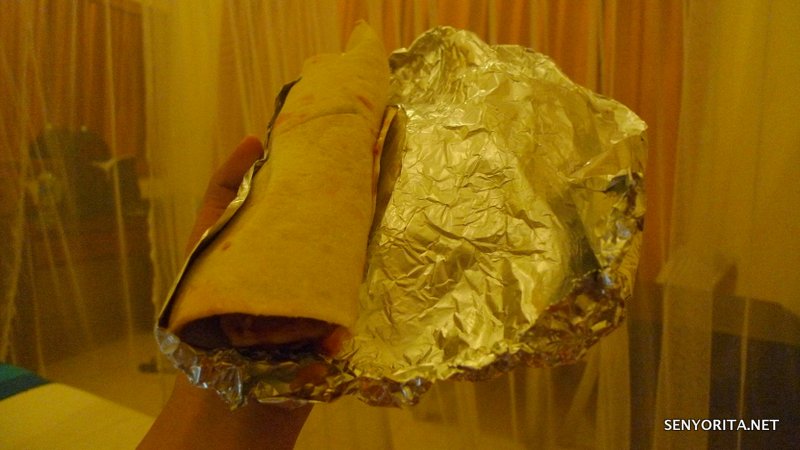 By 9pm, I'm already asleep.
I woke up at 4am fix my stuff and a tuktuk driver was already waiting to take me to the airport. I wasn't able to thank my hospitable hosts. I'm hoping to stay longer next time!
By the time I reached the airport, an airport staff noticed that I was a bit lost since I lined up in the check-in area. He ushered me straight to the immigration line. When you see someone smile early in the morning, it makes one feel safe.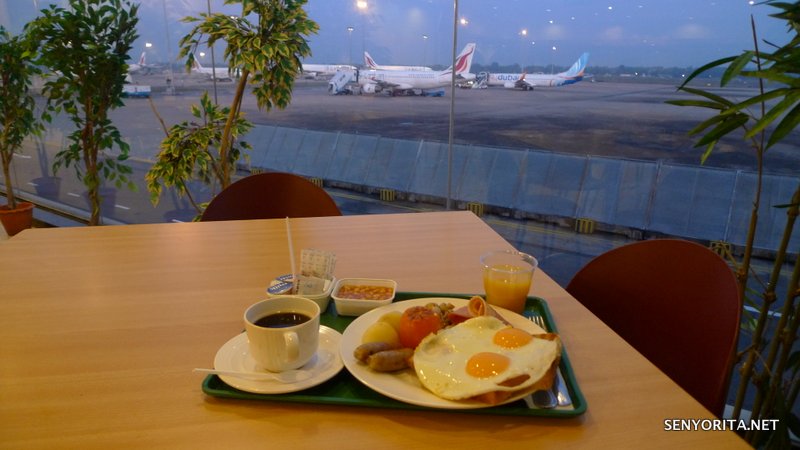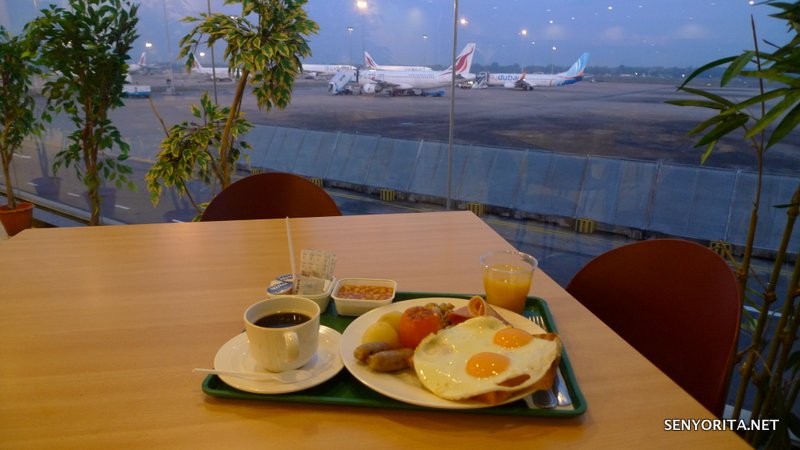 I stayed in Coffee Bean and Tea Leaf for my morning coffee and free wifi connection. That's when I realized I'm on a same flight with a fellow Kerala Blog Express participant from France!
Flight delay was announced. I have to wait for four more hours so I ate in one of the airport restaurants. How long is the flight from Colombo to Trivandrum? 40 Minutes 😛
I had another long layover in Colombo after the Kerala Blog Express tour. Instead of going out, I decided to stay in the transit hotel because I wasn't feeling well. That's next 🙂
Marine Tourist Guest House 
No.118 Lewis Place, Beach Road, 11500 Negombo, Sri Lanka
Book directly via Booking or Agoda!
Have you been to Sri Lanka? How was your trip and which places do you recommend travelers to visit? Share your suggestions on the comments section! 😀