Remember my confession about flying to Singapore to watch a drag superstar named Willam Belli perform live? It was a fab fanatic moment for me. When I heard that former American Idol contestant turned Rupaul's Drag Race superstar Adore Delano (Danny Noriega) is performing in Asia, I was relieved upon learning that she will be performing in Manila. In Manila!
I remember how the young Danny Noriega captured my attention for the first time. There were rumors circulating that a teen contestant of American Idol is half Filipino. The first video I saw is of Danny singing "Tainted Love". You can see how bad he wants to stay in the game and he will fight for it. I can see the fierceness in him (though he wasn't 'out' yet). I later found out that he is not Filipino and that he was eliminated from the show. Too bad.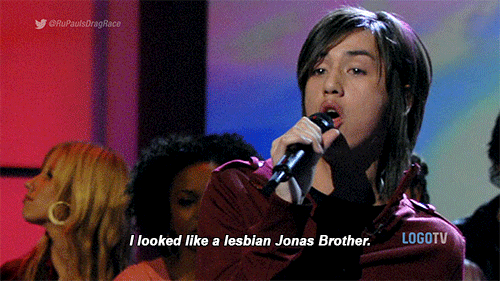 Then months after, I discovered that he is a good friend of YouTube superstar Chris Crocker (of the 'Leave Britney Alone!' fame). The two are good buddies and even Danny has his own YouTube channel!
My addiction to Rupaul's Drag Race started in late 2012 because of Manila Luzon. While watching drag performances on YouTube, I stumbled upon a certain 'Adore Delano' lipsyncing wearing something similar to ZALORA's collection of casual dresses and dancing her heart out to Rihanna's "Where Have You Been". Hmmm…. looks familiar.
I googled some more…
Okay… Danny Noriega is now performing as Adore Delano!
Early last year, he was introduced as one of the contestants of Rupaul's Drag Race Season 6. For me, it is the most interesting season of the show. I'm glad that Adore made it to the Top 3 together with equally talented veterans Courtney Act and the grand winner Ms. Bianca Del Rio.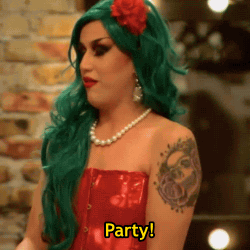 Though she didn't win the crown, she managed to break records for having the most successful RPDR full-lngth album to date. She released 'Till Death Do We Party featuring the songs I Adore You, Party, My Address is Hollywood and Give Me Tonight.
I used to think that I am the only Rupaul's Drag Race fanatic in the Philippines until some bloggers and friends admitted privately that they watch the show and who their favorites are. One of them is Nica, a friend I met thru a press trip and a big fan of Courtney Act. We then exchanged thoughts about RPDR and finally we decided to meet again after three or four years to watch Adore Delano in O Bar Philippines!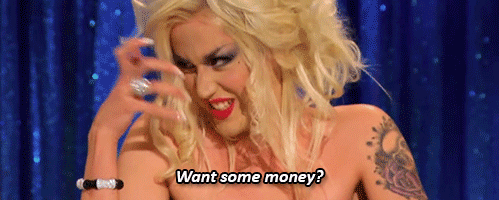 We secured VIP Tickets (with Meet and Greet) for Php1,800. Ouch. Expensive, but who cares? It's my reward to myself for being a hardworking glamazon and it is an intimate get-together of drag race fans. Heck, I even flew to Singapore for my beloved Willam Belli!
So the fateful night finally came!
I've heard about the drag performers of O Bar Philippines and regular patrons claim that the girls are really good. As a first timer, I was excited but didn't expect too much.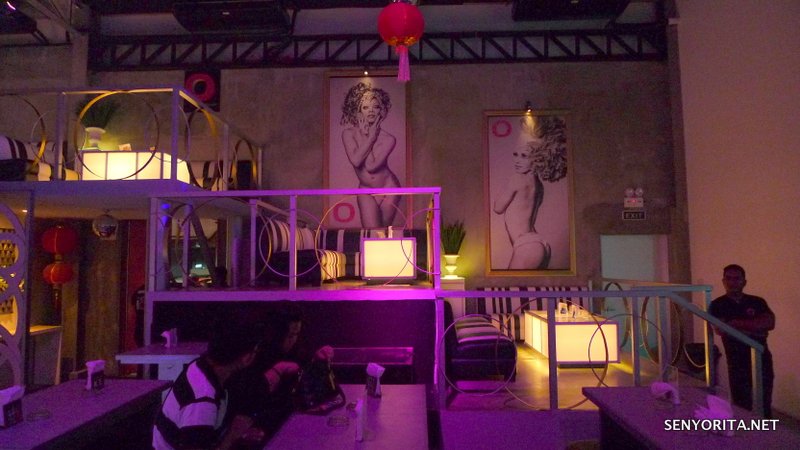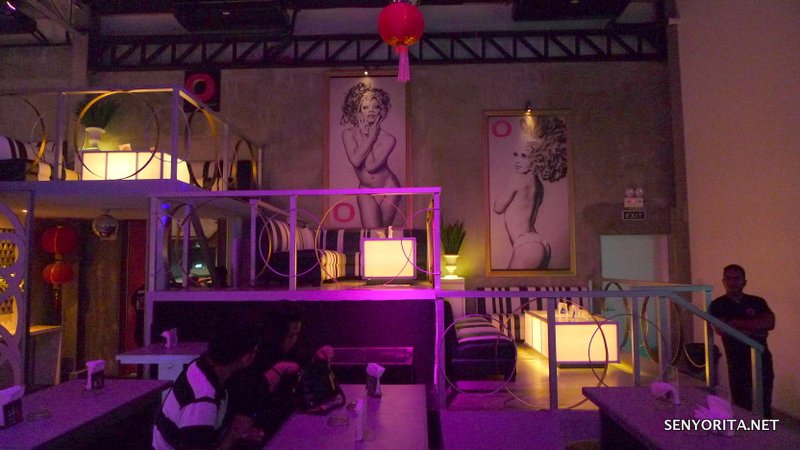 My jaw dropped upon entering the venue. Photos of fabulous queens are all over the place and the layout is just fun to look at. I feel like I'm in a 90's music video set.
Nica and I took the opportunity to catch up on our favorite drag queens and how we'd go crazy once Courtney Act and Manila Luzon visits Manila. Shall we also wear drag on the next gig?
Three days before Adore Delano's show, I received a message from a fellow RPDR fan who is looking for a companion to the show. I told him that he can come and share the table with us. I find him endearing when he finally arrived. His name is Dan and he is an aspiring drag queen too. Now I have a drag baby!
Just when I thought there will be delays on the program, the fabulous queens of O Bar Philippines appeared onstage:
And then BAM! ADORE DELANO!!!!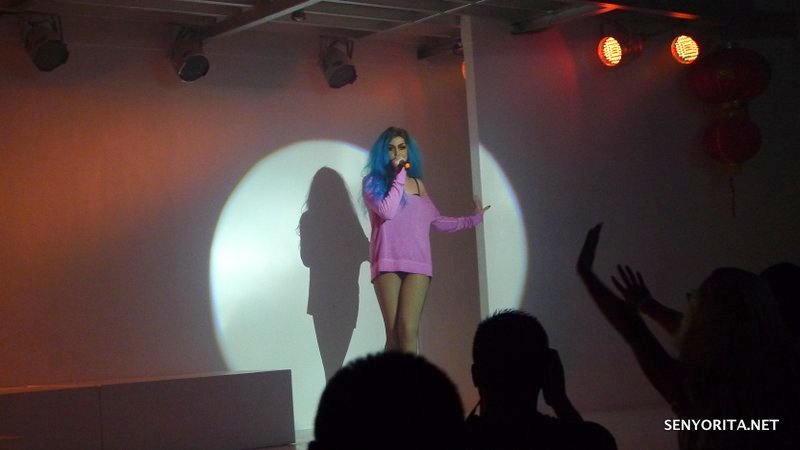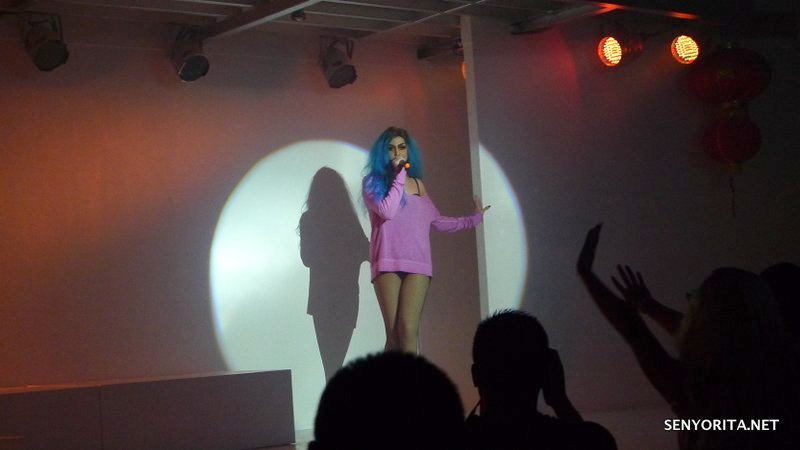 For her opening spiel, she sang her first single "I Adore U", much to the delight of the crowd!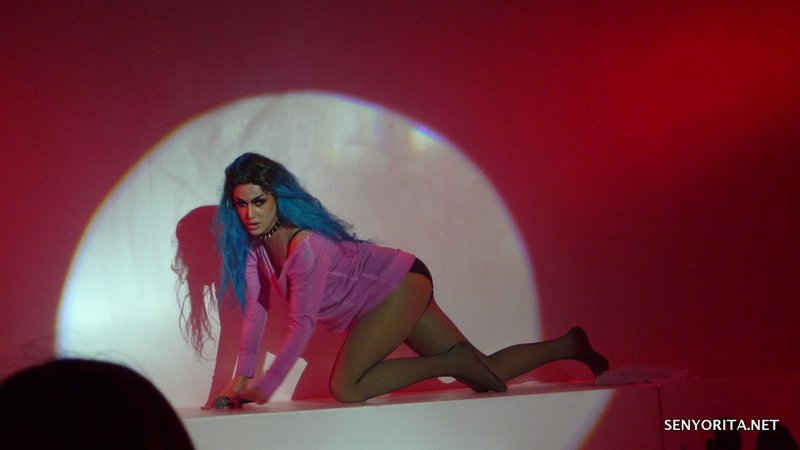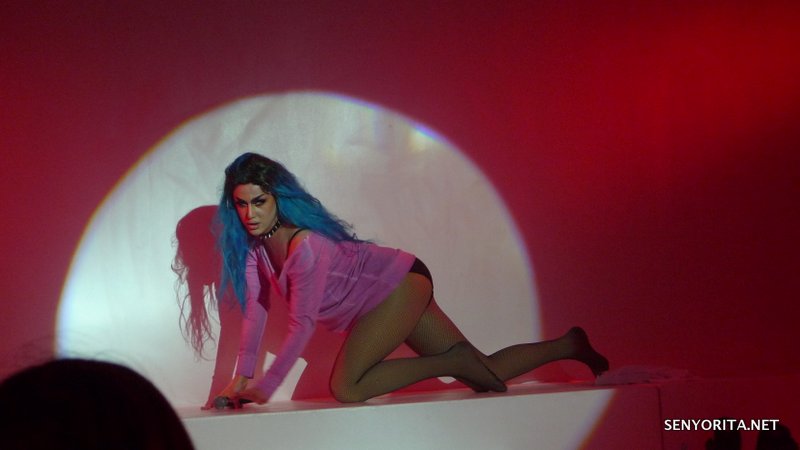 As a Rupaul's Drag Race fan based in the Philippines, the probability of singing a song sung and independently produced by a drag queen is less than 10%. I really had fun singing along with fellow fanatics who knew the lyrics by heart.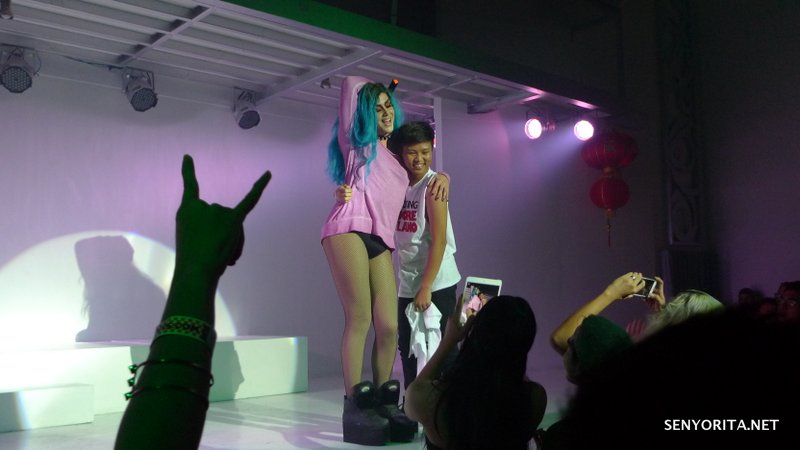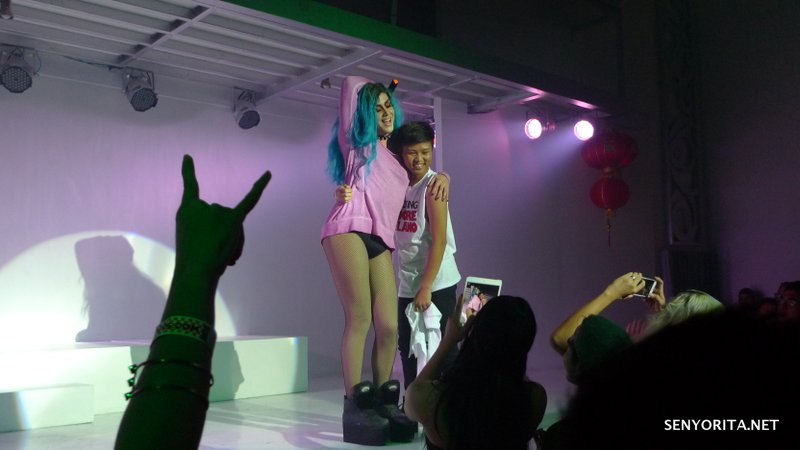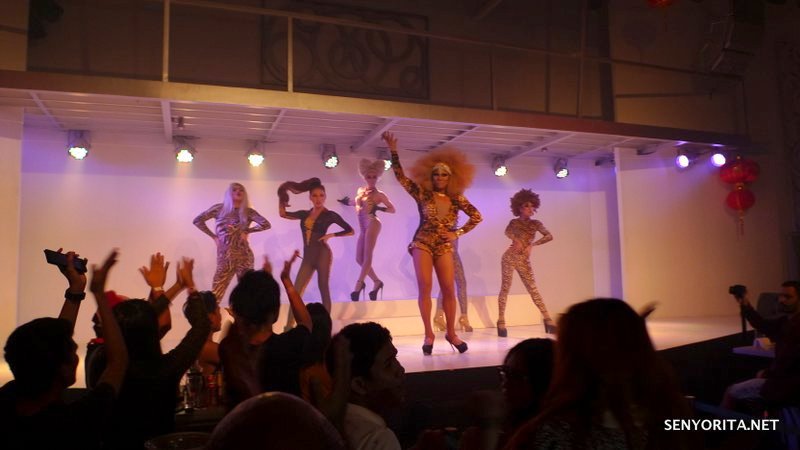 When the girls of OBAR re-appeared, they made sure to give the fans a RPDR nostalgia by performing Glamazon! Everyone's singing and dancing! Werk!
Here are more photos from the fierce divas of OBAR!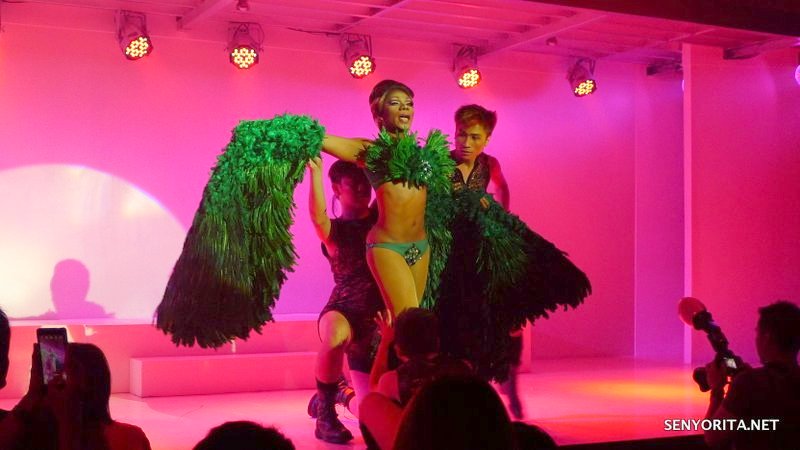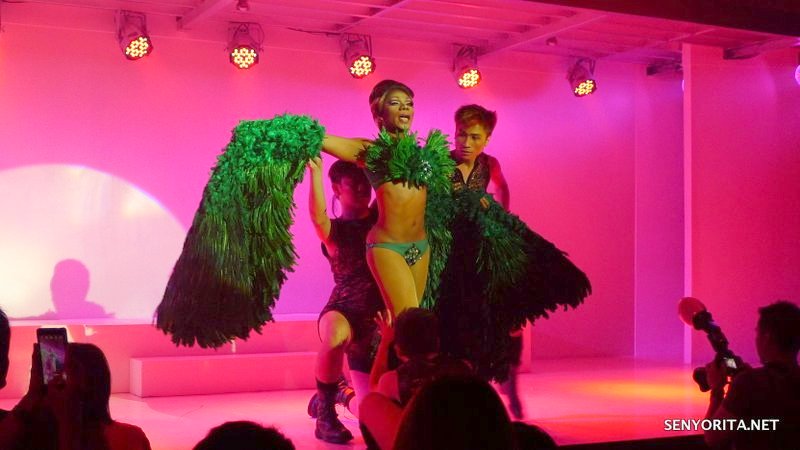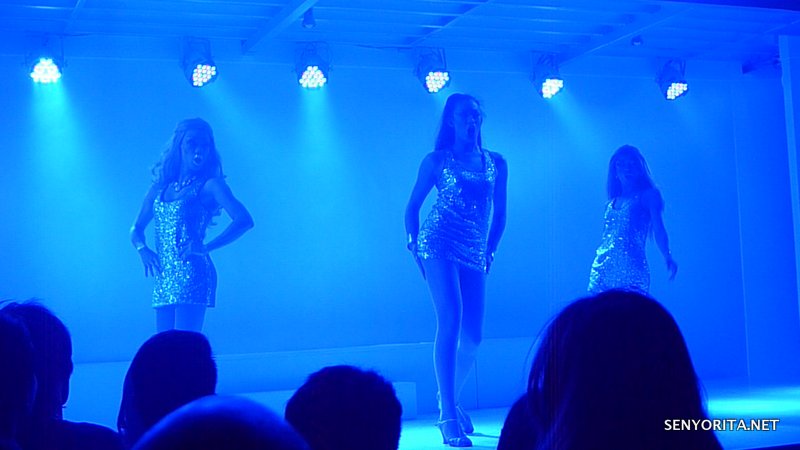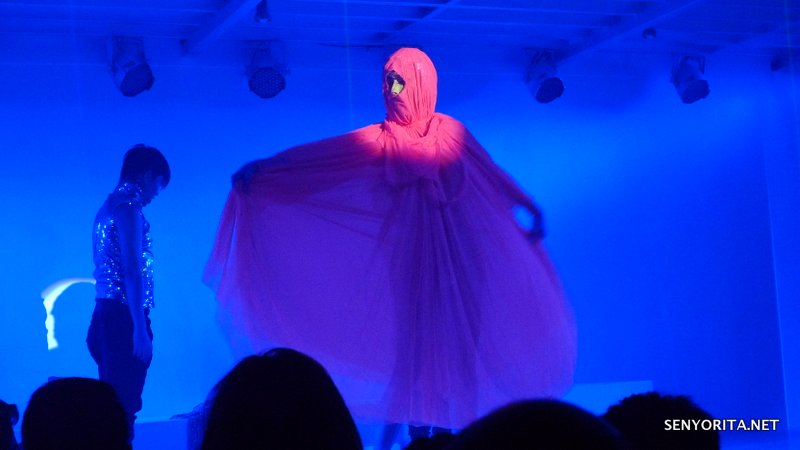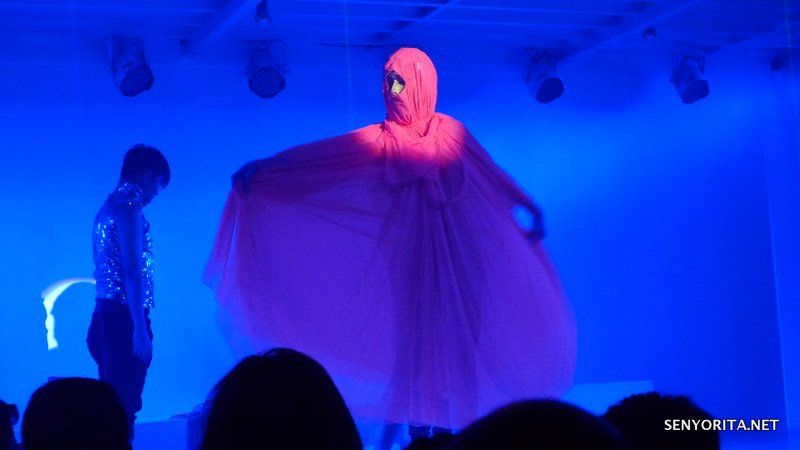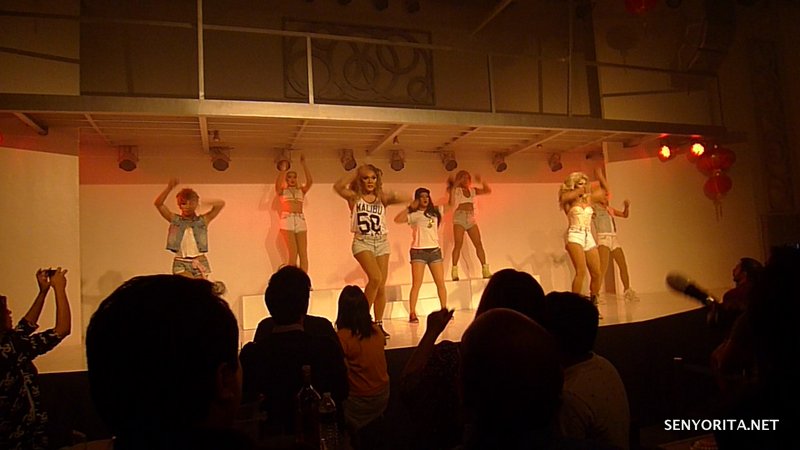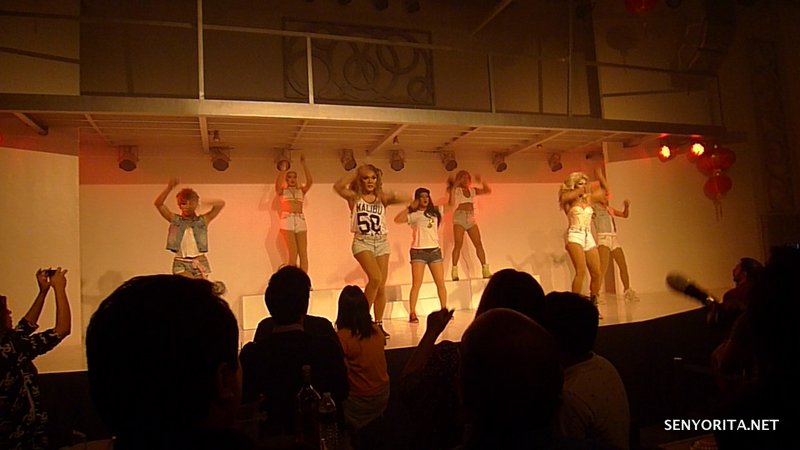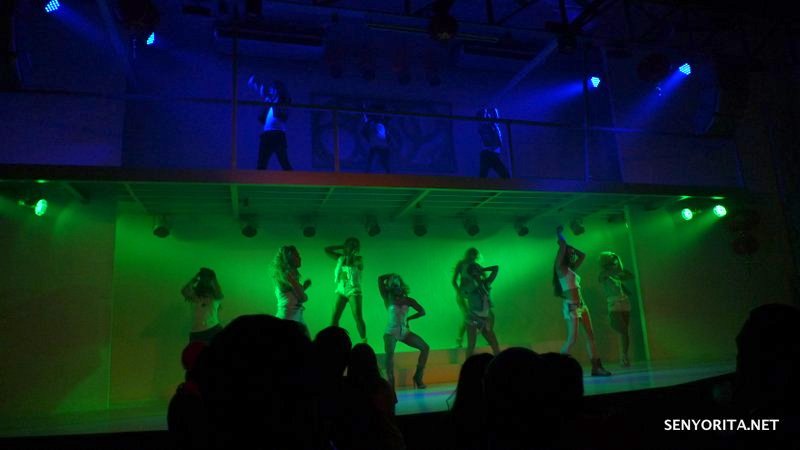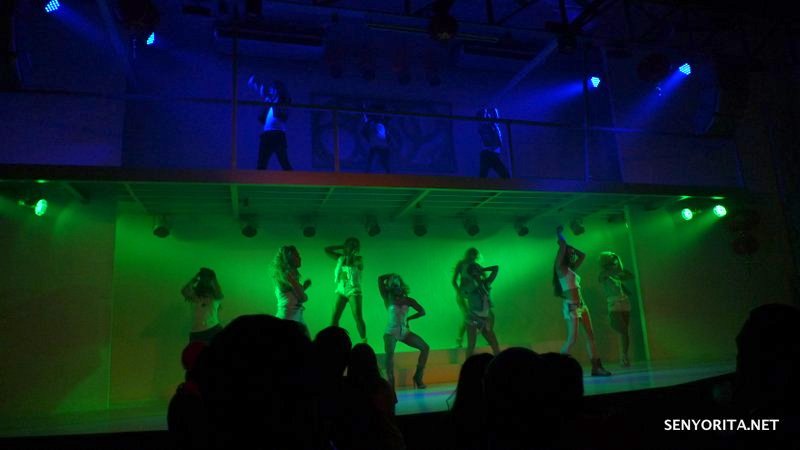 For the second set, Adore Delano wore a black top wth Cindy Lauper's face on it. Let's face it – she's not as polished as most queens, but she's a polish remover! 😛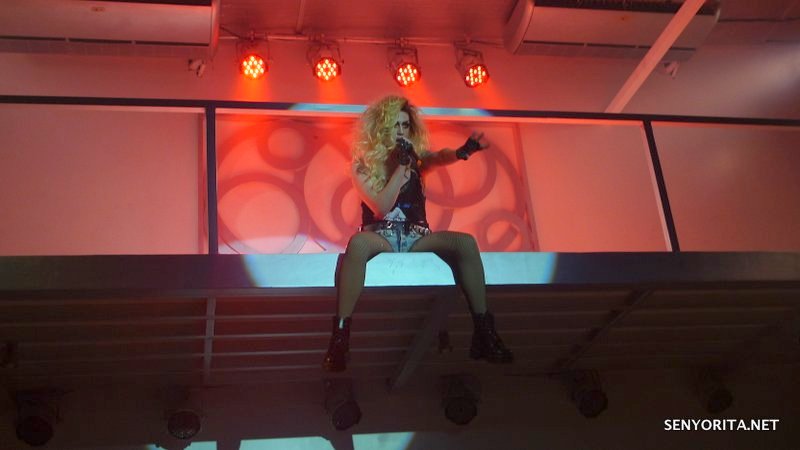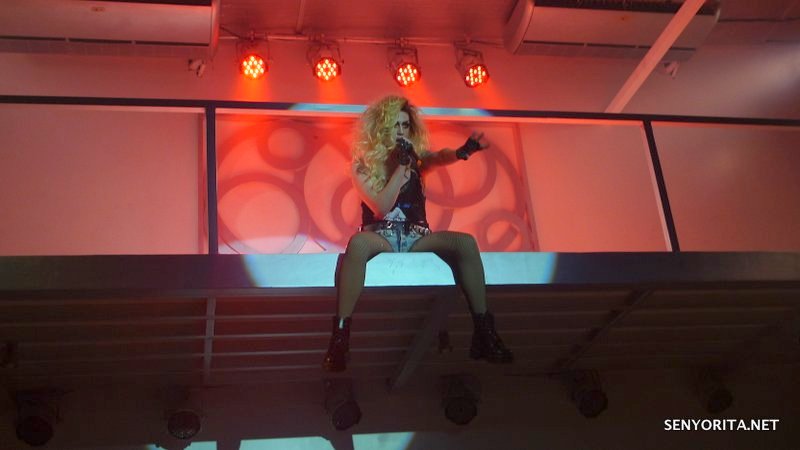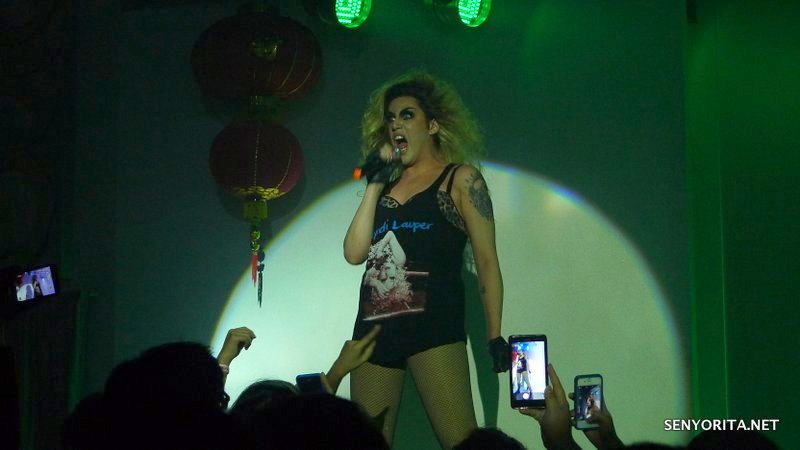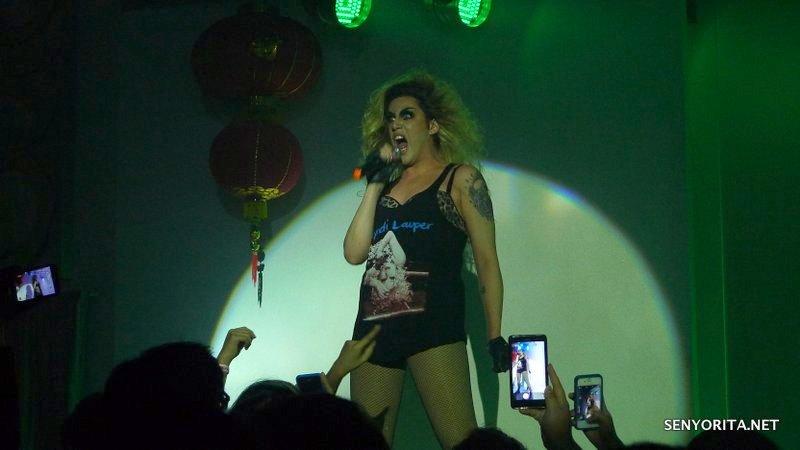 She rocked the stage with I Love Rock 'n Roll and I Look ***** cool (collab with Alaska). There's also a segment where he answered some questions from the fans and the queens of OBAR.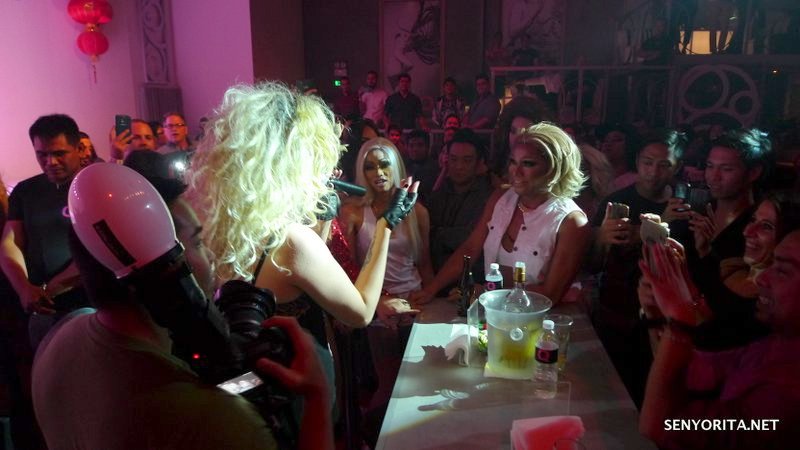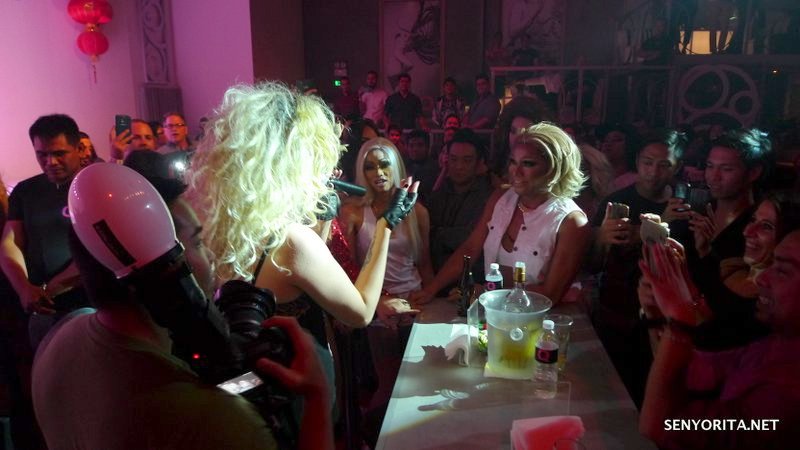 I appreciate the fact that she praised the in-house performers of OBAR and even claiming that they're the most 'professional' in terms of looks, personality and overall performance. Though I haven't been to other gay bars/clubs, I have to agree on the performance part! You'll never know what to expect from our very own Pinay Drag Queens! Bongga!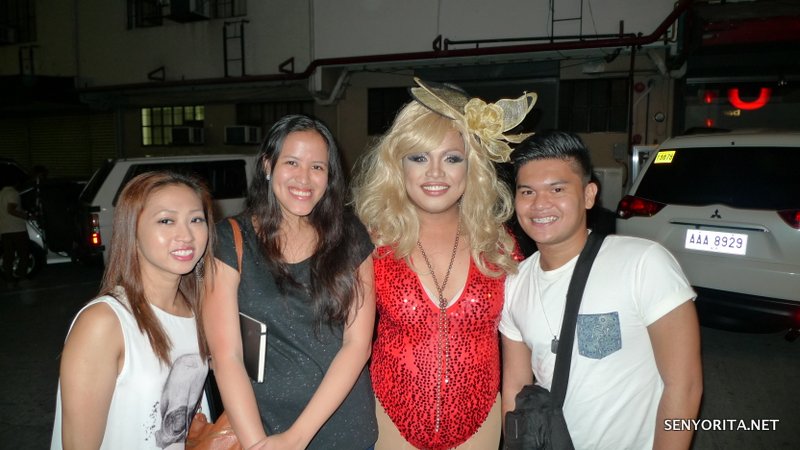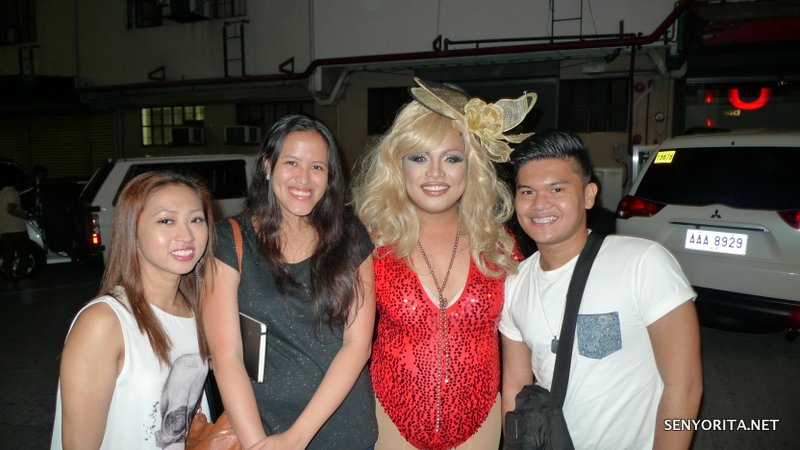 So how did the Meet and Greet session with Adore Delano go?
All the fans with the badge were asked to line up outside for the Meet and Greet. Nica, Dan and I were really excited and pressured at the same time.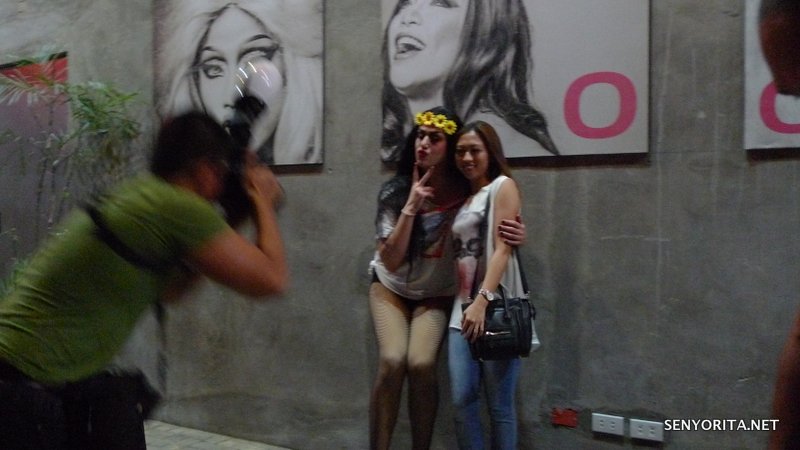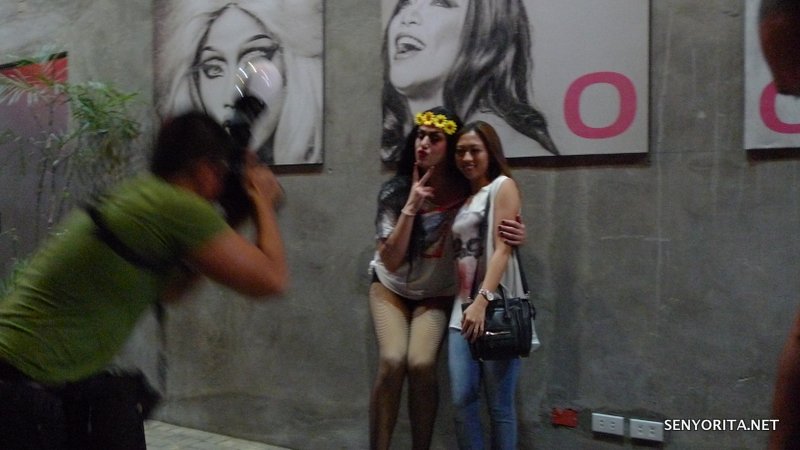 Nica was nervous upon approaching Adore. I do understand her because I was shaking when I first met Willam in Singapore since I never thought he was that tall. Adore, the adorable queen that she is, made sure Nica's first encounter with a RPDR graduate is a sweet one.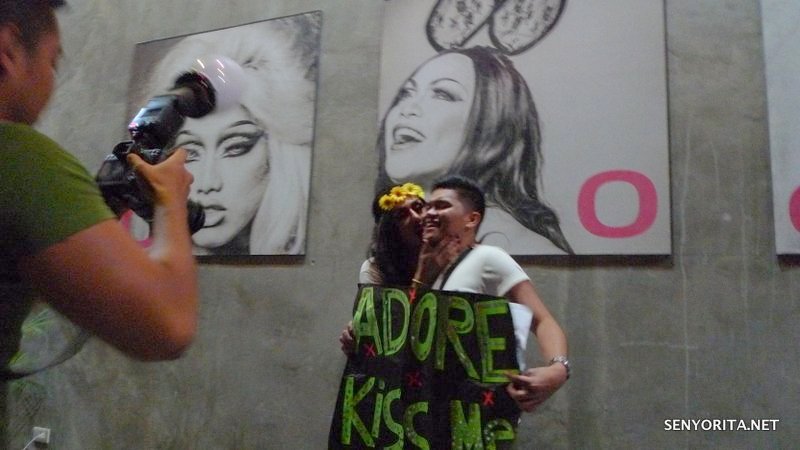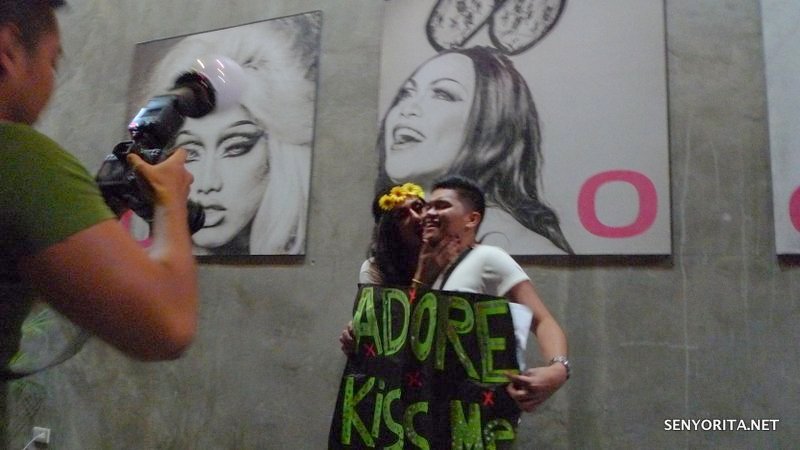 Dan even made a banner for Adore to notice him during the show (and she did!). Outside, he can't contain his excitement as he kept on saying Adore's favorite curse word. She laughed and even uttered "I love him already!".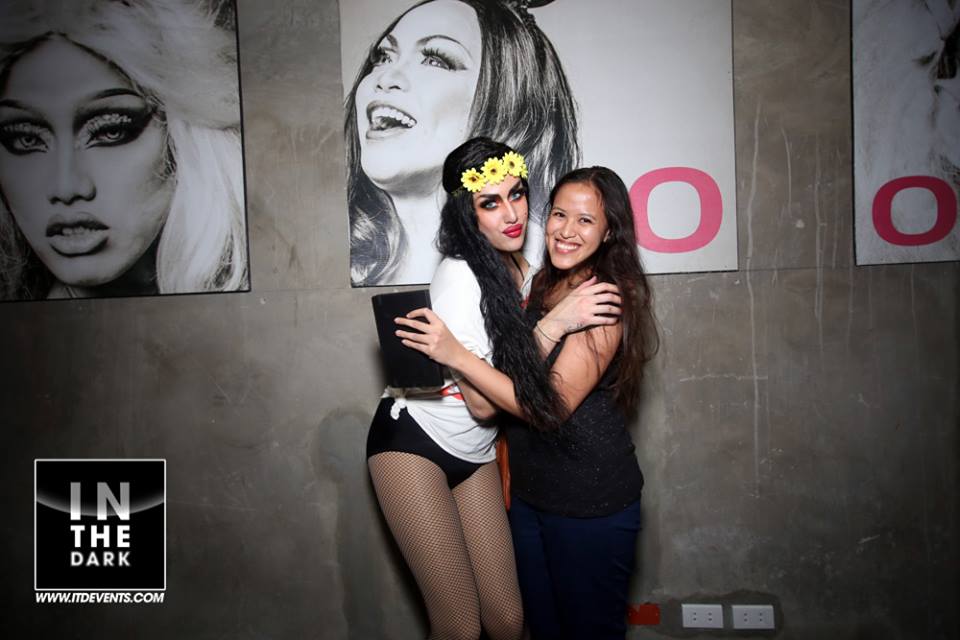 When it was my turn, I hugged her right away and the photographer took a photo of us. I mentioned that I liked her since the American Idol days and asked how her friendship with Chris Crocker is. There was excitement on her face when she told me that they Skyped for three hours a night before the show. She signed my notebook and hugged me again. Can I take her home? She's so adorable!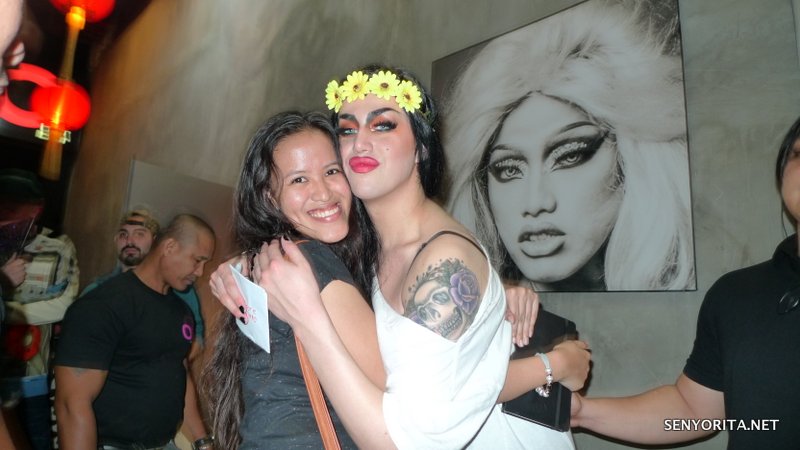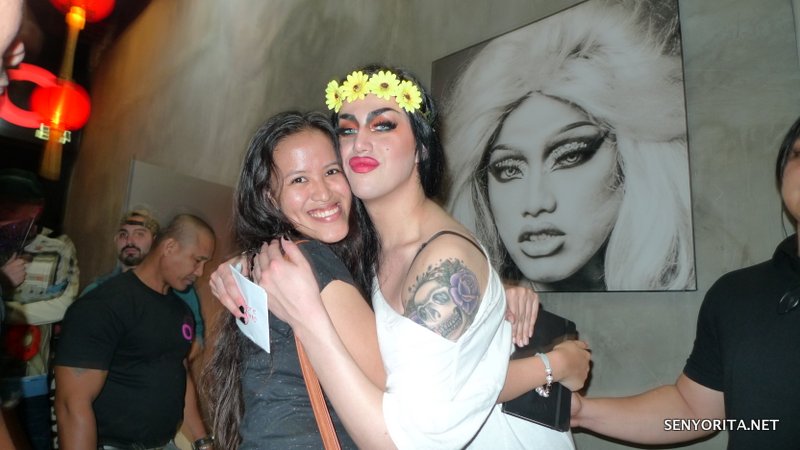 We decided to hangout after the show. We ate late dinner at North Park and proceeded to McDonalds for midnight snacks. We were just talking about Rupaul's Drag Race the whole time! Know what's funny? I glanced on the other side of the street and saw a taxi parked in front of a building: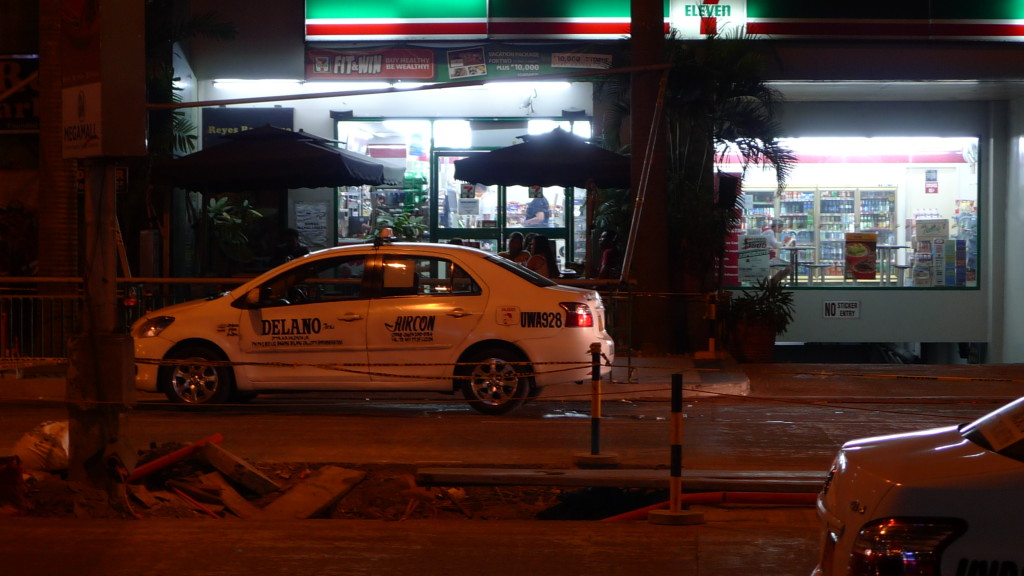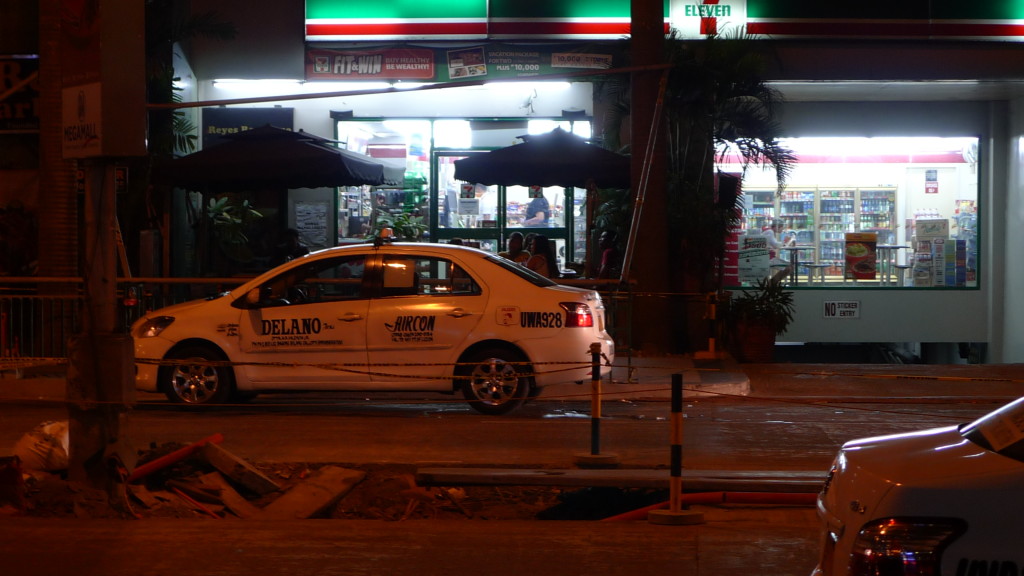 Oh, what a night! It's fun to chat with fellow Rupaul's Drag Race fans. It's good to unleash the inner drag queen in you! 😛
Are you a fan of Rupaul's Drag Race? Do you like Adore Delano? Who are your favorite queens from the show? Don't forget to visit OBAR in Ortigas when you're in Manila!