Celebrities are often invited in festivals not only to attract tourists, but mainly to convince locals to get out of their humble abodes, go out and party! It is also the chance for TV and movie fans to meet their favorites in the flesh.
I don't deny the fact that I love Philippine showbiz. It is the reason why I landed my first ever office job for a popular medical company and eventually became a tabloid writer (I still write for them from time to time). If I didn't chase my travel dreams, I'd be working on a feature film right now. That dream is currently on hold.
I missed the important events of Bangus Festival 2015 this year like the Festivals of the North, Bangus International Cuisine, Color Manila Run Dagupan Leg and the early part of the Kalutan ed Dalan or Bangusan Street Party. Fortunately, I managed to attend some events that involved some of the hottest stars in Philippine Showbizlandia.
The JaDine Rainy Invasion during the Opening Parade
Together with Lovely and Louise, we walked towards Perez Boulevard to watch 18 barangays compete against each other for the Gilon Gilon ed Dalan. It also serves as the grand opening parade of the month-long celebration. Apart from the colorful costumes and energetic dance moves, teenagers went out of their houses that Friday afternoon for one reason – JADINE!
JADINE is one of the hottest love teams in the Philippines today composed of James Reid and Nadine Lustre. Honestly, they're not really considered as 'newbies'. Their rise to fame all started in April 2014 when their first debut film as a tandem turned out to be a surprise box-office hit. Now, they're scheduled to be launched as primetime teleserye darlings via 'On The Wings of Love'.
So we were in the streets that hot afternoon when all of a sudden, it started to rain.
I'd still stay and take snapshots of every competing team if I was on my own. Since we have a little girl in tow, I'd rather keep safe. The weather wasn't cooperating well, but that didn't stop the dancers from making this opening a memorable… and wet one.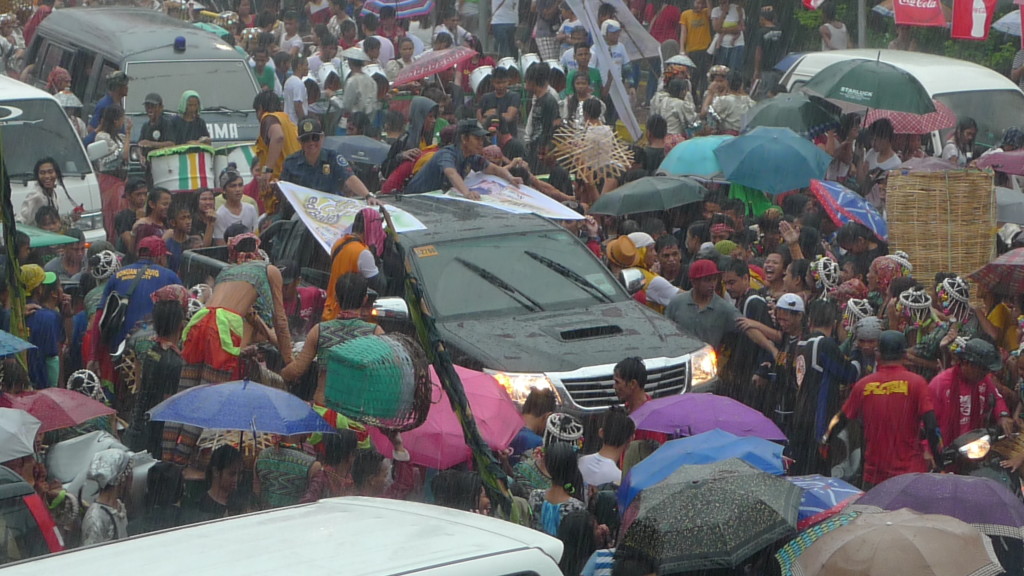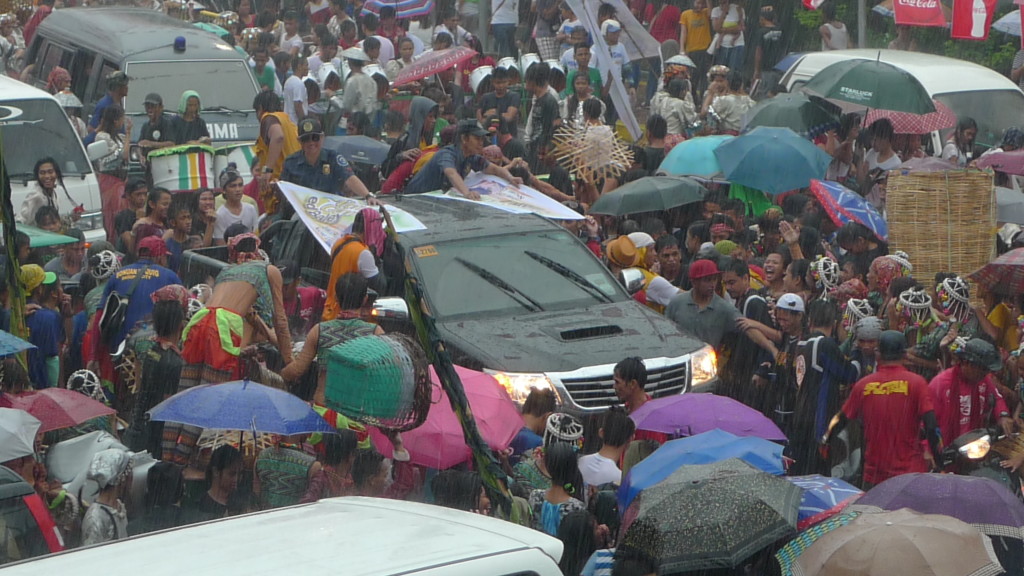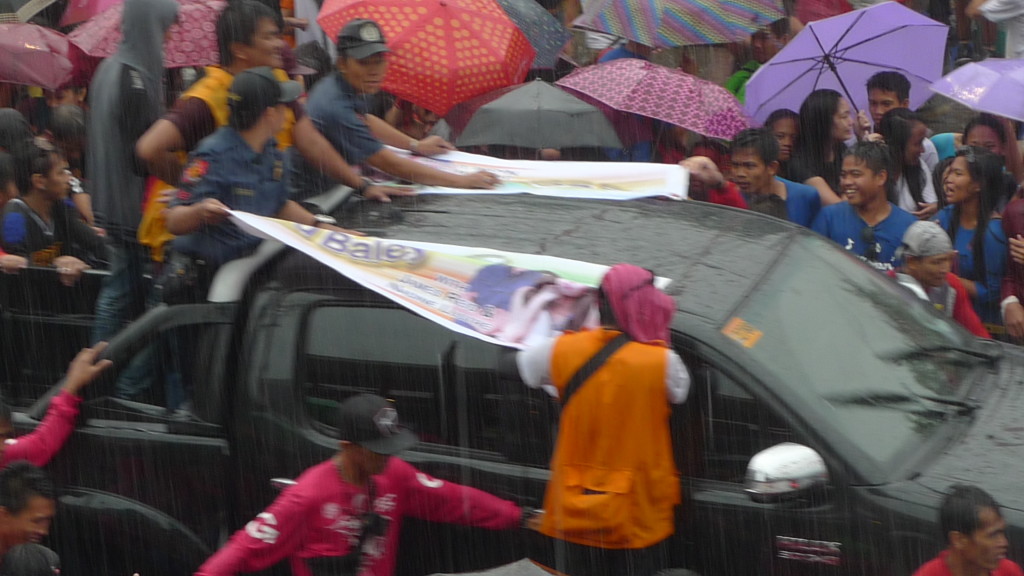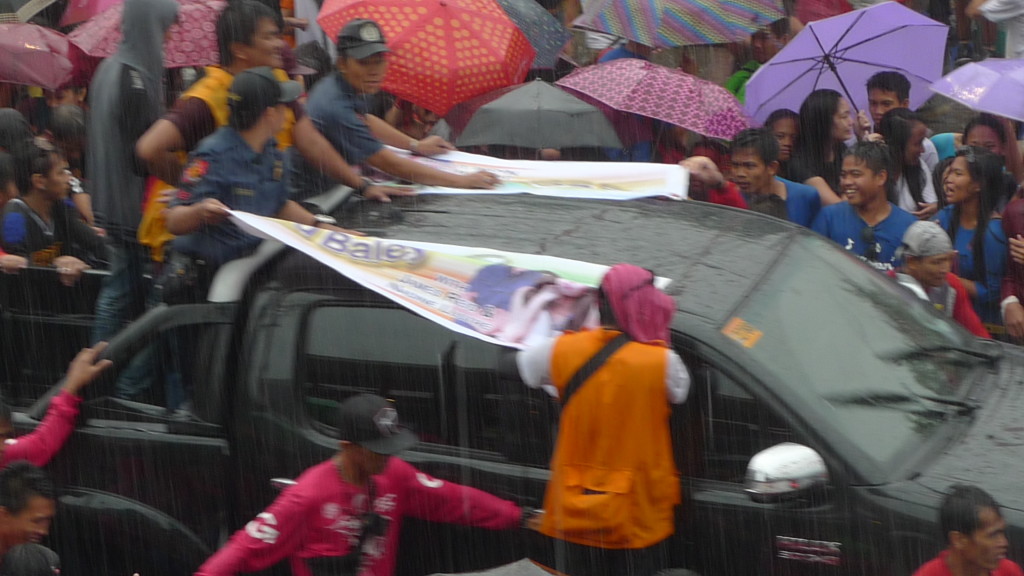 After four or five teams, people started shouting and they ran towards this black car. JADINE IS IN THAT CAR!
Rain or shine, JaDine Forever!
We weren't able to watch all the teams in their final presentation at the City Plaza, but our friends at What's Up Dagupan provided this photo: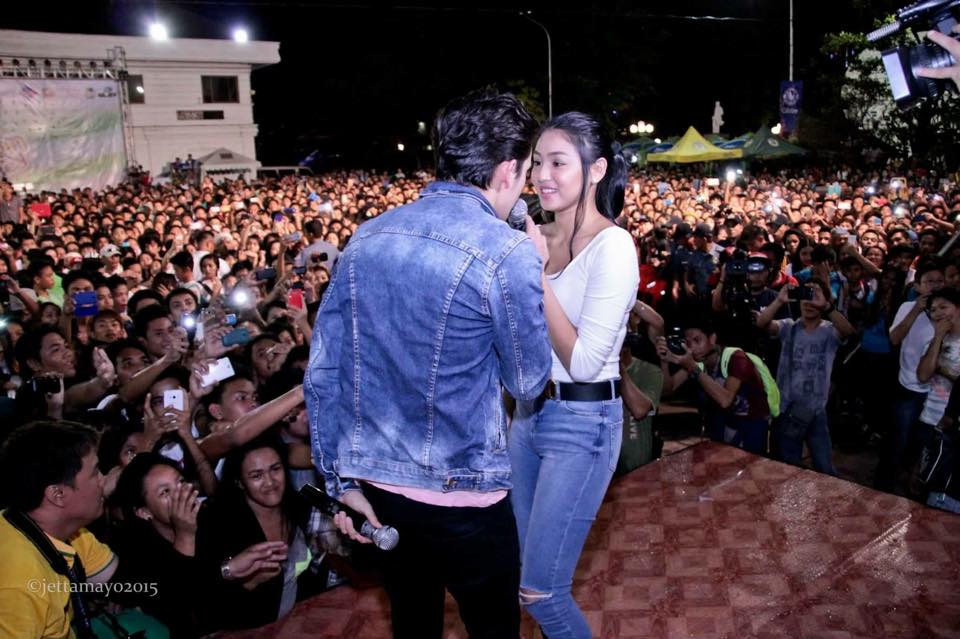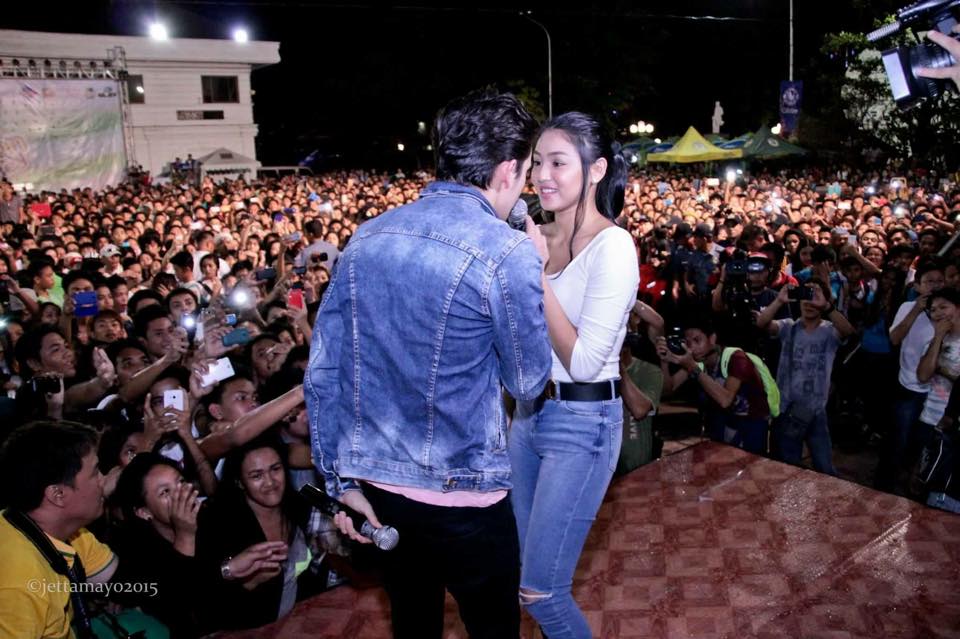 I'm a big fan of JaDine. Isn't it nice to be young and free again?
Kapamilya Karavan with PBB Teens and Paulo Avelino
I featured Paulo Avelino on the Celebrity Travels section before he became one of the bankable teleserye actors of ABS-CBN. I remember him being shy but articulate when you ask him work, life and travel questions. I want to see him again.
After exchanging SMS with his team, I traveled to the Old Patranco Station for the Kapamilya Karavan – my first time ever!
I was surprised upon seeing a number of tarpaulins and other fan materials featuring the current Pinoy Big Brother Teen Favorites. See, the last season of Pinoy Big Brother I intently watched is Season 2. I knew that Daniel Matsunaga won in the latest season, but that was it. I also know that Jane Oineza is a former childstar who in a way became controversial because of her statement about Kathryn Bernardo and her involvement with an athlete. That's it.
The purpose of the Kapamilya Karavan is to promote their ongoing teleseryes 'Nasaan Ka ng Kailangan Kita' on the Kapamilya Gold afternoon block and 'Bridges of Love' in Primetime Bida. PBB graduates Loisa Andalio, Joshua Garcia and Jane Oineza are stars of the former while Paulo Avelino represents the latter.
The Loisa-Joshua-Jane love triangle started way back in their PBB stint that's why ABS-CBN invested on their fan base right away. It was fun to see the fans of Joshua and Loisa (LoiShua) on the left and the shippers of Joshua and Jane (JoShane) on my right. How the audience reacted on their individual and loveteam special number was a pleasure to watch. It reminds me of my teen years. I was a big fan of Starstruck Batch 1!
While Loisa was singing, I went to the backstage to meet up with Paulo Avelino! Yeeey!

I was happy when he recognized who I was. He even mentioned that I grew taller (although I think what he really meant was 'bigger'). He will be working soon on the musical film 'Ang Larawan' under the direction of Loy Arcenas.
Joshua Garcia is torn between two girls while inside the Pinoy Big Brother house. I don't know who he chose in the end, but with the number of supporters of his team-up with both girls, he might as well keep the love flowing – onscreen.
Jane Oineza is one of my new favorites in ABS-CBN. I'm happy to learn that her parents are originally from Bani, Pangasinan! She revealed that she met up with relatives prior to the show. She must do a movie with Pangasinan as her backdrop.
After the kilig moments with the young stars, the main performer is about to invade the centerstage – Here's Paulo Avelino!
Apart from singing four songs, he made sure he'd make this Bangus Festival a special one to two lucky girls by bringing them onstage!
That was a fun show! Keep watching Nasaan Ka ng Kailangan Kita and Bridges of Love in ABS-CBN. #TeamKape
Meeting the Love Birds: Lovi Poe and Rocco Nacino
Like Paulo Avelino, I also featured Lovi Poe tons of times in both my personal and travel blog. For me, she is one of the very few Pinay celebrities who knows how to act well and treat her fans nicely to the point that she'll go out of the way to accommodate everyone. It is a trait of hers that sticks to my mind up to this day. She makes it a point to travel too whenever a soap opera wraps up.
Lovi Poe was scheduled to appear in two events: Kapuso Show in Lingayen for the Pistay Dayat celebration and Body Fest in Bonuan Blue Beach in Dagupan City. Her team texted me the details. By late afternoon, I was already waiting in Cafe Feliz with Lovely and Louise.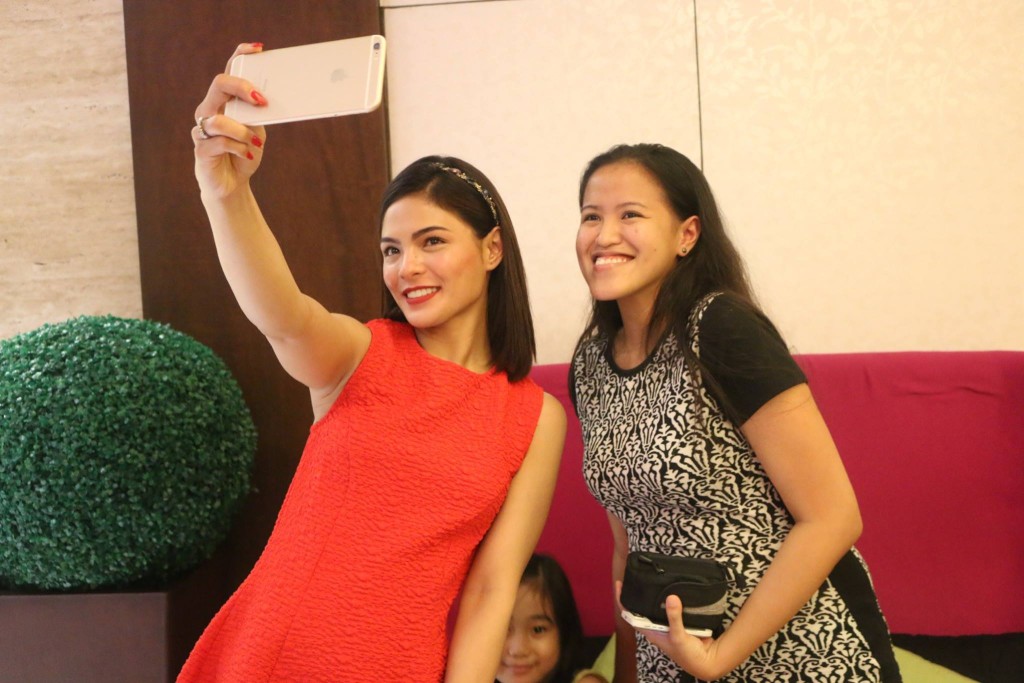 After almost one hour of waiting, Lovi suddenly came up to me and hugged me. We even took some photos through her phone and Louise was speechless! She knew her as 'Lovelia' in 'Akin Pa Rin Ang Bukas'. I don't think she was allowed by her parents to watch her last series due to the SPG content. 😛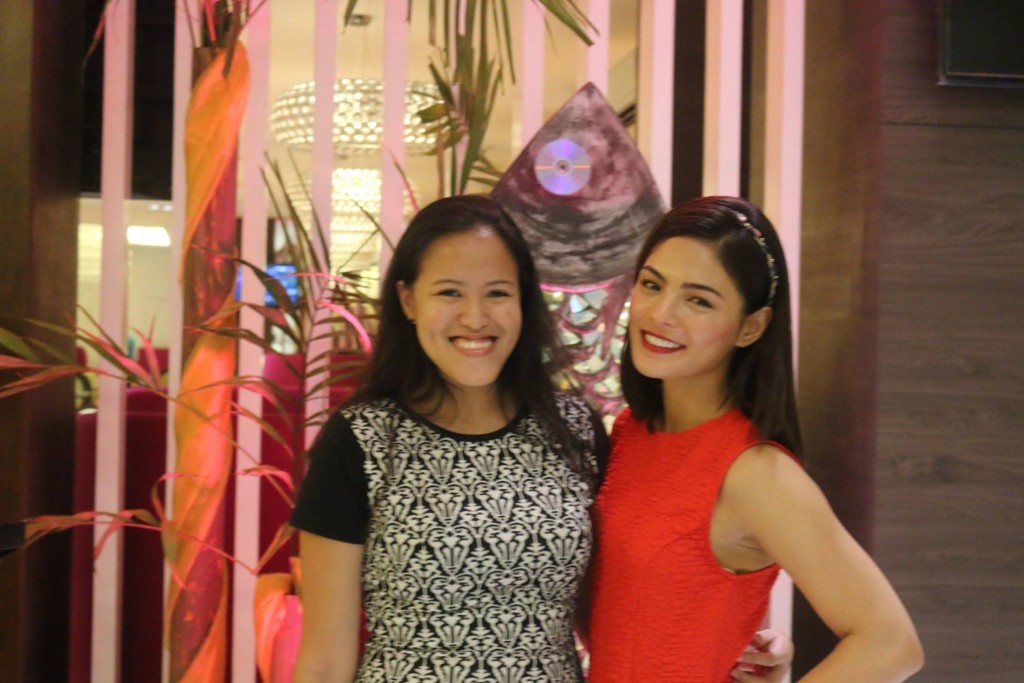 As expected, Lovi was gracious as ever. She had to run fast to Lingayen to sing a song and travel back to Dagupan for the Body Fest with Rocco. Before she left, I told her that Louise has a crush on Rocco. The sweet Lovi then texted Rocco if he can come to the lobby and meet up with us.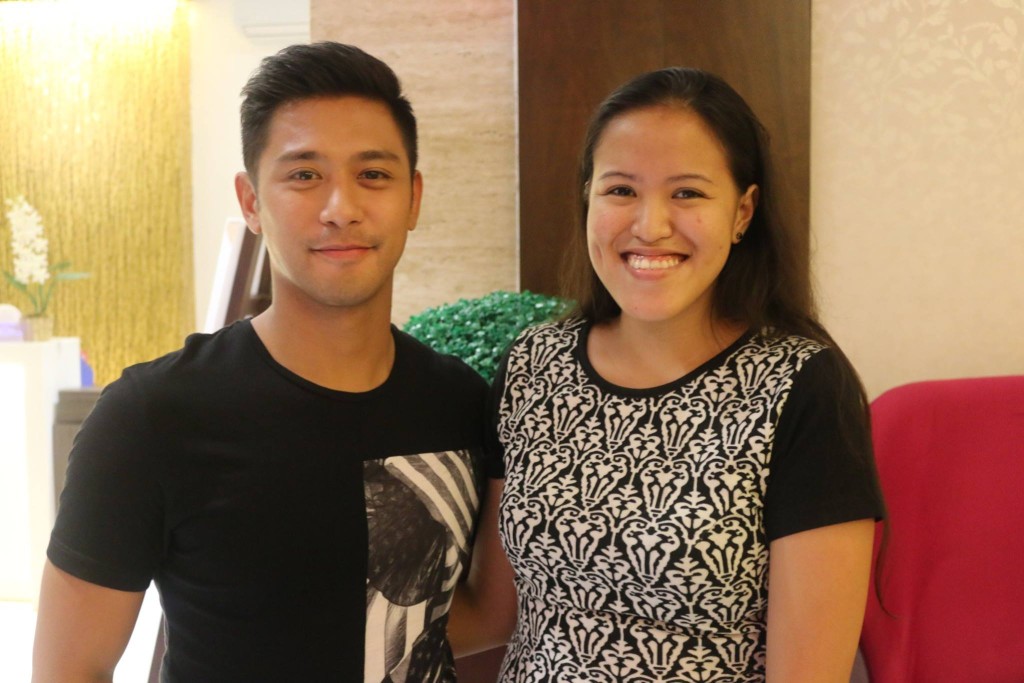 Rocco Nacino greeted us after a few minutes. Early last year, Louise met Rocco in a Kapuso Mall Show in Robinsons Calasiao. She cried when Rocco left the stage. Eventually, the actor noticed her so he went up to her and had a photo taken.

Fast forward to May 1, 2015, the two are reunited and just like a little girl in denial meeting her crush, she was pretending she didn't care at first lol. So cute! Watch the video 😀
Lovi and I were supposed to meet after her show but she needs to be back in Manila at 6am for a shoot. I was surprised when I got a notification on Instagram that someone tagged me. Woah.

I may have missed the important parts of Bangus Festival this year, but these faney moments are enough for me. Some might find it cheesy or baduy, but fangirling brings so much joy to every fan out there (though they admit it or not). It is nice to appreciate the talent and beauty of other people. Sometimes, these celebrities even inspire you to work hard and even travel! Geez, now I'm in the mood to share more fangirling stories in the future – I have a lot and it did bring me to places I never thought I'd visit.
Do you have any fan moments to share? Did you ever travel somewhere just to see some celebrities or go out of the house to finally see your favorites?