For the third time this year, I enjoyed a staycation trip at Taal Vista Hotel in Tagaytay City. On the first one, I was with fellow travel bloggers. The second one was spent with my grandparents for my 26th birthday. The third one happened just last weekend with two high school friends of mine namely Maire and Alain.
Alain traveled from Dagupan to Cubao. Maire just left her graveyard corporate duties before meeting up with us. We went straight to Pasay and took a bus trip to Tagaytay via Nasugbu route. I have to admit that in a way, I felt a bit pressured. I know that my two companions have no qualms in terms of commuting, but it's been years since I shared a bus trip with them.
On the brighter side, it is refreshing to travel with high school friends for a change. It is also an opportunity to catch up and share opinions regarding life matters.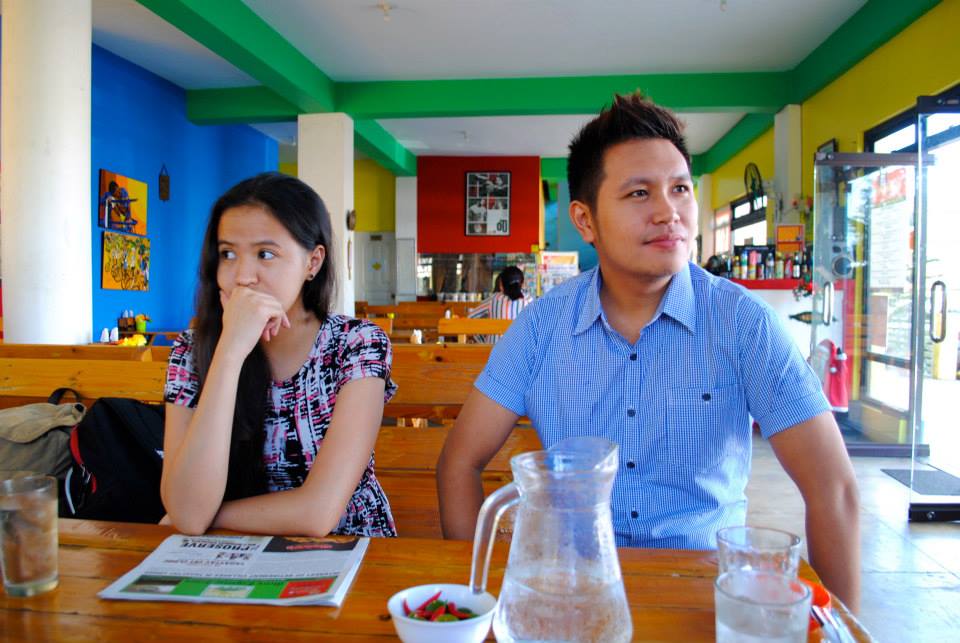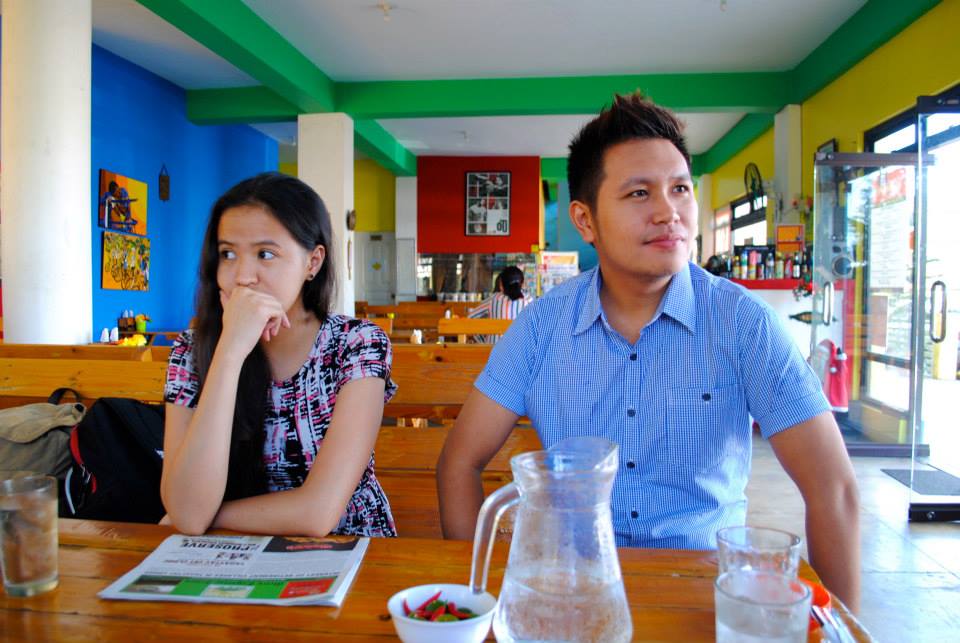 We ate lunch at JT's Manukan Grille. It is their first time to dine at Joel Torre's food house and I can say that they're impressed particularly with the Kansi, Bacolod's version of Bulalo.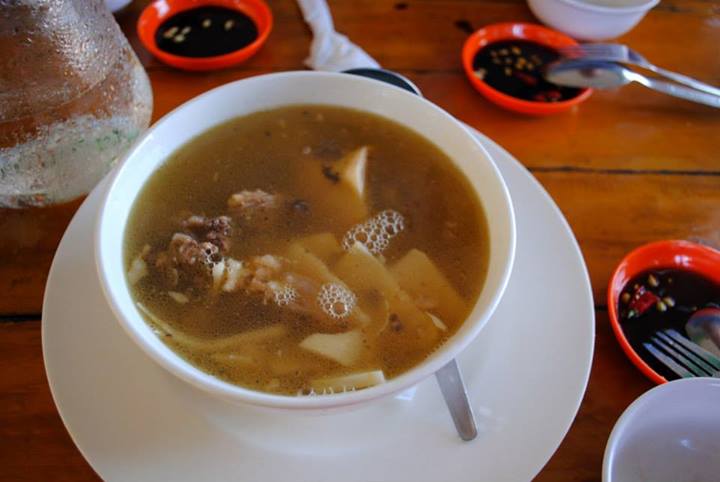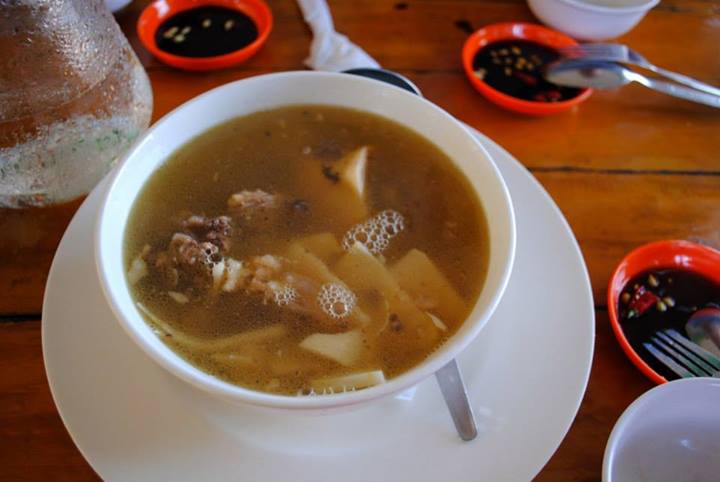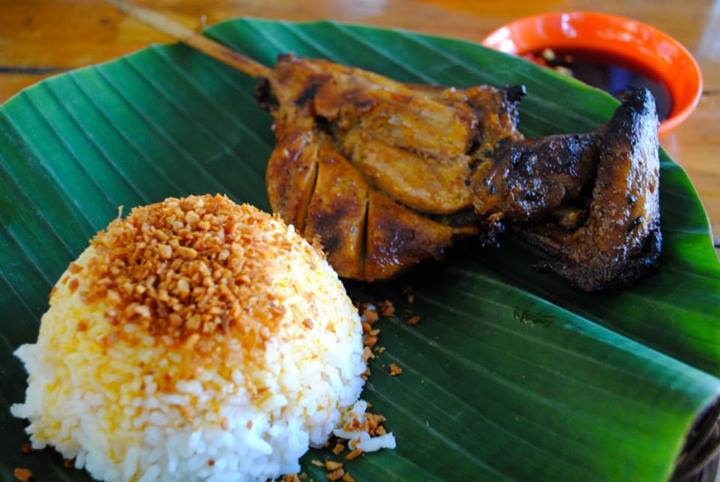 The three FQDians walked straight to Taal Vista Hotel and upon check-in, we saw a number of guests (mostly families) who are just as excited as we are. Felt really at ease once I opened the door to our room for the night. I loved the expression of Alain and Maire especially when they went to the balcony area.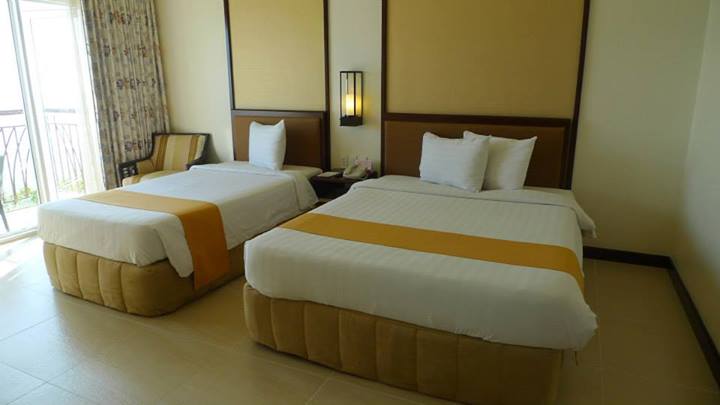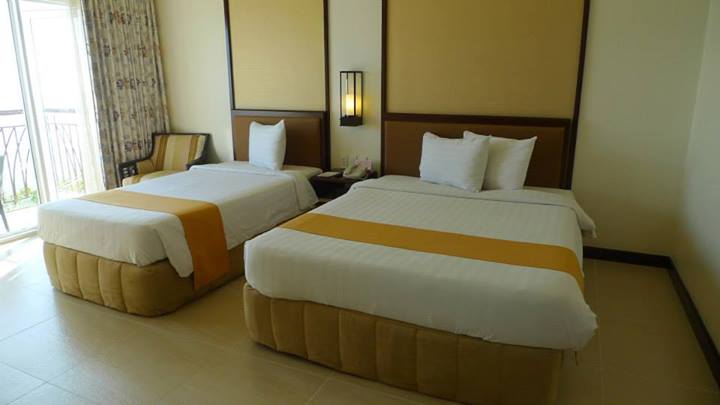 "Let's visit the Sky Ranch later!" Alain screamed. I've seen the newest amusement park of Tagaytay when it was still under construction and I'm eager to try the rides out myself. The Sky Eye reminds me of the MOA Eye (for obvious reasons). Must. Go. There!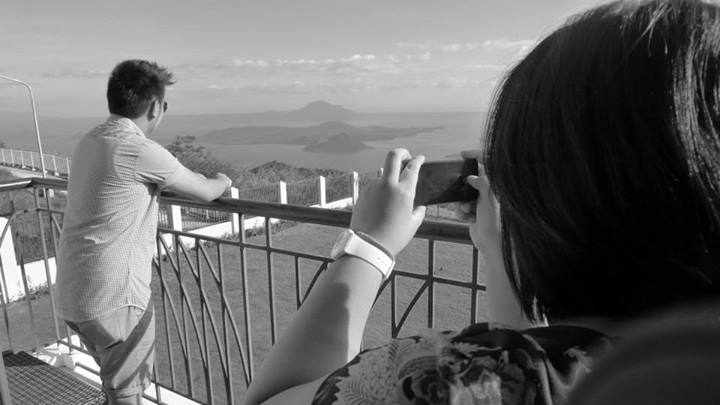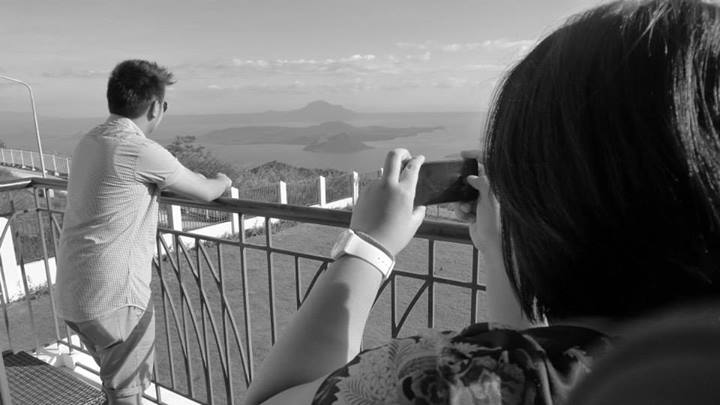 Since we were all sleepless and tired from the long trip, we just stayed inside the room for the whole afternoon catching up and dancing to the epic Britney Spears hit "Work B***h". I even showed Britney's guesting in the Alan Carr show, where the pop princess 'whipped' some of the production staff. Before I knew it, I'm already holding an improvised whip and did a Britney =)) You want to party in France? you better work, B***h!
At around 5:30PM, we did a walkathon towards the Sky Eye Amusement Park. The entrance fee is Php50. Most families visit the Sky Ranch on weekends. There's a number of sweet lovers too!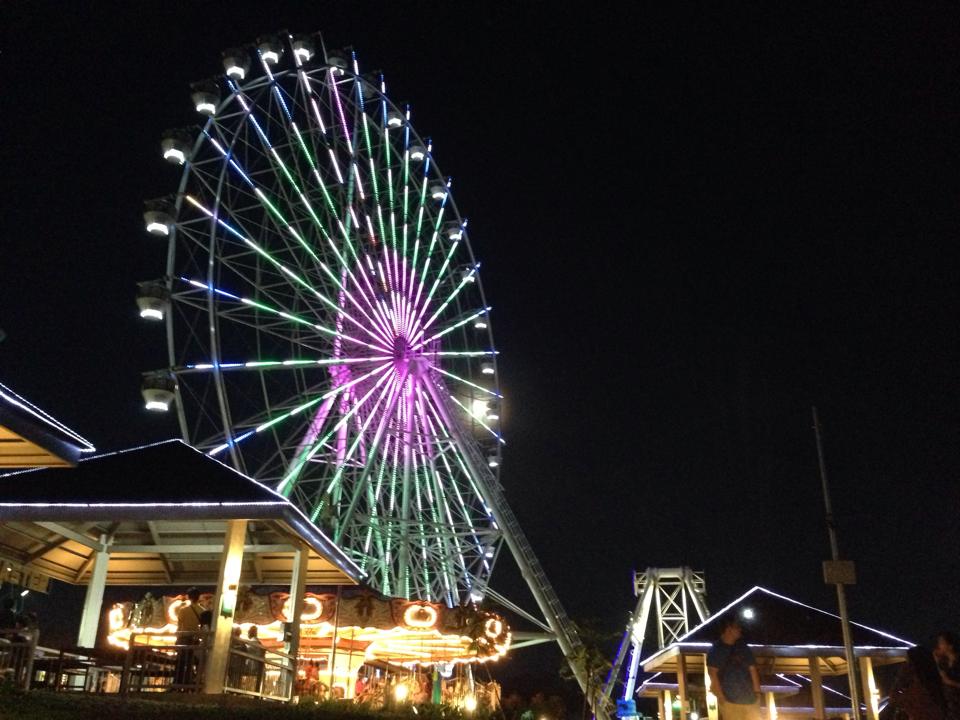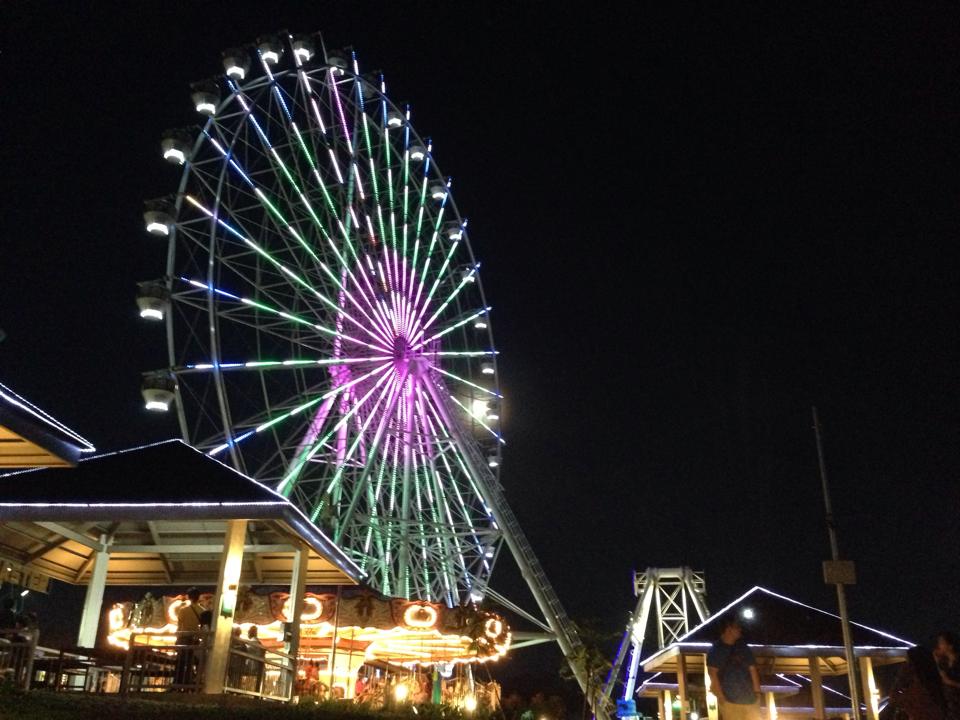 The agenda of the night is to ride the Sky Eye and the Sky Vikings.
I will write a separate post about our epic Sky Vikings ride. Goodness!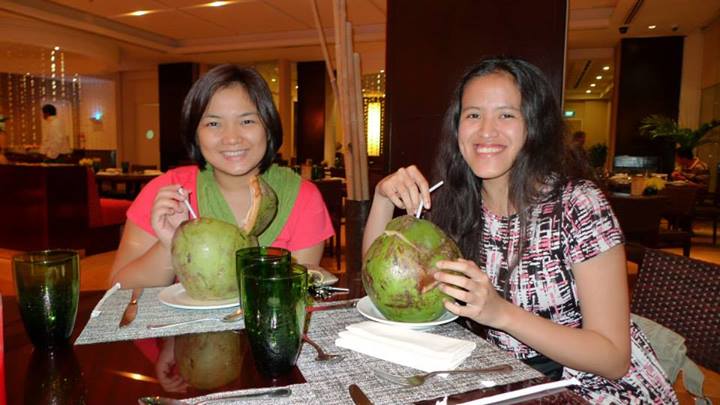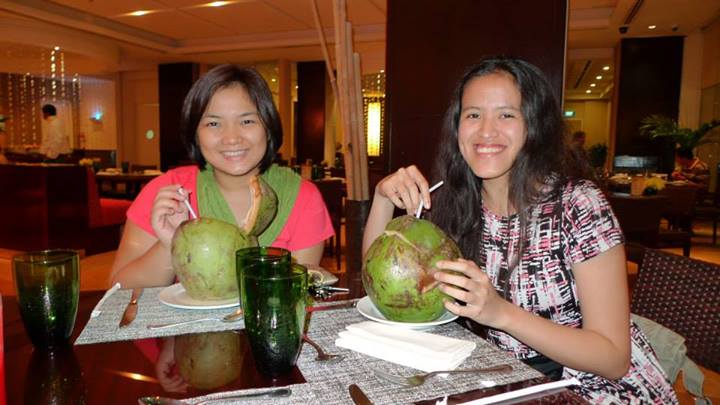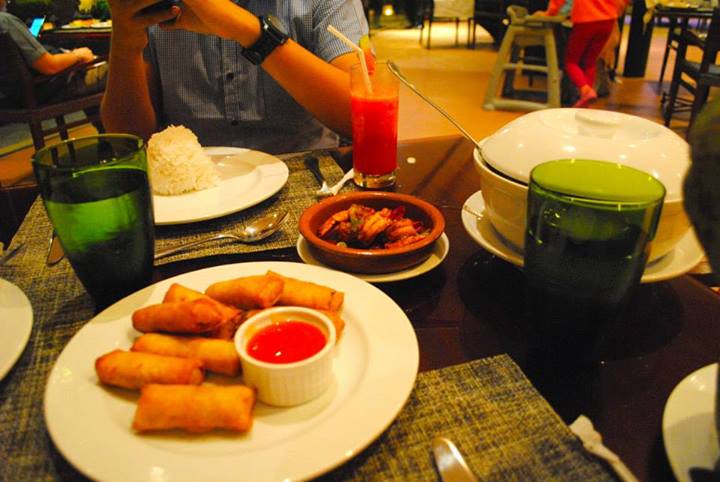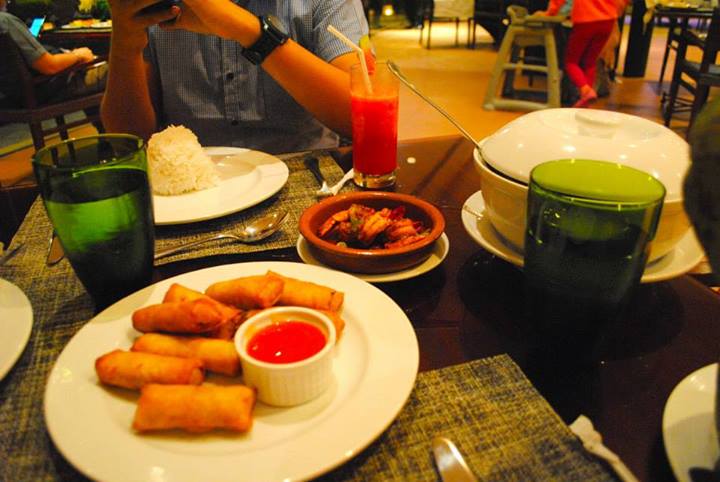 Tired, hungry and exhausted, we went back to our room to rest a bit and proceed to Cafe Veranda (formerly Café on the Ridge) for our dinner. The restaurant is full despite the fact that we ate late. We ordered Kare-Kare, Gambas and Lumpia. Nomnomnom!
We were supposed to join the party that night, but the two doze off as soon as we went back to our room. Tsktsk. I don't want to party alone so what to do? Enjoy some 'me' time will drinking hot tea in the balcony 'till midnight.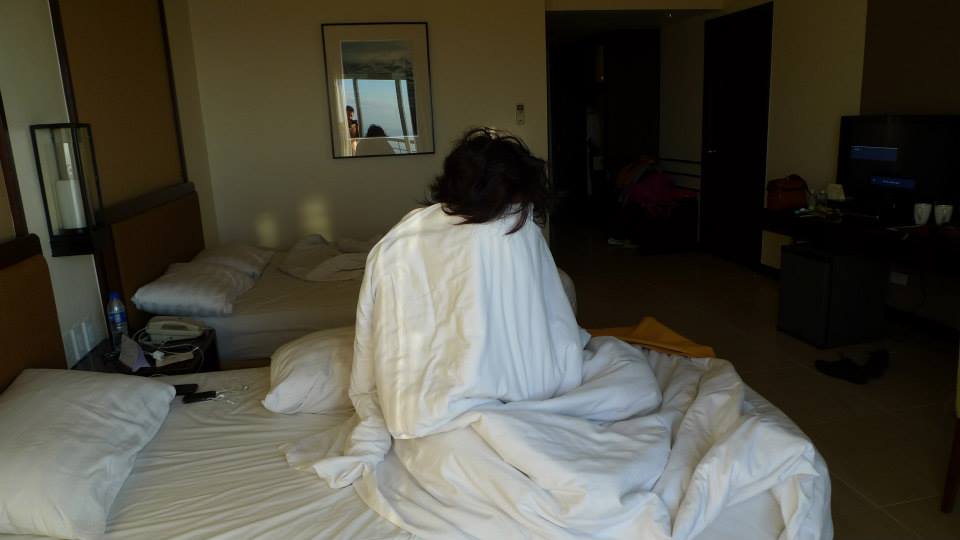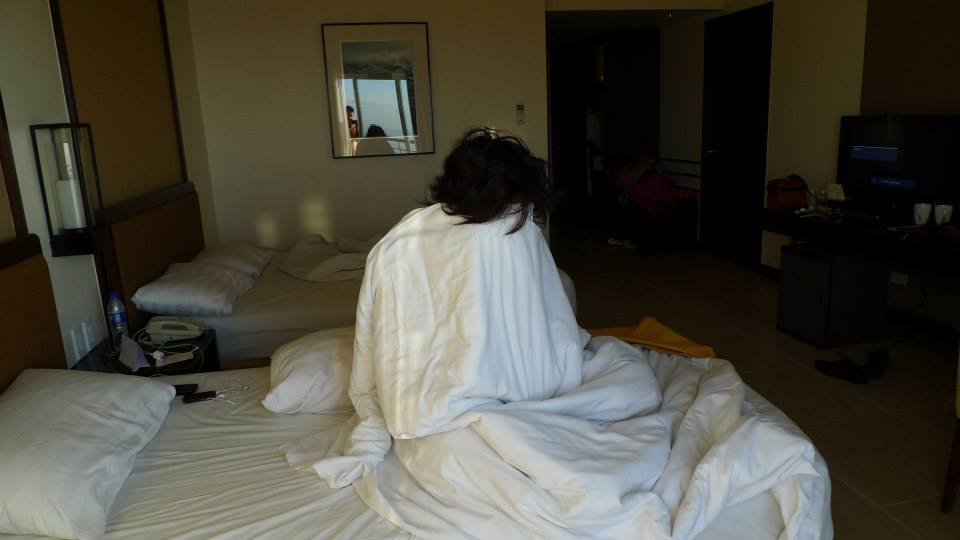 I wasn't able to sleep well, but everyone in the room got up at 7AM. We're excited for the buffet breakfast and I mentioned here that the highlight of every staycation for me is the breakfast part.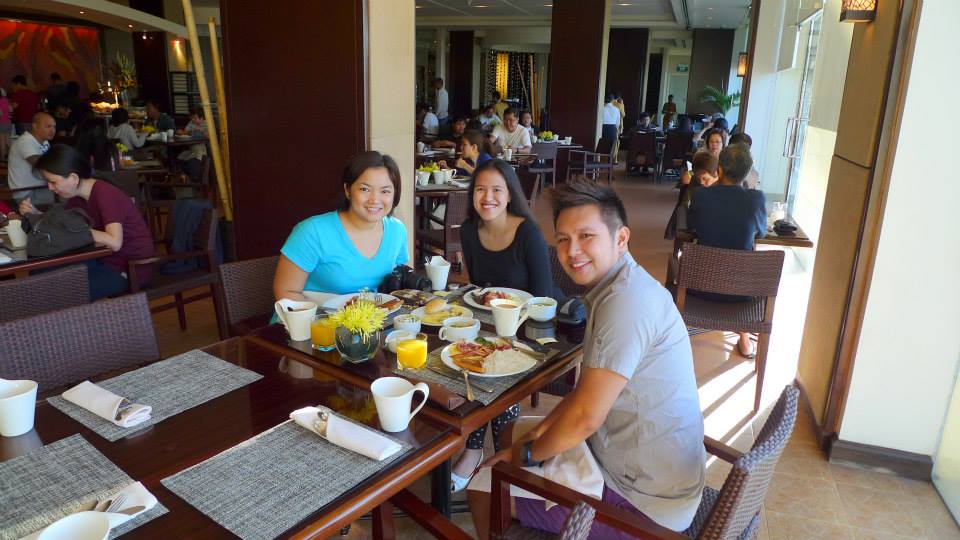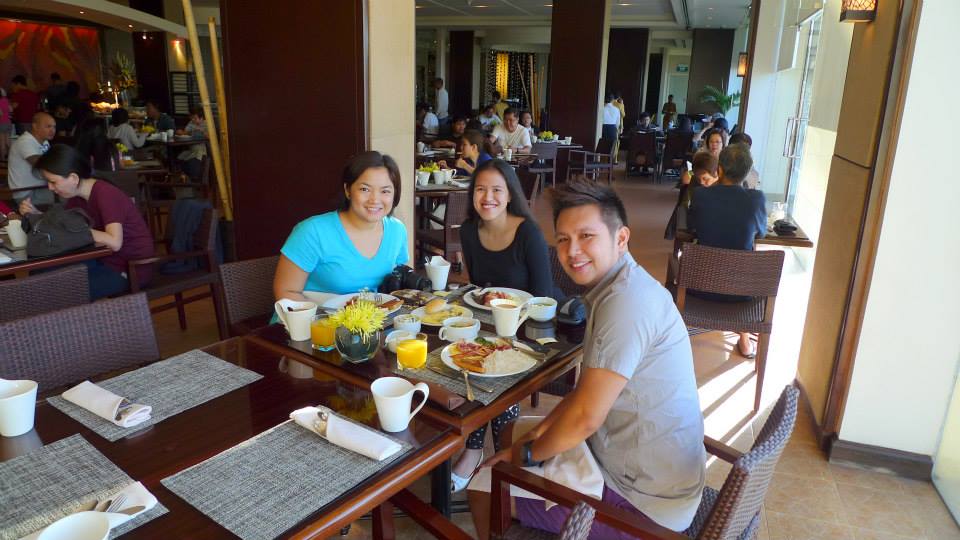 Enjoying our unlimited breakfast time, our silly topics turned into something serious and we realized that we've grown, but we haven't changed much. It is funny how ten years ago, you were struggling to decide which course to take in college and the challenges you have to go through (emotionally and financially) just to get that diploma that will change your life.
Knowing we're in the staycation hub of Tagaytay, we went around, took pictures and spent some lazy moments drinking tea and munching cake on the lobby area.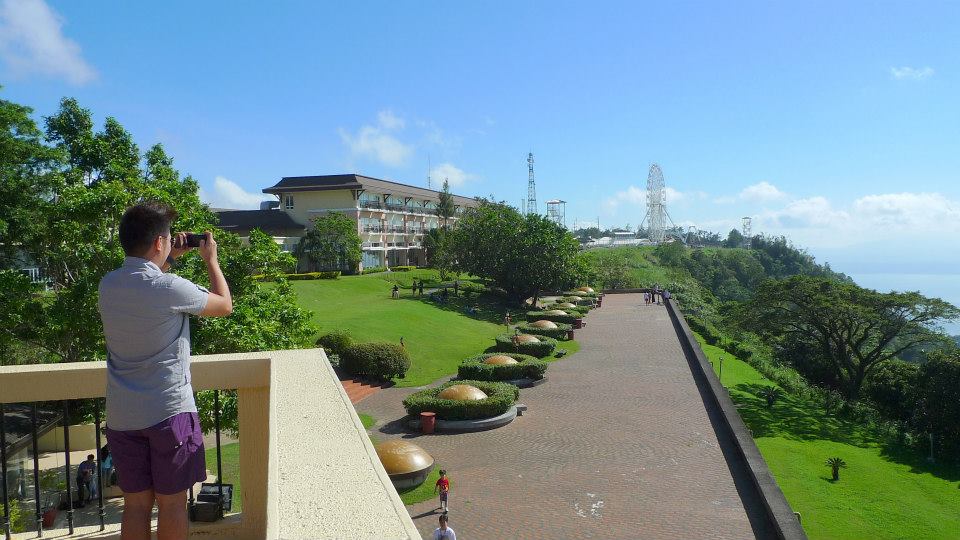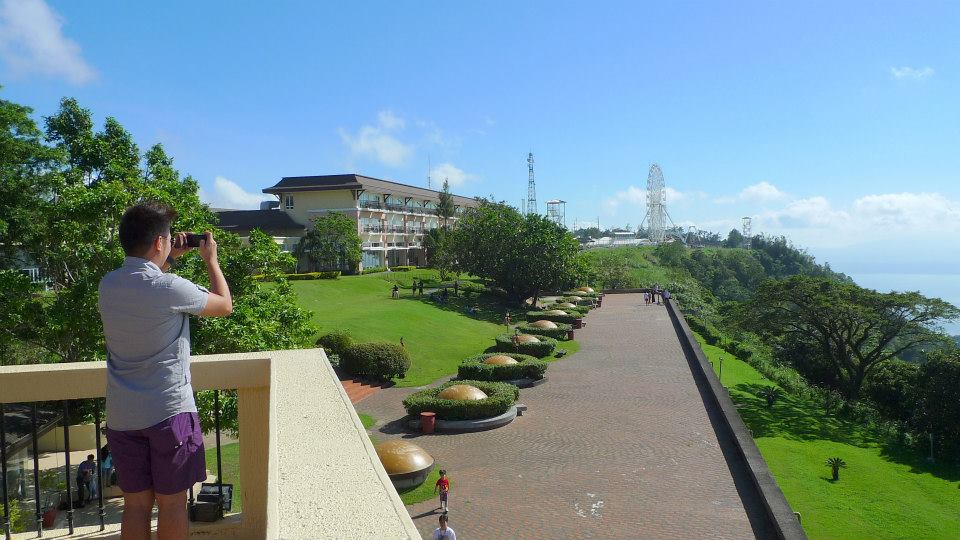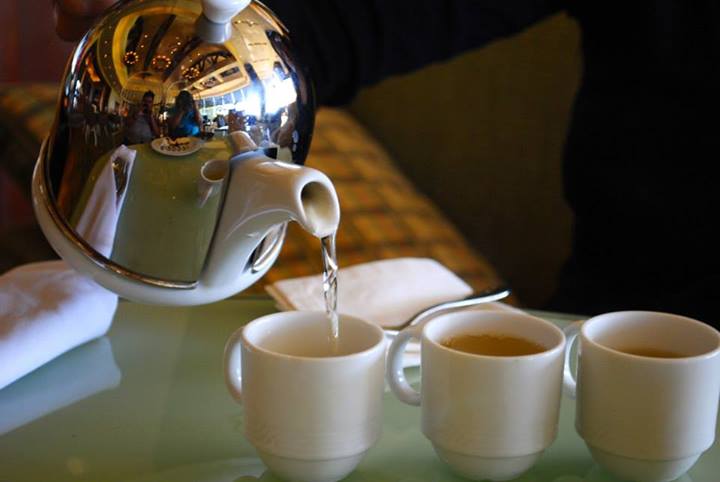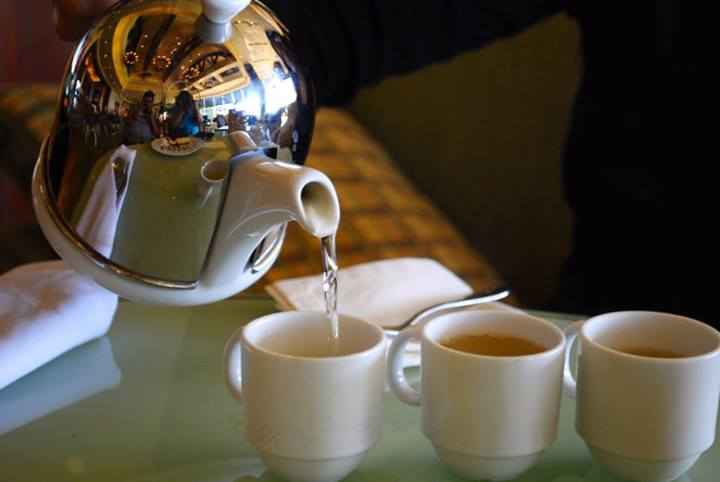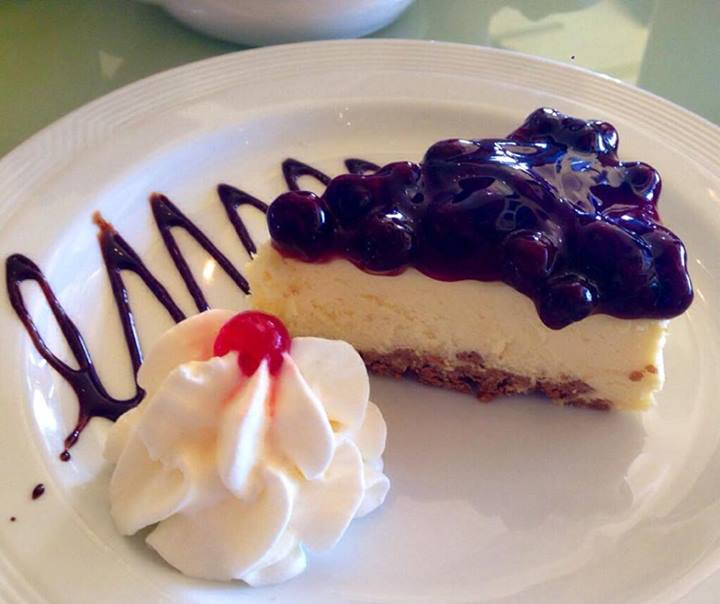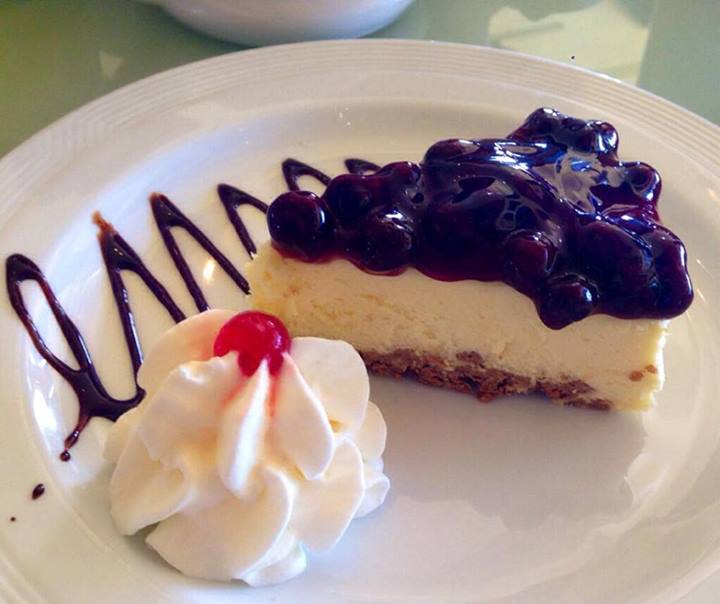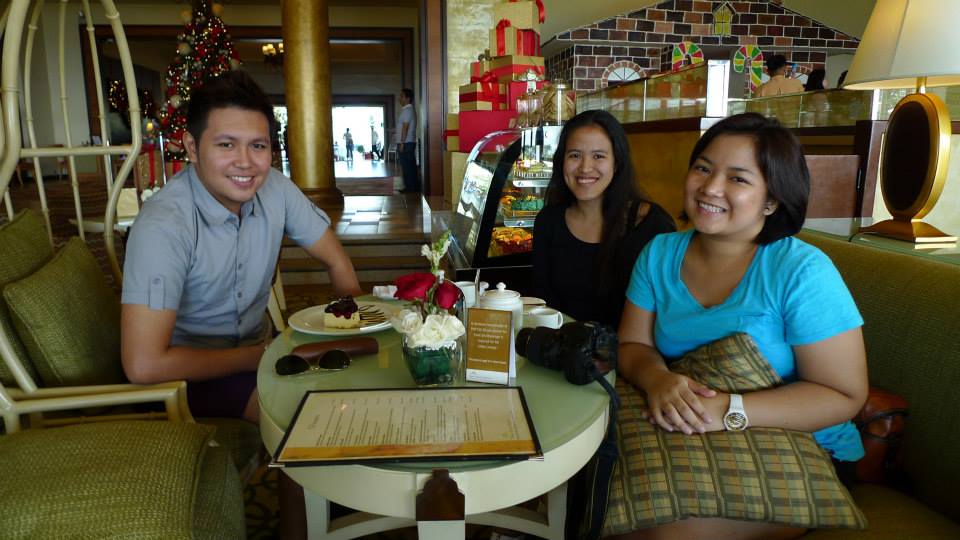 Upon check-out, I realized how my friendship with Alain and Maire got better through the years (with different reasons). I'm looking forward with more trips with these two pasaways! 😀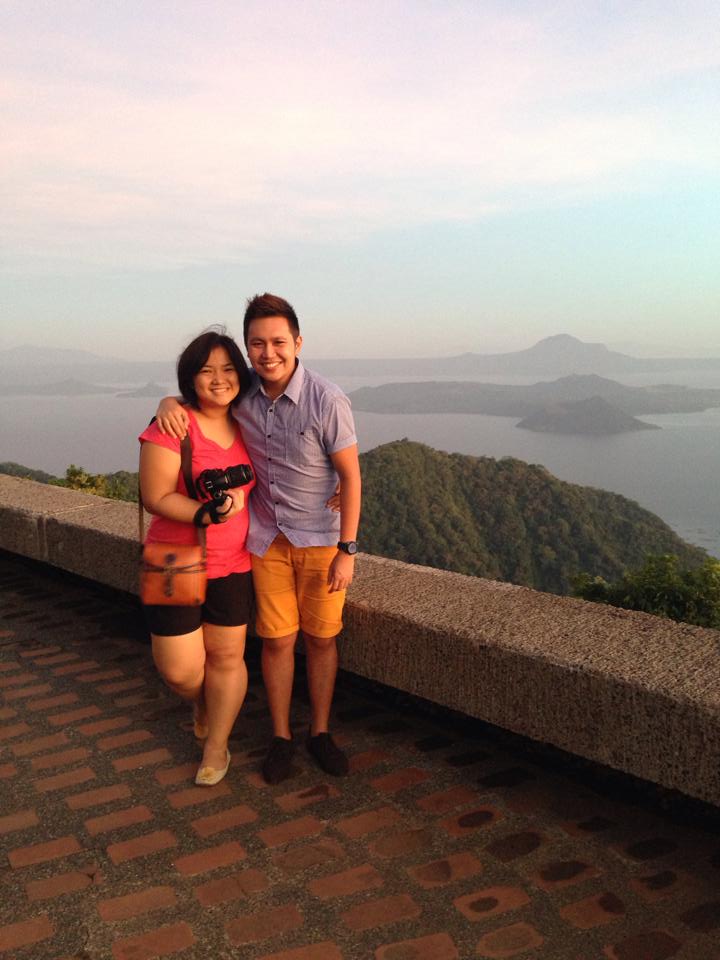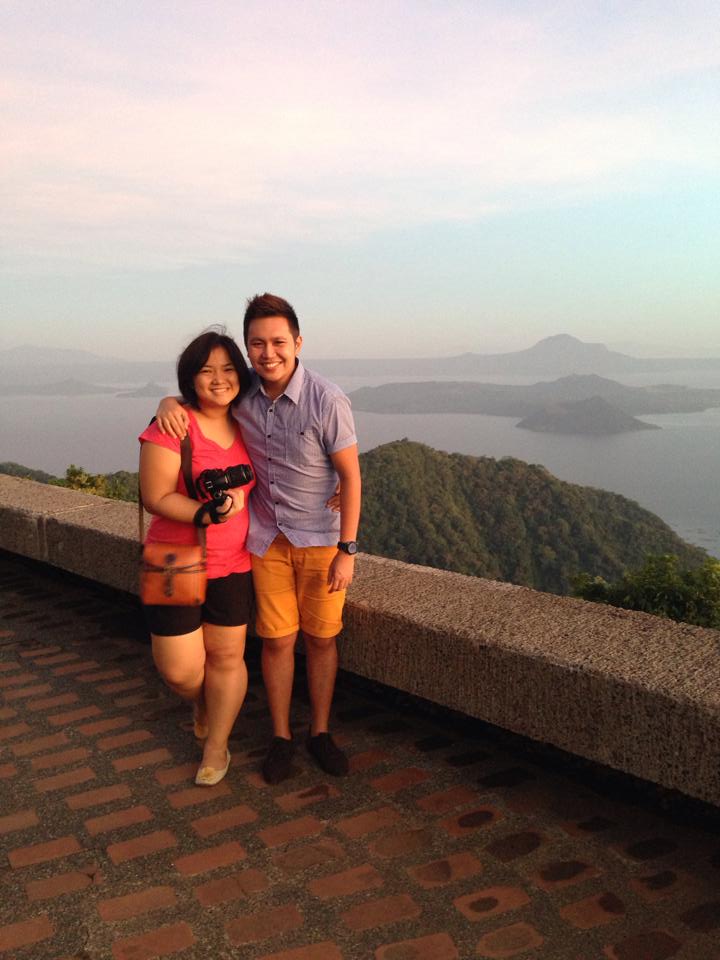 I am now back in the Philippines after months of staying in the UK. I'm happy to spend my weekend with these two beloved friends of mine! Time has passed and our friendship is far from perfect, but it is nice to know that we're still there for each other 🙂
Ever done a staycation trip with your high school friends? How does it feel like to reunite with some of your precious batch mates?