SOUVENIRS. Who doesn't love them? When I was a kid, it is already given that my relatives will give me a little keepsake from their trips. I think it is one way of encouraging the little one to explore the world once she grows up.  I knew about the Australian animals like the platypus, koala bear, kangaroos and tazmanian devil because my uncle used to give me stuffed toys. Friends of my mom and dad who migrated to other countries sent postcards. I remember associating the Middle East with gold and carpets. My grandparents love to travel and their souvenir collection is displayed at home.
When I started traveling with my own money, I would buy keychains with the names of the placed inscribed on it. I also get the must-buy food delicacies from the area as pasalubong to my grandparents. I started collecting local items to give my mom and brother who are residing in the UK now.
Although I am not really a shopaholic, here are some of my most memorable travel souvenirs:
Bamboo Rainmakers from Palawan
As a token of appreciation, a resort in Puerto Princesa, Palawan gave us this bamboo rainmaker as a souvenir. I really find the gesture sweet and I enjoyed my first ever Palawan trip with Ada and Shena. Did you know that I was supposed to move to Puerto Princesa for high school? That didn't push through, but I was always curious about this part of Palawan. The trip is a smooth one – island hopping tours and food galore! We even saw the band Aegis perform live for free! It is one of the trips that proved that you can still travel even if you have a demanding full-time job. See, just staring at the photo brought back some lovely memories!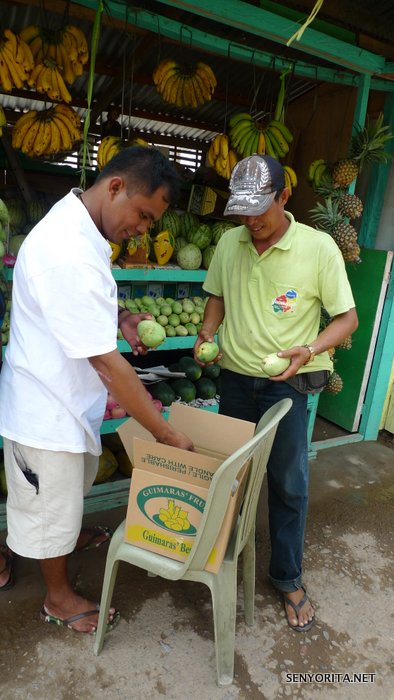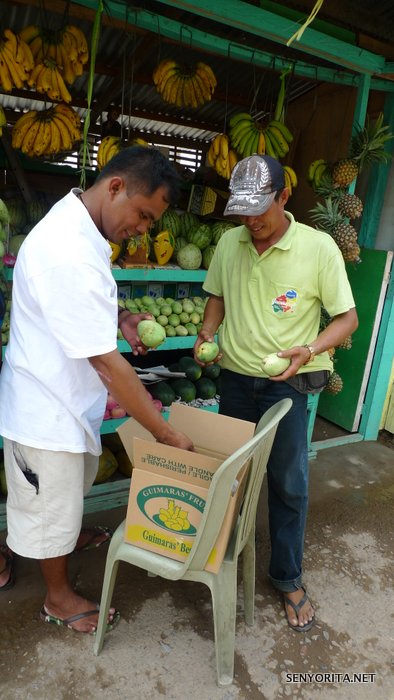 Mangoes from Guimaras Island
I know that fruits are edible, but I want to add this on my list! Mangoes from Guimaras Island are said to be the sweetest in the country. Export quality, ika 'nga. What made this fruit treat special is that it is given to me by Kuya Cherald, a good friend of mine who is continuously making more visitors of Guimaras happy by giving them the best tour and souvenir photographs. Sweet!

Sarongs, Scarfs, Bags etc. from Davao
Mindanao has a lot to offer when it comes to handicrafts. Aldevinco in Davao City is a haven for collectors. When I went to Aldevinco for the first time, it was one of the rare moments where I wish I had more money to shop. The clothes, accessories and hand-made products made me feel proud to be a Filipino. I know that some of these goods are being shipped abroad, but I hope that our kababayans will support our local products. I have this dream of buying big statues to be placed in my soon-to-be opened resort. Owning it!
Tarsier Bonnet from Bohol
One of the items I bought supposedly for my brother, but I end up wearing and loving it! I giggled like an elementary student on a field trip the first time I wore it. Gallivanting in Bohol is much better with this hat! Touristy souvenir on a touristy photo ftw!
Souvenir T-Shirts!
I can say that T-shirts with the name of the place printed on it is the most wanted souvenir in the world. I have a friend who makes it a point to buy a shirt from every place he visits. I bought one in Palawan, Boracay, Cebu, Davao, Camiguin and even Pangasinan! You know which one is my top favorite? This one is from Vigan, Ilocos Sur. Check the photo below: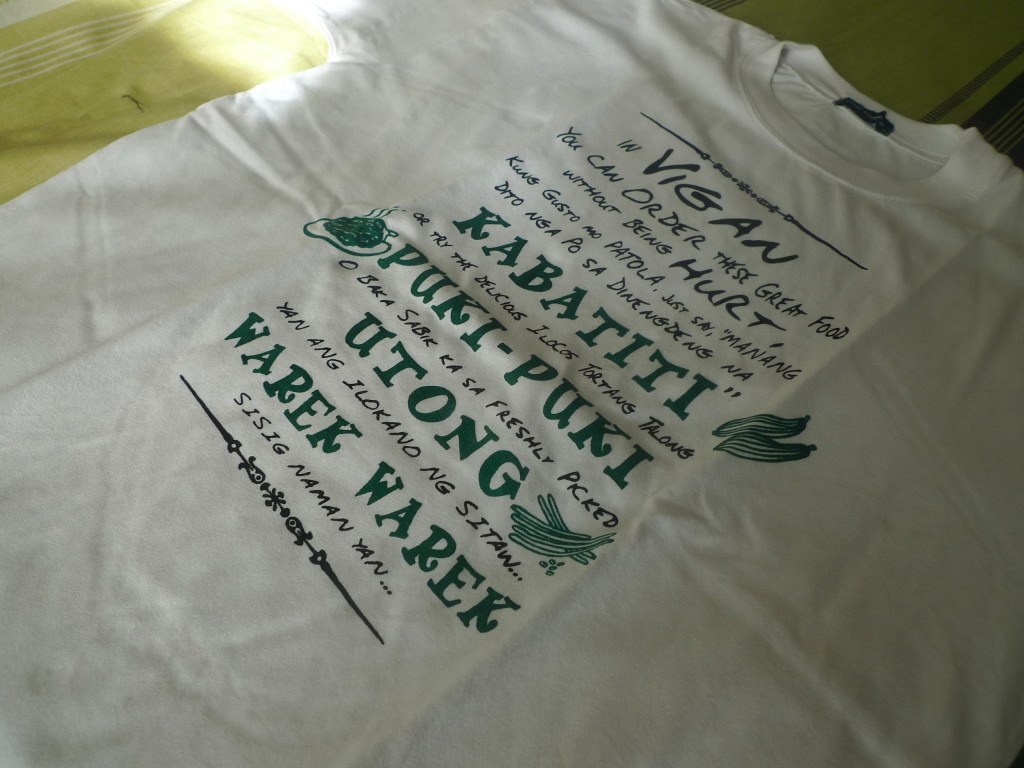 Nyahahaha 😀
I have this dream of buying more products from different parts of the country specifically Maguindanao and Ifugao. Who can send me a real-life size barrel man? LOL!
Let's all travel, dance, collect souvenirs and make more memories! Mabuhay! 😀 Sayaw-sayaw muna tayo!
Do you get souvenirs from your travels? Which is your favorite Philippine travel souvenir? Share your thoughts on the comments section! 😀
~0~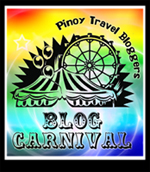 This is my entry to Pinoy Travel Bloggers' Blog Carnival for July 2013 with the theme 'Memorable Travel Souvenirs, Objects and Mementoes' hosted by Jun Baris of Galang Pusa.