I've been longing to visit Vigan, Ilocos Sur. I originally planned to visit last January, but I didn't have enough time since our schedule is hectic. For my September Ilocos trip, I decided to stay longer in Vigan. It is not my first time to visit Vigan. The last trip happened sometime in 2003 with the family. From Pangasinan, my dad drove to Vigan and then Laoag. How I miss family trips. Now, all I can do is go there on my own and reminisce.
Tito Rey and Tita Amy, my relatives who are based in Laoag prepared a nice breakfast for me – Laoag Longganisa and fried egg. What a good way to start the day. I woke up late. Blame it on depression. I need to eat it out! 😛
I took a tricycle ride to the Partas Bus Station. I arrived just in time since the bus going to Baguio is about to leave in 10 minutes. The first stopover of this route is in Vigan.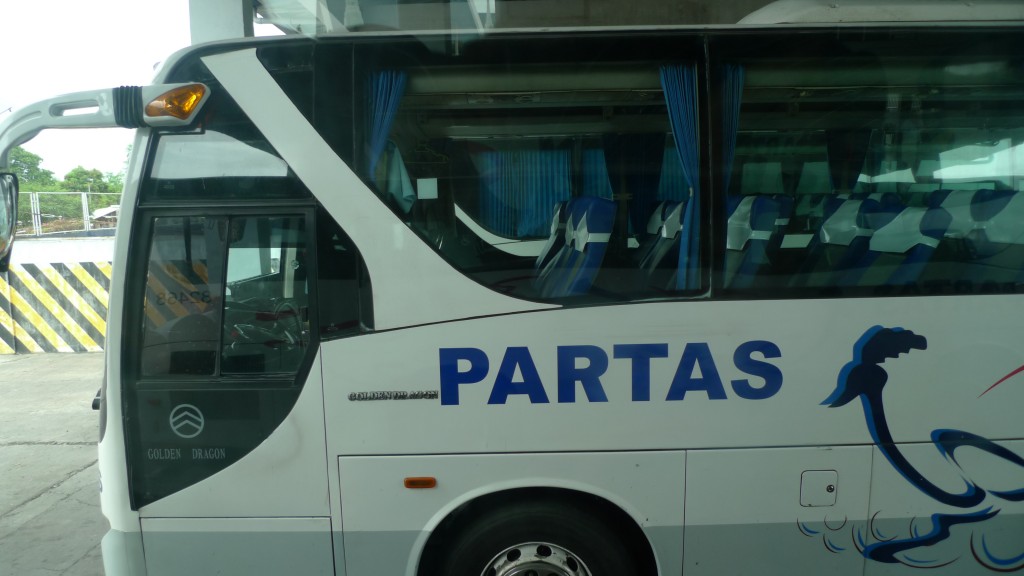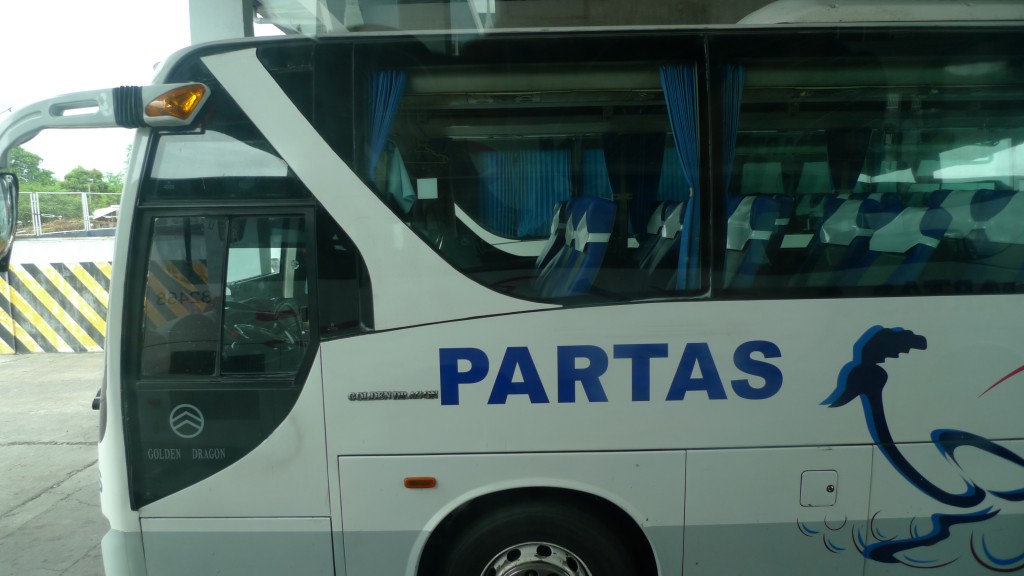 Getting to Vigan From Laoag
There are no direct flights to Vigan. The nearest airport is the Laoag International Airport. I took the late afternoon flight from Manila to Laoag of AirPhil Express on a Thursday. Laoag City proper is approximately 2 hours away from Vigan. I do suggest that you go straight to the PARTAS BUS STATION and catch the bus trip to BAGUIO. The first stopover of this route is in the PARTAS VIGAN STATION. The fare in an air-conditioned trip costs PHP 121. When you mention Ilocos, Partas automatically comes to mind.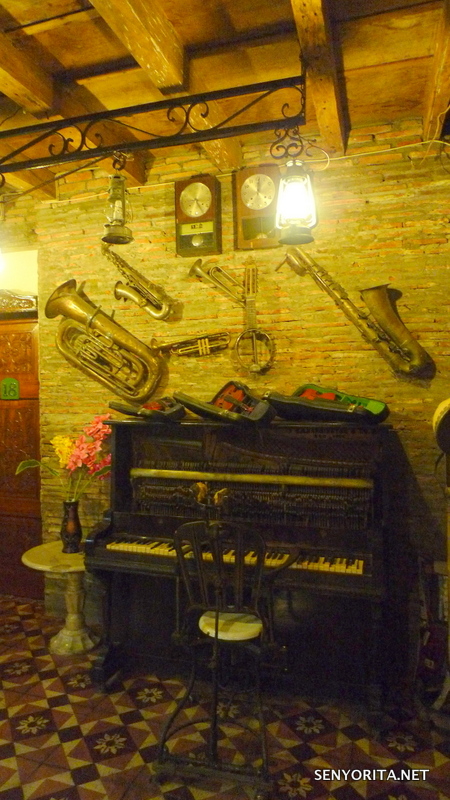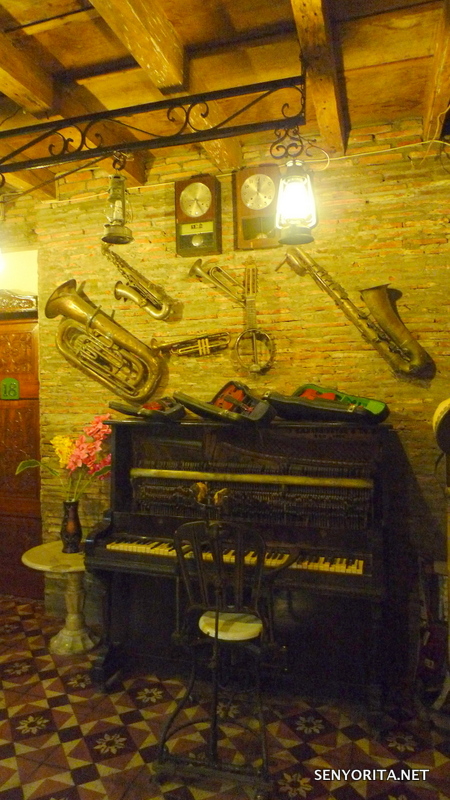 Where to Stay in Vigan and Teleport back to the Spanish Era
There's a number of hotels and accommodations in Vigan, but I find most of it expensive. Since I want to be dramatic in this trip (chos!), I went straight to Grandpa's Inn as recommended by my friends. I arrived on a rainy afternoon and I knew that it is the best place for me from the time I stepped at the lobby area. The cheapest room is Php690 (Ordinary Shared Room) with common toilet and bath. I chose the other Ordinary Fan Room good for two (php900). You have your own toilet room, cable TV and complimentary breakfast. Not bad, huh? The room is also charming as it reminds me of the old times. I am satisfied with my stay in this place. Highly recommended!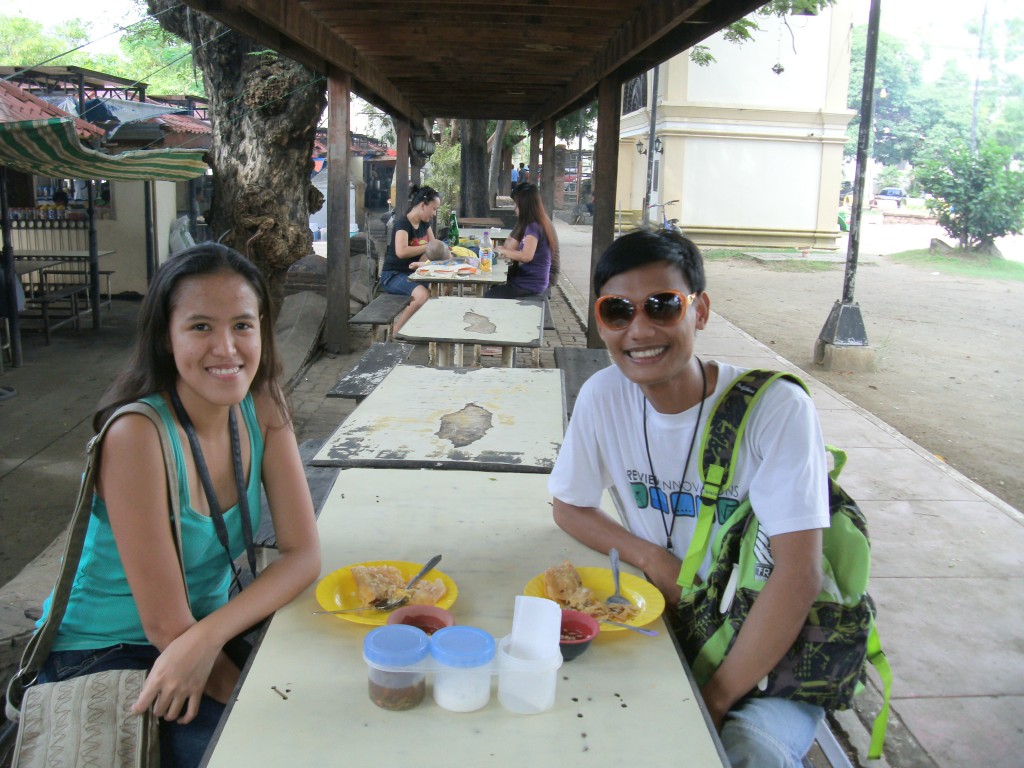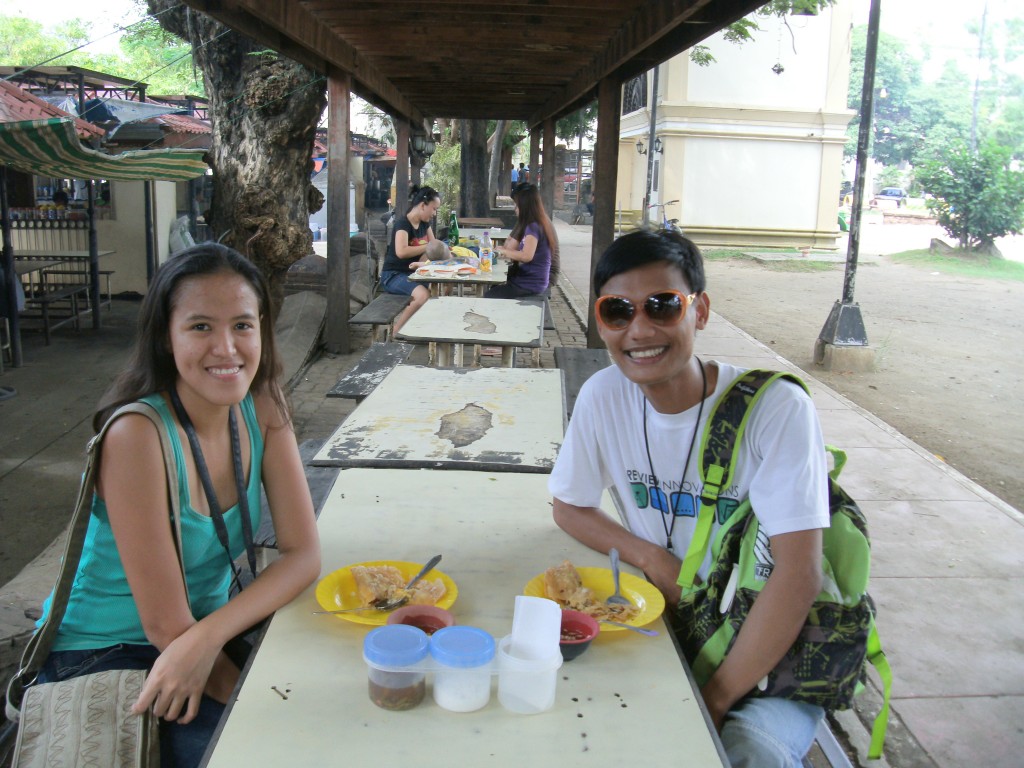 Meet Up with an Ilocano blogger
It is nice to finally meet Edmar Guquib, the man behind the travel blog Edmaration.com. I rarely interact with travel bloggers in Ilocano and I am a fan of his blog. Aside from the fact that he writes well, I loved his entries about Pangasinan – my home province. We were able to talk about travel blogging, history, politics and life in general. I am looking forward to traveling with him soon. A trip to Abra, Cagayan or Kalinga will do 😀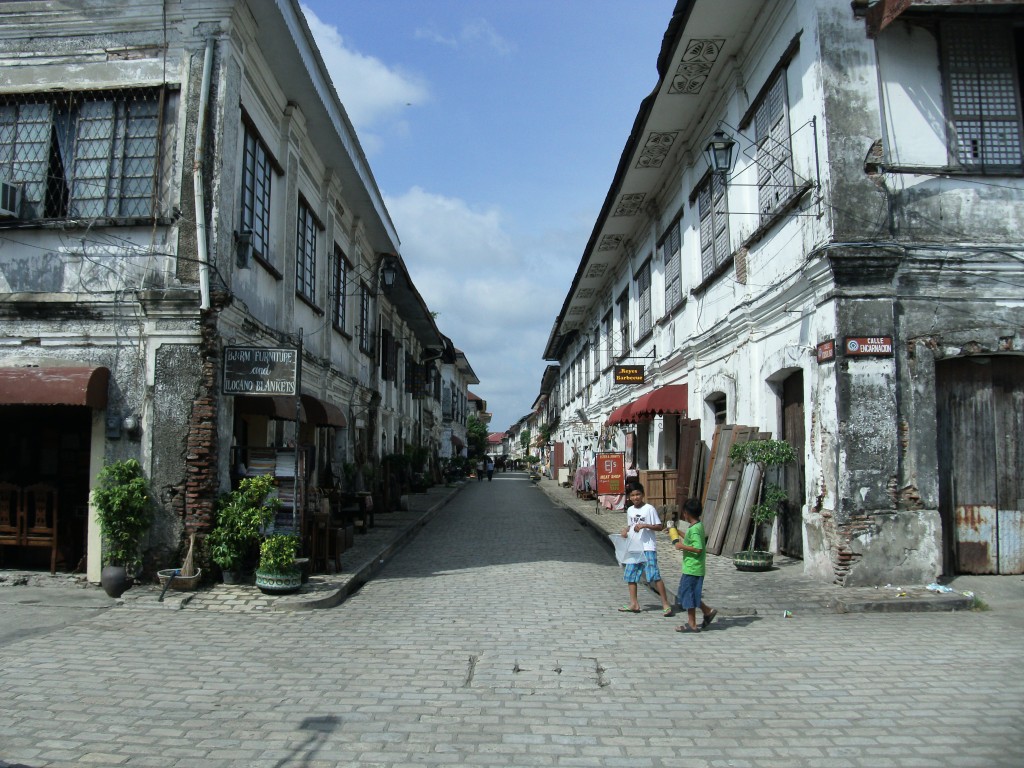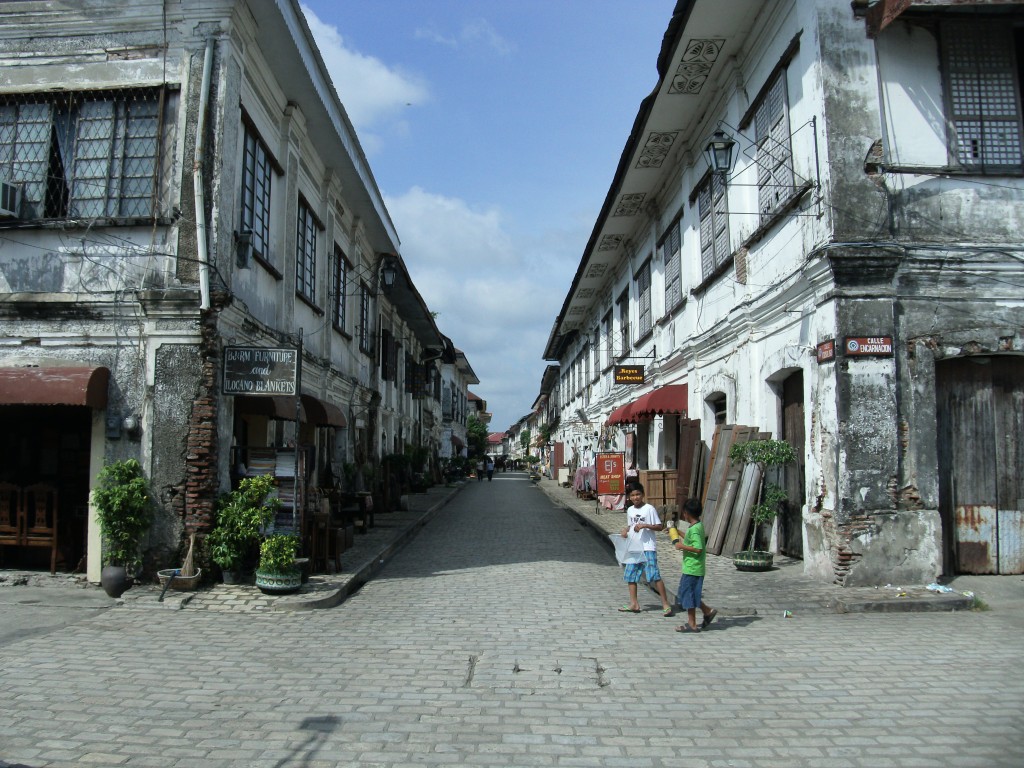 Calle Crisologo – Trip Down to Memory Lane
Calle Crisologo is one of the most distinguished streets in the Philippines due to its historical look. If you want to go back to the old times, just walk within the Calle Crisologo street and you will feel as if you're back in the Spanish regime. I admire on how they were able to preserve the look of the Spanish colonial houses and how the people of Vigan really took good care of these infrastructures.
One of the museums I get to visit is the Syquia Mansion. It is perfect for those who wants to know how an old mansion in the old times looked like. A tour guide is on stand by and he can tell you some interesting trivias about Pres. Elpidio Quirino and the Syquia Family.
From Calle Crisologo, you can also reach the Vigan Town Proper by foot. Take pictures at Plaza Salcedo, say a little prayer at St. Paul's Cathedral or Vigan Cathedral, eat snacks at Vigan Empanadahan, shop at Plaza Maestro and many more!
SOUVENIRS
I bought a quirky shirt and I will post a photo of me wearing it soon. The text have something to do with the funny names of some Ilocano Food. I also bought Vigan Chichacorn as pasalubong, but I end up eating one pack when I arrived in Manila.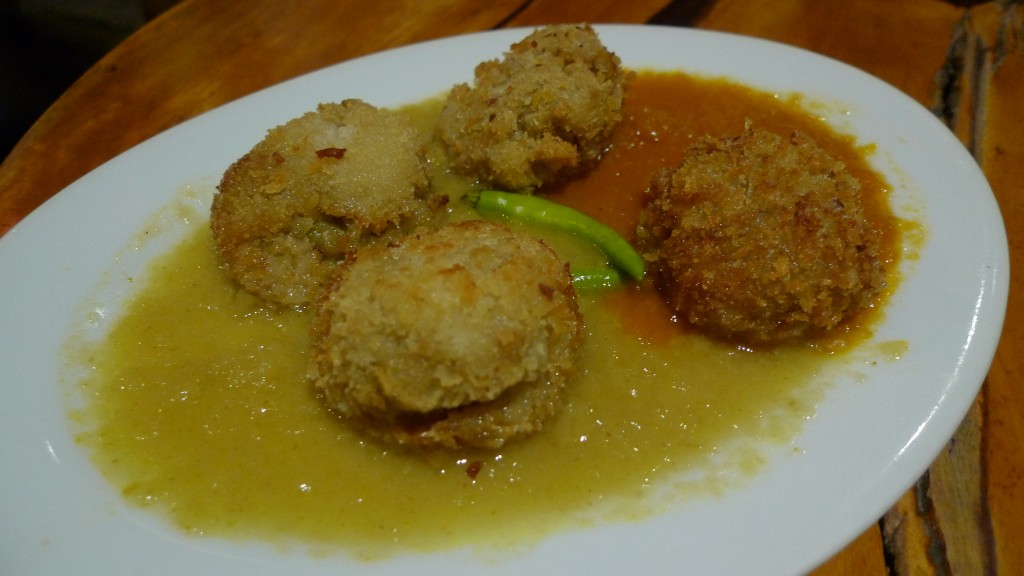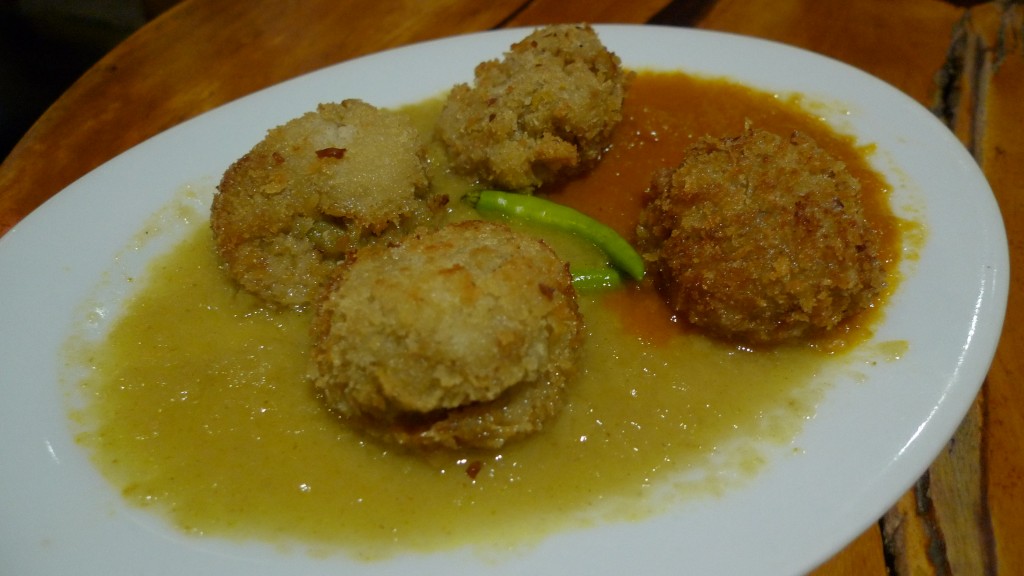 FOOD FOOD FOOD!
Of course, I didn't let the opportunity to splurge on Ilocano food pass. Staying in Grandpa's Inn made it accessible for me to dine at Cafe Uno, which serve mostly Ilocano food. During my stay, I was able to order Diningding, Binagoongang Baboy, Poque Poque and Vigan Longganisa. All of these servings are good for two so I guess you figured out that I gained a little weight that weekend 😛
Edmar and I also went to Coffee Break Vigan for Milk Tea. We also ate merienda at Vigan Empanadahan. We ordered Vigan Empanada as we talk about Ilocano stuff hehe. I went back after a few hours to munch on Okoy. Rawet nga balasang, nya? 😛
Some of the recommended restaurants in Vigan include Cafe Leona and Cafe Uno. You can also spot a number of fastfood chains (Jollibee, McDonalds, KFC, Mang Inasal), whose architectural design is also reminiscent to the old times.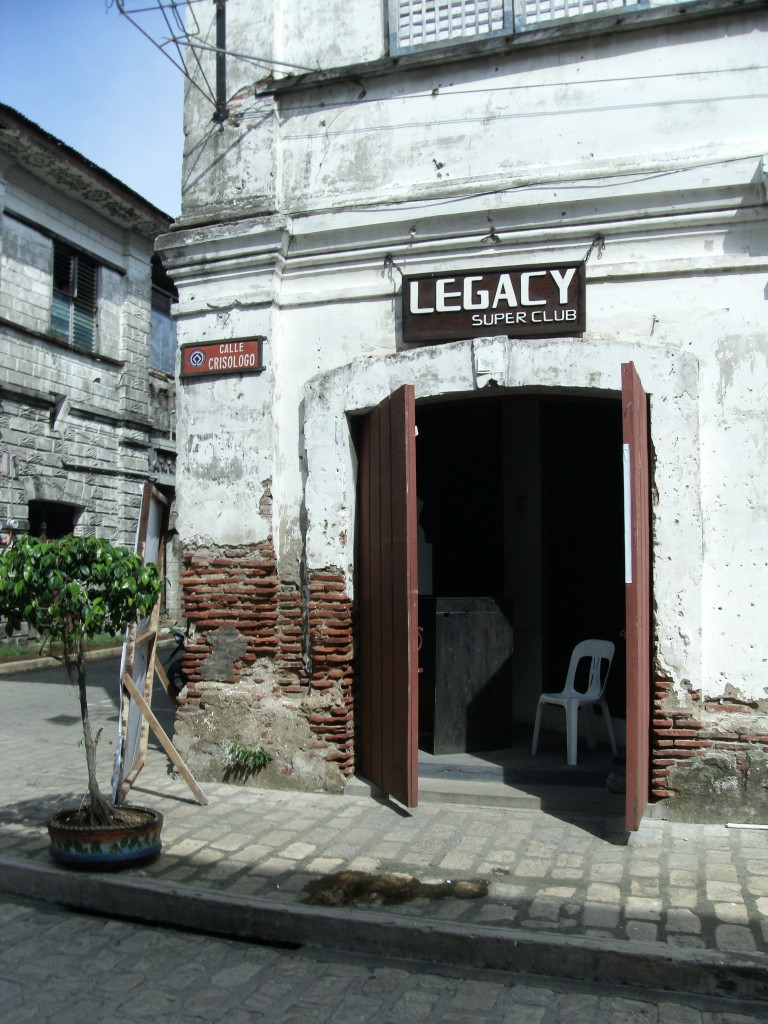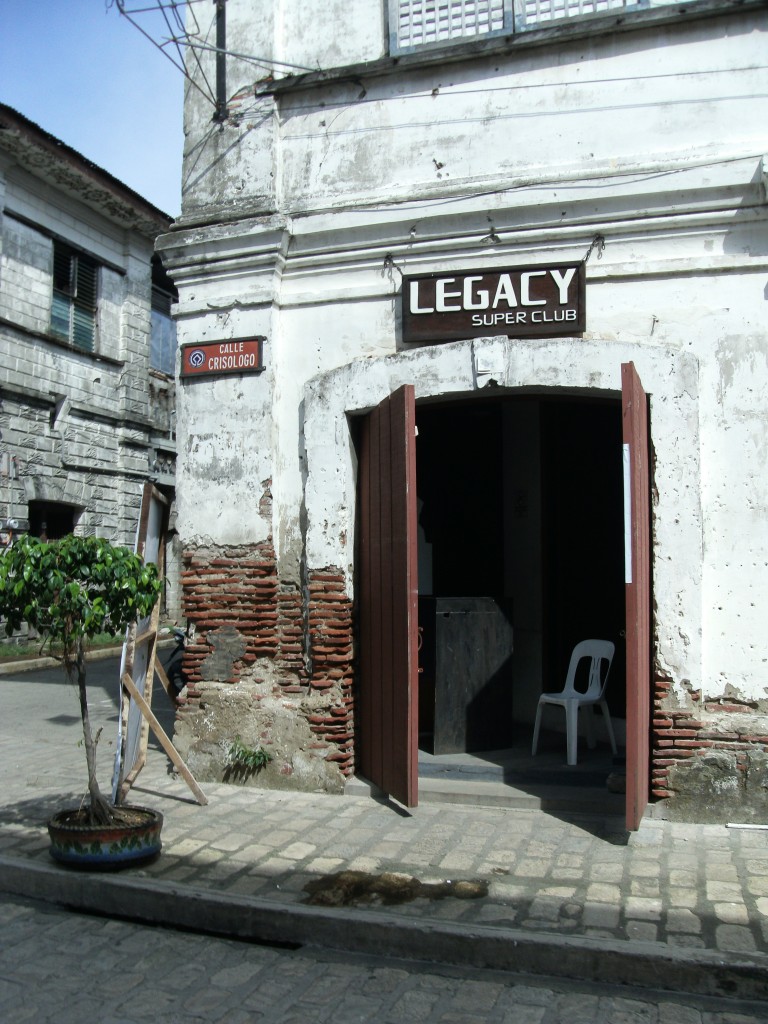 Vigan Nightlife? Check!
When Dylan of WanderingDylan.com blogged about Legacy Super Club, his statement made me curious. I forced Edmar to go with me and visit Club Legacy on my last night, which is found within the vicinities of Calle Crisologo. It is not really that obvious in the morning that a party place comes alive at night in that area. I am surprised in a good way. Too bad I wasn't able to take some pictures. I am THAT surprised. Parteeeh beybe!!!
Is it safe to travel solo in Vigan? I can say yes especially if you're staying near Calle Crisologo. It is also a perfect place for you to be lazy.
Have you been to Vigan, Ilocos Sur? What can you say about it? I will launch a new blog dedicated to Ilocandia Region soon =)