Almost two years ago, Ada and I embarked on an overnight trip to Guimaras via Iloilo. That trip is extra special like La Paz Batchoy because of the ingredients that made it a memorable trip. I even included Guimaras in my Top Philippine Destinations list due to its natural beauty and what it can offer to the wandering souls.
Through that trip, we met Kuya Cherald/Kuya Gerald. We arrived at the Jordan Wharf that one fateful morning. Among all the tricycle drivers who are in line waiting for a prospect client for a day tour, we end up saying yes to him. We negotiated on a lower fee and we were honest to tell him that we don't really know much about Guimaras. We didn't research prior to the trip and all we know is that we want to do a tricycle tour in the morning and an island hopping tour in the afternoon.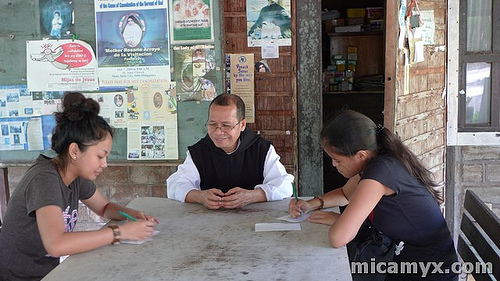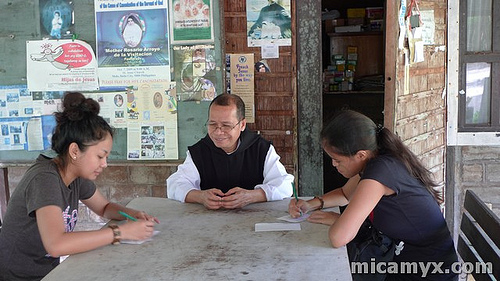 We ate breakfast in one of the small restaurants then we had a jampacked itinerary for the morning. One of the perks of not researching that much is that you still have that 'WOW' factor in every stop you visit. My favorite part is our visit in the Trappist Monastery. Talking to Bro. Peter and walking around the place made me and Ada a  bit relaxed and thankful. I vowed that I will visit again when I get the chance.
Kuya Cherald is a nice guy. He took pictures of us doing jumpshots and crazy poses, gave us tips and suggestions and many more. It reached the point wherein we felt that he's underpaid with all the destinations we've visited so we offered that we treat him for lunch at Raymen's Beach Resort. That also served as the first trip where Ada and I had a short misunderstanding. Lucky Kuya Cherald who managed to witnessed the quiet tension while we're feasting on a Sinigang na Hipon dish. That is a once in a lifetime event in our friendship. Bow. =))
We hired him again the next day to bring us to Jordan Port Area. He was really nice so Ada and I blogged about him. Later on, more and more bloggers and visitors were hiring him for day trips. Months have passed when suddenly, I received a text message from Kuya Cherald and he kept on thanking me for the blog feature. Apparently, he got more clients through our posts and it went viral. Even the bloggers who went there can testify on how hospitable Kuya Cherald is.
Before my 25th birthday, Kuya Cherald sent me a text message that his daughter Avagail will be baptized on May 6 – the day of my birthday! I wanted to go, but I already have a ticket to Davao for the DFAT 2012.
One of the things that the Thailand-Cambodia Trip from early this year thought me is that I should just go and pursue a trip to a place if I want to. Promo fares by airlines are good, but it is also nice to book on impulsive trips every once in a while.
I have to admit that being stressed towards certain documents and situations made me want to escape for a while. Torn between two destinations, Kuya Cherald suddenly sent me a text message. He wants to greet Ada for her birthday. I then told him that I will visit him in Guimaras. He asked me when. I said Friday next, next week. I booked a flight to Iloilo then boom! I just booked it!
I flew to Iloilo one Thursday morning and spent the day eating La Paz Batchoy in three different food establishments and saw the movie Bwakaw in Gaisano Iloilo. What I love about traveling solo is not being dictated on what to do.
I wasn't able to sleep much that night. When I woke up, I prepared and packed my things. Hungry me. I want Batchoy. But before that, I must decide if I should extend my stay in Ong Bun Pension House or just move to another place. I decided to do the latter since someone tried to open my door room twice. Not good.
I went to Ted's Diversion Road for breakfast then dropped by Century 21 Hotel for early check-in. The place may be a bit more expensive, but I felt safer there. I saw a number of medical practitioners in the area, who were preparing for a conference.
Took a cab going to the port area going to Guimaras Island. Later on, a familiar voice called my name. Woot, It's Ate Mayin! She's a former officemate from Pinoy Parazzi who is now based in Iloilo. It's fun to think about the possibility of us meeting there after years of not seeing each other. What a small world, indeed.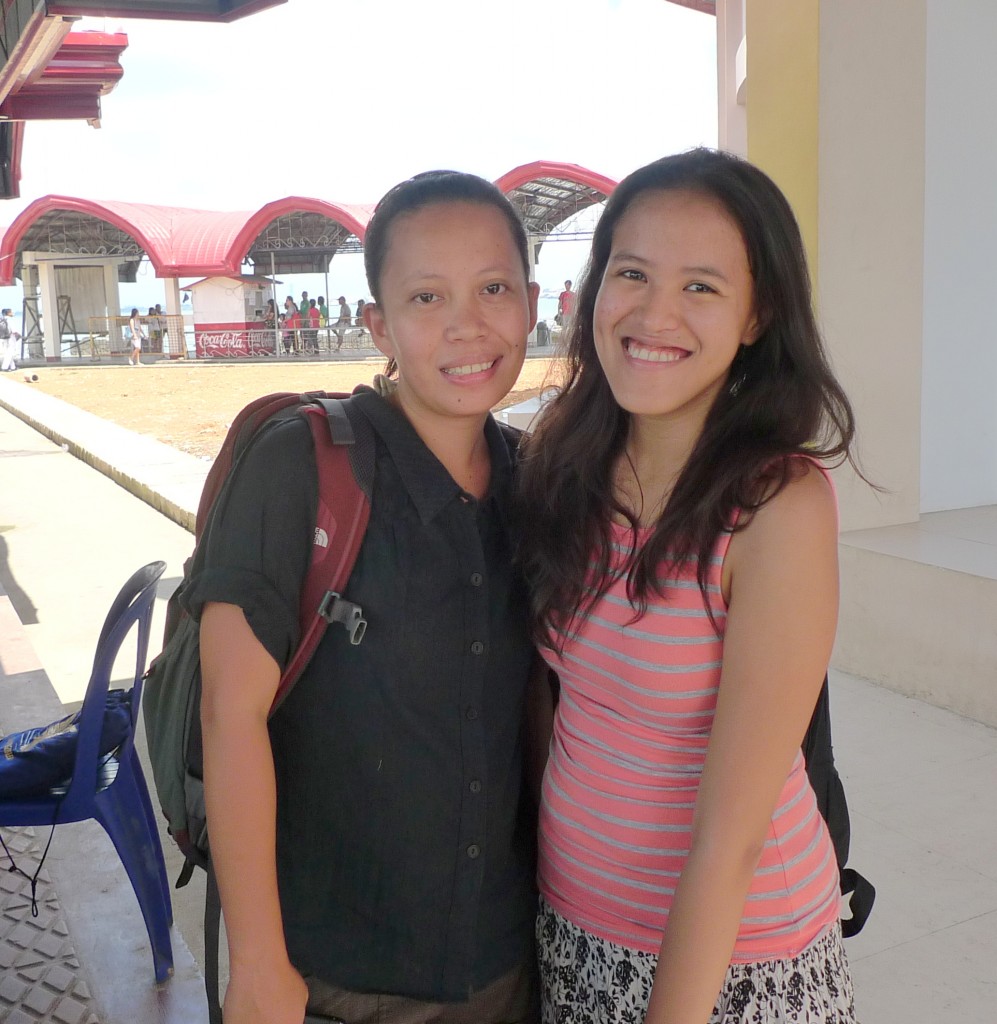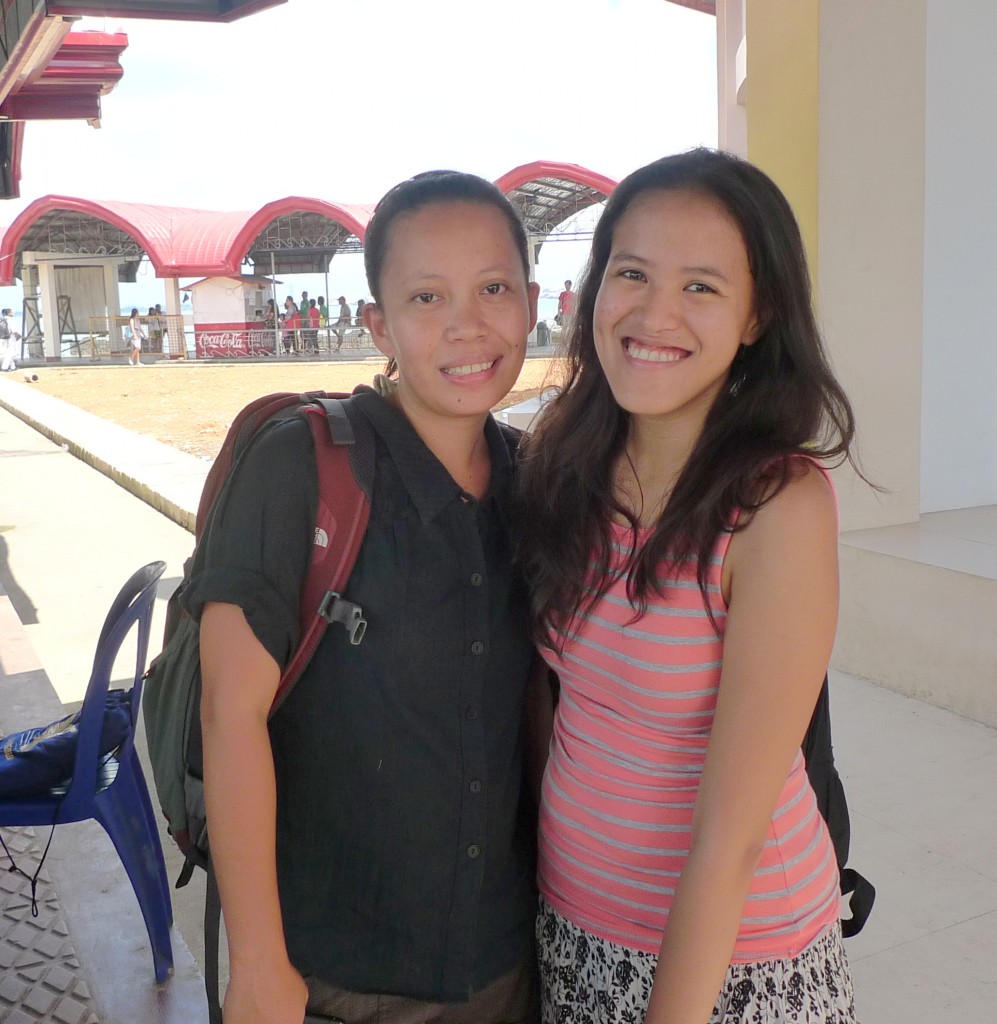 I introduced her to Kuya Cherald when we arrived at the Jordan Wharf. She knows him, He knows her. Saya!
Just like the old days, Kuya Cherald is still enthusiastic about Guimaras. He told me that for the day, he will bring me to the places that I missed from my first Guimaras trip. We explored some parts of Buenavista and I requested if we can possibly pass by the Trappist Monastery. He said yes.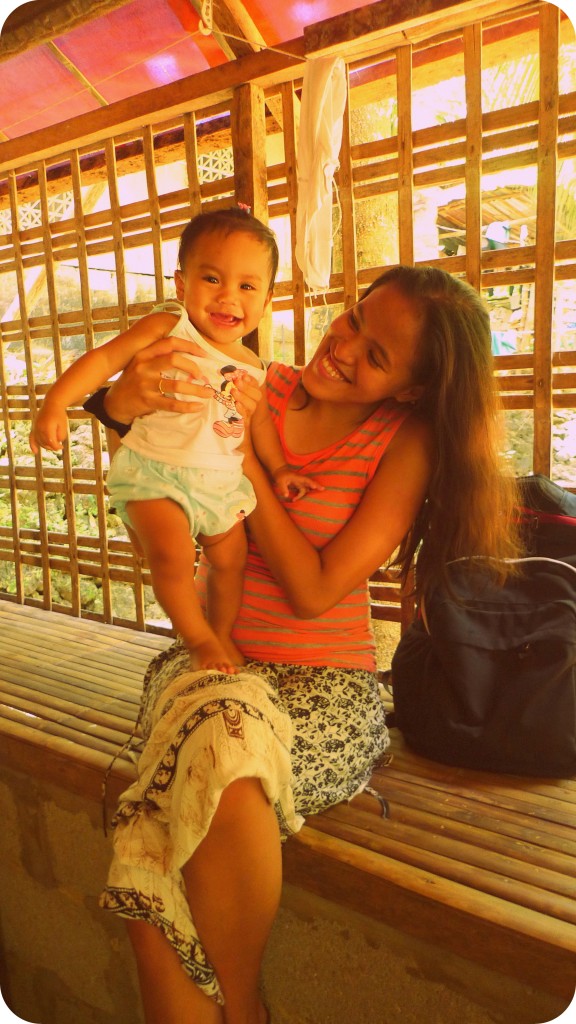 I also managed to visit his house and meet his wife Maryjane and kids (Biboy, Cherish and Avagail). Avagail is the youngest. She's just nine months old, but she's already playful. She is my inaanak 😀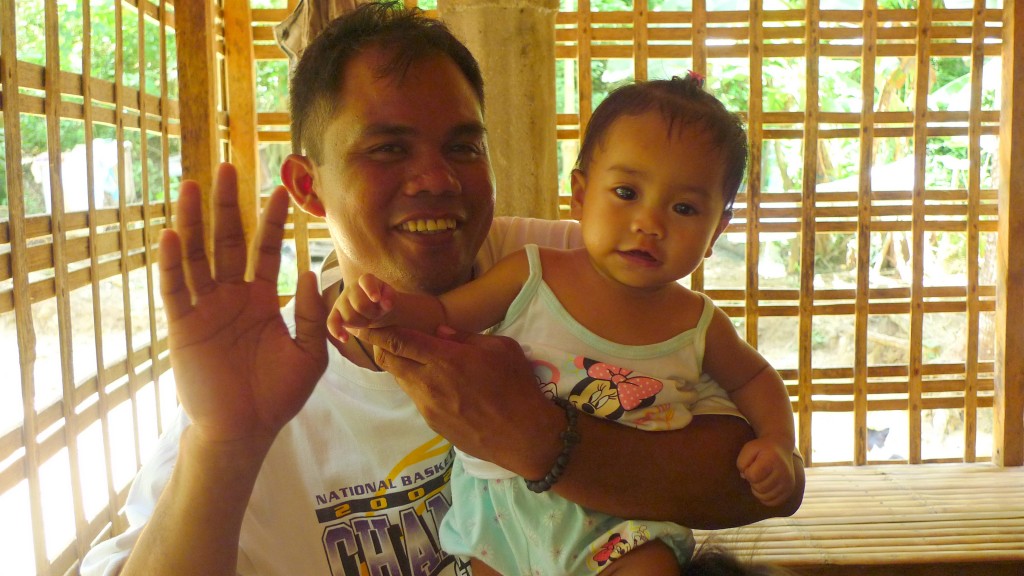 "Mam, 'eto na po 'yung naitulong ninyo sa akin. Maraming salamat po'.
I'm just glad and thankful. Ada and I were able to help him in a way we know best and aside from that, we gained a good friend and a cute inaanak.
That day, we toured around Guimaras with Kuya Cherald's family. From solo trip to family getaway! The destinations we visited include Balaan Bukid Shrine (14 Stations of the Cross), Ave Maria Purisima Shrine Chapel, Kuya Cherald's humble abode, Small Museum, Jordan Public Market,Judavels Eatery, Mr. Pitstop, Trappist Monastery (happy to see Bro. Peter again!), MacArthur's Wharf, Navalas Church and the Roca Encantada. I'll write a separate entry about out Day Trip going to Buenavista.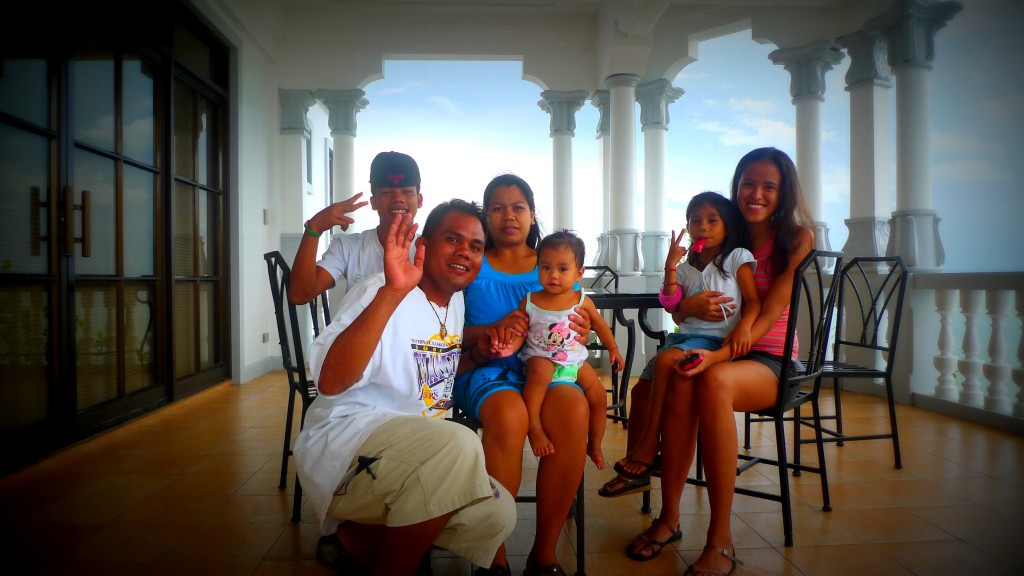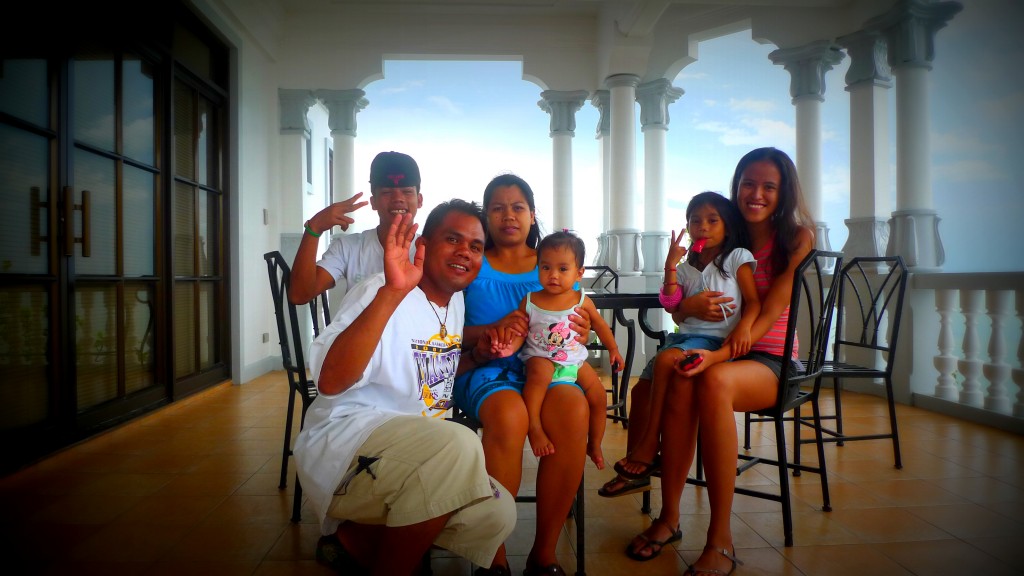 I am really happy that this trip pushed through. Aside form the fact that I get to visit one of my favorite places in the Philippines, the moments I spent with Padochenog Family is worth treasuring. It is one of the times wherein I can say that traveling makes us richer by gaining true friends. It is also nice to chat with them and get a fresh perspective about my certain worries in life now. Maraming salamat sa inyo! Babalik ako ulit!
Planning to visit Guimaras and want to do a day tour? Just contact Kuya Cherald at 09084748122 😀