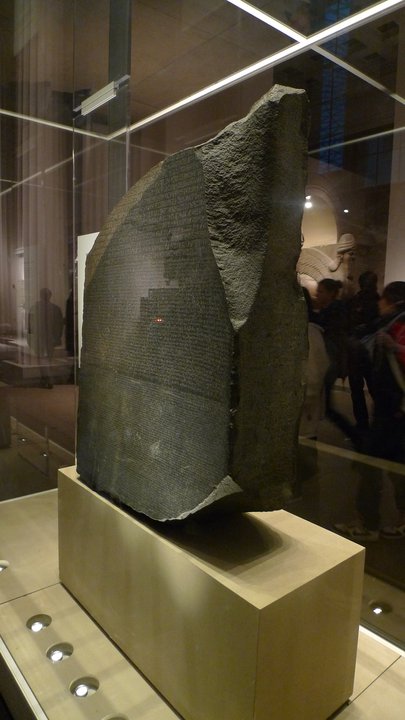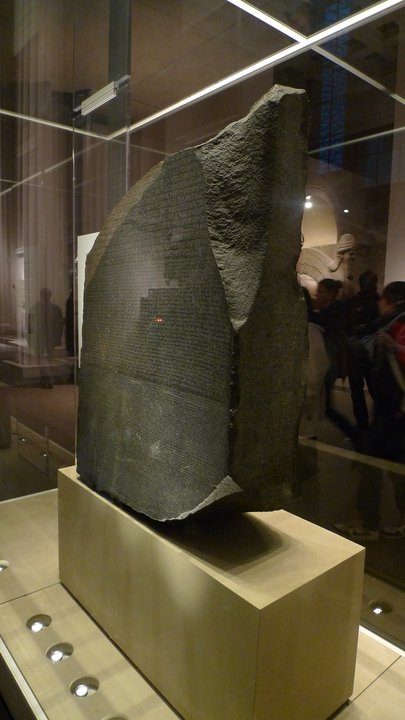 One of the highlights of my London trip in Early 2011 is my visit to the British Museum. Actually, I went there twice: One time with my mom and uncle then I went by myself on the second time. I am not really the type of person who would stay long in museums. I don't pay too much attention on historical items, but the British Museum is an exception. The best thing about is anyone can enter for free!
During my first visit, I noticed that a lot of students were busy looking at this big stone. I didn't bother joining them to know what the buzz is about. When I posted in Facebook that I'll be visiting the British Museum again, some friends suggested that I take a photo of the Rosetta Stone.
For more information, you can visit the Rosetta Stone page at Wikipedia.
I can't help but feel amused while inside the British Museum. How come all of these important items from Egypt, Greece, China etc. are here in the UK? I should just thank the people behind the British Museum instead of complaining. Again, these are important items from our past. No wonder tourists are scouting for cheap flights to London just to visit the British Museum and the rest of the historical spots within the capital city of England.
And this counts as another backlog on my part.