"What Happens in Boracay, stays in Boracay…"
NO WAY! 😛
It is a pledge of mine to visit Boracay at least once a year. Luckily for me, I never really paid for any of my Boracay trip airfares. It's either I won in a contest or a company sponsored for the trip. For this specific trip, I am the one in-charge of my own budget – meaning I need to pay for my accommodation, food and other expenses.
Call it coincidence, some blogger friends of mine were sent to Boracay to cover an event for a telco ON THE SAME Â DATES. The original plan to walk around the beach of Boracay like a heartbroken girl from some random music video for a videoke place and at the same time write something sentimental just failed hehe.
I arrived in Kalibo airport at 1PM – which means I lack sleep (I never sleep a night before my flights) and I am hungry. For the first time, I am traveling from Kalibo airport to Caticlan's Jetty Port then to Boracay Island. It didn't help that the van driver really squeezed everyone in the van to fit in. I tried to sleep, but I really can't. I felt a bit dizzy, but a personalized water bottle saved me.
After two hours, we arrived at the Caticlan Jetty Port. Again, the passengers needed to wait for 20 minutes 0_0. I am just glad that I am seated beside a German mom and her son and a Korean couple, who were excited for their trip to Boracay Island. I am tempted to ask them if the movie 'Romantic Island' convinced them to book a flight 😛
While at the ferry boat to Boracay, I found out that Yoshke and Doyzkie were in Boracay too for the event. WHAT A COINCIDENCE!
I asked some passengers to share the tricycle ride with me so we can split the cost. When we arrived, I was dropped at the 'D Mall. Wait… Did I tell you that I didn't book an accommodation for the night? 0_0
Since it is summer time here in the Philippines, almost all the hotels in Station 2 were either full or overpriced. I'm glad that I managed to list down some possible budget accommodation places in my notebook. My choices are: Frendz Resort in Station 1 (Fully Booked), White Divers (hmmm.. didn't feel right) and then my last but most preferred choice is the Boracay Tree House, which offers a dorm-style accommodation to be shared with eight people. I think it is the CHEAPEST accommodation in Boracay.
This isn't my first mixed shared room experience, but I want to give it a try again. Dylan referred this place for me (I think he spent almost a week there). I went up to the information desk hoping that they still have one bed for me. Fortunately, there is one vacant bed!
The rate is Php300 a night (Php200 for off-peak season). When I entered the room, bags of backpackers were placed in the other beds and on the floor. I managed to meet two girls and then I left. Oh wait… this place is located at Station 3.5 and I walked for almost 20 minutes under the heat of the sun with a hungry stomach =))
I went to D Mall to meet up with my friends, who were part of the event. I am glad to catch a lovely sunset. Hayyy… ganda ng Boracay sunset talaga!
Winston invited me to join them for dinner, but I was a bit shy that time. First, I am not really officially invited for the event. Second, I am hungry. I am really starving and I can't take it anymore 🙁
So I went to the buffet stall just next to the event place. For Php330, I was able to go back to the buffet table three times with my plate so full of food. Patong-patong na ang seafood, gulay, pork, beef at kung anu-ano pa. I am THAT hungry! (These buffet tables usually charge Php250 on off-peak seasons). Yoshke and Doyzkie dropped by to say hi and took an instagram photo update 😛
I went back to Boracay Tree House to meet my dorm mates. There's Ross from UK, Jake from New Zealand, Thamara and Priscilla from Holland & Dominic from Germany. In that instant, we became friends. It's fun how people from different nationalities instantly become friends when they share a big room due to budget reasons 😛 Now I enjoy staying in hostels but I will only do it when I am travelling alone. Might as well write a separate blog entry about it.
We also met the people behind the blog 4Guys in a Car. They have an interesting itinerary and I am glad that I met them that night. I can say that my first night in Boracay is quite interesting since I spent it playing Jenga and some games that only the Europeans can relate to.. but now I can relate too 😛 😛 😛 (more photos soon)
I woke up late the next day. It is just in time for lunch, actually. I ate my brunch at 'D Marios and I ordered a big Seafood Marinara Pasta. My self-imposed rule for this trip is "Don't spend too much on accommodation, but splurge on food'. I deserve to eat good food #charot
I went to 'D Mall to bother some friends, but they're not yet done with lunch. I went to Jonah's Fruit Shakes to wait for them. I drank mocha, but i am not really impressed with the taste. Winston passed by, but he had to leave immediately for work. Yoshke and Doyzkie followed and I immediately brought them to Jonah's Fruitshakes, which is one of the must-try drinks of Boracay.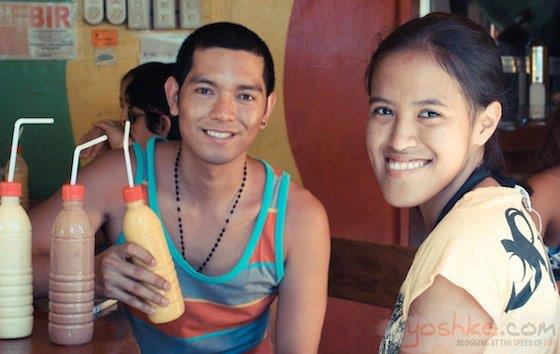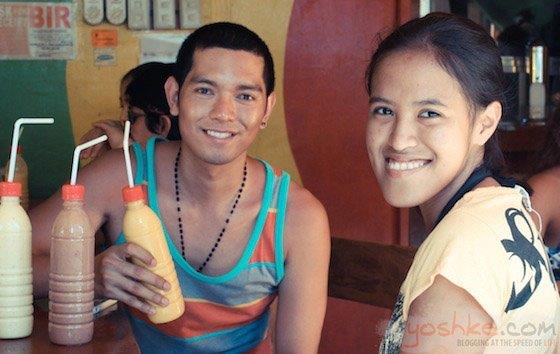 Doyzkie wanted to order the Calamansi Muffin at Real Coffee as pasalubong, but failed. We went to their hotel room. Wow. If I am staying at Station 3.5, I call theirs as Station almost zero. =))
And with that being said, I joined their event by accident. I admit feeling uncomfortable for being underdressed when I met the fashion bloggers invited for the event. I am glad that my boys were there hihi. Don't get me wrong – I salute the fashion bloggers for their passion in their chosen field. Effort kaya mag-make up, magbihis at magsuot ng matataas na sapatos. For some too, what I am doing can be a tough challenge. I do admire every person who is not afraid to do what he/she wants to do – even if it means you need to exert extra effort, spend some moolah and step out of your comfort zone.
We ate dinner at Epic Bar and I think in our table, only three people ate rice (me included). Diet mode ON WOOT.
The official launch for the event started at almost 9pm. I do like their chosen celebrity endorsers. There's Alodia Gosiengfiao (whom I met at the First Nuffnang Blog Awards in Singapore), Saab Magalona, Georgina Wilson and Danica Magpantay. My favorite part is when the mom of Danica named Lala Flores joined her onstage. I suddenly missed my mom. =)
The party ended with many photo ops and we moved to another place for drinks and chitchats. I haven't really seen Coy, Kring and even Winston for such a long time! Later on, Brian joined us. He is in Boracay as a DOT guy. Coincidence, right? He was with two cool friends named TJ and Jack.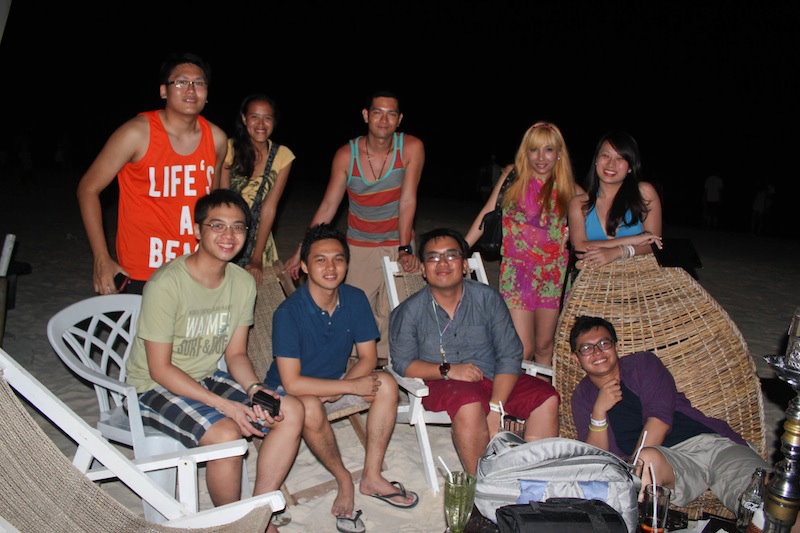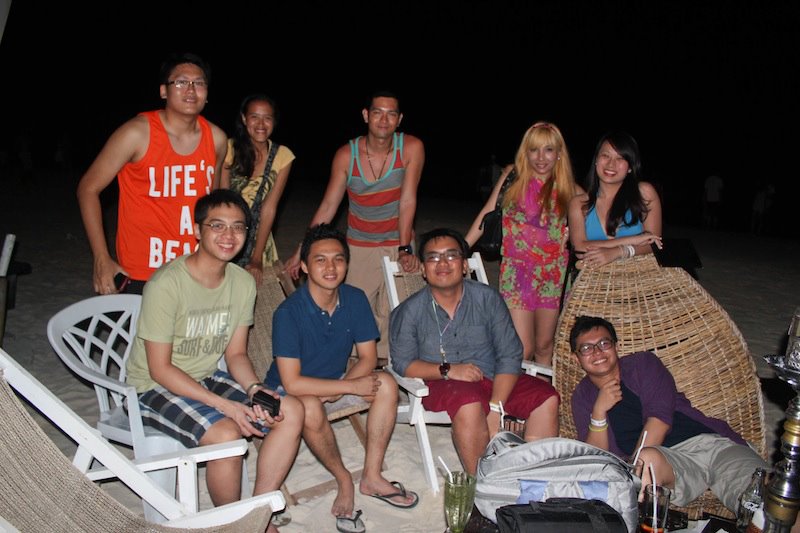 Doyzkie, Yoshke, Brian, TJ, Jack and I were still in the mood to party. After eating Isaw, we went straight to Juice Bar for an event organized by Brian's friend. There you have it – Time to party by dancing the night away! <3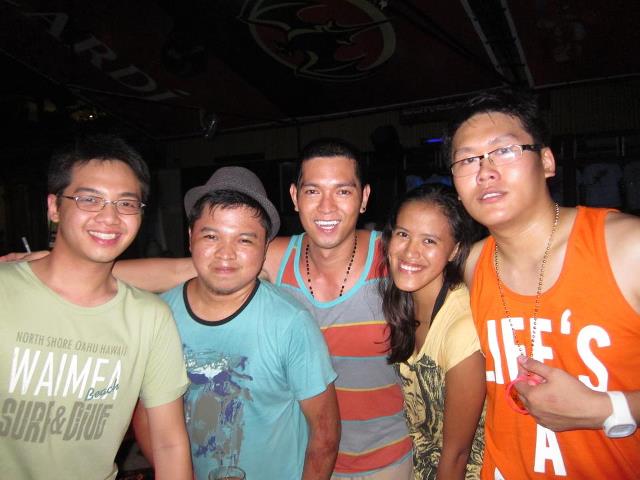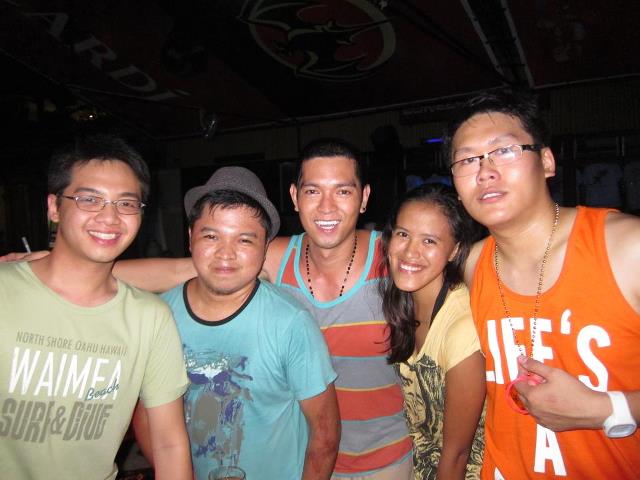 Dancing for hours with your fun-loving friends. Who wouldn't love that? <3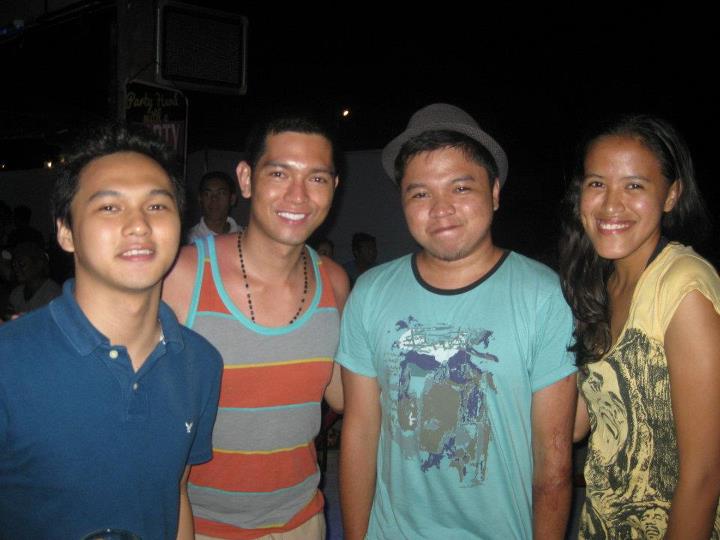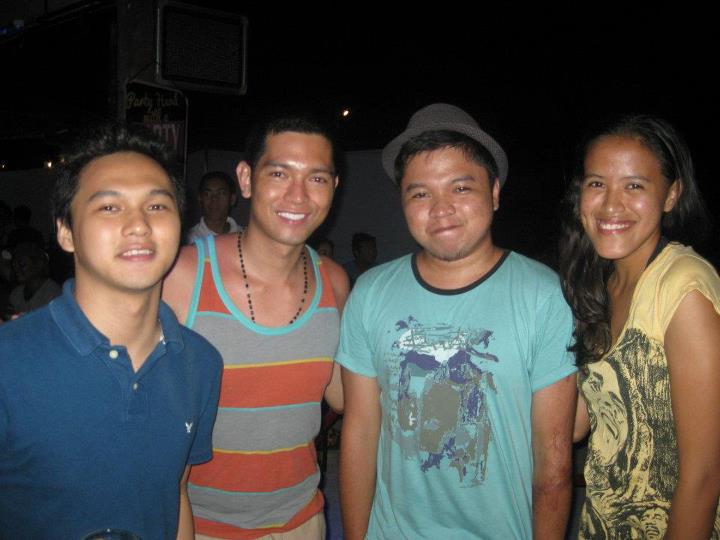 We may not have partners with us that night (hello naman Mica, as if you had one nyaherr), but it is not an excuse to dance like nobody is watching 😛 Tgsh Tgsh Tgsh
The DJ played this song countless times 0_0
Right after partying, we all went to the beach front to gaze at the stars, play with the fine sand of Boracay and make fun of each other.
I went back to our dorm room in the morning where all of my dorm mates were sleeping. I bet they're tired from partying as well 😛
I woke up late (again) and had Pesto Spaghetti for brunch. I had a good conversation with Ross then I joined him and Priscilla to the beach.
They do really love it in Boracay. Who wouldn't especially in the part where we are? I am thankful that Station 3.5 is not that crowded and it is less noisy too. I left at three in the afternoon and felt sorry for myself that I couldn't stay longer.

I left Boracay with fun memories with me. I was able to meet new friends and at the same time reunited with some of the people I miss the most. I am looking forward to my 6th visit and hoping to stay longer!