"What is White Water Tubing?" I asked one of my blogger friends a day before our Sarangani Day Tour. Although she tried to explain it in the best way she can, I cannot really imagine the whole picture in my mind. I needs some visuals. I need to search for it online, but then I thought i'd rather not know to add up to the thrill.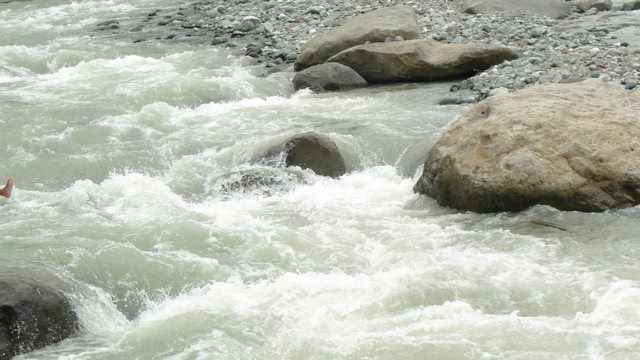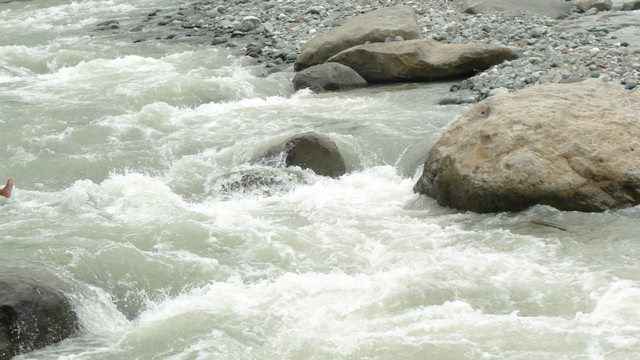 Right after our Healthy Breakfast at Cresings and a short tour to Maitum's Museum and meeting the beautiful Mayor Perrett, we went straight to New La Union, Maitum, Sarangani to visit the Pangui River. I asked them again on which water activity is similar to Tubing. Somebody replied that just imagine yourself on a River Rafting activity, but solo.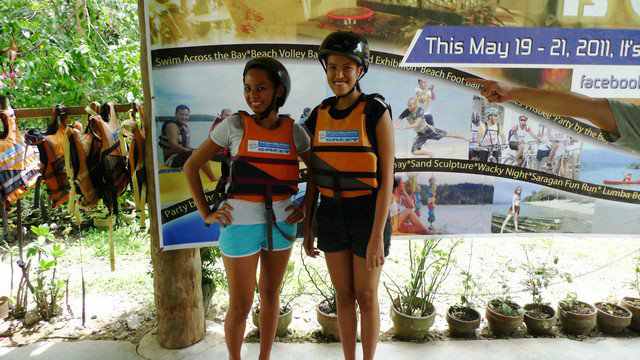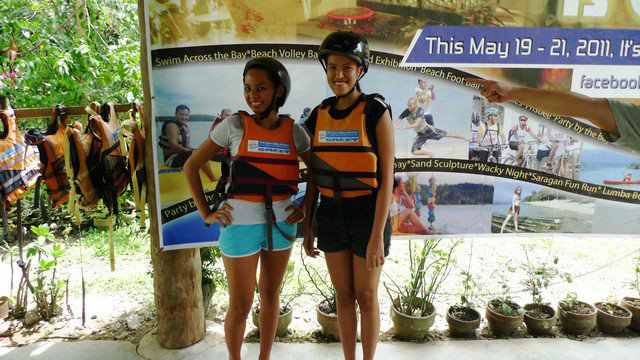 We we reached our destination and saw the river, I got excited. Being sleepless a night before, I wanted to jump into the river just to awaken my senses LOL. Right after wearing our safety gears, the 'tubers' rode in a pick-up service with the big black rubber tubes.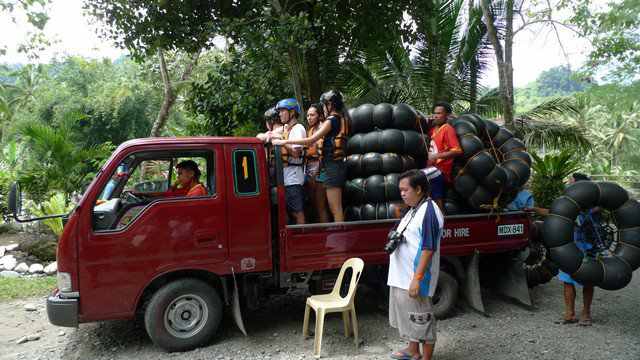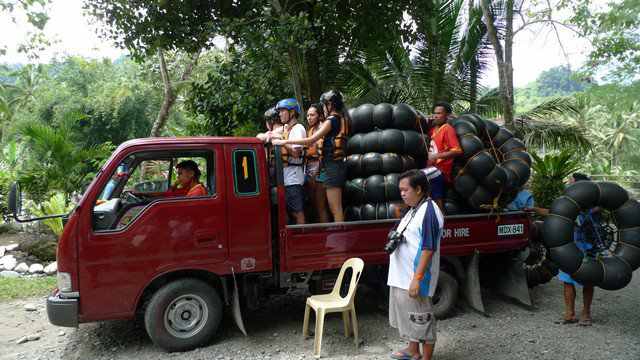 To be honest, I got scared. Just imagine this: The big rubber tubes+guides+participants. I wish this pick-up ride will just take two minutes the longest.
But no LOL. The road is quite rocky and slippery, and I was standing at the left side. I prayed quietly and just a few minutes after, I asked them if it is possible for me to just walk to reach the starting point of the White River Tubing station. They said no, and I should just relax.
I started appreciating the surroundings as I saw some families (T'Boli Tribe) especially the kids who would go out of their house whenever they hear the transportation and would wave to the guests. As expected, we all waved like beauty queens ala Shamsay Supsup. Malapit lang kami sa General Santos, eh 😛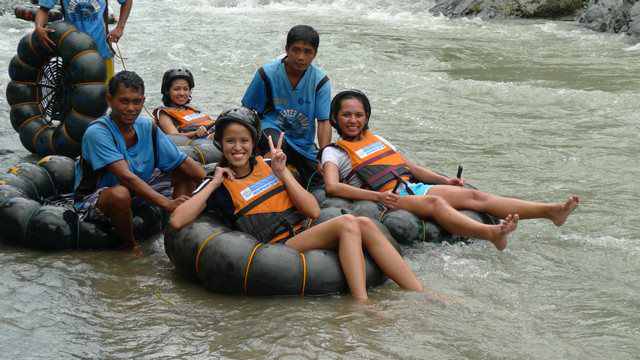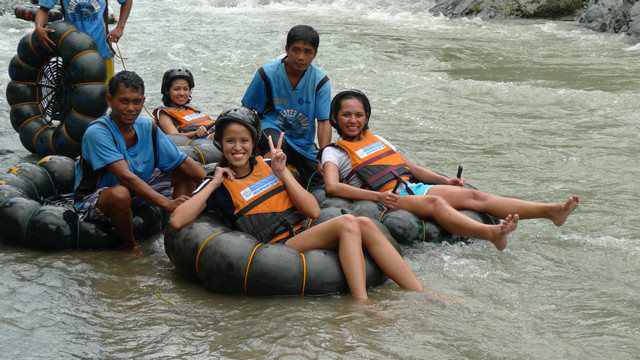 We finally reached the final destination! I noticed that most of the guides are speaking in Ilocano, I started talking to my guide after he checked my helmet and life vest.
"Makasao ka met ti Ilocano? (Can you speak in Ilocano?) " my guide asked.
"Wen manong. Makasao ak to bassit. (Yes, i can speak a little)" I replied.
Then he started speaking in Ilocano. I guess that helped me relax a bit since I started feeling tensed when I saw the cameras of the other bloggers. When we were already moving, he reminded me about the simple rules like on what to do just in case I fall from the tube.
"Is there a big chance that I will fall?" I asked.
"Yes, but no need to worry. I've been doing this for years already. Trust Me" he replied.
Ok then. My life is in your hands. I cannot swim and even if I can, I might just imagine about the video that went viral months ago about the incident in Indonesia, where some tourists died due to the strong current. I don't want my life to end that way!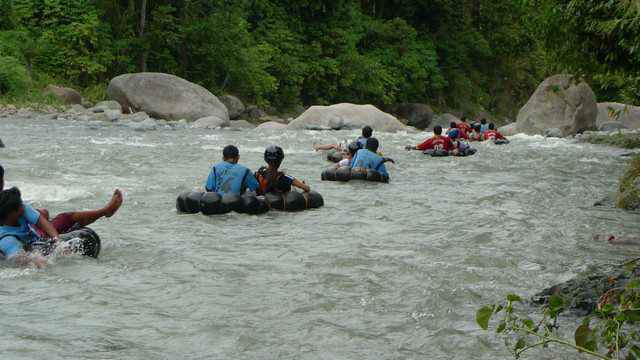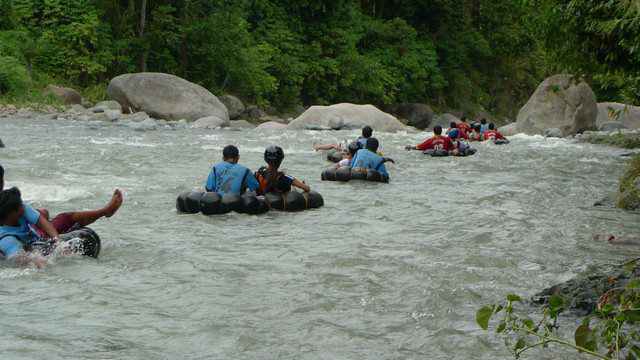 Hysterical much? LOL.
Now we're about to go with the flow!
If i am not mistaken, the whole tour lasted for 40-45 minutes and the current is strong that day since it rained a night before. Here are some of the lessons I learned on my very first White Water Tubing experience: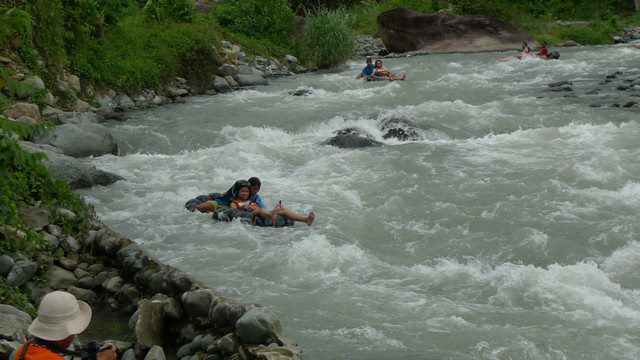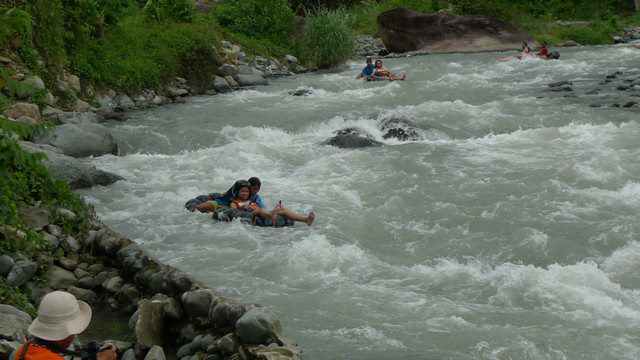 BE ALERT – Just like in any other travel-related scenario, you have to be alert. Presence of mind, please. I admit that I lack sleep because Tiara and I ended up working and talking a night before about cheap holidays to Tenerife , but I listened to the instructions prior to the activity. You will never know what obstacle you're about to encounter on your journey. Big rocks and strong current flow yikes.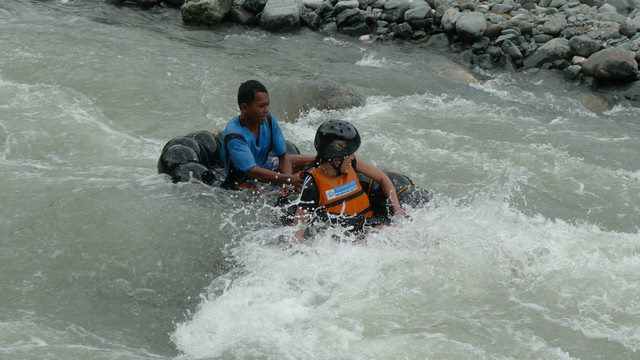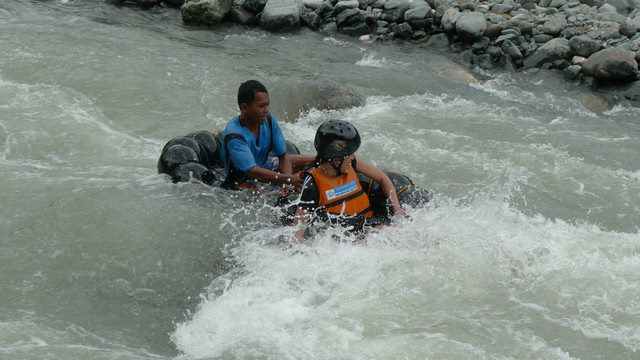 DO NOT PANIC – I almost panicked when the tube flipped and i fell after passing through that giant wave LOL. The waves were a bit liberated and the I already fell when the guide was giving me a warning that we're about to pass by a very tricky way. Too late, Manong. The tube and I flipped already. I almost panicked when I couldn't feel the ground and we almost hit a big rock. My legs! =)) What I did is I released my hold on the left rubber grip so that the guide can help me out and get my lazy body back on the tube. I ended up laughing and he replied by saying I may look thin, but I am heavy (in Ilocano). Let's go, Manong. Let's go with the flow! Habulin natin sila!!!
OPEN UP YOUR EYES – The waves are really big (i mentioned that a lot of times, didn't I?) so I have this tendency to close my eyes while going through the waves and whip the excess water from my face. Please do not close your eyes all throughout. You will miss the lovely scenery and it is nice to see the visuals while you're trying to pass through some obstacles in life, right? Don't play blind, open up your eyes and see like me. Open up your plans and then you're free. Look into my heart and you'll find love, love, love, love, LOOOOOVVVVEEEE! 😛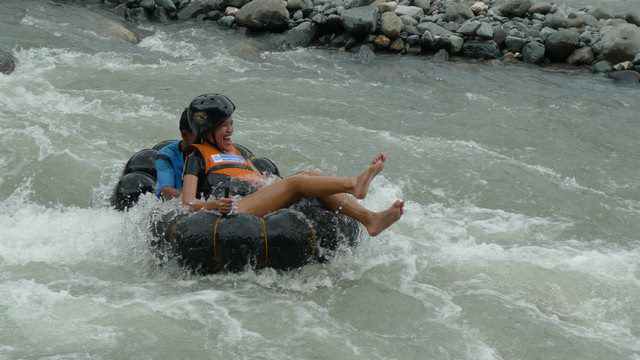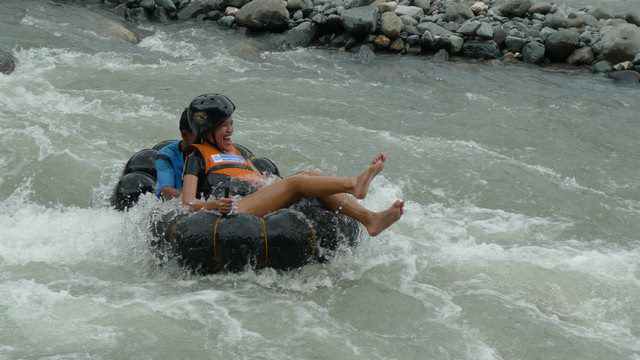 HOLD ON TIGHT – Like what i mentioned earlier, there are some parts of the river wherein there are big rocks that can block some waves thus the big splash! Just hold on tight and enjoy the ride! You have to be conscious though if you're about to hit the rock or what.
TRUST AND RESPECT YOUR GUIDE – While I am seated in a Senyorita manner, my safety is my guide's priority. I guess it also helped that we talked and I didn't blame him when I flipped. He kept on saying sorry, but i insisted that it is not his fault. He or even I cannot do anything about the strong current. It's not our fault. Nature is the one in-charge with this thing. I will not do a Christopher Lao here. We weren't informed eh! Dapat iniinform! =)) Just like in real-life, we must not blame others too much with our failures and all. Trust one another and show some respect too.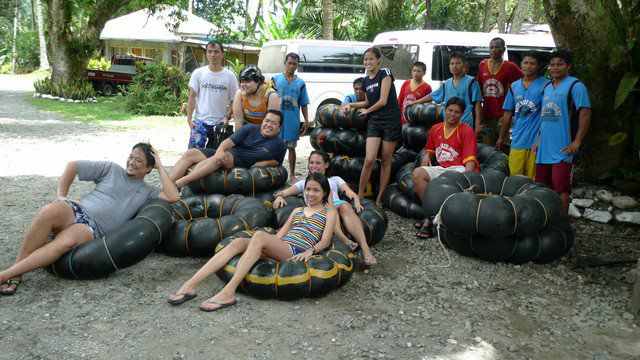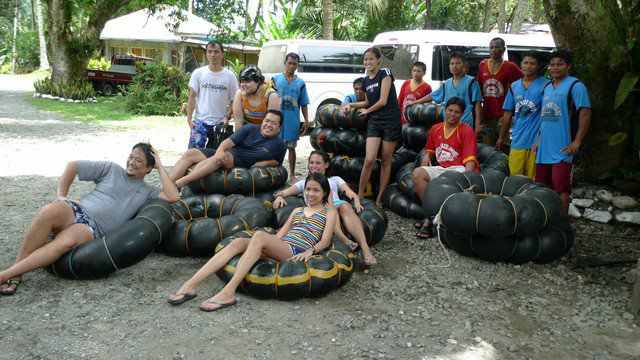 HAVE FUN – The White Water Tubing ride will last for less than an hour only, but you will get to see the lovely scenery and you'll feel proud once you surpass that rocky challenge. I ended up getting a small wound at my feet after, but that's just it. I guess every wound heals. Â Life is to short to waste on fear and regrets. Have fun and enjoy!
So there you have it, ladies and gentlemen. I am happy that i surpassed this unlikely activity with delight. It is obvious that my companions enjoyed their first White Water Tubing experience too! Special thanks to our guides for assuring our safety. Agsubli ak nomaminsan!
——
White River Tubing @ Pangui River
New La Union, Maitum, Sarangani