Just like its neighboring towns, it is quite obvious that Koronadal City is also exerting extra effort to make its tourism industry boom. Just thus year, a world-class resort and waterpark was introduced to the public.
The Paraiso Verde Resort and Waterpark was only launched in July this year. I am glad that this new tourist attraction is part of the S3X Tour line-up this year. I've been reading some positive reviews from Facebook friends and travel blogs. Even if we were rushing for our trip back to Davao City, we decided to spend the sleepy Sunday afternoon in this new water haven. I need to dive into the pool in order for my senses to wake up hehe.
Woot! Paraiso Verde Resort and Waterpark did not disappoint! Days prior to our visit, Ate Ria told me that the owners of this water-themed park took time and effort to visit other destinations not only in the Philippines, but around Asia. This is the fruit of their labor and the once imagined business venture is now a reality!
The gang didn't waste any time. We all changed our clothes to swimming attires and went straight to waterlandia!
The ADVENTURA RIVER RAPIDS is a milder version of water tubing. When we arrived and saw this pool from afar, i can't help but reminisce the movie 'Honey, I Shrunk the Kids' especially upon seeing some individuals on top of the neon-colored giant salbabidas roving around. If I were a giant, i might think this is my favorite morning cereal meal hehe just kidding =P
Our next stop is the FREESTYLE POOL, where competing swimmers will surely stay. I admit that I can't really swim. I joined Drew, Mark and Tiara and watch them do the laps. Is it too late for me to take up swimming lessons? My dad's technique didn't work for me when I was still a little kid. Blame him, blame him!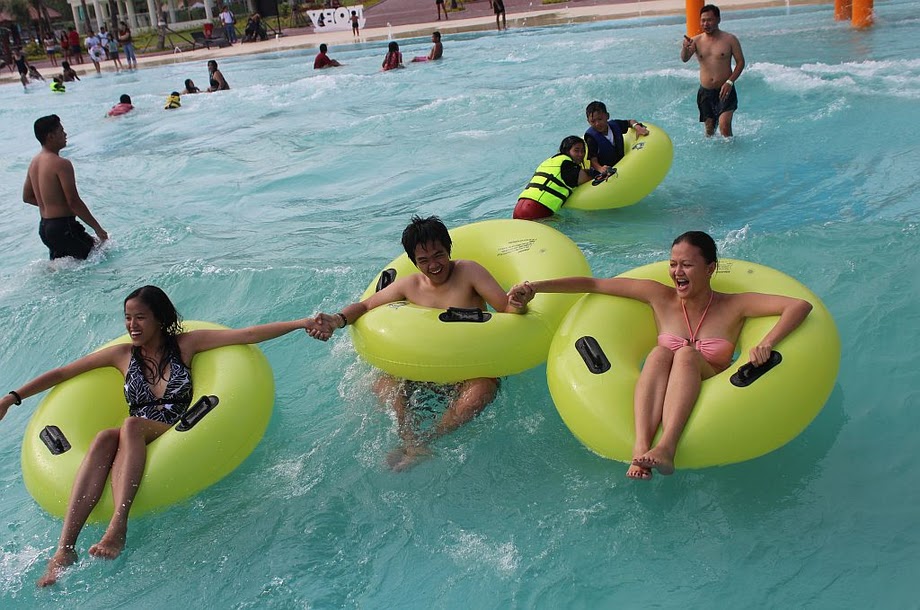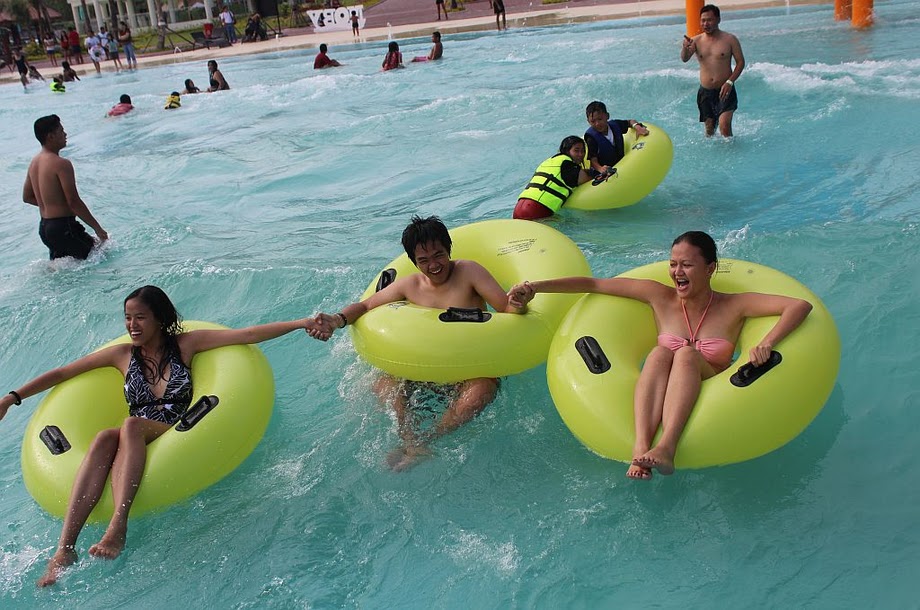 Then here goes everybody's favorite… the MOBY WAVE POOL! Kuya Avel described it as 'the big pool with giant waves'. All we had to do was wait for the alarm. When we heard this for the first time, almost everyone went there and started to shout like little kids again! I had a problem doing the 'tubing' position while the waves were on. I almost backed out, but i'm already in the area anyway. Might as well carry my lazy ass and enjoy the waves! Just go with the flow!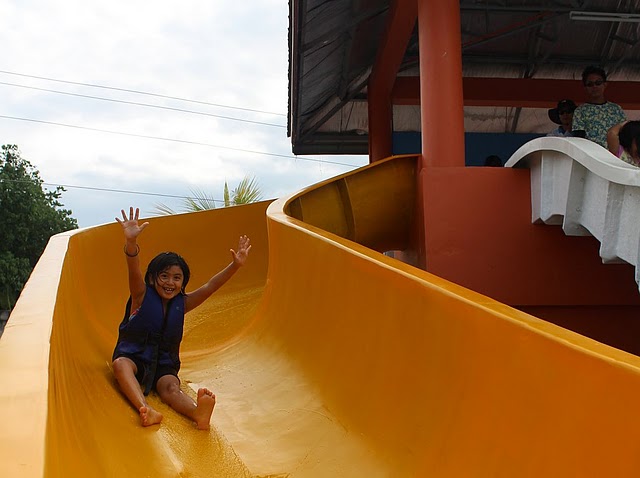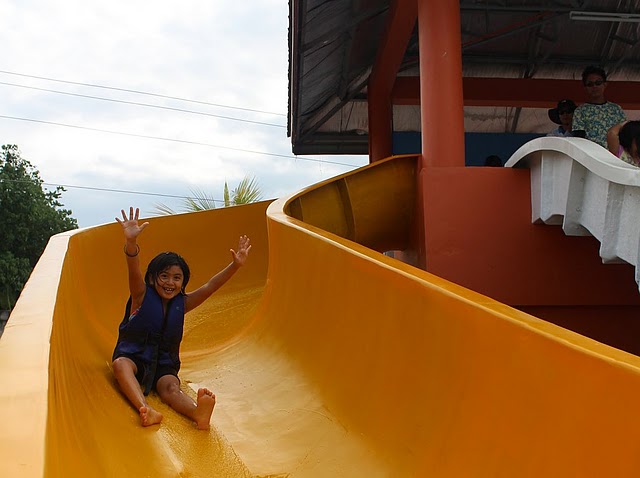 For the real kids, they will surely love the WIGGLES KIDDIE POOL. It could have been my favorite place if only I am allowed to play there. Why not measure age through a person's heart? LOL.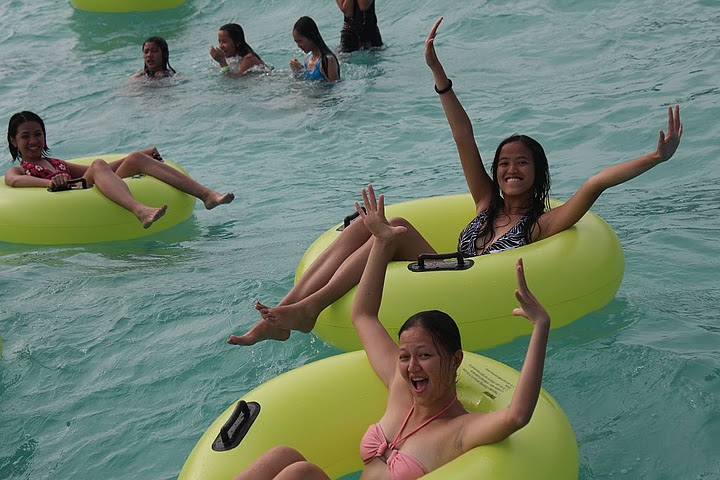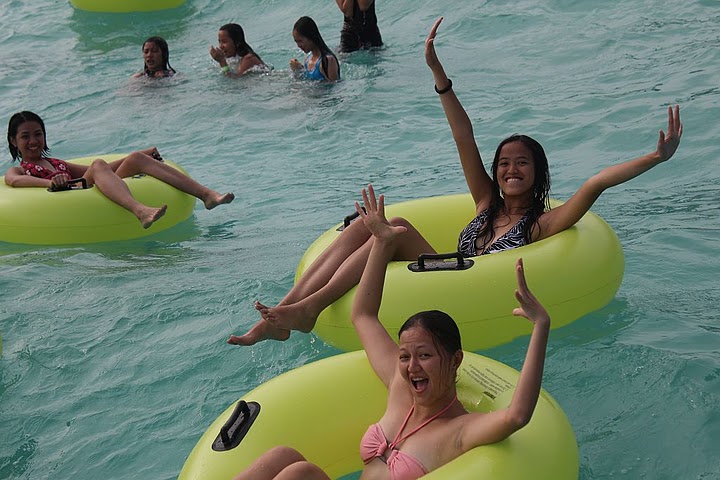 Waterparks truly reminds one of its childhood. I remember how our relatives would bring us to waterparks from time to time when I was a kid. It's nice to be a kid again – no hesitations, just having fun. Woooohoooooo!
We stayed there for more than two hours and the management prepared an early dinner treat for us. Unfortunately, some of us needed to rush for the long road trip back to Davao City.
Photo Credit: Heckynomic.com
—————————
Paraiso Verde Resort and Water Park, Koronadal City
For inquiries, visit the Faceboo pagek:Â Paraiso Verde Resort & Water Park
Do you love hanging out in resorts and waterparks? Any memorable story to share? Hit the comments section below! 😀