Good Morning, Coron! Ada and I woke up with a big smile. As first-timers in the place, we were looking forward to the Island Hopping activity Dive Link Coron Adventure Island Resort prepared for us. But before that, we need to check our emails and eat breakfast!
While preparing for our Island Hopping activity, I saw one of Ada's glasses that she bought from Divisoria. We then decided to use the glasses in most of our photos for the tour. Island Hopping in Coron Betty La Fea style 😛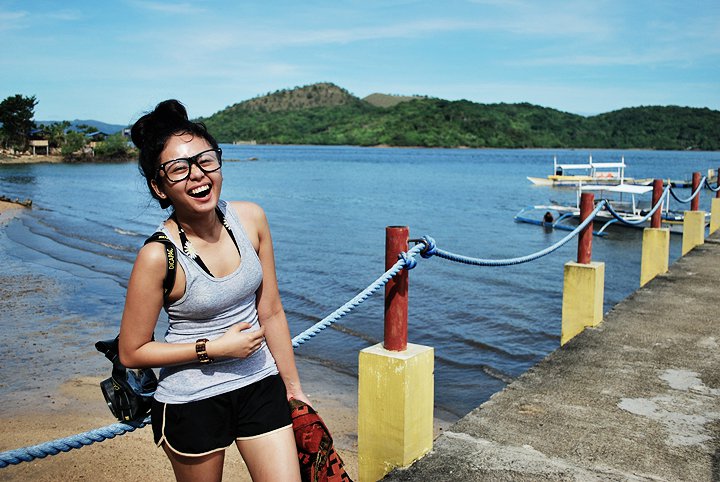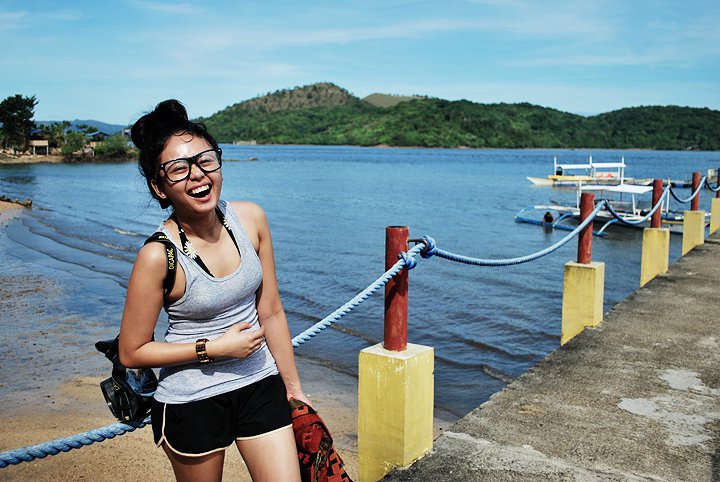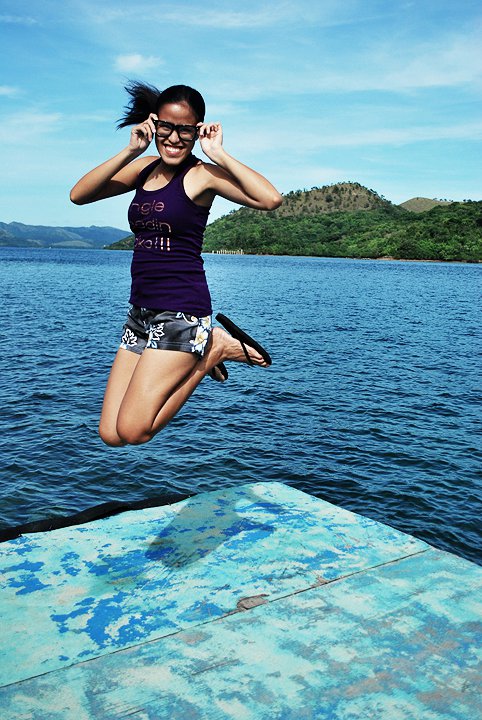 Our first stop is the famous Siete Pecados Marine Park. I remember reading the legend about the seven sisters that was cursed and eventually became the Siete Pecados. The eldest tried to escape, that's why she was separated from her siblings. I didn't know that the place is actually known for its enchanting underwater beauty. We saw a variety of corals and fishes!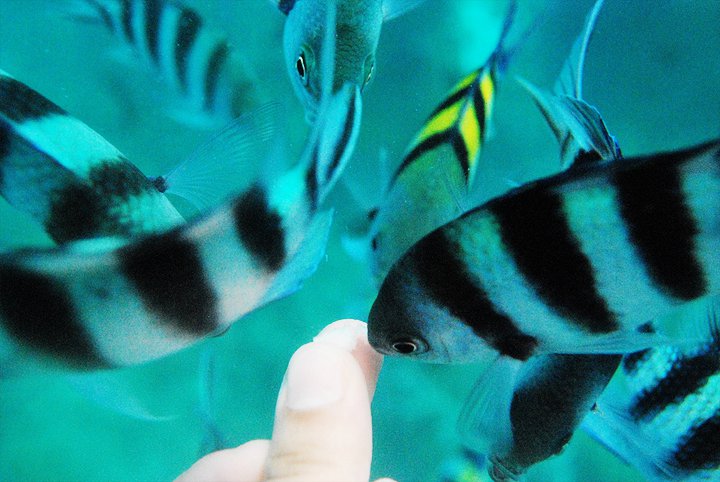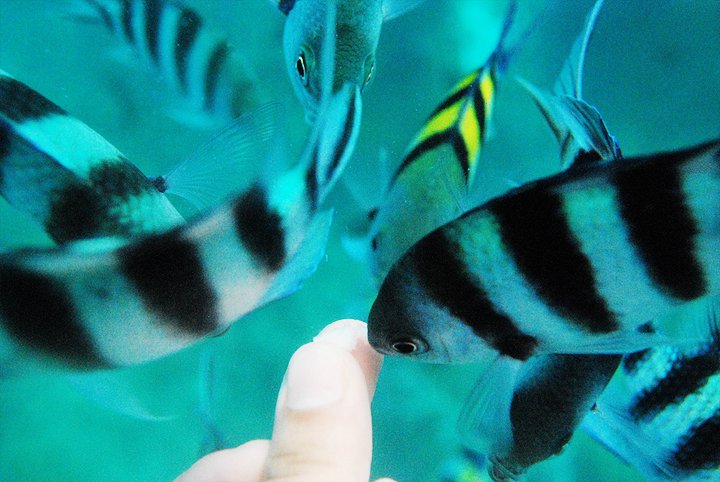 We stayed there for 30 minutes. Although i am not a good swimmer, i managed to snorkel and explore.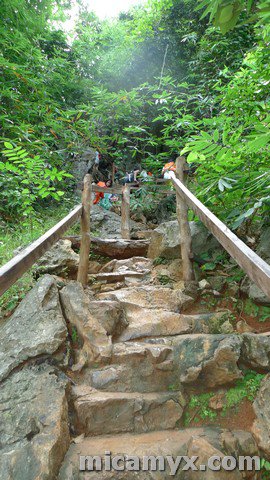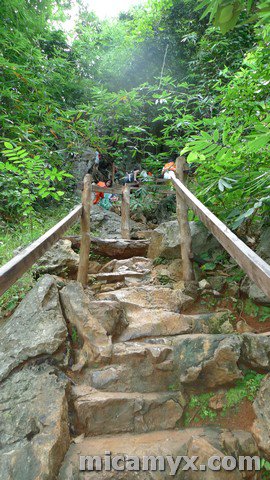 The next destination is the Kayangan Lake. Our boatman instructed us to be careful because we need to exert more effort by trekking on the way to the lake. We saw a number of tourists who managed to go up and down the slippery way.
Just like what the Filipino saying goes, 'Kapag may tiyaga, may nilaga'. In our case, 'Kapag may tiyaga, may bonggang view!' wehehe 😛
Here are some of the pictures I took. Let the photos do the talking this time 😀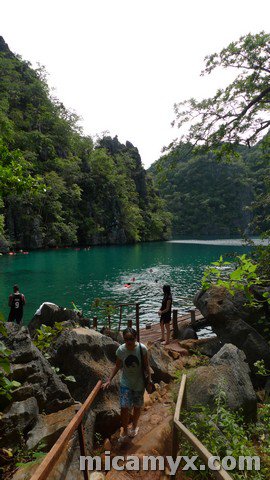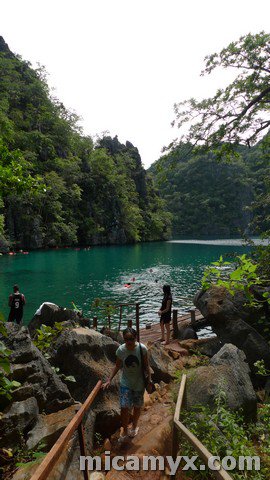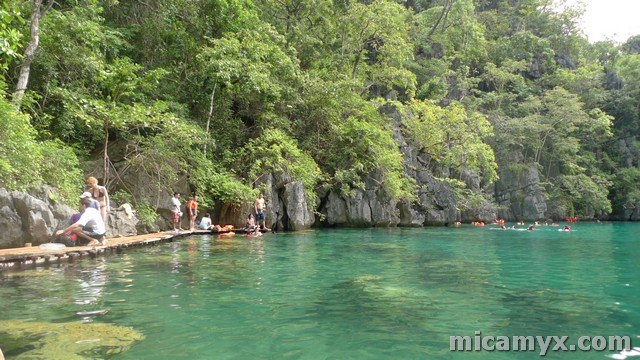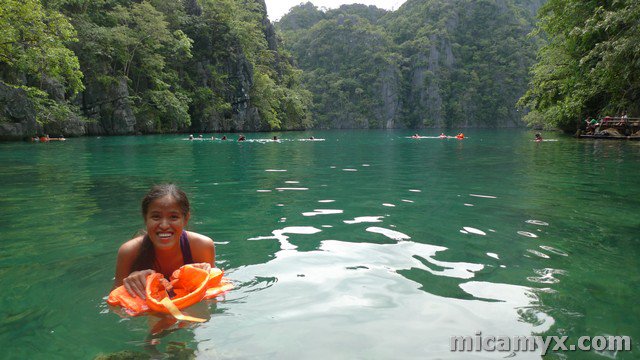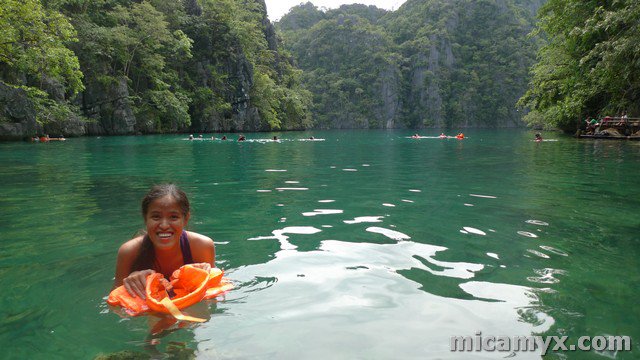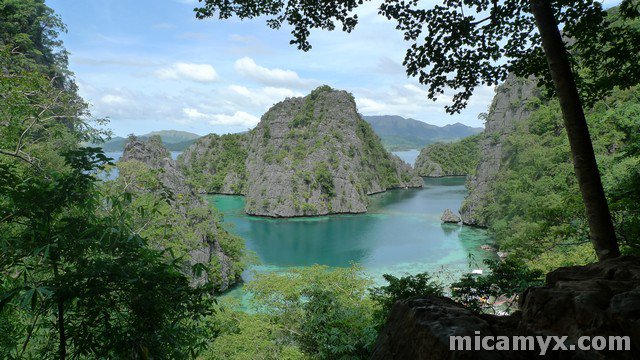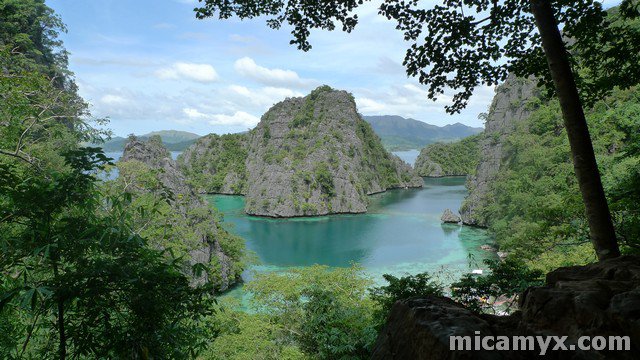 We had a healthy lunch in the boat. We were able to eat everything. I'm glad my tummy didn't feel weird after (you know what i mean )
While eating, we saw another group of tourist playing some OPM novelty songs. Boat party in Coron ftw!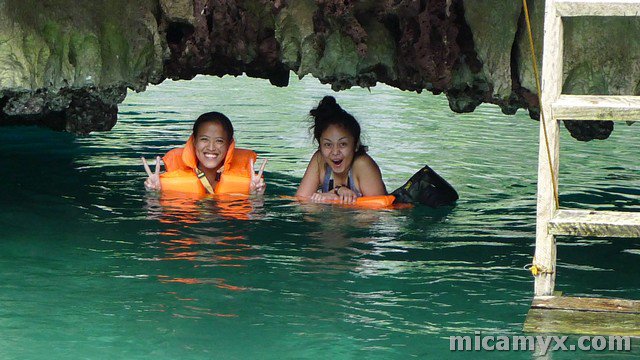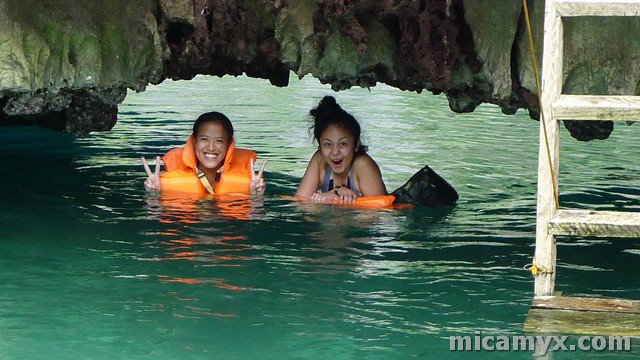 Our next stop is the Twin Lagoon. You can only go inside if you pass through the small cave. I couldn't swim so i opted to wear the life vest. I'm glad Ada's with me. The view inside is so enchanting! (Enchanting Coron, indeed!). It's like we are living in a painting. Totoo ba 'tong bonggang laking rock formations na ito? We kept on shouting and we are fascinated whenever we hear echoes of our voices. Parang timang lang
We stayed there for 30 minutes and i easily got tired. I think i have a serious heart or lung problem No regrets though because it's like we pass through a secret passage to a hidden paradise weeee. Wait for Ada's set on her blog for the complete pictures! 😀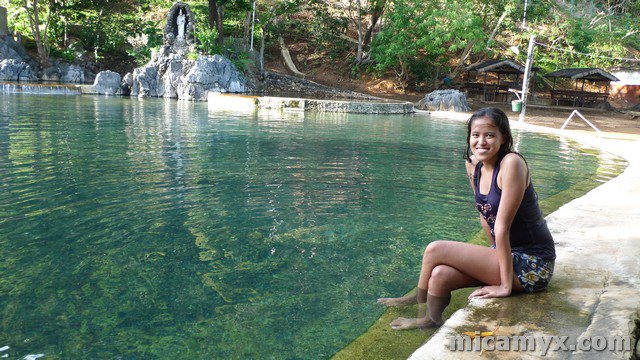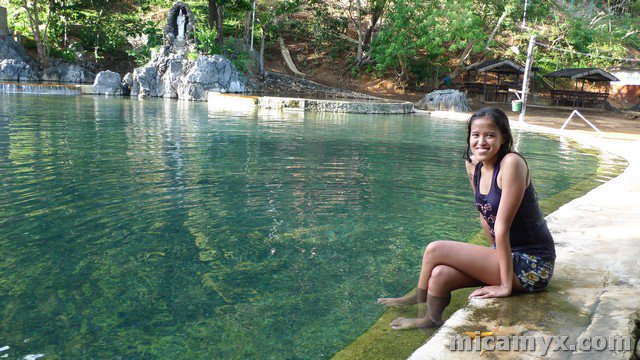 The next destination is the Maquinit Hot Spring. I liked the one in Camiguin and that's why I insisted that we pass here even if we need to pay Php100 for the entrance. We stayed there a bit and all of a sudden, we felt so tired.
We decided to go to town after staying for 45 minutes in the Maniquit Hot Spring. That was a relaxing treat! I ended up dancing and doing wacky poses when we were on the boat. You can watch our Island Hopping experience in the embedded video below:
Compared to the other Coron Island Hopping itineraries, i think we missed a lot of places, but it's ok. The plan to go to Culion didn't push through due to budget constraints hehe. Don't worry, i'll go there soon. I simply have to and i'll blog about the reason soon at my blog 🙂
Ada and I were craving for some food and drinks that's why we asked Kuya Eugene to bring us to the town proper. We ended up eating a lot of isaw, betamax and adidas. When was the last time I ate those? I can't even remember! 😛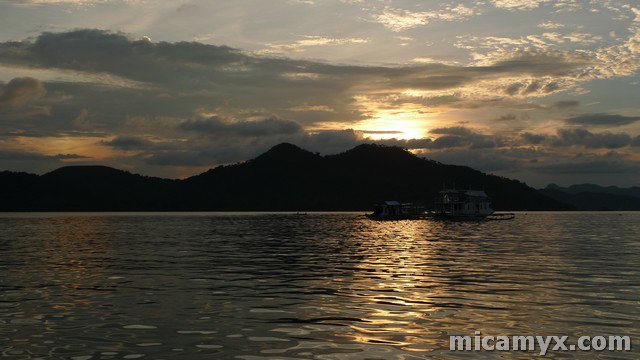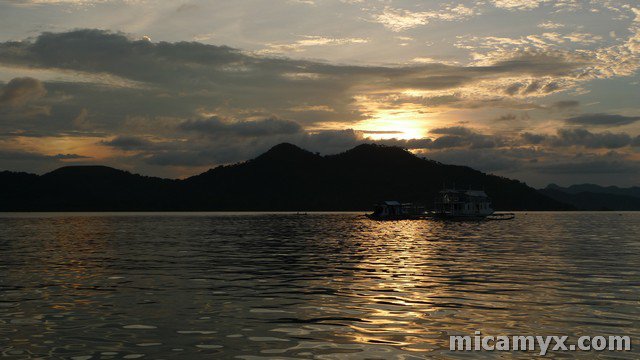 We went back to Dive Link Coron Adventure Island Resort before sunset. What a nice day indeed.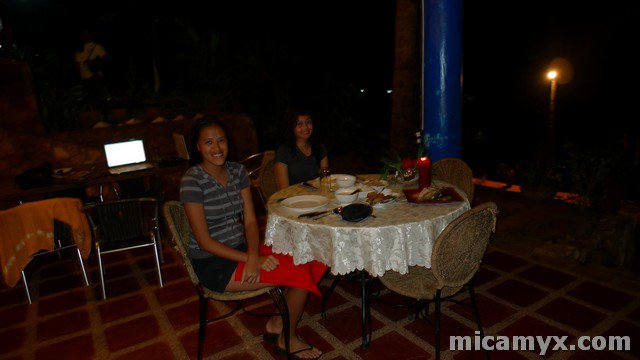 We changed our clothes and went straight to the resort's lobby for easy wifi access and yes, for our dinner LOL. Ms. Fernandez asked us and some of the visitors if we'd like to watch a Bikini Open competition in one of the popular bars within the town proper. Since we had nothing planned for that night, we said yes.
…. And what a funny night it was! Why funny? Let's just say that because of this Bikini Open competition, i now admire how the candidates face the crowd with their bikinis and trunks on. Strutting your body infront of a huge crowd is not really easy especially in competitions like this one. The shoutouts 'Kita bilbil mo! Ipa-lipo mo na 'yan!', 'Ay, bakat na bakat!' 'Ay, palong-palo!' 'Anlande mo teh!' were some of the cheers of destruction that we heard LOL. (I will write a separate entry about this soon).
We went back to the island by 12 midnight and it was my first time to ride in a boat at night. Impressive Coron! I am planning to go back soon and explore the place further. Culion, you are my #1 target 😛
Special thanks to Haagen Dazs Philippines and Nuffnang PH for this treat! 😀