There is a saying that 'No man is an island', but this sole White Island found in Camiguin stands out despite the fact that it is… errr… alone 😛
The White Island found in Camiguin doesn't have any trees on it nor does someone lives permanently there. In fact, the beautiful island disappears on high tide. It somewhat reminded me of Puerto Princesa's LULI (Lulubog Lilitaw) Island.
Although we were all stressed from our long trip, the group decided to go to the White Island after our lunch at Paras Beach Resort. We rented a boat from Paquia's Cottages for Php 400. We stayed there for 1 1/2 hrs although it's really up to us if we went to stay longer.
The waves were a bit aggressive on our way there. Two boatmen accompanied us and we were really amused with what we saw upon reaching the White Island – It's really white LOL 😛 It's the first time Ruby saw one and she's so happy.
There's another group at the other side of the island when we went there. We have this feeling that we own the island LOL (Reminds me of Sandwich's Sunburn song LOL). We decided to rent some snorkeling stuff so we can check the corals and fishes that lived at the corners of the virgin island.
Our stay in White Island is short but memorable. It's nice to catch up with high school bestfriends in a paradise-like island. We managed to take shots and yes, we have a video! I'll upload it soon at Project52Weeks.com. The trip actually reminded me much of our Bolinao Educational Trip for Environmental Science way back in High School. It was a pretty controversial trip within the teachers and students in our school. I still don't get it why they make a big fuzz about it. It was only in that trip that I realized that Pangasinan is also gifted with natural wonders that's why i'm going back there soon 😛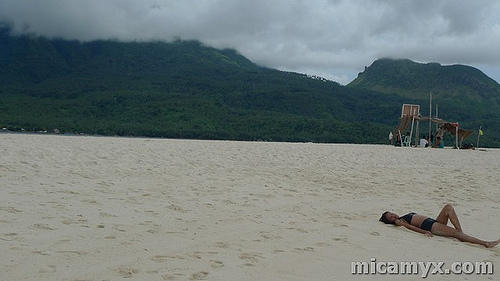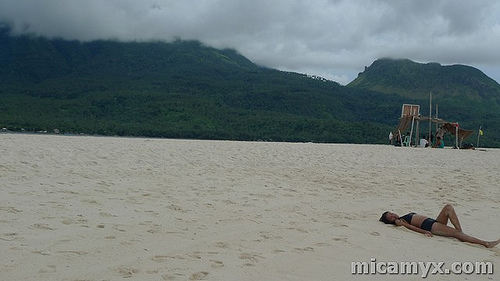 Admittedly, I was already writing a script in my mind with the White Island as a setting. The panoramic view of the Camiguin Island while you're lying down at the sands of the white island is just stunning. It's like looking at a very pretty woman with a gorgeous dress in a ball or something 😛
Meanwhile, here are some of our kulit shots (now you know our common denominator LOL). It feels great to bond with these girls and talk about Life, Love and Travel while we're in a deserted area LOL :
I don't really know how i'll end this post… so i'll it it here LOL 😛
PS: I apologize if the pictures are a bit dark. Umaambon eh 😛