Today is All Souls Day. It is the time of the year wherein we give extra time to the departed ones by visiting the cemetery to offer candles, flowers and prayers. It is also a perfect opportunity for us to reflect and recall the wonderful moments we spent together with our beloved ones who passed away.
The main destination that I wanted to visit when we went to Camiguin last October is the Sunken Cemetery. I've heard about it from friends who already went there. I wanted to see it by myself and figure out if their testimonials were real.
When we arrived to the Sunken Cemetery, you can already see the giant cross standing in the sea. It's just a replica of the original, but you can still see the 'sunken cross' at the back part.
The boatmen who were there asked us if we want to go to the cross and have our photos taken there for Php 20. The four of us agreed and while we're on our way there, the boatmen were narrating some stories about the place. He even pointed one tomb, which is believed to be owned by a Spaniard individual in the 1600's. It is now infested by corals.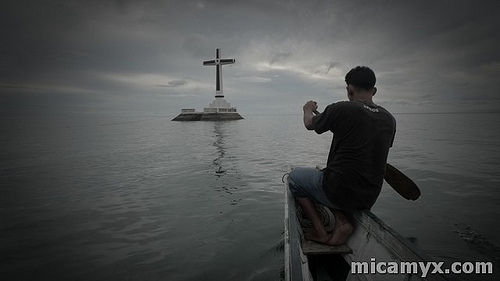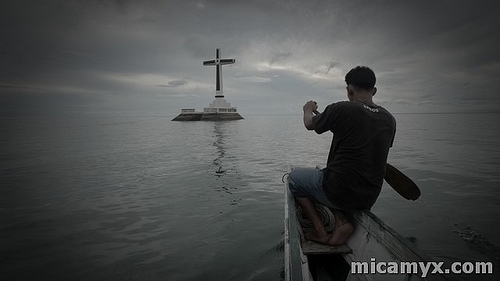 You can see in full view the Mount Vulcan, or known to the locals as the 'Old Volcano'. It erupted sometime in 1871. It actually had four eruptions which caused the whole city of Camiguin sunk. The cemetery is no exemption with this. If i'm not mistaken, there were two newer eruptions that happened in the early 90's which really led to naming the place the Sunken Cemetery. The sand in the said area is comprised of lavas (I call it the Black beach since there's a White Beach in Camiguin LOL).
We stayed for a few minutes to have our pictures taken. The bankeros kept on suggesting some poses and the four of us liked the outcome. Here are some of the shots 😛
In reality, people are scared of taking pictures in a cemetery. I think this is the first time I really had fun taking photos at a cemetery. Before we left, I closed my eyes and left a simple prayer. I am just amazed on how a place dedicated to death can be this beautiful. Words can't really describe the feeling when you're standing there facing the two volcanoes and the island of Camiguin. Better add Camiguin in your list of destinations for 2011 😛
Special thanks to the bankeros who conviced us to go nearer. In fact, they also have snorkeling materials that you can rent just in case you want to go deeper and explore the sea. The corals naturally placed at the tombs actually looked good and not so creepy. If only I can swim! If you're in the mood to explore and you're not scared of the possibility of seeing a swimming spirit or skeleton remains, i advise you to dive and explore the underneath beauty of the Sunken Garden. I'm not scaring you, huh? 😀