I first heard of the name Louis Claparols in one of the infomercials of ABS-CBN's Magkaribal. I have to be honest that I am not really updated when it comes to the fashion trends in the Philippines, although I am quite familiar with the clothing line ENSEMBLES (Thank you, Carmina Villaroel for being an effective product endorser!). It is a line specially for women who are in the corporate world. Their designs are simple yet sophisticated and ready to wear.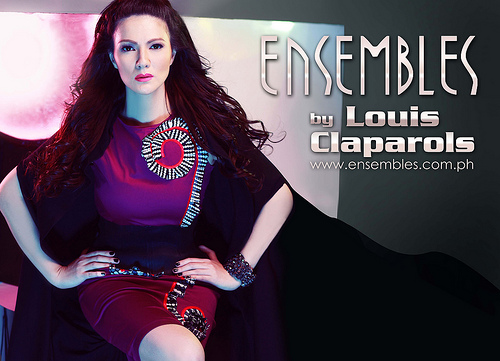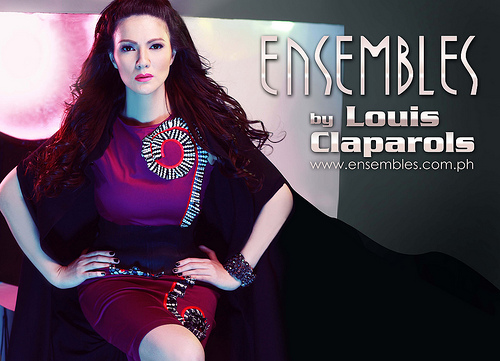 This month, Ensembles welcomes Louis Claparols, who is the current  president of the Young Designers Guild (YDG). He collaborated with Ensembles for the Louis Claparols Holiday Collection. Read the interesting interview below:
Q&A with Louis Claparols
What is your inspiration for your Ensembles' Collection designs?
It was inspired by a lot of things from architecture to graphic art to my favorite movies. I played with a lot of lines and shapes & cutout prints to make it really graphic & playful.
What is your favorite piece from the entire collection?
I love the diamond collection, I love how beautifully graphic it is.
How do you feel about this collaboration for a capsule collection with Ensembles?
Well I always wanted to collaborate with a local women's label and I'm just so flattered that I was invited to do a capsule collection.
Carmina Villaroel is the official celebrity endorser of Ensembles for many years now. Here's what she has to say about the Louis Claparols' Holiday Collection:
Q&A with Carmina Villarroel

• What is your favorite piece from the entire collection?
I like the geometric patch pieces. I find strong yet feminine.
• How would you describe your personal style?
Classic. But sometimes I can be experimental too! I can be trendy and stylish. But what's most important to me is I am comfortable in what I'm wearing.
• What do you do during rainy days? How do you spend time with the kids?
Either we stay at home… and play! PS3, board games, watch DVDs and sometimes we go to the mall and eat out.
• How will your spend your Holidays?
We don't know yet but definitely we will spend Christmas and New Year here in Manila. We can't leave because Zoren and I have a daily show. We also make it a point to spend holidays here with our families and friends.
Here's a sneak peak on the Louis Claparols' Holiday Collection as worn by Carmina Villaroel:
For more designs, just check my Flickr album here.
Be Updated with Ensembles' new designs and promos!
Visit their website at http://www.ensembles.ph
Follow their Twitter account at http://www.twitter.com/ensemblesonline
Look for them at Facebook. Just look for 'Ensembles'.
What about you? What can you say about this new collection?