I've been a fan of Bluewater Day Spa since it started. If i'm not mistaken, the Annapolis branch is their first venture. The fact that they moved to a bigger branch somewhat made me sad two months ago, but oh well, the Ortigas branch is just five minutes away from home!
Last week, I was invited at the grand launch of BlueWater Day Spa's Tomas Morato branch, which initially started as a spa room for rent by Salon Lofts. I arrived late but I was able to catch the proper press conference. Some of the celebrities spotted include Maxene Magalona, Kiko Rustia, Boom Labrusca, Akihiro Sato and of course, Karylle. Four years ago, my mom and I spotted Karylle at the Annapolis branch and she is not the main endorser that time. I'm happy to know that finally, she is representing the company.
Karylle rendered a special song number much to the delight of the attendees. A short AVP about BWDS's services was shown. The new franchisees were also introduced and they even gave out cash prizes and GC's. I even won a gift certificate and a hug from Akihiro Sato LOL.
The endorsers did their job by stating the different products and services offered by BlueWater Day Spa. One of the advantage of having Tomas Morato as the location is that there is a big possibility that the celebrities will go to your place and have a relaxed time.
As a bonus, Born To Be Wild's Kiko Rustia tried the Tibetan Meridian Fire Therapy. To give you an idea, better check the following pictures:
While Kiko is having his relaxing therapy, one of the staff showed the different rooms of the BlueWater Day Spa Tomas Morato branch. Here are some of my shots: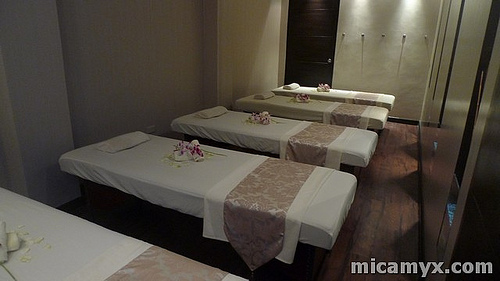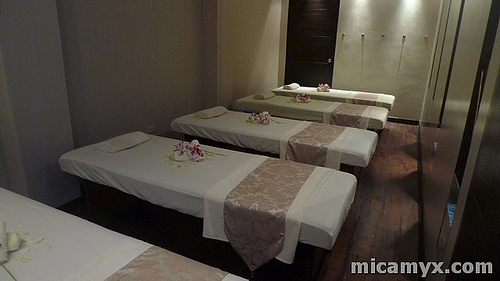 It's nice to see BlueWater Day Spa grow and expand. I heard that they'll be having a branch somewhere in the South soon! I hope it pushes through 😀
——
Visit Blue Water Day Spa's newest location at 238 Sct. Bayoran, Tomas Morato, Quezon City. They are open Mon-Sun from 1pm-12mn. Tel 486-5584 or mobile 0923-718-7101.