One of the resorts that I've been dying to see in the country is the famous Plantation Bay Resort and Spa. It is located at Mactan, Cebu. I used to read a lot of write-ups about the five-star resort in magazines and broadsheets. There were rumors too that even international celebrities do stay in the resort for a well-deserved relaxation break.
It was only last Christmas when I learned that a relative of mine works in Plantation Bay. He is Gerry Rodriguez, the Executive Housekeeper of Plantation Bay Resort and Spa. I mentioned to him last Christmas break that I'll be going to Cebu with my blogger friends and just last January, I finally saw the very famous resort.
Even if I was a bit sick that afternoon, Bryan Karl and I took a cab to Mactan, Cebu to visit Plantation Bay. Honestly, what I saw at the entrance is very far from what I've expected. I was expecting to see a very glamorous lobby, but what we saw is something similar to a native design. Oh yeah, we're in Plantation Bay. The name simply points out to nature, not on the bongga stuff 😛
We were asked to take a minute break at the lobby before Tito Gerry gave us some pointers and our very own map. We were really amazed upon entering Plantation Bay. 'Eto pala 'yung nakikita namin sa picture!' I said like a little kid. Tito Gerry mentioned the different types of Villas and the other facilities of the resort. We listened to him while taking some pictures too 🙂
We were able to eat in Kilimanjaro Kafe for our merienda. Plantation Bay houses three other food establishments: Fiji (Seafood, Japanese, Korean and other Asian cuisine), Palermo (Italian cuisine for lovers – dinner only) and Savannah Grill (Burgers, hotdogs, steaks and salads).
Here are some shots from Kilimanjaro Kafe:
Plantation Bay offers different types of rooms. We were able to check one of the rooms. Unfortunately, I wasn't able to upload some of the pictures. The external HD where I placed my pictures got broken T_T Here's one though: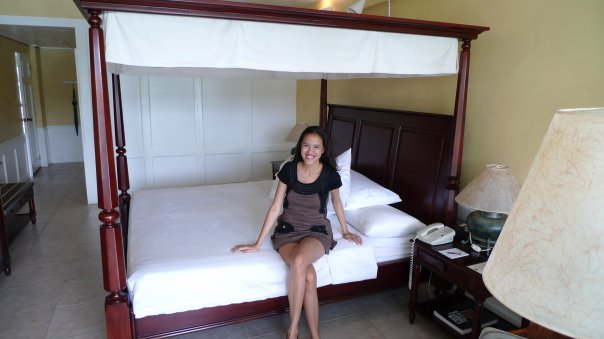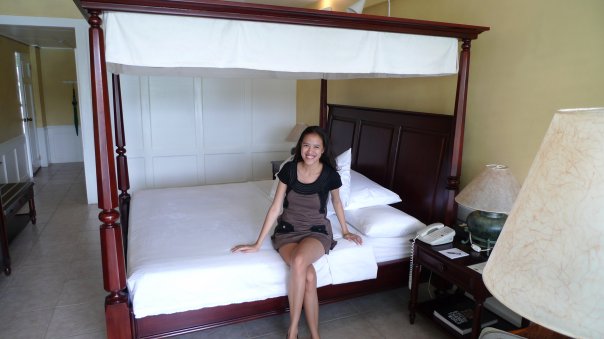 We were able to check the Knoxville Medical Spa. There's the Mogambo Springs (for massages, vichy showers, hot pool, thalassic pool, canyon waterfalls, man-made mist, steam room and dry-heat sauna). The staff were very accommodating and when we went there, we saw a number of foreign tourists relaxing in this area. They also have a Beauty Salon for Hair Care and Nail Care.
The Sports and Recreation corner of Plantation Bay includes the Galapagos (island adventure tours, sunset cruise, banca ride, scuba diving, snorkeling, parasailing, jetskis, hobie cat, speedboat, kayaks and tow rides), Savannah Park (firing range, segway, tennis courts, wall climbing, pitch and putt, archery, karaoke, children's center, children's playground) and Gym & Gameroom (treadmill, weights, range of motion machine, inversion table, cross-trainer, stationary bicycle, multi-gym station, tabletop games, billiards, playtation 3, nintendo wii, darts, internet and bicycles.).
The quick tour lasted for more than two hours and to be honest, nabitin ako! I want to explore further and if time permits, i'd like to stay there overnight. I am curious on how Plantation Bay looks like at night. I heard that they offer cool events for their guests especially at night. Will I go back? The answer is a big YES! 😀
For interested parties, you can check the Plantation Bay website at http://www.plantationbay.com 🙂