The Wonders of India are remarkable examples of ancient architecture and Indian art. No doubt, India is rich in heritage, diverse cultures, royal history and also known for its beautiful places and among them, there are 7 wonders of India which you must visit at least once.
The charm of seven wonders of India attracts every tourist from all over the world to visit. Everyone knows about these wonders of India and dreams to visit in these luxurious and amazing places with high expectations.
The ancient architecture and historical monuments add beauty to the country India. Seven wonders of India reflect the rich history of the nation and you must visit these places at least once in your lifetime.
1. The Taj Mahal at Agra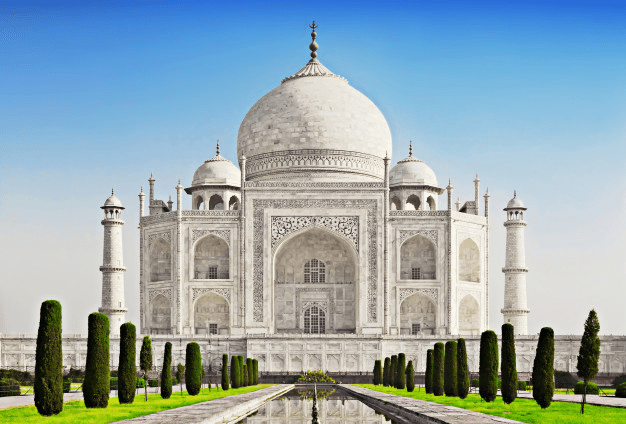 Taj Mahal is regarded as a symbol of the love of Emperor Shah Jahan who built the Taj Mahal for his beloved wife Mumtaz Mahal.
Everyone must be heard about this story Mumtaz and Shah Jahan. In the 6th century, this mahal is considered as the biggest monument mausoleum. It took more than twenty thousand artisans and over 2 decades to build this white ivory marble structure building.
The Taj Mahal at Agra is admired by millions of visitors to visit and enjoy its remarkable creations. You can visit the Taj Mahal between October to March as this time is considered as the best time to go.
2. Gomateshwara Statue In Karnataka
Gomateshwara Statue in Karnataka is regarded as the admirable figure of the Jain community and a giant statue of Bahubali.
This statue was built in the history of India to show honor to Bahubali. It is situated on the hilltop of Shravanabelagola which is of the 57-foot monolith in Karnataka. Once every twelve years, there is a Mahamastakabhishek festival which is held by the temple of this statue. This is one of the best seven wonders of India that you can visit with your family and friends.
3. Nalanda University of Bihar
The Nalanda University of Bihar is regarded as the renowned center of learning of the world in ancient India and a Buddhist monastery.
This university is considered as one of the most popular universities with amazing methods of Vedic learning. Scholars came from Tibet, Persia, Central Asia, China, and many other places to learn here. This site is considered as the UNESCO World Heritage Site. During the reign of Gupta Empires, this university was flourished.
4. Khajuraho Group of Monuments in Madhya Pradesh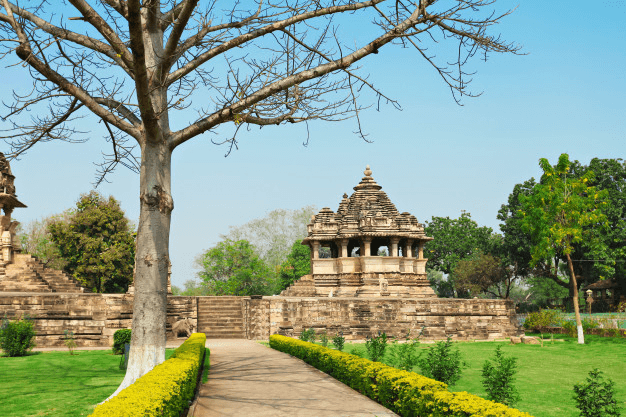 The Khajuraho Monument in Madhya Pradesh is regarded as the World Heritage Site of UNESCO which is a wide complex of Jains and Hindus Temples.
This monument is well-known for its graceful nagara-style and erotic sculptures as their architectural symbols. Khajuraho group of monuments was built between 950 to 1050 CE in the architectural style of Nagara. This monument is one of the famous monuments among all the other monuments and you must visit this place once in your lifetime.
5. Hampi Group of Monuments in Karnataka
The Hampi Temple Town in Karnataka was considered as one of the wealthiest cities in the world and is still a part of the ancient Indian kingdom.
This temple is regarded as the UNESCO World Heritage Site and is one of the most amazing seven wonders of India which you must visit in your vacations. Hampi is one of the best tourist destinations in South India. This temple is located around the river Tungabhadra and is the most popular historical places in India.
6. Golden Temple of Amritsar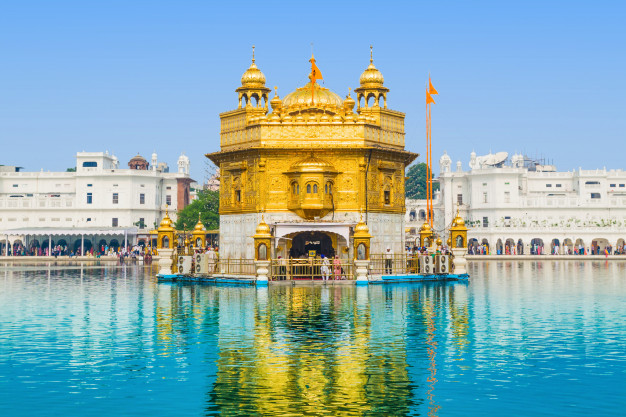 The Golden Temple in Amritsar is regarded as the holiest pilgrimage site of the Sikhs. This temple was designed by Guru Arjun and is situated in the Punjab city of Amritsar.
The people of all religions and castes are welcomed here. The upper floors of the Golden Temple have covered with golds and over 1 lakh people visit it daily. And the most amazing thing is that there is not a particular time that you can visit this place. You can visit this place throughout the year.
7. The Konark Sun Temple of Orissa
This temple is situated in Konark coastal region, Orissa and is regarded as one of the most amazing seven wonders of India. The Konark Sun Temple of Orissa was built by King Narasimhadeva I, who was the East Ganga Dynasty Ruler.
This temple is dedicated to the Sun God and is known as Sun Temple locally. You can visit this temple between November to February as this time is regarded as the best time to visit there.
The Final Thoughts:
Therefore, you have come across the most amazing 7 seven wonders of India. Many don't get chances to visit these places, but if you get a chance then you must visit these seven wonders of India at least once in your lifetime.
Author Bio: Evanka Smith is a freelance content writer and enthusiastic blogger. She is the co-founder of dreamandtravel. She contributes to many authority blogs such as Content Rally.