SUMMER IS ALMOST over in the Philippines, but that won't stop local and foreign travelers to explore the country! Every year, more on more hotels and resorts are being launched to cater to the demand especially in places that are often flocked by tourists or business travelers.
On our previous post, we collaborated with travel bloggers to identify which hotels/resorts are their favorites and why. It might have taken weeks, but here's the continuation!
And now, we present 15 more budget-luxury hotels and resorts!
16. AMORITA RESORT – BOHOL
Panglao, Bohol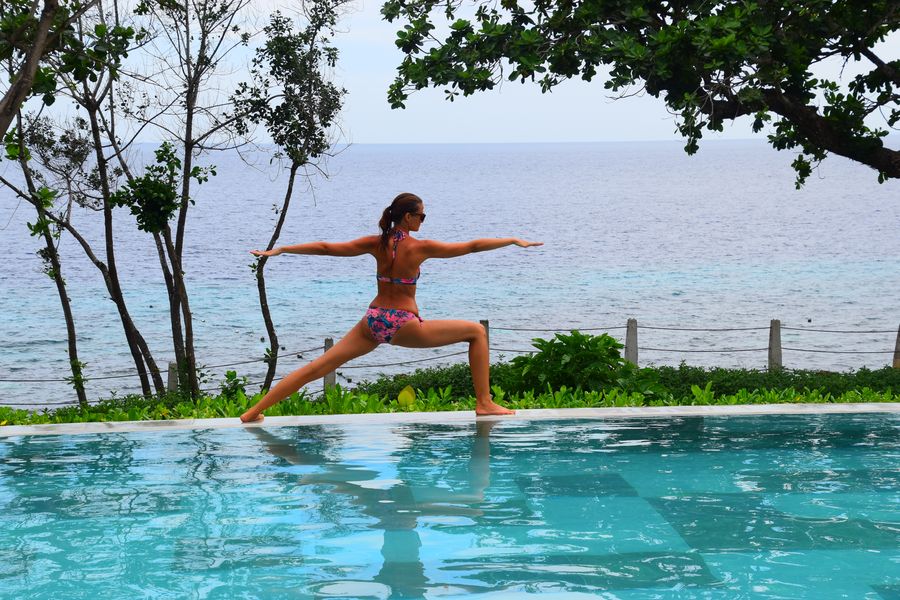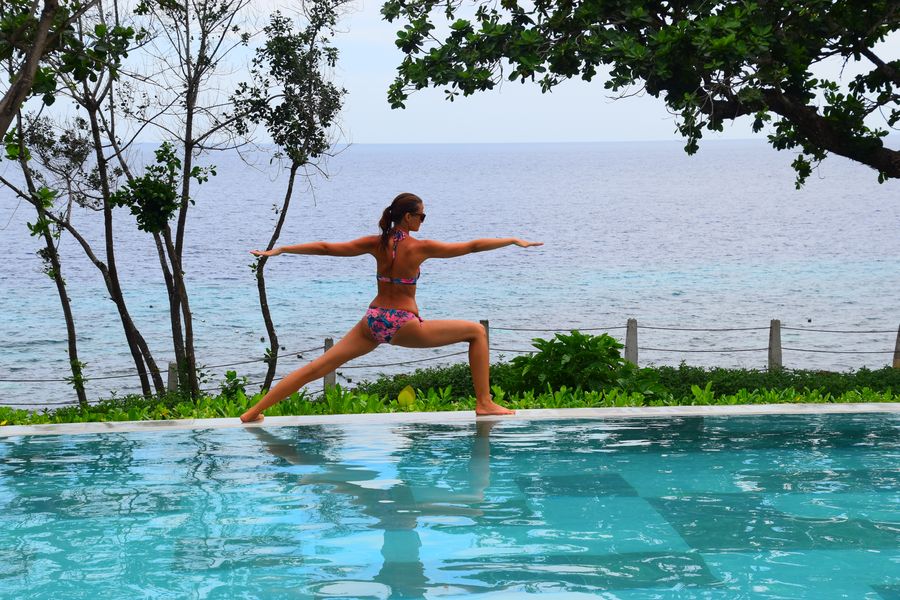 The responsibly crazy, sexy and fun Slovak blogger Alexandra Kovacova enjoyed her stay in Amorita Resort in Panglao, Bohol during her recent trip to the Philippines. Aside from the amenities, Alex also considers the food options of the establishments she visits since she is a strict vegan. Read on!
Amorita resort is a modern luxurious hotel on the Panglao Bohol situated on a cliff at the end of the famous Alona beach. Its secluded location makes it very special so you won't get bothered by the crowds on the beach if you don't feel like it.

The resort has a nice Sea Tree Spa offering a variety of spa treatments. I can definitely recommend you to try an hour relaxing traditional filipino massage. If you like buffet breakfasts with a view, you will love Amorita even more. They also offer many healthy meals, e.g. vegetarian and vegan, fresh fruit, salads, noodles, gluten-free options, home-made jams etc. You will not start your day hungry, no worries. And my favorite thing about Amorita? The infinity pool surrounded by tropical plants and trees! I could chill out there all day long sipping on a young coconut. The hotel offers its guests free snorkeling and kayaking tour which you should definitely try. You can see loads of various starfish just a few metres from the coastline. Unforgettable experience.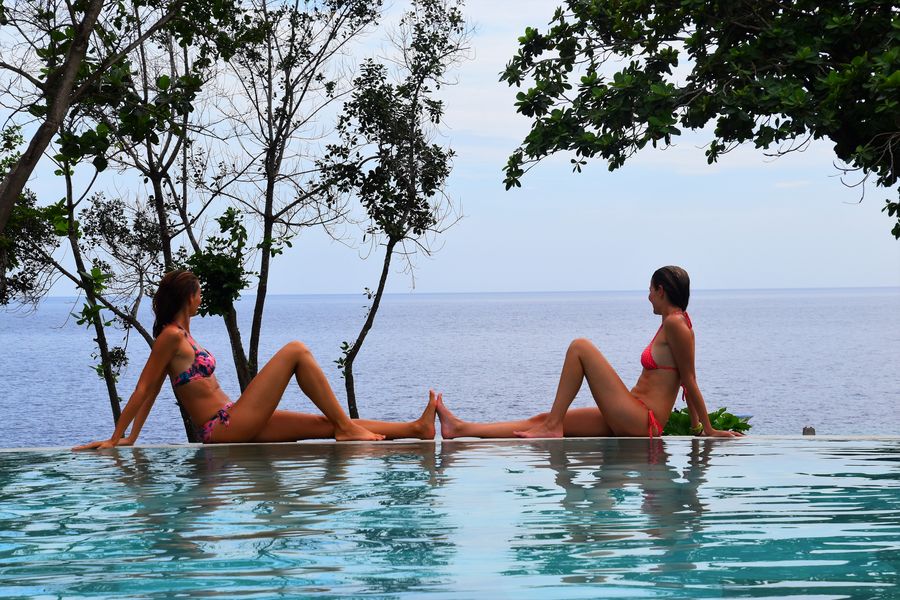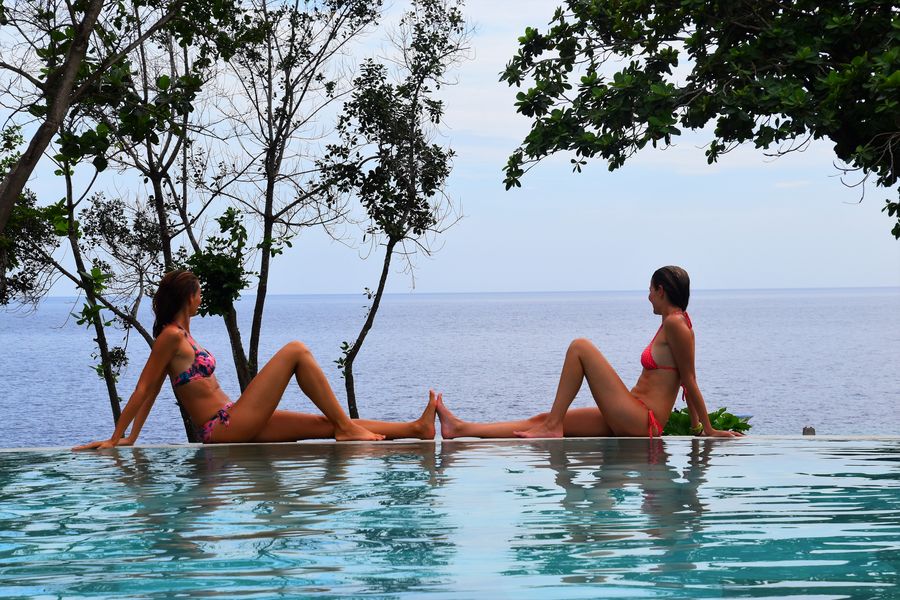 Want to experience something similar? Read Crazy Sexy Fun Traveler's review of Amorita Resort!
17. MISIBIS BAY
Cagraray Island, Bacacay, Albay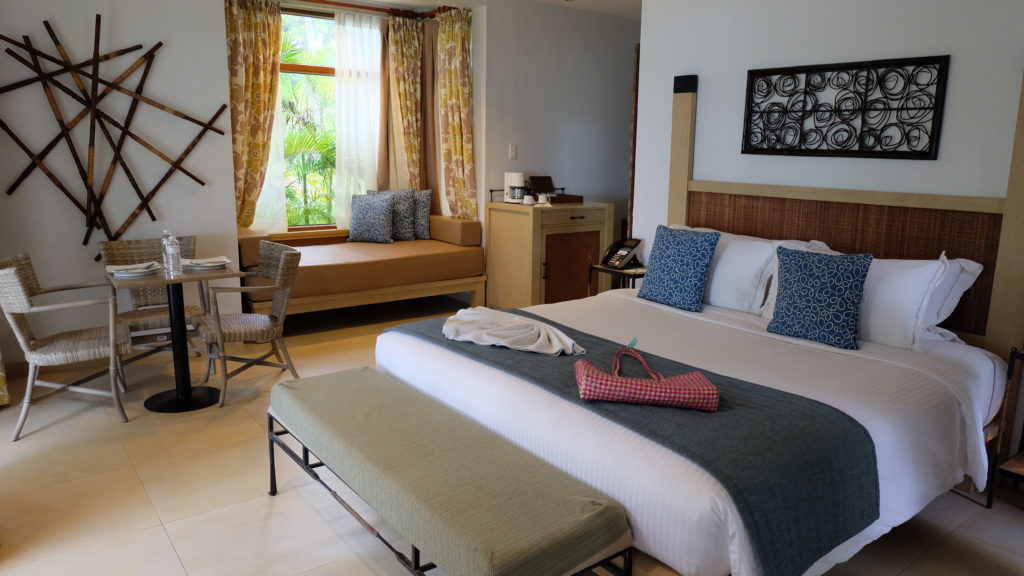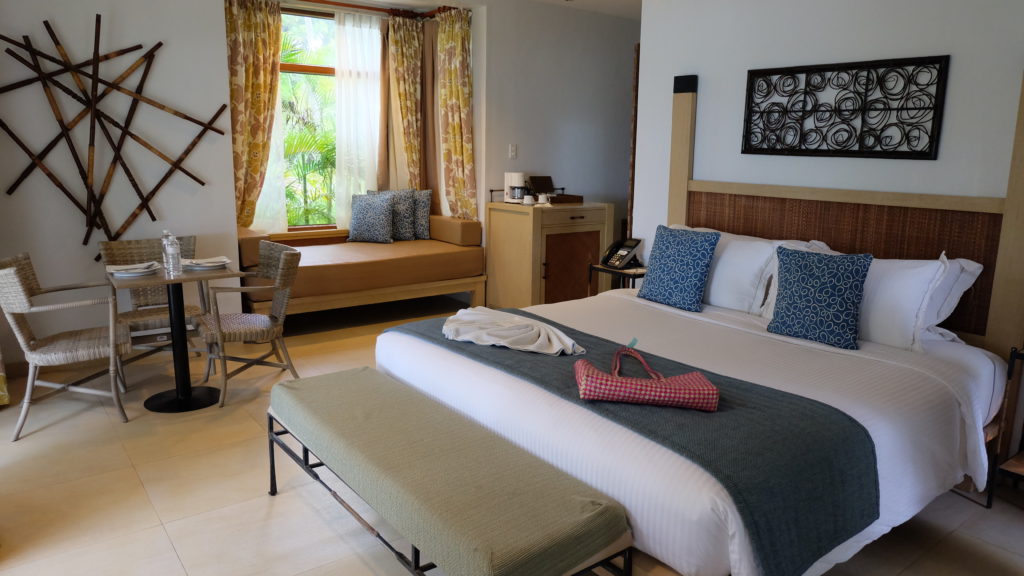 A lot of travelers say that a trip to Bicolandia is not complete without an overnight stay or even just a day trip to Misibis Bay! Food and Lifestyle blogger Me-An Clemente of Yogo and Cream has nothing but nice words to say about the region's most luxurious playground. Here's a testimonial:
Pegged as a tropical island getaway, Misibis Bay Resort truly lets one have both serenity and thrill. It's serene for me as it was peaceful all throughout my stay. There have several pools: a winding, irregularly shaped lagoon pool, a pool with jacuzzi that offers an amazing view, and even a separate pool for those staying in the standard garden view rooms. Not to mention there is a kilometer-long stretch of beach thereby offering people with various choices.

The premier villa/ garden villa which I stayed in is spacious, has blackout curtains to ensure total privacy, and has the modern comforts such a 32" LCD TV, Bluetooth speaker, and Wi-Fi inside the room. When I couldn't connect to the Wi-Fi, Misibis Bay Resort's staff was quick to provide me with a Wi-Fi router of my own so I could stay connected. Public areas of Misibis Bay Resort also have a Wi-Fi connection which is extremely convenient for those who love using the social media.

Plus, those who are fussy on bathrooms will love the premier villa/ garden villa's bathroom. It has two sinks and a separate bathtub, shower by Glass Shower Direct, and toilet. Everyone can do their own business. What I love the most is that the toiletries are of the L'Occitane brand.

On the other hand, Misibis Bay Resort is thrilling because they have non-motorized water sports activities like windsurfing, Hobie cat sailing, kayaking, and paddle boarding. They also have ATV rides for those who are not fond of the sea.

If you are having the ATV adventure at the Mayon lava trail in Legazpi, certainly go for the non-motorized water sports activities. Or you can join the activities they offer daily which are the woven hat making, sand castle making, and even star gazing. You never know as you may end up having new friends after.
Overall, I suggest you avail any of their packages so you'll have full board meals. Sometimes private setups are included in their packages. Therefore, one can either get to relax while sipping cocktails at Misibis Bay's amphitheater; or one can enjoy five amazing views at their private hill.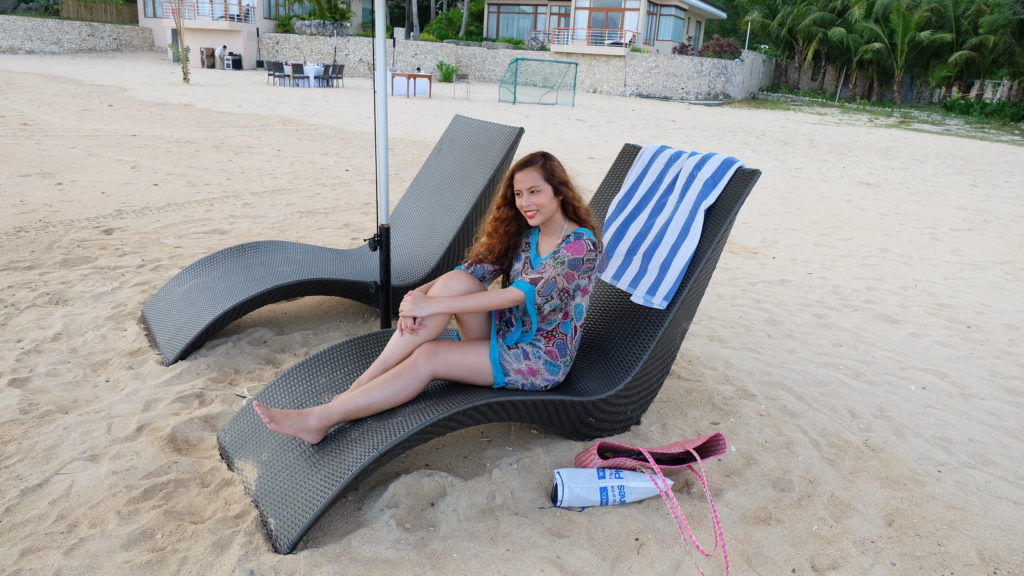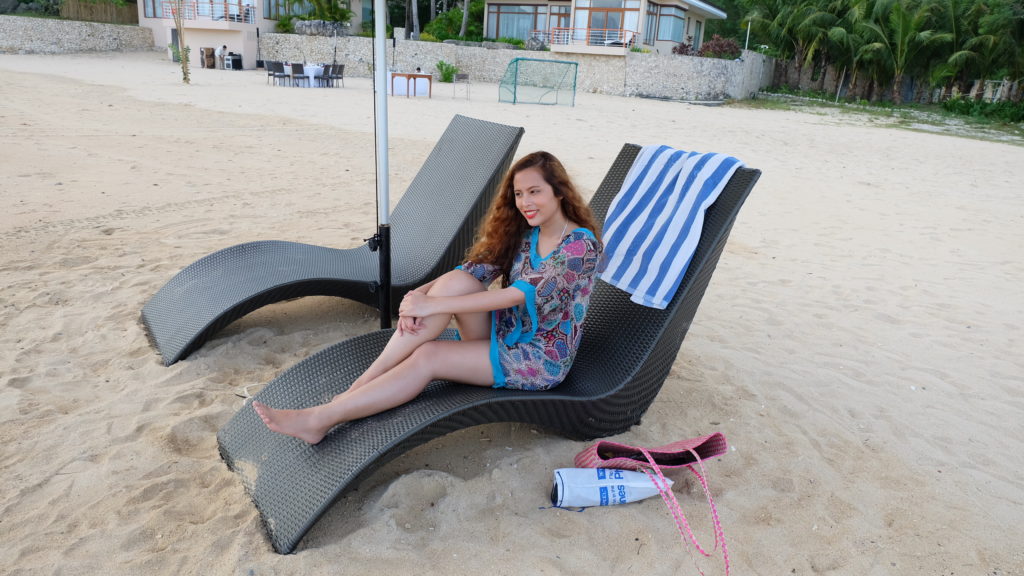 Not convinced? Read Me-An's full review of Misibis Bay Resort now!
18. BADIAN ISLAND WELLNESS RESORT
Badian, Cebu
We all know that Mactan in Cebu houses some of the best resorts of the Philippines, but are you aware that somewhere in Southern Cebu lies an island resort that is now attracting a lot of visitors from abroad? Nina Fuentes of JustWandering.org who is also one of my inspirations of starting a travel blog shares her stay in Badian Island Wellness Resort:

Going to Badian Island Resort is like a homecoming after a long stay out of the country – you're welcomed by the staff singing a beautiful song, made to feel at home with their very Filipino retro décor, served nothing but the freshest and most flavorful dishes, and pampered like you're a visiting monarch. It's the epitome of Filipino hospitality.

We visited in the off season, and aside from me and my friend, there was only another couple staying at the resort, and we hardly saw them. It's like we have the entire resort to ourselves. It's definitely a place for people who just wants to relax and drink fresh mango shakes by the pool.

A tip for honeymooners: you can leave a lasting mark of your love in the island by planting your own coconut tree at the resort. So much better than a love lock, no?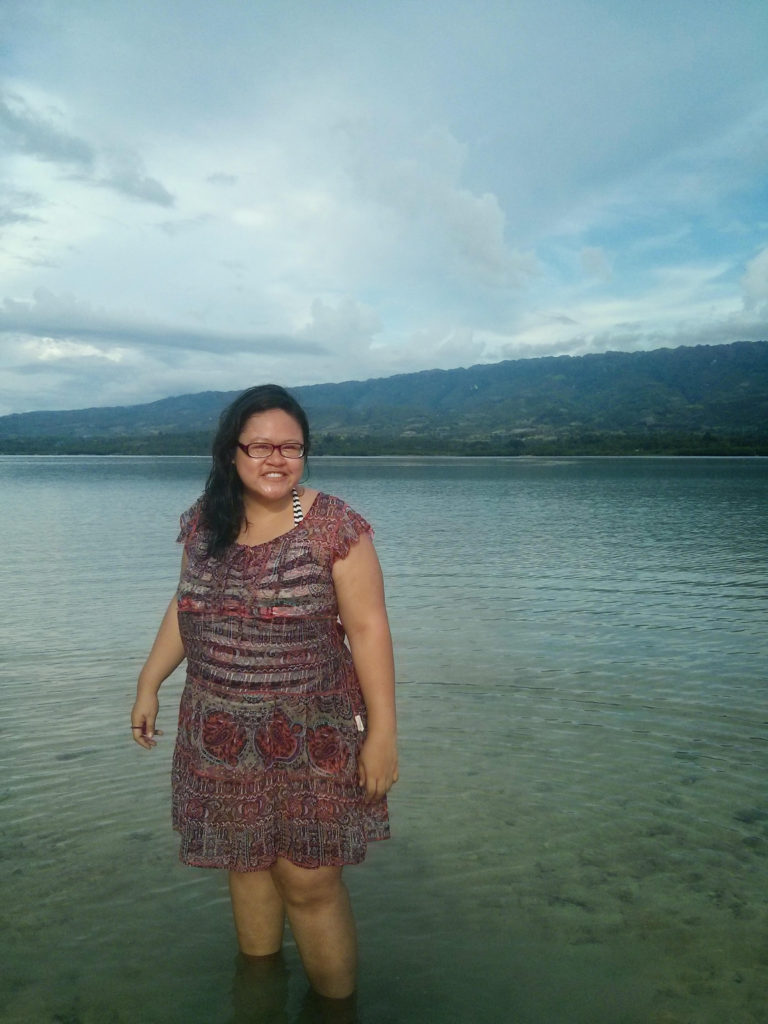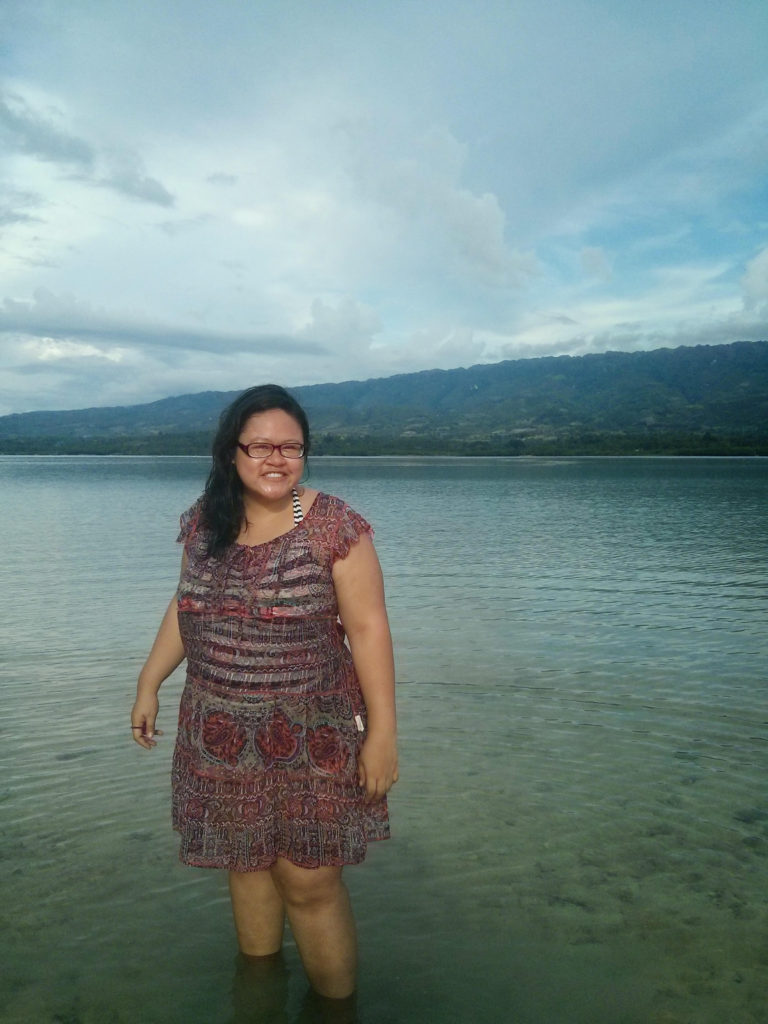 Discover more details about Badian Island Resort by reading Nina's blog!
19. The Birdhouse El Nido
El Nido, Palawan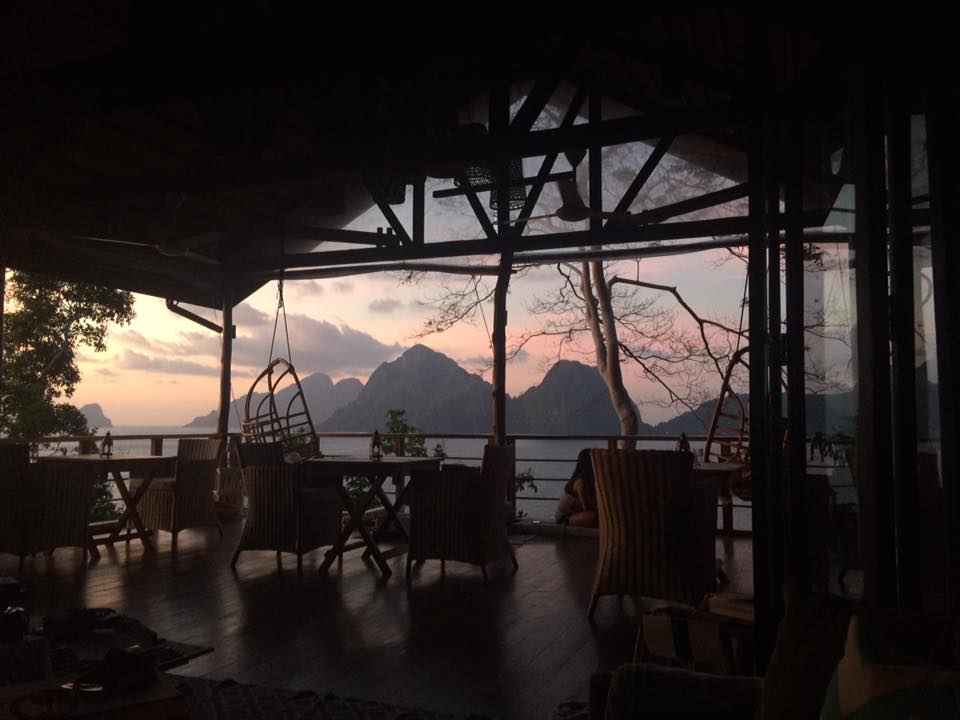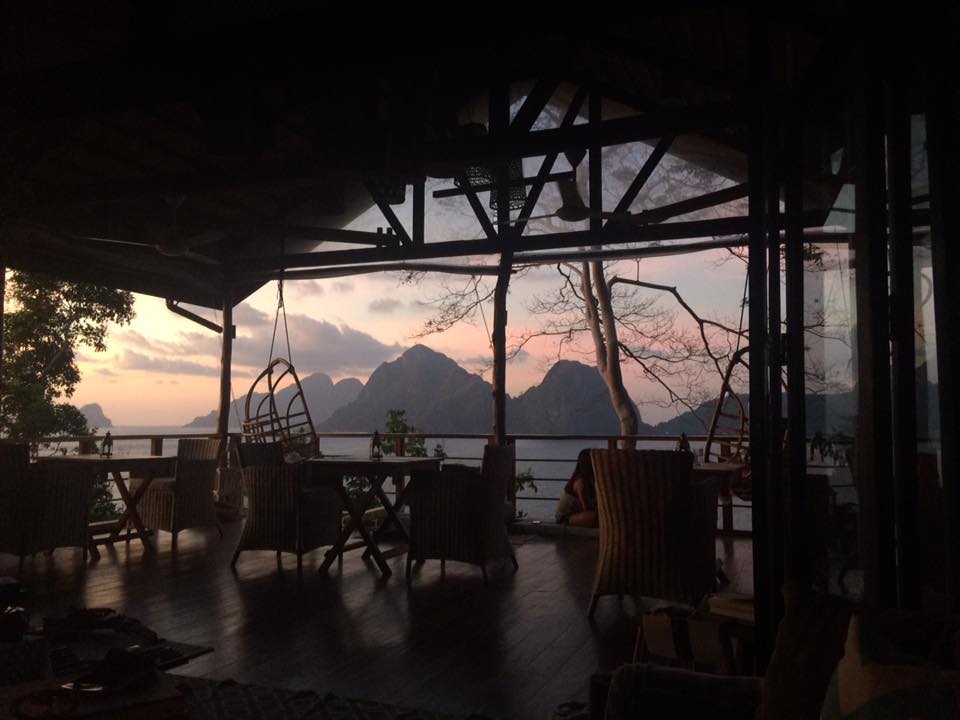 Have you ever tried glamping? Not yet? It's never too late! If you're planning to visit El Nido soon, you must check out The Birdhouse as recommended by talented blogger/entrepreneur Kenneth Surat!
The Birdhouse El Nido is a boutique glamping hotel located at the end of the Marimegmeg beach.  I visited this hotel a few days before it officially opened, at that time, the only instruction we got to locate the place was " walk to the end of the beach until you reach the coconut juice stand, then ask for the direction to Mark and Camille's house". From the beach, we were guided towards what seems like a jungle, it really felt like that, and crossed two streams on make shift bridges (which by now changed into a sturdy wooden bridges).

A few steps more, we found ourselves on a foot of a long staircase connecting tree tents on a stilts and one main reception area which they call the Mother's Nest.

Who would have thought that this kind of accommodation exists in El Nido. From the nests (glamping tents), you can see the beautiful Bacuit Bay, the best view is during sunset when the sky turns into a fiery red-purple hue.

Though I must say, it isn't for everyone (talking about almost 100-ish steps here—not really sure about the actual number but surely felt like it), those who are looking for a unique honeymoon "nest" or someone who wants to experience a sort luxurious but still adventurous retreat, The Birdhouse El Nido is surely the place for you.

CNN calls it A Retreat Build From Romance, which is an ode to its owners, Mark Anthony and Camille Dimson Villaflor. These two lovebirds went on a 16 month long honeymoon around the world before finally settling down in EL Nido and building their beautiful glamping site and home.

Each luxury tent can fit a couple to a group of four guests with a queen size bed, two single beds, a private bath and an open area for lounging and experiencing El Nido from above.

What I love most about this place is the hands-on care from Mark, Camille and Karen. You'll feel at home right away, like you've known each other for so long and a stay in The Birdhouse is just a long due reunion over a cuppa and freshly baked pastries.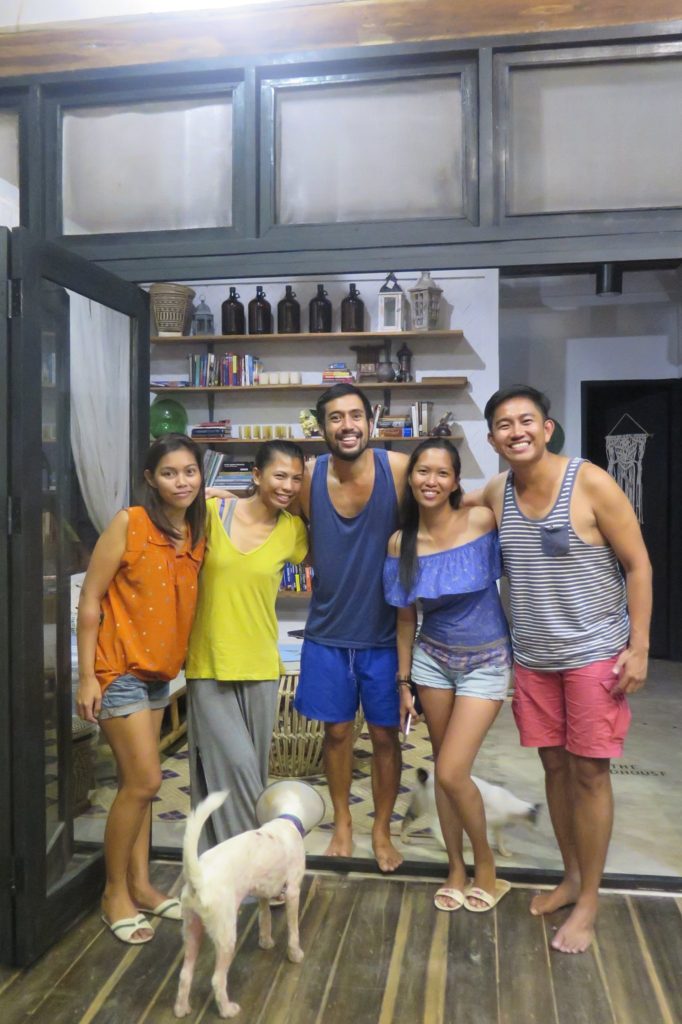 Need more travel inspiration? Head on to iKen Travel Blog!
20. PUERTO DEL SOL RESORT
Bolinao, Pangasinan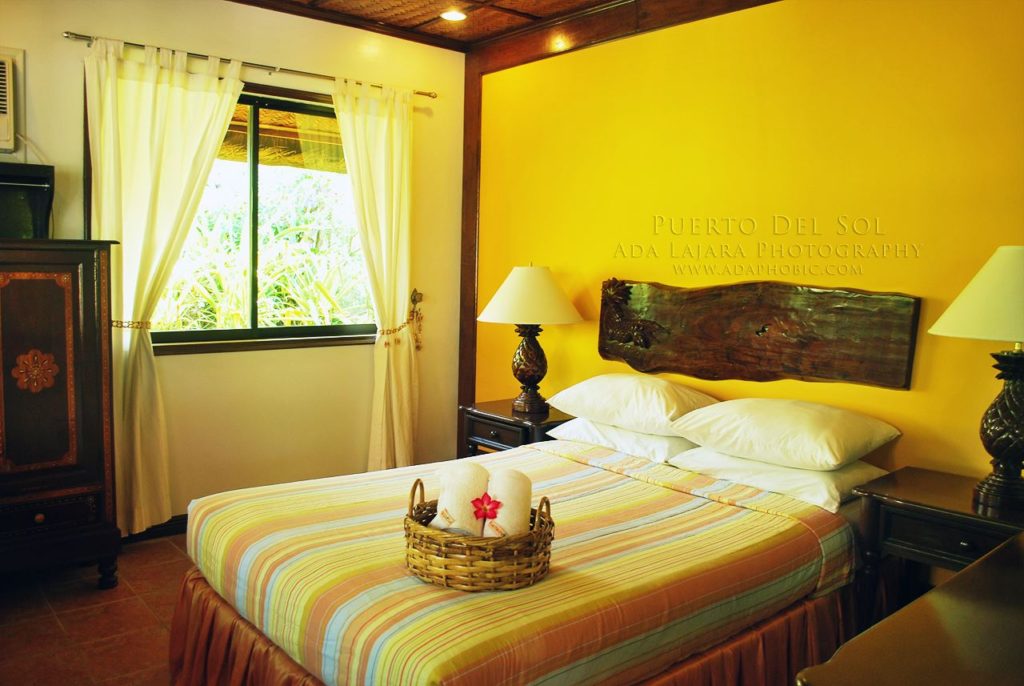 Time to give some love to my home province Pangasinan! My best friend Ada Lajara-Wilkinson of Travelin' Boots collected a lot of good memories in Pangasinan, but Bolinao is particularly special for her. Years ago, we had a short but very memorable stay in Puerto del Sol Resort. She still remembers some details about the trip even if she's been staying in Japan for almost four years now!
I consider Bolinao in Pangasinan as a special place as far as my blogging journey is concerned. Sometime in 2010, I travelled to Pangasinan with nine other travel bloggers as initiated by my dear Mica. We explored Lingayen, Calasiao and Dagupan on a Friday, did the Hundred Islands Tour in Alaminos City on Saturday and enjoyed a relaxing stay in Bolinao that Sunday. We stayed at Puerto del Sol, which is one of the most popular resorts in the area due to its longevity in the business.

What I love about Puerto del Sol is the choices of accommodations. They offer villas good for couples on a honeymoon and they also have big ones which is perfect for family gatherings and company outings. I also enjoyed our lunch and breakfast in their restaurant, which is overlooking the calm beach front. It may not be located in the iconic Patar Beach, but our stay in Puerto del Sol is enough to keep us recharged in time for the side trips. Since then, I've been to Bolinao twice and I plan to go there again on my next trip back to the Philippines! This time, I will be bringing my handsome husband and cute little Baby Mara.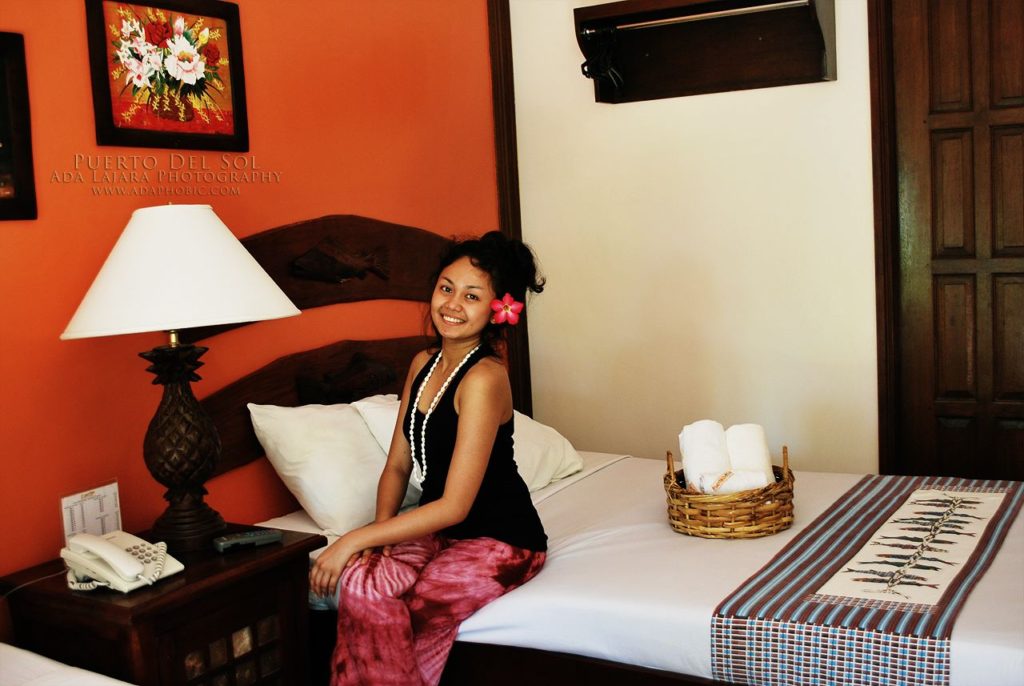 For more Bolinao-related articles, you may go straight to Travelin' Boots and bookmark her comprehensive Bolinao travel guide!
21. HOTEL LUNA
Vigan City, Ilocos Sur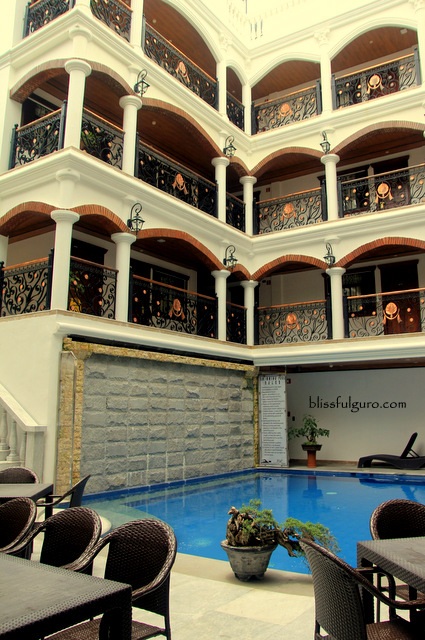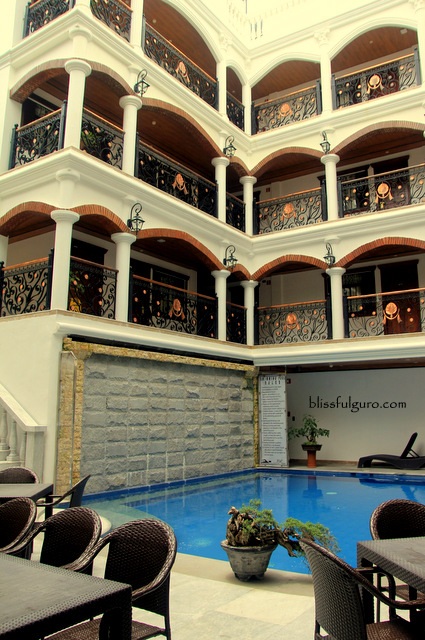 Now, let's go further north and learn more about Philippine History!
Our favorite teacher Carla Araniego of Blissful Guro sees to it that she maintains a good work-life balance by traveling with her buddies on weekends and semestral breaks. One of the hotels she fell in love with within the Philippines is Hotel Luna found in Vigan City. Here's what Mam Carla has to say:
It was one of those rare times when I stepped into a place and then immediately fell in love with it. I'm not hard to please but there's this certain charm with Hotel Luna that made me wanna stay there right away. A former colonial house, Hotel Luna is unique with its collection of artworks exhibited at the main house; the foremost and only hotel museum in the Philippines. There are some art pieces from renowned Filipino artists like Amorsolo, Manansala, Malang, Alcuaz and Luna to name a few. We were there for a gallery walk when I asked my friends if we could probably stay there for a night, and we did.

The location is perfect as it is situated at the heart of the Heritage Village of Vigan City. We were four in the group and the Loft Suite at the main house is the ideal accommodation for us. The classic wooden furniture echoed the old school vibe of the hotel. An L-shaped sofa at the living area has a 40-inch flat screen TV, perfect for movie marathons. The toilet and bath also features a freestanding bath that I actually tried (it's not all the time that I get so enticed by bathtubs).

The loft houses the comfy bed and another toilet which is fully automatic. Oh, and did I mention that we are staying on the main house and not at the new wing which gave us the liberty to just go out from our room to check out the artworks and literally sleep together with Amorsolo, et.al for a night? Cool eh?
Want more interesting visuals? Check out Carla's Hotel Luna Review!
22. LAS CASAS FILIPINAS DE ACUZAR
Bagac, Bataan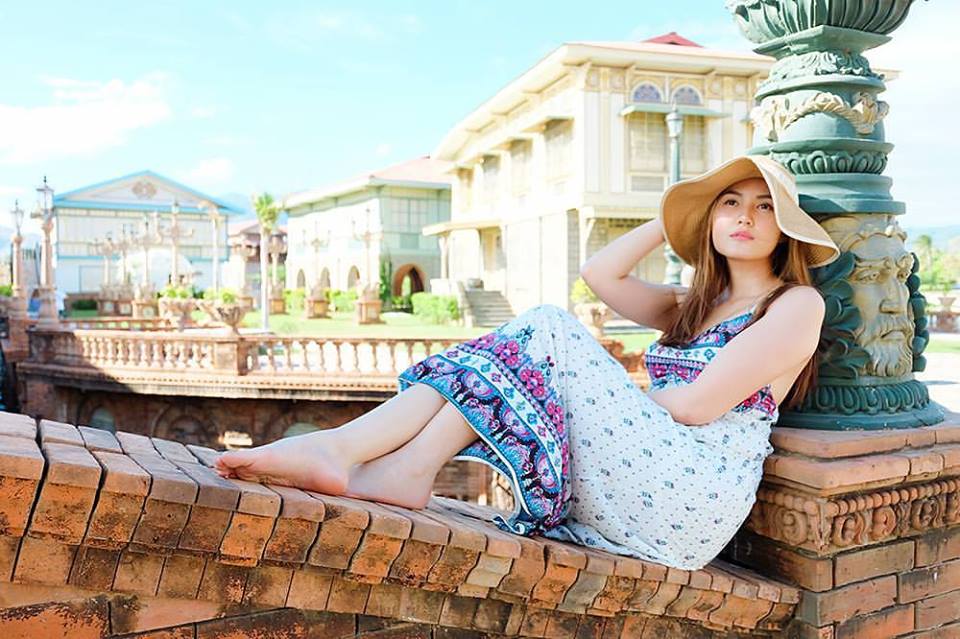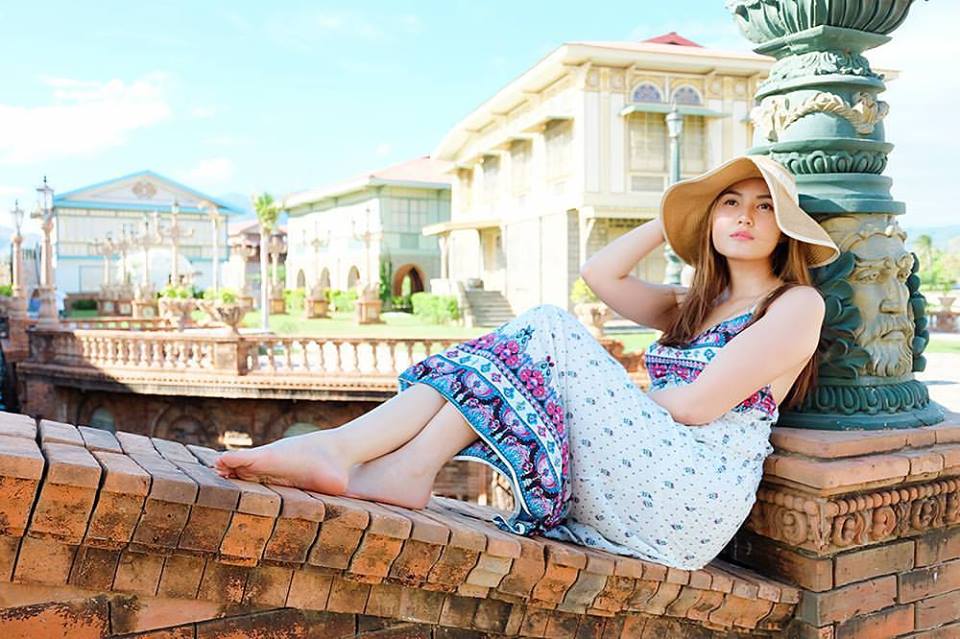 Filipina actress and newbie vlogger Jade Lopez just got engaged to her boyfriend of nine years! Since we're anticipating to hear wedding bells soon, the lovely couple is now scouting for possible wedding venues. Las Casas Filipinas de Acuzar is on the top of their list at the moment and Jade explained why:
Here are the reasons why I love Las Casas Filipinas de Acuzar:
It's very romantic. The place is perfect for couples who are celebrating their anniversary, or in the case of my friend, it is a perfect spot for a wedding proposal.
It's like stepping back in time. Old houses and mansions were restored and rebuild.
Friendly staff. They are very accommodating and all smiles.
Very instagrammable. It has lovely picturesque surroundings. Prepare yourself for a photoshoot!
The room is clean and spacious. Bed and pillows are extremely comfortable.
The Church! It is now on our list of possible wedding venue!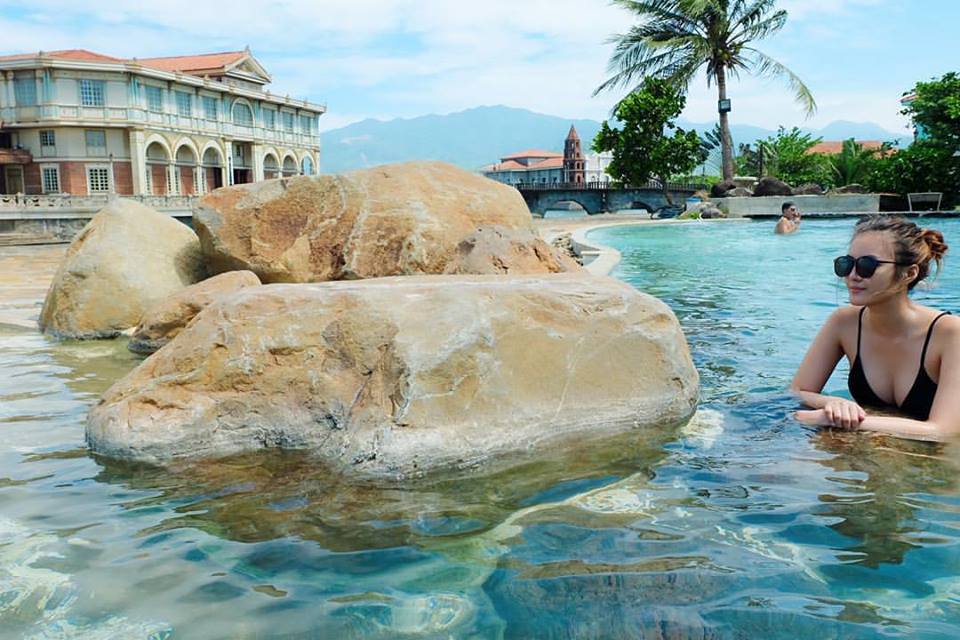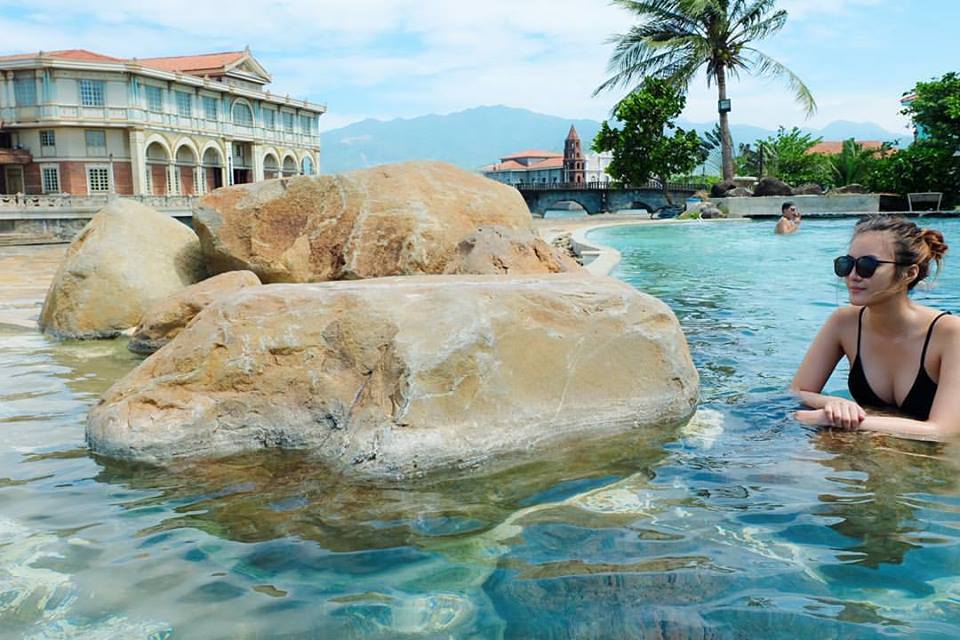 Watch Jade's Las Casas Filipinas de Acuzar vlog. Don't forget to subscribe!!
23.  THUNDERBIRD RESORTS – Poro Point
San Fernando, La Union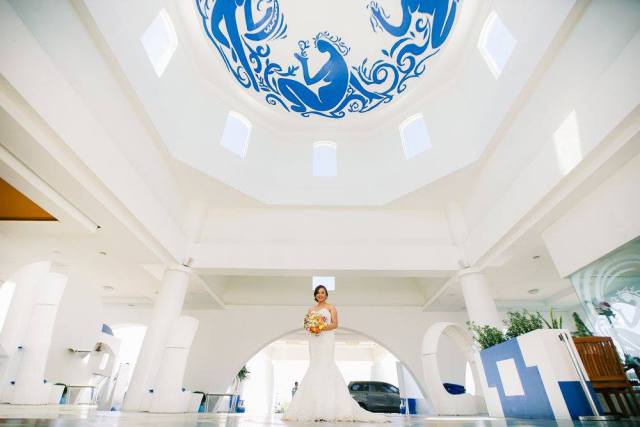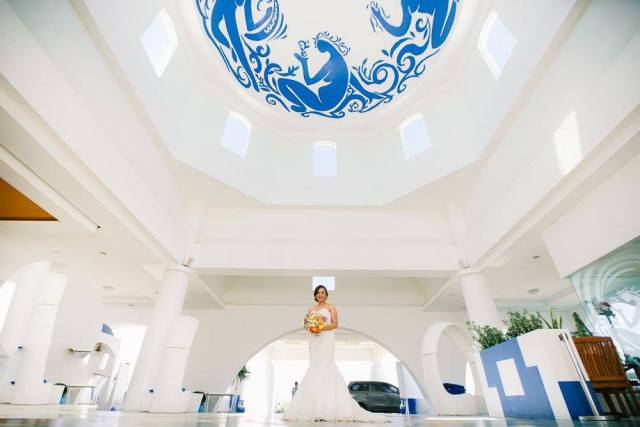 Now let's hear something from a happy bride! Canada-based lifestyle blogger/budding entrepreneur Iza Fugen – Bustos of Life with Style tied the knot last year and chose Thunderbird Resorts Poro Point in La Union as the venue of their Philippine wedding.
Thunderbird Resort Poro Point is the only five star hotel-resort in Northern Luzon. Nestled in the pristine South China Sea, this resort is Mediterranean-inspired that gives all its visitors a taste of Santorini, Greece.

I envisioned my dream wedding in a patio, overlooking the sea and under the pastel sky with my loved ones. And I thought Thunderbird Resort would give me that exact vibe.

I can't thank enough the manager and the rest of staff for making my dream wedding come true. The hospitality they gave all the visitors was impeccable. All of them felt so special on that event. Moreover, the food was great!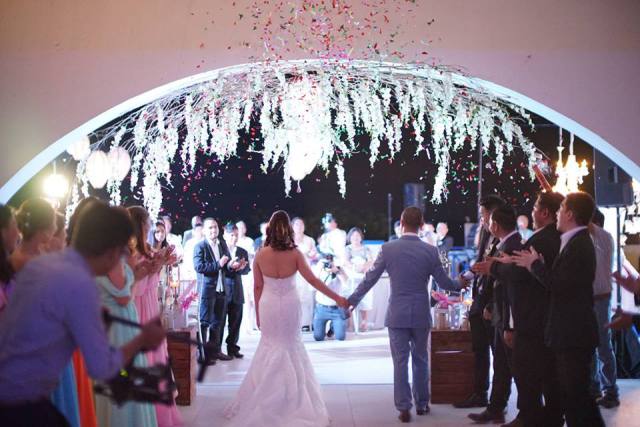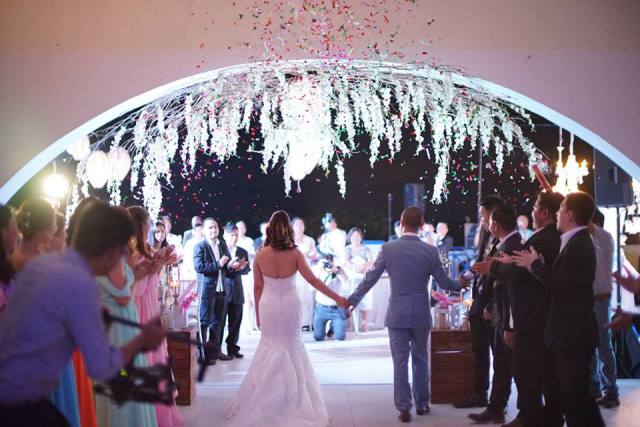 Are you thinking of pursuing a destination wedding? Check out Iza's romantic blog post!
24. THE HENRY HOTEL – CEBU
Cebu City

Darwin Cayetano of Tracking Treasure is the life of the party! I've traveled with him several times and it was on our first trip together that he heard the song which inspired his current blog name!
The Henry Hotel Cebu is one of his favorite hotels and with his joyful personality, it is easy to understand why:
The Henry Hotel Cebu is an urban boutique hotel that surprisingly showcases its character through its exquisite design and offers comfort and convenience at a very reasonable price. The lobby indeed has already a "wow factor", which I believe makes everyone who enters think if it's really a hotel or an exhibition space. The exposed beam and unpainted walls and ceilings did not create an "unfinished" feel but it even helps to give a quaint yet hip atmosphere and the combination of old and new art pieces and furniture are complimenting each other which resulted to a more sophisticated feel.

Their rooms are very big giving you enough space to move and breathe. The painted artwork at the walls are said to be unique for every room. They also offer a complimentary breakfast and they have a swimming pool too. The hotel is perfectly located near restaurants, spa and other establishments.
Track more treasures and heartfelt travel narratives through Darwin's blog!
25. BLUEWATER SUMILON ISLAND RESORT
Oslob, Cebu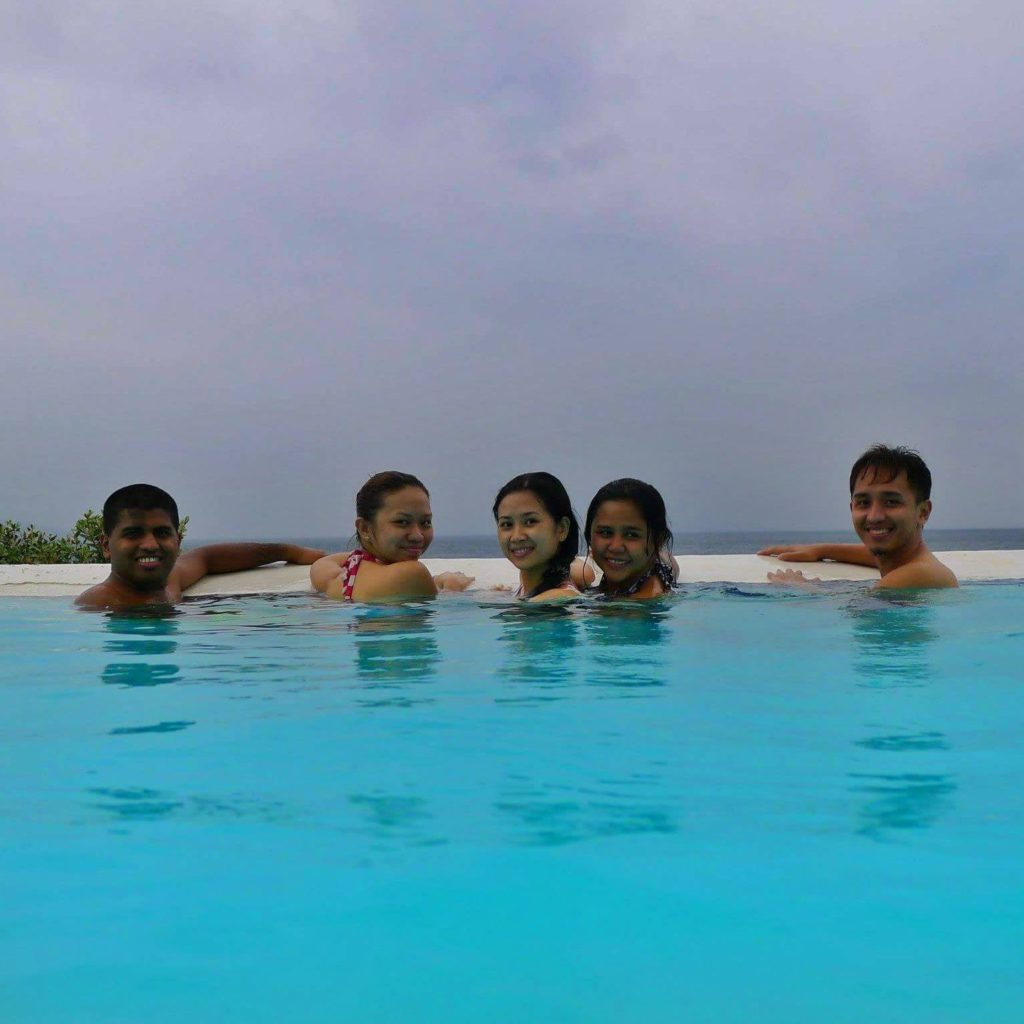 When you work hard, you also need to play hard!
Christian Literatus of The Bisdak Explorer sees to it that he gets a break from work. There's no need to leave Cebu as there are more places to explore within the province! Somewhere in Southern Cebu lies the Bluewater Sumilon Island Resort. Apart from the whale watching activity, Oslob is also popular amongst luxury tourists because of this island:
If tranquility and relaxation with a touch of the natural world you are looking for then Sumilon Resort has so much to offer and the activities will keep you occupied all throughout your stay. The infinity pool is pure bliss, the beach is world class, snorkeling / diving sites are everywhere and for those with an adventurous heart kayaking in the island's natural lagoon & trekking to the lighthouse will surely fill their need. Just don't expect a real luxurious stay. Most of their amenities are basic and not on par with the standard of the five star resorts in the world. Everything you could ever wanted on a tropical island getaway surely Sumilon Bluewaters Resort can meet them and whole island is for you enjoy.
Craving for more Cebu travel inspiration? Visit The Bisdak Explorer blog now!
26. Crosswinds Resorts Suites
Tagaytay City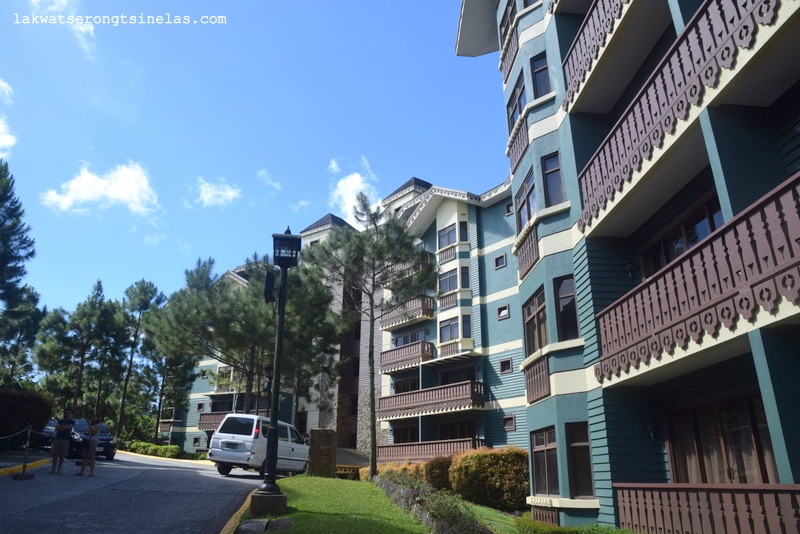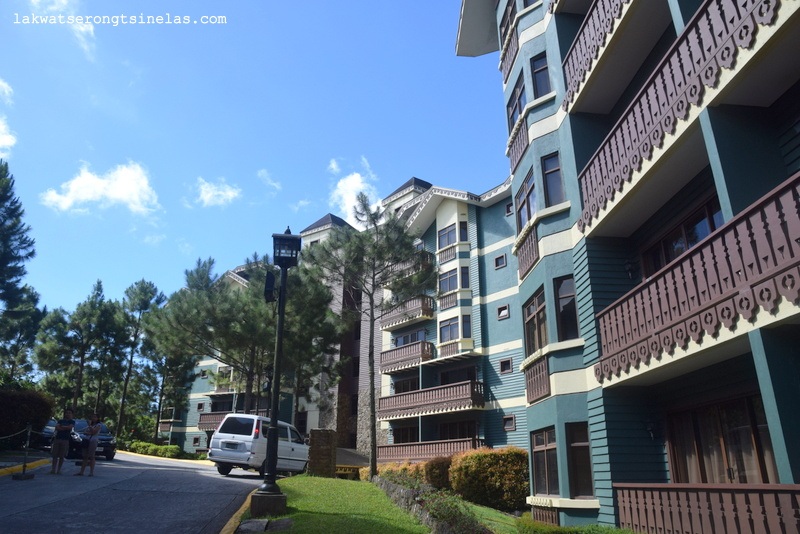 Mark Estur of Lakwatserong Tsinelas might have a serious full-time job, but he is handling a serious case of wanderlust well!
Frequently traveling with his best travel mates, he tries to go on weekend trips to recharge. On of his favorite destinations near Metro Manila is Tagaytay and he shared his pleasant stay at Crosswinds Resort Suites:
In a community of a truly tranquil surroundings, there is Crosswinds Resort Suites in Tagaytay City. For only 2 hours of travel time from Manila, a relaxing weekend getaway is possible. Relaxing, in the sense that it truly isolated from the hustle and bustle of city life, even for the case of Tagaytay City itself.

What is even more unique in this hospitality service is the fact that the vast property offers rows of picturesque chalets that sits on a lush terrain at one of the highest points of Tagaytay. It is experiencing Switzerland without the passports as they say. Apart from its aesthetics and architectural uniqueness, the rooms are spacious that it is a perfect place to consider as one's own home, complete with all the amenities and a full kitchen. This is highly recommended for those who opt isolation and bonding with friends and family.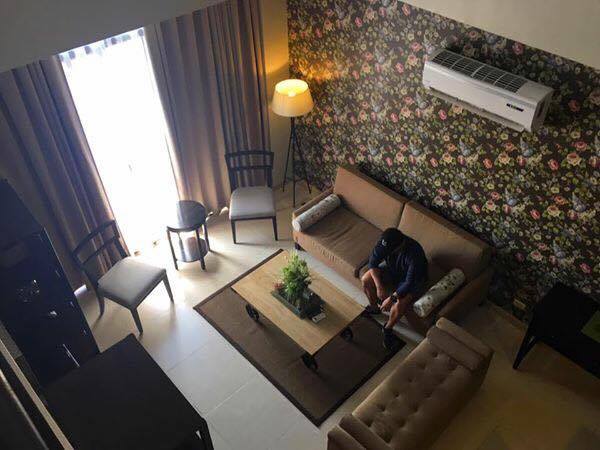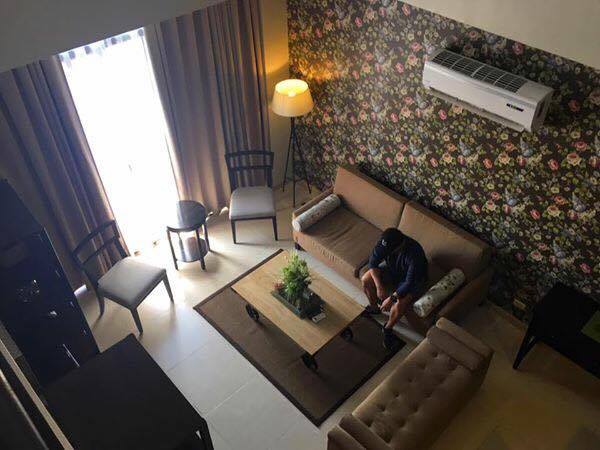 Head on to Lakwatserong Tsinelas to read Crosswinds Resort Suites or simply if you have a serious case of wanderlust.
27. MICROTEL INN & SUITES BY WYNDHAM – Boracay
Boracay Island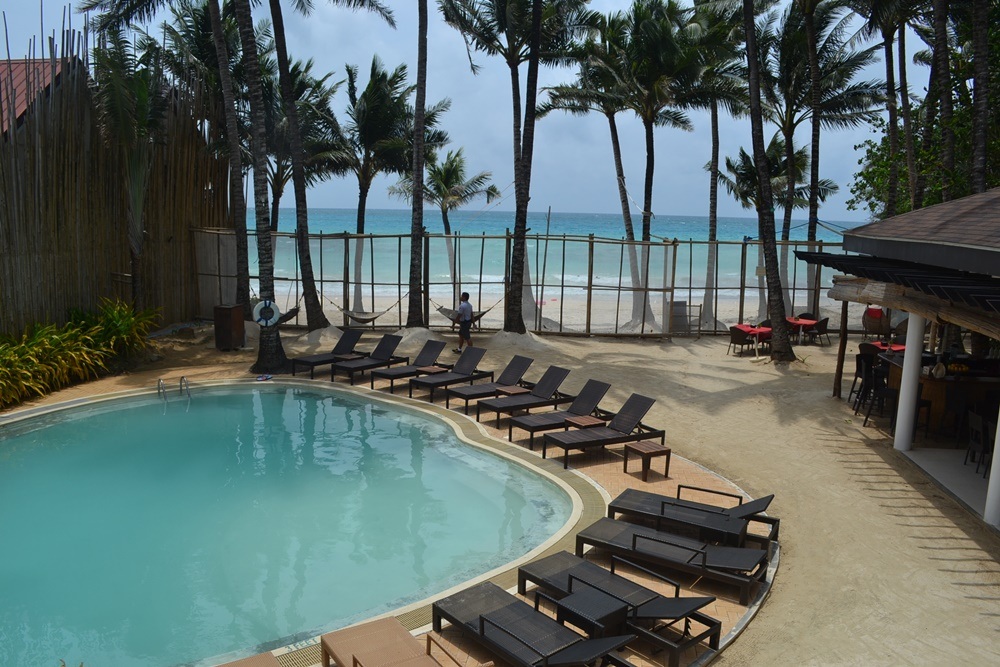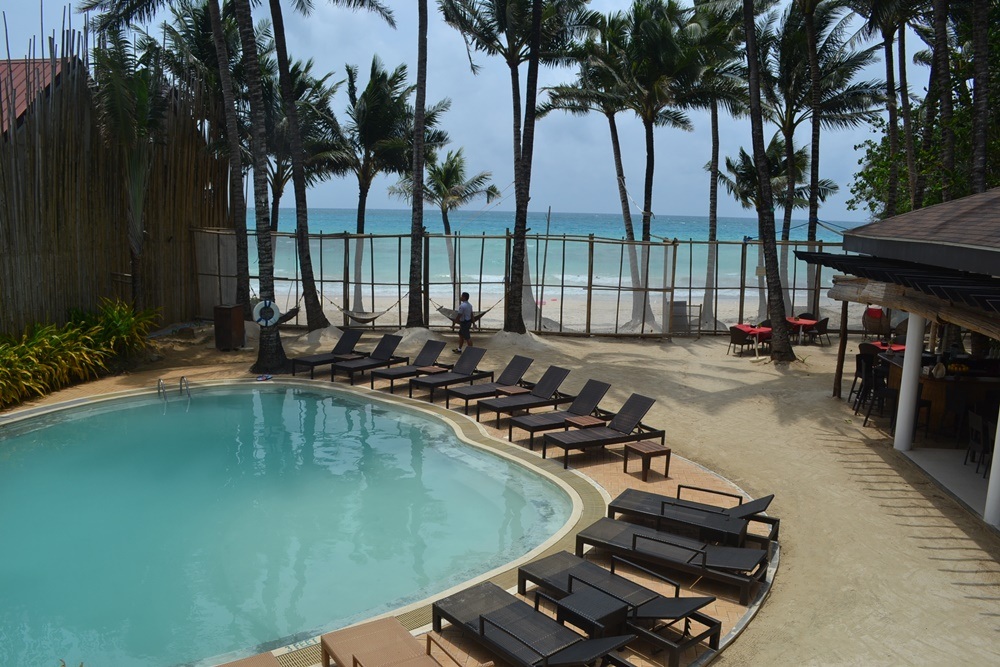 Aleah Taboclaon of Solitary Wanderer frequently travels on her own. She was able to backpack around Europe for three months! Though she enjoys solo travel, there are instances where she's longing for company. Obviously, she felt that in one of her trips to Boracay. Thank goodness Microtel Boracay is located in the Diniwid Beach area. She shares:
When it comes to resorts, there are certain non-negotiables that I am looking for: good location, clean and comfortable room, working facilities, and courteous staff. I found these — and more — when I stayed at Microtel Boracay. Unlike most hotels, they're not located in the chaotic and noisy beaches of stations 2 and 3, but they're still accessible, either by walking or through their free shuttle.

Microtel Boracay has a swimming pool, an in-house restaurant, and of course, a beach you can swim in just a few meters away. It has a good internet connection, and free coffee 24/7. What else can you ask for?

I went to Boracay as a solo traveler, and although I didn't enjoy the island much — it is best for friends traveling together — I did enjoy my me time in Microtel. I walked around the beach at daytime, went to Stations 1-3 for people watching, and then went back to Microtel to get my much-needed rest. Since it was far enough from the noise, my rest was uninterrupted. I would happily recommend Microtel Boracay to travelers, solo or otherwise!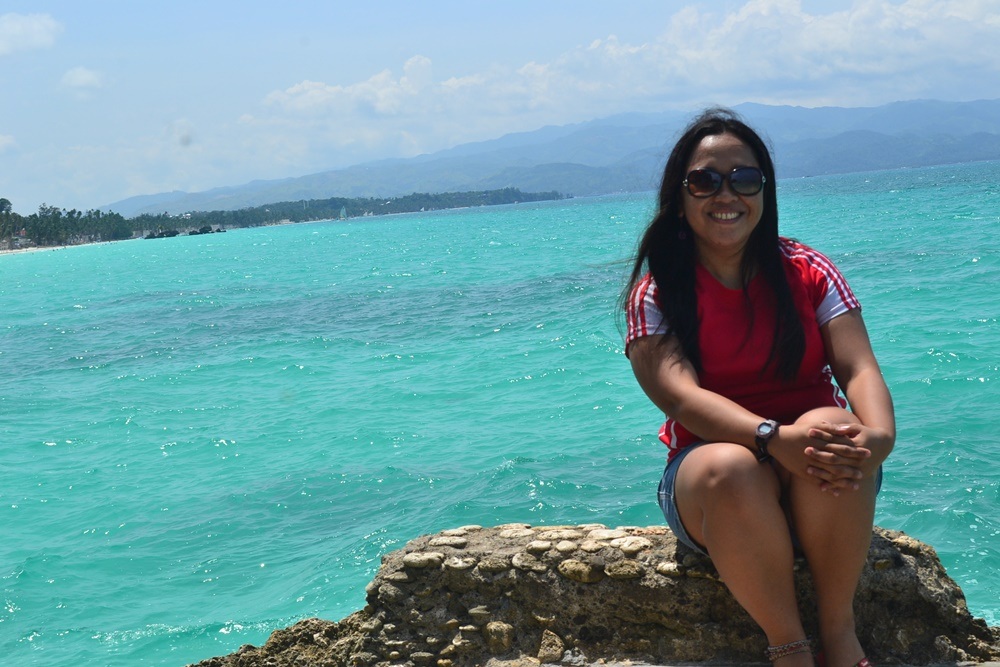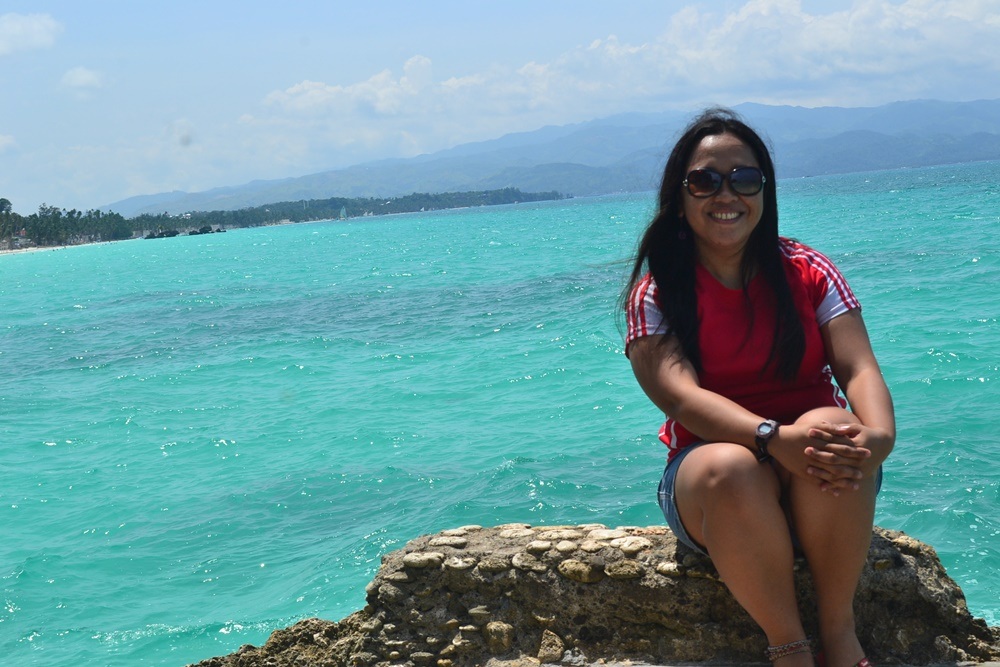 Read Aleah's review of Microtel Boracay or browse thru her blog for trip inspirations!
28. SAN RAFAEL RIVER ADVENTURE PARK
San Rafael, Bulacan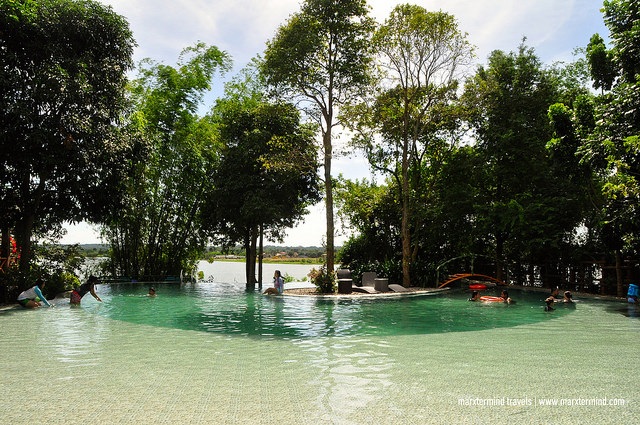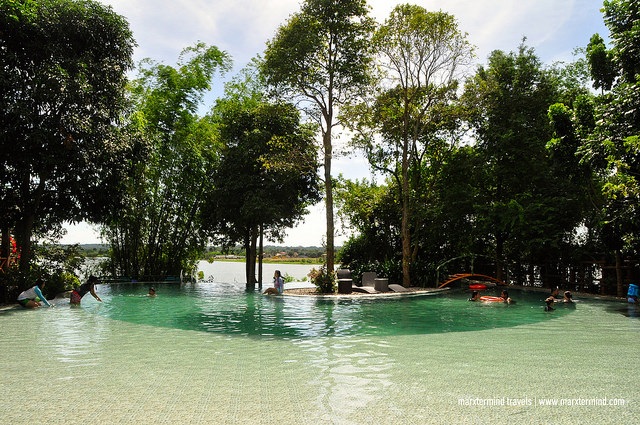 John Marx Velasco of Marxtermind is also a weekend warrior – someone who works full-time, but makes sure to maximize his weekends by visiting a new place. Who would've thought that a river adventure resort is quick to access from Manila? San Rafael River Adventure in Bulacan is his pick for this collab post!
I never thought that a place like San Rafael River Adventure exists in Bulacan, which is just two hours away from the crowded city of Manila. The resort is an ideal place for people who want to go on a getaway without traveling too far. It is also a haven for someone looking for nature and adventure in one. And as a person who loves being in nature and also an adrenaline junkie, I found this place perfect for me.

San Rafael River Adventure is a resort that offers a great venue to experience both leisure and relaxation. The resort instantly became my favorite because of its special accommodation types and distinct facilities. It has exciting amenities and water adventures to enjoy. They have Glamping Tents, Glass Cottages and Glass Villas, which make the resort unique. My friends and I stayed in a Glass Cottage that is made of one-way glass walls. The interiors are not totally visible from the outside but still offer unobstructed view of the surrounding from the inside.

Staying there provided me the feeling of being with the nature. I liked the interior and the ambiance. Another thing I enjoyed about the resort is the array of recreational facilities. They have an outdoor pool, ATV, boating, paddle boarding, kayak, horseback riding and Jet Ski to name a few. The resort also has a river cruise. TIP: Go on a cruise before sunset. They serve delicious snacks (especially Maja Blanca).

San Rafael River Adventure provided me a place to experience nature, serenity and adventure making it as one of my favorite resorts in the county. It has a lovely surrounding and exciting activities to enjoy.

Read the comprehensive review of San Rafael River Adventure Resort via Marxtermind!
29. Shangri-la at The Fort
Taguig, Metro Manila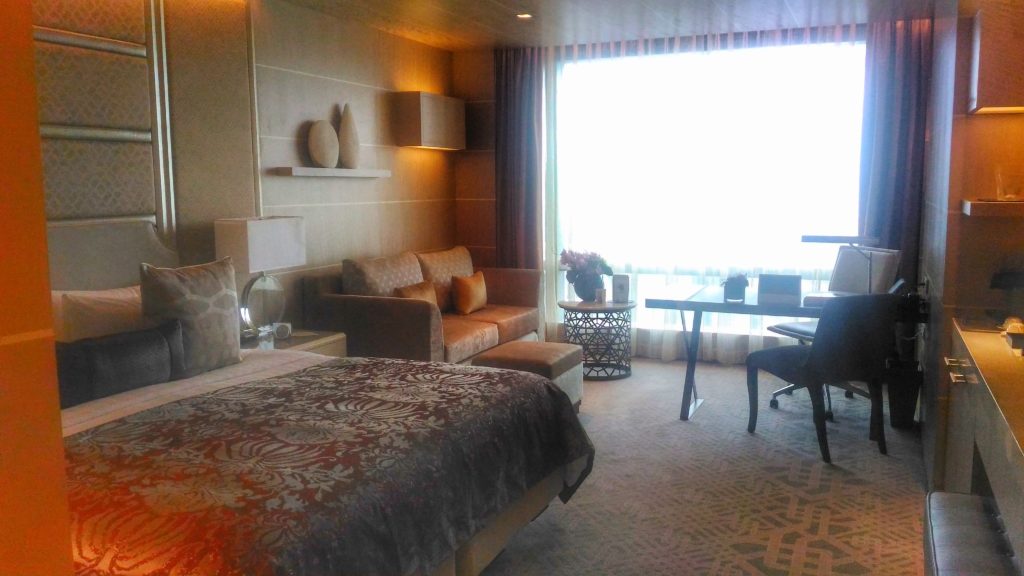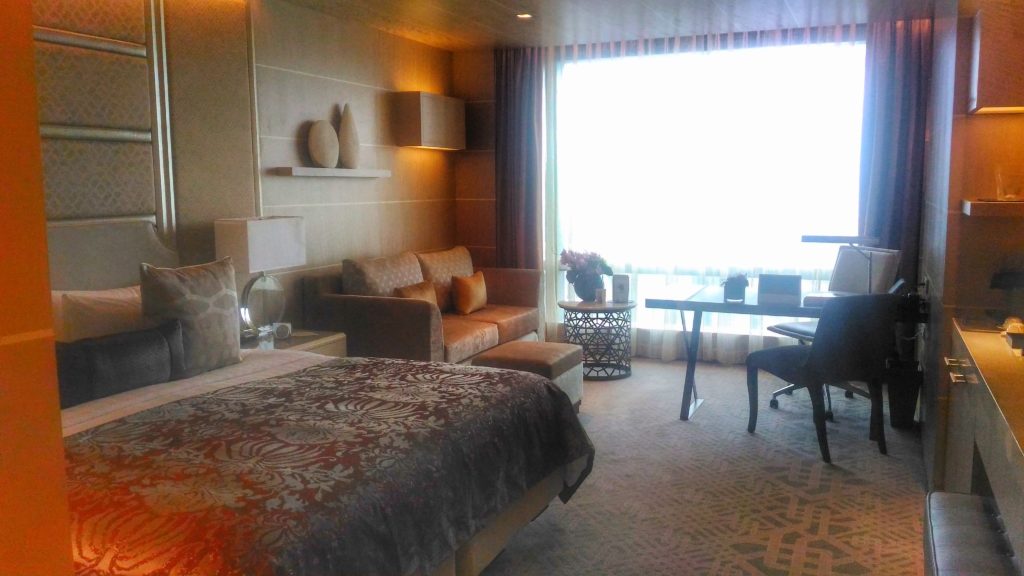 Marky Ramone Go of Nomadic Experiences is a travel writer/blogger who is usually assigned to write travel articles for several publications and online portals. He was lucky to stay in the luxurious Shangri-la at The Fort at the Bonifacio Global City in Taguig. Staying in a nice hotel within Metro Manila must be a bliss!
A writing assignment made it possible for me to stay for 3 nights at Shangri-la Fort. Billeted at the 47 sq meter room located at the 40th floor of the hotel's Horizon Club, I was introduced to the glitzy life the chain of hotel provides to their guests. From the lavish plates of sumptous food served at the in house restaurants such as; Samba, High Street Cafe, Raging Bull Chophouse and Canton Road – one can taste a wonderful sampling of global cuisine.

Getting in shape in the middle of a staycation remains a must. So the Kerry Sports Manila located at the lower floors of the hotel spreads over what seem to be the biggest indoor physical fitness venue in the country. Complete with a full court hardwood bastketball court and a spacious gym, spending a couple of hours working out proved to be among the best exercise I ever had. I capped it off with a relaxing Hilot Dagdagay Treatment inside the Spa of Kerry Sports. I have been to numerous fancy hotels and resorts in the Philippines and to other countries such as India, Japan and Sri Lanka (thanks to all expense paid media tours) but Shangri-la fort stands out as among the best.


Marky Ramone Go blogs his travel adventures at Nomadic Experiences.
30. Shangri-la Boracay Resort and Spa
Boracay Island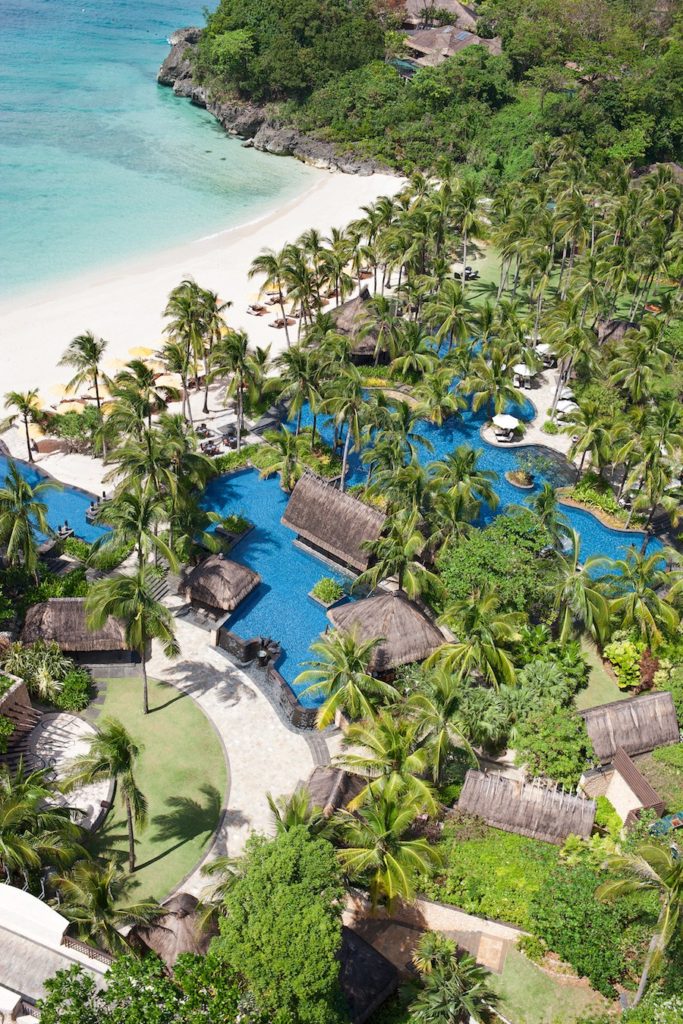 Last but not the least is probably Shangri-la's most luxurious property in the Philippines! Melo Villareal of Out of Town shared his 'almost perfect' stay in this secluded paradise – ShangriLa Boracay Resort and Spa! 
Situated in the northern part of the island, Shangri-La's Boracay Resort and Spa is an isolated haven for guests who want to find home that's surrounded by 350 meters of white sand beach and well-preserved nature. I stayed in one of their deluxe rooms. I truly like its 63 sq m luxurious size, the room has its own private veranda which has a daybed and a dining table for two, perfect for much-awaited siestas. Although my room did not have a beautiful view of the beach, but the verdant landscaped gardens and huge trees that surrounded the building really made my stay more relaxing.

My 3D 2N stay was almost near-perfect. It had great facilities (such as its beautiful private beach, Banyugan), provided great service, and delivered more than what I expected. The entire travel to and from the resort was pretty much smooth and seamless. It's not just the five-star facilities you'd love to use, but the crew's innate hospitality and true dedication to their work. Although this one's already off my list, I will definitely come back again! No regrets, it's the perfect getaway!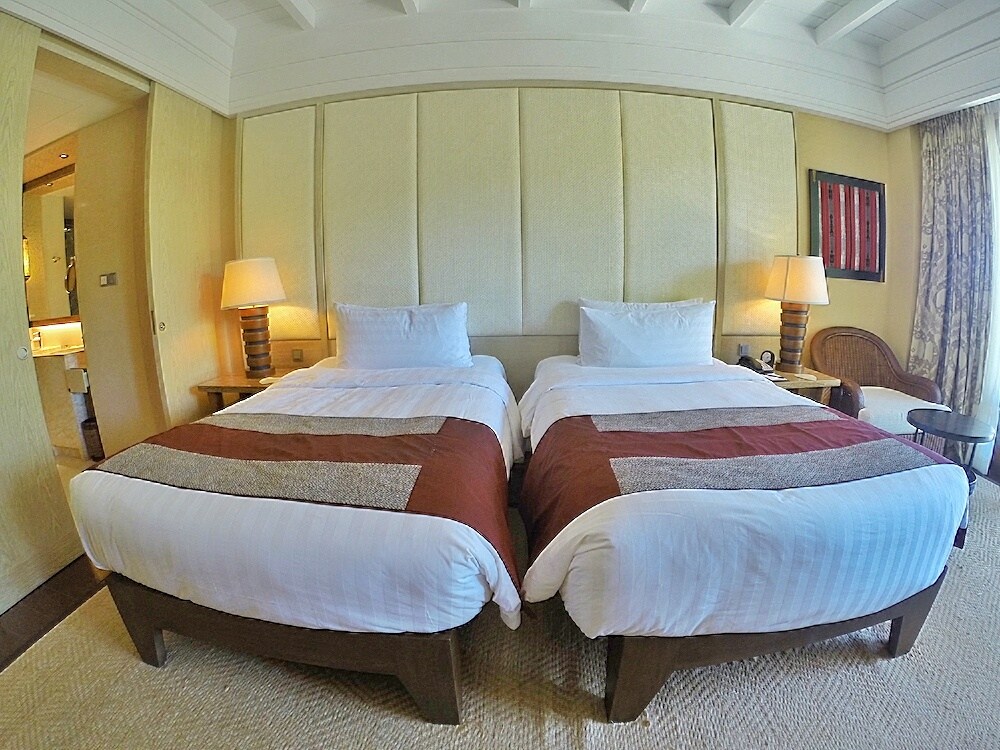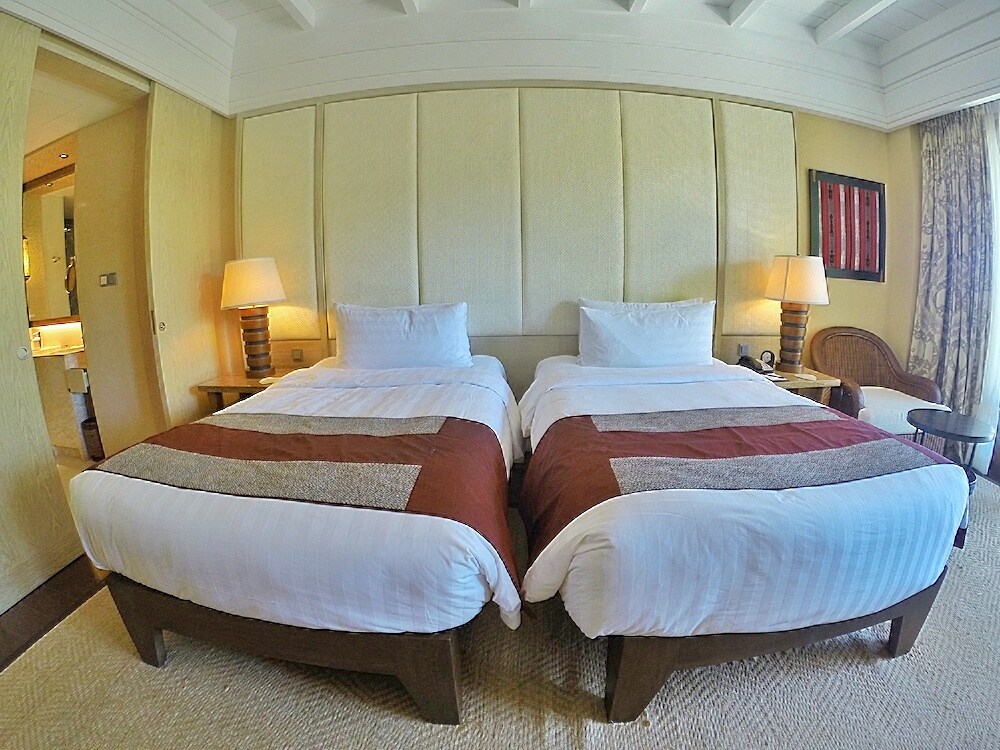 Read the full Shangri-La Boracay Resort & Spa written by Melo via Out of Town Blog!
Whew! We've only mentioned 30 hotels and resorts in this two-part collab posts with travel bloggers, but I'm sure there are more accommodations that are worth visiting! Whether you're looking for travel inspiration or you're planning that next getaway with your loved once, I hope that in a way we were able to motivate you to explore the Philippines! A staycation is fun too! 😀
What about you? What are your Top 3 favorite hotels and resorts in the Philippines? Mind to share some memorable stories? Happy Travels!