One of the things that I really caught my attention during my trip to London early last year are the talented street performers. I first witnessed a performance when we passed by Covent Garden. A number of break dancers from different races were able to battle it out in a 'groovy' way, much to the delight of bystanders (like me). I just love watching them in a 'friendly competition' while sipping my favorite mocha drink outside our chosen coffee shop that cold afternoon.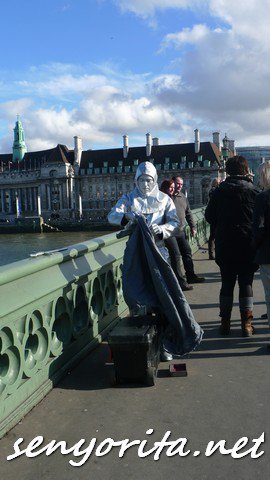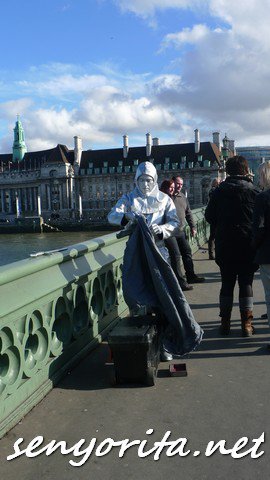 Here's a photo of a street performer while preparing his 'stage' for the day. We were on our way to the London Eye River Cruise when I passed by his area. I'm fascinated with the fact that any talented person can perform within the streets of London and at the same time earn decent bucks. I think singers like George Michael and James Morrisson actually made money in their pre-fame days belting out songs in the street.
With this kind of job, your safety is also at risk since you're always outside. My uncle shared a story to me about his friend who used to work as a street performer after school sometime in the 80's. He caught a mild accident when all of a sudden, a tourist pushed him hard with undisclosed reasons. That didn't stop him from performing skits. Safety is a must these days especially when your family is dependent on you.
I admire the dedication of the street performers with their jobs. It was a sunny but cold morning when I took this photo yet they endure the weather just to make others happy. Most kids would go near them and take endless souvenir pictures.
I am planning a trip back to the UK soon and I would like to work as a street performer even just for a week. Maybe I'd do a Kazaky dance number in Covent Garden with the killer heels. Watcha think? 😛