Even way before he became PTB's Most Desirable Bachelor (nuks!), Edcel Suyo of SoloFlightEd.com and I are good friends already. The story on why I became interested to know him more is quite funny (ask me privately LOL). We've been Facebook friends and commenting on each other's blogs before I met him in person at Boracay two years ago when we won in a contest. It was a productive meet-up. Aside from the fact that it's a sponsored trip (Free makes me weeee!), I also met new friends there and my desire to experience a good Boracay fire dance show finally came true!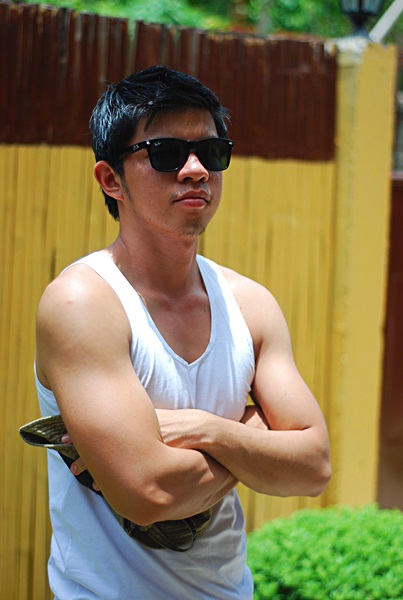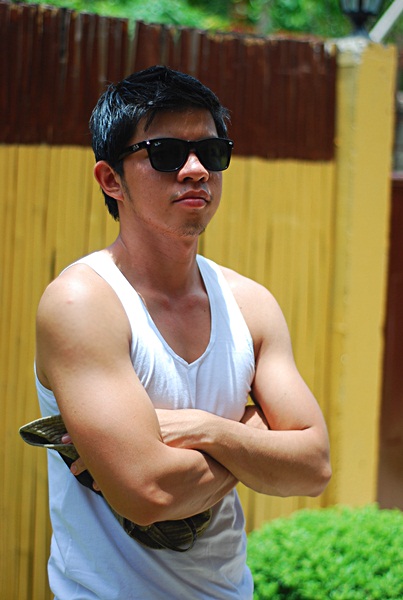 It's nice to watch Edcel's growth in the travel blogging scene. He is one crazy guy (in a good way). He does his signature head stands whenever he can and he is not afraid to get bruises from doing so. I love talking to him because he is open to sharing his online money-making techniques. Well, I know the works already, but talking to someone who is interested in the same subject pushes you to do better. Friends must influence each other to make more money while traveling!
I am sorry to say to his admirers that this guy is happily taken by a lovely woman (sorry to the admirers LOL). I got the opportunity to see them together in Siem Reap, Cambodia and it is nice to see him happy. His sacrifices for other people is no joke that's why I am glad that finally he is focusing on his own wants and needs. Yihee!
Enough of the lengthy introduction! For the 5th feature in My Travel Buddies section, I present Mr. Edcel Suyo a.k.a. The Head Stand man! Â I was also featured in his Podcast Interview series last year. Listen to it after you read and comment on this one!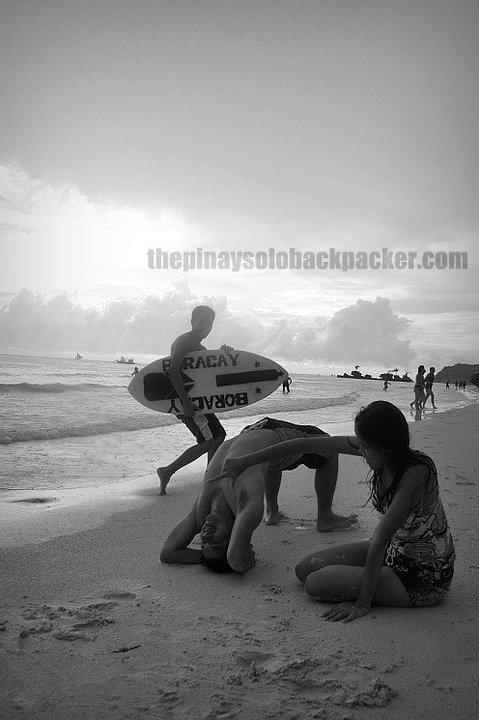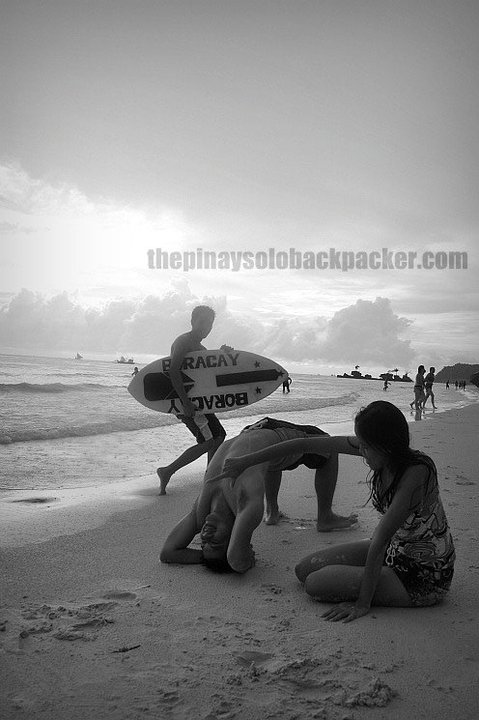 When was our first out of town trip together? Describe it.
Edcel: Boracay. We won a contest together with 6 other bloggers. It was also my first time to meet you! It was a new experience for me to travel because of my blog. I didn't realize it was going to be the start of many other opportunities. But in your case, you were already an expert with these types of trips. :p
Mica: That short but crazy trip in Boracay that triggered me to quit my job! LOL. Nah, I'm not an expert. I'm just lucky 😛
What are the Top 3 Destinations we've been to together that you consider the most memorable? Discuss why.
Edcel: Boracay, Bantayan Island in Cebu, and Siem Reap, Cambodia. I consider these the most memorable because these were the only instances where we travelled together! haha.
Mica: LOL! Yeah, those three trips are memorable in their own way. I met you and the rest of the gang in Boracay. Who wouldn't forget that fire dance show? Hihi. The Bantayan Island trip is a relaxed but funny one. PTB Bagets FTW! Of course, who wouldn't consider Siem Reap memorable when you're with your honey? 😛 I also consider it special because we finally met two of our favorite travel bloggers who were based in SR during that time. 😀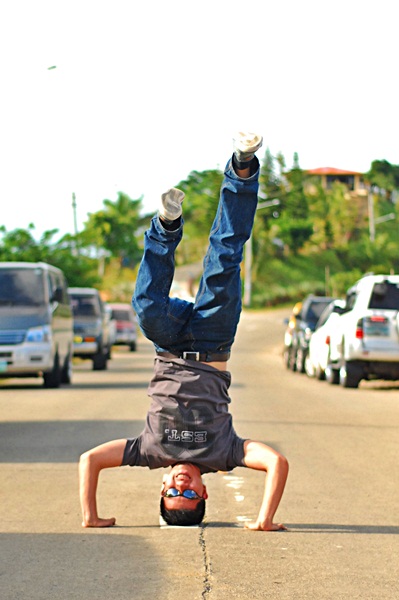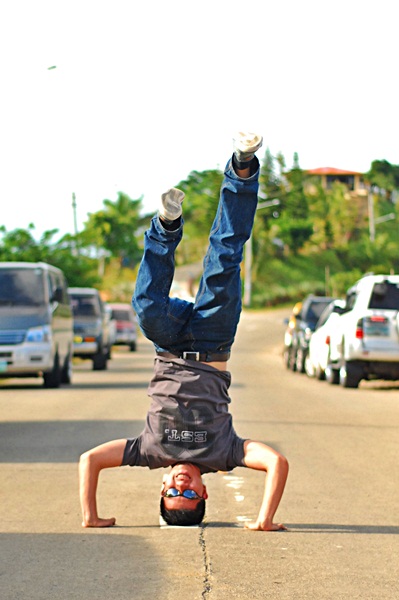 What's the worst event that happened in any of your travels? How did you manage to surpass that challenge?
Edcel: The events before to my plane ride to Vietnam. I had to buy another plane ticket because I arrived late at the airport, an earthquake happened prior to my departure, I spent a sum on taxi fare just to have funds exchanged to Dollars in Manila, I almost never made it passed the immigration counter.
I was already there and I planned the trip for a long time so backing out was not an option. I quit my corporate job for this trip and I can say that I'm enjoying the moment of living in Southeast Asia. I'm currently on my 2nd month of backpacking.
Mica: Awts. Buti na lang natuloy!
Describe me as a travel buddy.
Edcel: You're not afraid to dance in the middle of the road, which is a good thing as I also don't mind making a fool of myself at times. You're also sensitive to other people's feelings.
Mica: Sus! Sayang, gusto ko pa man din sumayaw sa Pub Street ng 'Always' ala UMD! Ikaw lang papayag na sumama eh!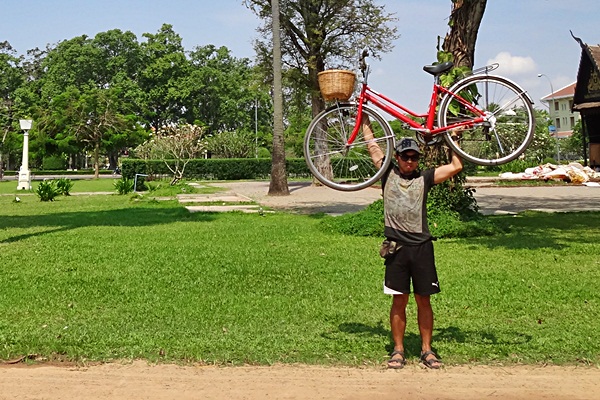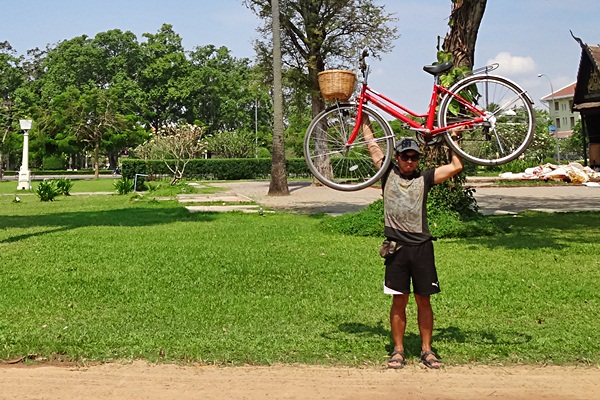 What are the three things you can never live without when you're on a trip?
Edcel: Money, an open mind, and a sense of fun & adventure.
Name three of the best hotel/resort accommodations.
Edcel: Microtel Boracay
Widus Hotel and Resort in Clark, Pampanga
The Manor Hotel in Baguio
— all of these were sponsored accommodations! hehe.
Mica: I've been to Microtel Boracay and Widus Hotel and Resort (sponsored too LOL). I've been to the lobby of The Manor Hotel in Baguio. P'wede rin pa-sponsor? Hahaha! 😀
Three of your favorite restaurants
Edcel:
Hayahay Restaurant in Dumaguete – Great food by the sea. I recommend their Dumaguete Express.
Pino! Restaurant in Cebu – Beautiful ambiance and the food is affordable too.
Harana Native Restaurant in Davao – Try their chicken barbecue and sauce. I have memories playing on their playground when I was a kid while waiting for our food.
Mica: Woot! I've been to Dumaguete, Cebu and Davao – but I haven't eaten in the restaurants you mentioned T_T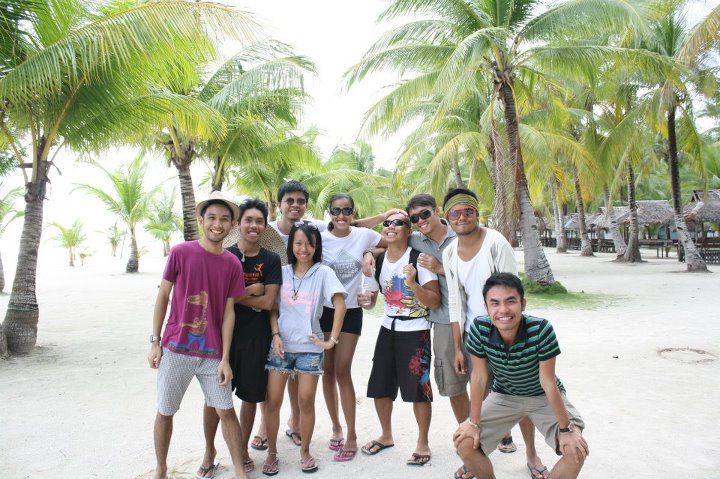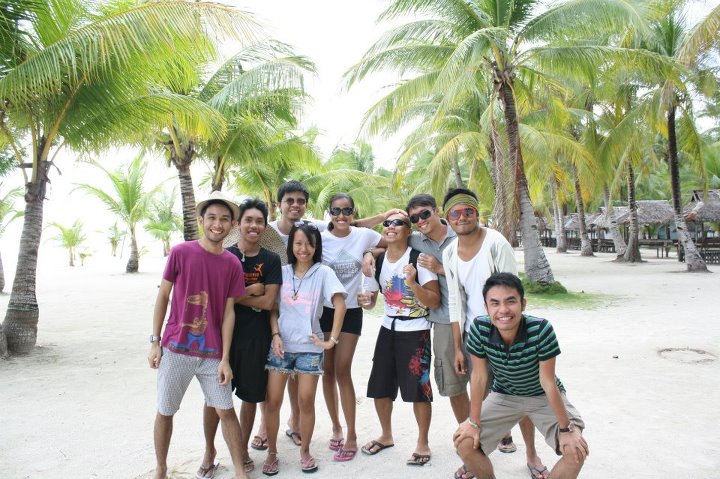 Any funny stories that you want to reveal that happened during one of our trips?

Edcel: Funny? Not sure as I was not aware until you mentioned it on that the morning in Bantayan. It had something to do with a dork and his frog tongue.
Mica: The whole Bantayan scenario caught on video is full of LOL =)) I still watch it here at home when I am feeling down and sad. Too bad I cannot upload the video for the whole world to see. =))
Did we have any misunderstandings while we're on the road? Hahaha 😛
Edcel: Haha, yes. Nothing major.
Mica: I think what happened is a good example on how two friends clash when tired =))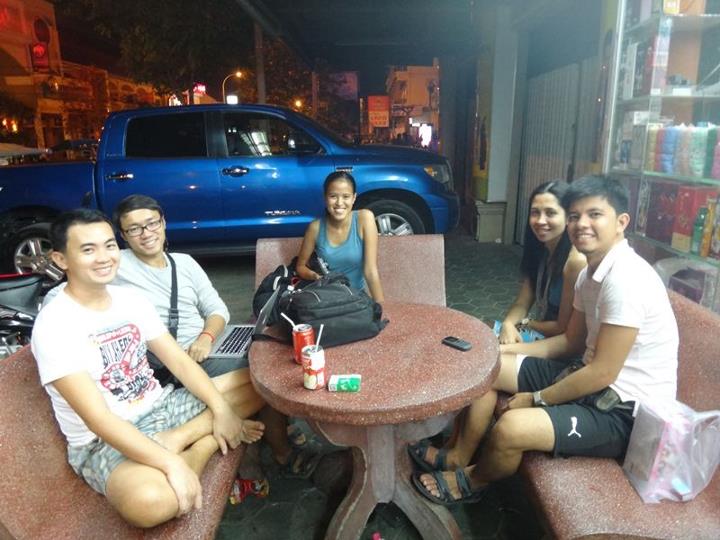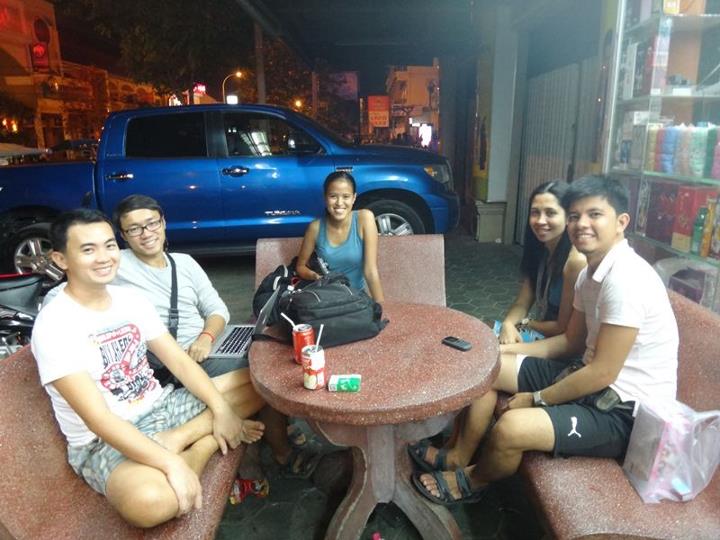 Do you have any 'holiday romance' story to share?
Edcel: Share? No need, you already posted it on this site. haha. But here's a post. You're Suitcase, My Backpack.
Mica: Aside from that wonderful love story, I still have some unbloggable stories to share! Hahaha joke lang Edcel peace 😛
Our most memorable trip together. Describe why.
Edcel: I guess it's Boracay because of that Haagen Dazs video and you won a trip to Palawan and you told me you were going to treat me and Gael (ThePinaySoloBackpacker)! hahaha.
Mica: Oh, right! Haven't received the gift certificates yet! I find the short two-hour stopover of Lakbay Norte 3 in Dagupan City memorable too. First time to see you act like a fisherman hehe. Balik ka! (maisingit lang talaga ang Dagupan City eh :P). Wait, also our serious talk while on sunset cruise in Mactan before your SouthEast Asian trip (family talk ftw!)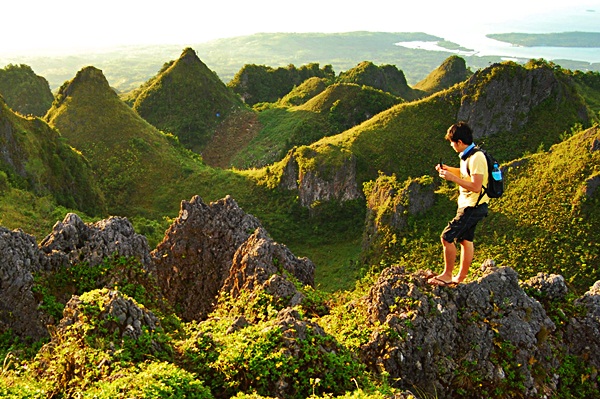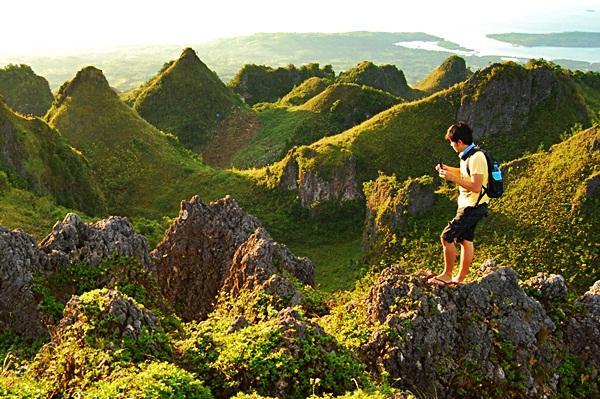 Where are you planning to go next?

Edcel: After SEA? Hopefully, Dubai. ;p
Mica: I've been to Dubai … International Airport Terminal 3! Hahaha hope to explore that part soon even just for a few days. Will ask my former high school buddies to sponsor my stay char 😛
Message to the readers of my blog… message to me rin 😀
Edcel:
To Mica's fans; hello, visit my blog. hahahaha!
Mica, thanks for the tips and advices about blogging and how to make money online. I learned a lot from you. Continue to stay humble and sensible. You're doing a good job! hehehe
PS: How was Korea? 😛
Mica: Thanks too for continuously bombarding me with money-making techniques! It's also nice that you are relatable since we're in the same age range. Please don't be too thrifty, ok?
Korea? Awesome. Let's go there soon with the gang! Mag-headstand ka sa Seoul Tower!
~0~
Edcel Suyo is currently traveling around Southeast Asia. Follow his adventures at http://www.soloflighted.com ! See you on the road again, Mr. Head Stand!