Prior to my Thailand-Cambodia trip, I've read a lot of Thailand-Cambodia border crossing stories. Some had a smooth and pleasant experience, while some had to go thru a lot of hassle. I believe that this is one of the best learning experience of my trip and I would like to narrate my story.
We woke up early on a Monday morning not to prepare for work or school, but for our trip to Cambodia. For the first time, I'll be crossing borders. It means I'll pass thru the customs and all. I'm excited and at the same time nervous. I'm hoping that everything goes well.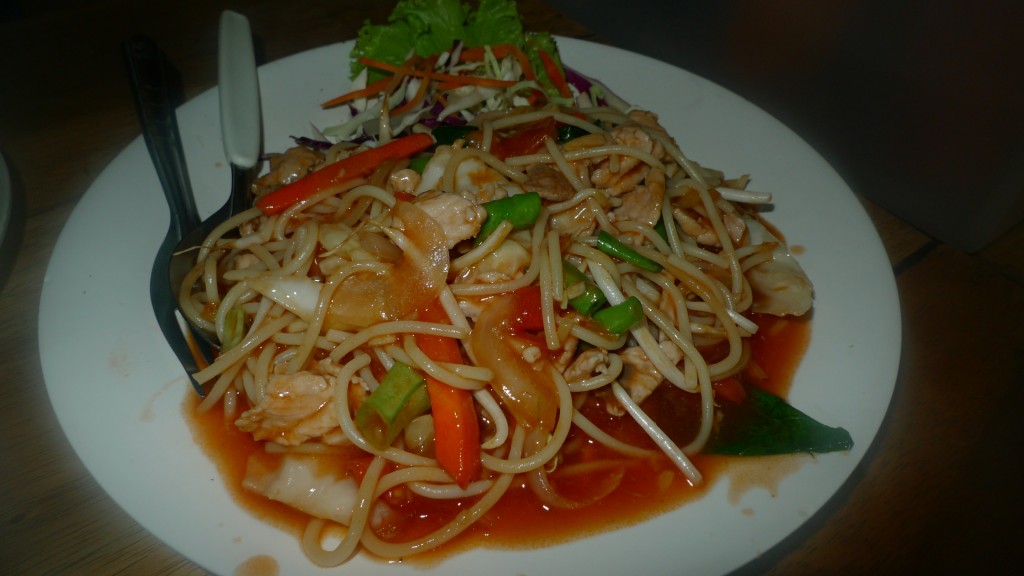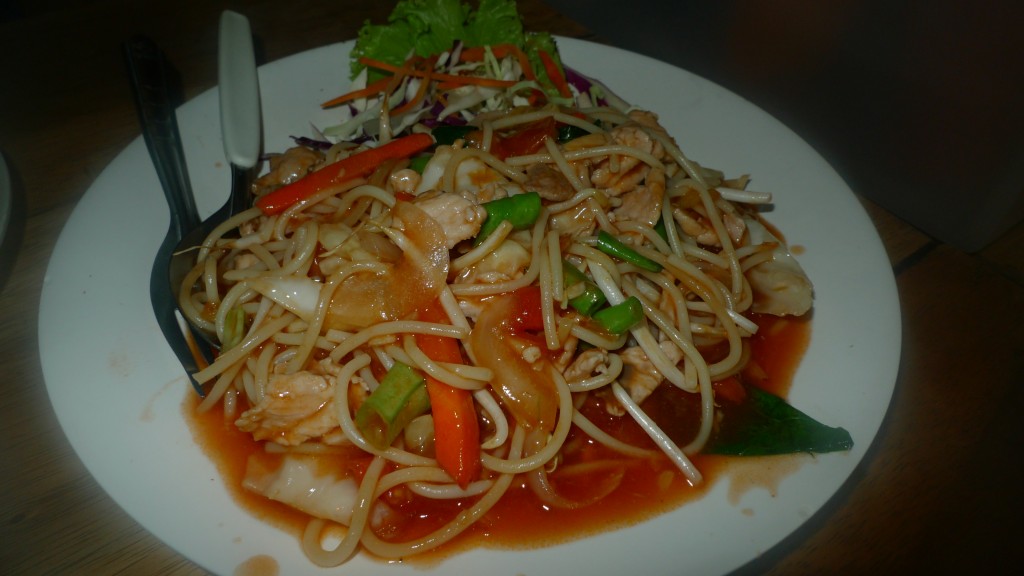 Drew and I ate breakfast somewhere in Soi Rambuttri. We're anticipating for a long trip so it is better to fill our tummies with food before traveling. Â I ordered Spaghetti for 45 Baht and look at my Spaghetti. The taste of the sauce reminds me of Menudo.
We left Thara House at 6am and tried our luck to look for the designated bus station going to Aranyaprathet. He was the one in-charge for asking directions that morning and after walking for almost thirty minutes with no signs of any bus station, we decided to hail a cab for 100 Baht. We explained to the driver that we're going to the bus station where trips going to Aranyaprathet border are.
We arrived in Hua Lamphong Railway Station. Apparently, this is not the original station that we wanted to go to. An officer assisted us to a travel agency that fixes trips going to the border. Left with no choice and being the lazy heads that we were, we followed the officer.
The travel agency explained to us everything – from the travel time, to the cost and our other options. We decided to just take the van going to the border (450 Baht) and just look for a public transportation once we arrive in the Poipet Border going to Siem Reap. It will not only save money, but also time. When you're a Philippine Passport Holder, you don't really need to pay for visa fees and go thru the hassle.
The van left at 8:30AM. I'm glad that the other passengers that day were nice. We met a Slovenian couple, who just graduated from University. They're traveling around Southeast Asia for six weeks. It is fun to exchange stories with other travelers especially when they're coming from a different continent.
LOL Â at the 5th box.
After two gasoline station stops, we were dropped in a canteen with a lot of travelers. We could've eaten quick lunch there, but decided not to. Â A guy wearing a long-sleeves polo approached us and 'briefed' us about our so-called Visa Application and the requirements. We politely told them that we're Filipinos and that FILIPINOS ARE NOT REQUIRED TO PAY FOR ANY VISA FEES. He just smiled and asked us to write our name in a paper. I read it first and I'm glad to see that it serves as a headcount for the van passengers. While majority of our companions needed to stay to fix their visas, we were mixed in another van with Asian travelers and those who already completed their visa requirements.
Five minute van ride to the Aranyaprathet border! Tired and a bit hungry, we were asked to walk for a few minutes in order to talk to some of the tour facilitators. Since we opted for the transfer from Bangkok – Aranyaprathet only, we continued in walking and found our way to the Aranyaprathet Immigration Office.
Woot this is it! Border Border Border! We're almost in Cambodia! Konti na lang! Konti na lang!
As expected, there were lots of backpackers from different nationalities. I am not sure if it's just me, but it feels weird to be a backpacker in an SouthEast Asian country especially when you're starting to get some unlikely stares from strangers. Will write about this part soon.
We successfully passed the Aranyaprathet border. Poipet is up next!
Although 'same same', you can still see the difference between Thailand and Cambodia via the Immigration entry. It was just a big relief to us when I realized that the Cambodian immigration guards and officers are more fluent in speaking English. Yahoo!
Right after having our passports stamped, we found the fastest way out of the Poipet border. Oh, hello Tuktuk and Taxi drivers! They're now here to convince (and annoy) us in every step.
We're trying our very best to politely decline their offers, but some are really persistent. First, he was trying to convince us to ride in a tuktuk going straight to Siem Reap. When I asked how much, I didn't like his price. Next, he recommended a taxi, which turned out to be more expensive. I kept on saying 'No Thanks' but he's just following us wherever we go!
Persistent Driver: How much are you willing to pay?

Me: No thanks. I am hungry. We need to look for a place where we can eat first.

Persistent Driver: You want taxi? You want tuktuk?

Me: I said no thanks =) I am hungry and I need to eat first because I'm starving and I'm losing patience.

Persistent Driver: No, how much you willing to pay? Will mix you with foreign passengers

Me: I said no thanks!!! I am looking for a place to eat. Stop it, please

Persistent Driver: I will show you a place where you can eat, but I look driver for you.

Me: Sir, I'm trying to be polite, but please stop following us OR ELSE I'M GOING TO EXPLODE!
He stopped for a while only to follow again in a minute!
Persistent Driver: Sorry I will bug you again! How much are you willing to pay?

Me: (Thinking) $10.
He scratched his head and then came up with a solution that he will look for a driver going to Siem Reap and we will be mixed with Cambodians for $10. Ok. Deal.
He showed to us a canteen, where I only ordered two cans of Coke. We haven't eaten our lunch yet and I almost reached my boiling point. Thanks to Coke for giving me that energy to at least keep my cool.
After a few minutes, the Persistent Driver introduced us to a taxi driver, who is apparently driving an old Toyota Camry. Too bad I didn't take a photo huhu. Drew and I were squeezed in the front seat while four (or make that five) passengers were at the back – An old man, a teenage boy, a noisy girl, a mom and her baby.
The sun is high and we were seated uncomfortably (and illegally? LOL) in the front seat. We passed by a quiet and rural highway going to Siem Reap for almost two hours. Drew was a bit worried about the trip while I am enjoying the scenery. You can also think of scenarios on what can possibly happen, but I still trust the goodness in every people. I also prayed silently for a safe trip to Siem Reap.
So there. We arrived in Siem Reap, but the driver told us that a tuktuk driver is waiting for us and will bring us to our hostel for free. He had a hidden agenda though: He wanted us to hire him for the Angkor Wat tour the next day. We already had everything booked for the Angkor Wat tour so I just said thanks for the offer, but we already have plans.
I didn't really worry that much since Bou Savy Guesthouse, our hostel offered free pick-ups within Siem Reap. I called them up and described where we were. Instead of ruining my own day, I opted to just be thankful that we arrived in Siem Reap safely. =)