Three nights ago, I got bored and decided to watch some random travel videos in YouTube. Luckily, I found some of the tourism campaign videos of Ilocos Norte featuring the #1 Internet Rock Superstar of the Philippines named Ramon Bautista. No, he's not related to Ramon Revilla Sr. and he is only called Ramona Bautista when he fools around with flirty make-up on LOL.
I grew up in Pangasinan, but I have to admit that I cannot really speak in Pangasinense. I am more in touch with the Ilocano side since my mother's family is from Binalonan, Pangasinan. There are some terms that when translated in Tagalog, it appears to be funny or with double meaning.
I was fifteen years old the last time I went to Ilocos Norte and Ilocos Sur. I didn't own a camera back then and I am fully dependent to my parents. I've been to some of the tourist spots of Ilocos, but I paid attention more to the food than anything else 😛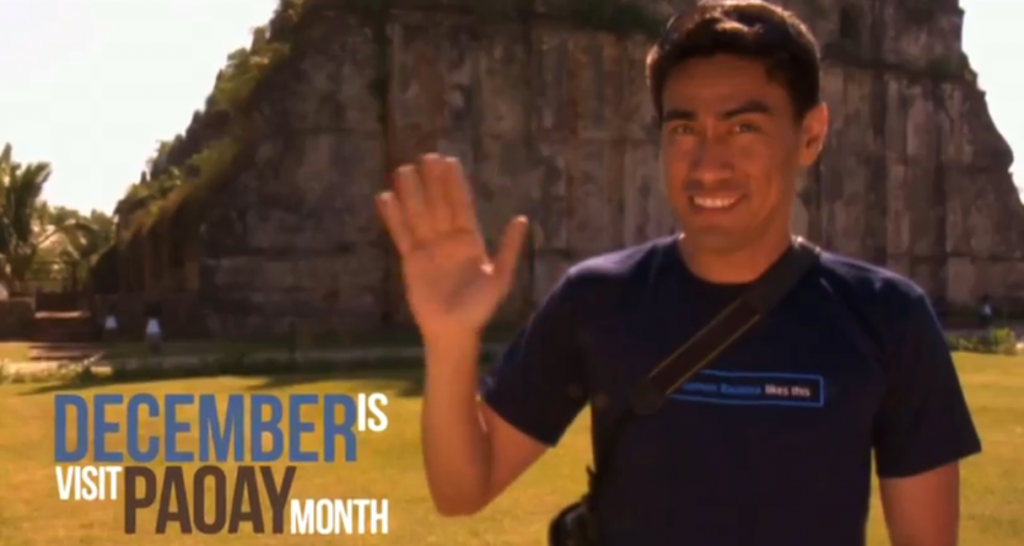 Imagine how excited I am upon learning that Ramon Bautista recorded a number of promotional videos for Ilocos Sur late last year and the people in-charge are uploading the videos from time to time. This is a good way to convince more tourists to explore the Northern Part of the Philippines and give an idea on how to draft low cost holidays – Ilocano style.
Here are some of the videos of Ramon Bautista enjoying his vacation in Ilocos Norte. Expect a lot of beautiful sceneries, delicious food and more of Ramon's wacky antics!
ILOCOS NORTE: DECEMBER IS VISIT PAOAY MONTH [Teaser]
– Sums up the whole adventure. Uhm… not really 😛
RAMON BAUTISTA AS PANDAY in SAND DUNES
– Watch Ramon Bautista's own version of the historical Pinoy classic film 'Panday'. COW NA!
RAMON BAUTISTA 4X4 RIDE IN THE SAND DUNES OF PAOAY
– The Internet Superstar will surely drive you crazy with this video HAHA 😛
PAOAY KUMAKAWAY: PAOAY CHURCH AND PINAKBET PIZZA
– Ramon Bautista visits Paoay Church, one of the UNESCO Heritage Sites that the Ilocanos are truly proud of. Also presenting the Pinakbet Pizza of Herencia Cafe. Kayat ko met!
PAOAY, ILOCOS NORTE: THE TASTE OF TRUE NORTH
= This is the more interesting trailer video. This one truly sums up Ramon's Ilocos adventure.
PAOAY KUMAKAWAY: MALACANANG OF THE NORTH
One of the most powerful Ilocanos that ever lived is Former Pres. Ferdinand Marcos. Here's a video preview of the so-called 'Malacanang of the North'. According to Imee Marcos, her father would go to this place whenever he feels stressed. Also included in this video is the legend of the Paoay Lake. Interesting 😛
RAMON BAUTISTA VISITS KAPURPURAWAN WHITE ROCK FORMATION
– 'Kapurpurawan' means whiteness in Ilokano. This is one stunning rock reaction, but the shocking part in this video is Ramon's way of proving this is a natural gift of Ilocandia. Watch the video!
RAMON BAUTISTA VISITS KABIGAN FALLS IN PAGUDPUD
– Now Ramon Bautista goes wet and wild in Kabigan Falls! 'Kabigan' is the Ilokano term for 'friend' and there is a legend about fairies making friends to those who swim here. I am quite sure that this is also a perfect place to meet a human friend knowing the fact that is is now a tourist destination.
RAMON BAUTISTA VISITS CAPE BOJEADORÂ 
– This time, Ramon is accompanied by two Ilokanas. The Cape Bojeador used to be the tallest lighthouse in the Philippines.
The last three videos are my favorites 😀
Ramon Bautista Learns How to be Pogi Part 1
– Watch how model Borgy Manotoc teaches Ramon Bautista how to be POGI!
Ramon Bautista Learns How to be Pogi Part 2
– It's about time for Ramon and Tado to apply what they learned from Borgy Manotoc! This is one funny episode LOL.
And my Top Favorite Video is….
RAMON BAUTISTA VISITS KANG-KANG CAFE
– Gusto niyo bang makatikim ng masarap na Utong, Puki-Puki at Kabatiti? This video never fails to make me smile no matter how many times I pressed the replay button LOL
I am hoping that next year, I'd be able to visit ILOCOS. I had several attempts this year, but the trip never pushed through. I think I need to devote at least one week here. I will definitely splurge on food and take lots of pictures.
I salute the team behind these campaign videos. It is a great idea to cast Ramon Bautista here and I am really hoping that these videos will go viral and eventually help the Tourism Industry of the North. Mapan tayon! 
For more details, you can visit the Official Website of Ilocos Norte at http://www.ilocosnorte.gov.ph
Have you been to Ilocos Norte? What is your most unforgettable Ilocos moment?