There is a rampant growth in the tourism industry of every country. It's nice to know that almost every province in the Philippines are going full blast in promoting local tourism. There's a lot of food selections, budget friendly hotels and accommodations, luxury resorts, extreme activities, cool beaches and so on.
When you say Tourism, service is also a big factor. The Filipino people are known for their hospitality and according to some of my foreign friends who had been to the country, this works in our advantage.
I would like to share my story about three strangers that I met in Puerto Princesa, Boracay and Guimaras. They are Gloria, Carla and Gerald. They're all strangers working in the industry that I met in my travels and they deserve a 'job well done' applause.
Gloria The Tour Guide
Meeting Date and Place: March 2010 in Puerto Princesa, Palawan
It's our first time in Puerto Princesa with no concrete plans in mind. We didn't even know that the Honda Bay and Underground River tours in Puerto Princesa existed. All we know is that Palawan has a lot of beaches where we can swim and do other activities.
We booked our hotel room a night before our flight and we ended up being disappointed with the room we got. We moved to a different resort the and decided to just join the rest of the hotel guests who are about to take the Honda Bay Tour that day.
While on the van, we were introduced to Gloria, our tour guide for the day. I think she's in her late 30's and she is one lively woman. She cracks the best jokes that even the senior guests would laugh at her punchlines. At the boat, she encouraged all of us to go and try snorkeling at the Pambato Reef. That time, I was a bit scared to really go underwater because of an ear infection. My friends went with her and she guided them to the best part of Pambato Reef. According to Ada and Shena, the corals and the fishes in that certain spot were enchanting. Didn't want to risk my ear condition that time and I am already contented with soaking my body in the water. I did the same thing when we reached Pandan and Snake Island.
It is already a habit of mine to ask people about their love life even if it is the first time I met that person (so don't be surprised just in case, ok? Hehe). Ate Gloria is not an exemption to my kakulitan. I asked her why she became a tour guide and if it is possible to find love while working in this industry. You know, you meet all sorts of people from different personalities and nationalities.
'Yes, I met one. He even became my boyfriend and we were engaged' she said.
'Would you mind to share your story?' i asked.
'I told Ada some bits of my story earlier. He is a British guy and he fell in love with the beauty of Palawan… and my beautiful face too!' she smiled. She is a charming woman and in the whole duration of the tour, i can't remember any dull moment with her.
She narrated that they lasted for more than a year and it even reached the point wherein she went to the United Kingdom with him. Unfortunately, there's a third party involved. Heartbroken, she went back to her job as a tour guide in Puerto Princesa.
"What I love about this job is that you meet all sorts of people, but what i enjoy most is meeting young travelers like you who are not afraid to do what they want." she said while we were eating our hearty lunch.
"What if another tourist comes in and tries to court you?" i asked innocently.
"We'll see. I'm not closing my doors!" she replied.
On my last trip to Puerto Princesa (July 2011), I asked our tour guide (a different one) if she knows a certain Gloria and if she's still working. She said that Gloria is one of the most loved tour guides of Puerto Princesa and it is not the first time a tourist asked about her. I wonder if she's happily married now? Hmmmm….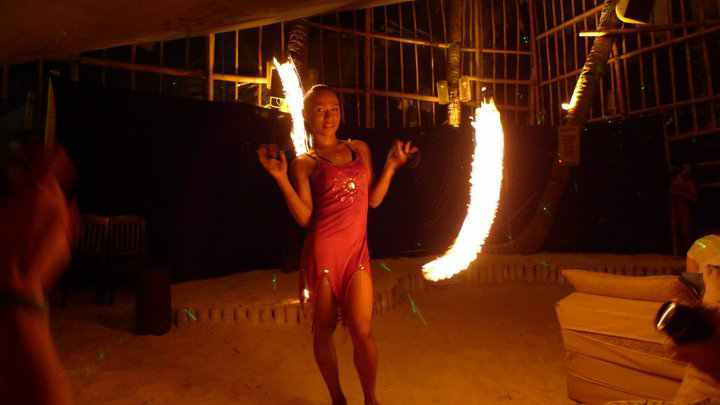 Carla The Fire Dancer
Meeting Date and Place: September 2010 in Boracay Island, Aklan
One of my frustrations in life is to learn how to do Poi Dance. I know that Belly Dancing and Pole Dancing are in-demand right now, but I want to learn more on Poi Dancing if i am given the chance. Glow Poi is enough for me, but learning how to do fire poi will be better.
The Fire Dancers of Boracay are simply fascinating. I remember my first trip there two years ago and how amazed i am in their every move. At my second trip, I asked my friends if we can sit and watch one of the free shows. I wanted to stay there and inquire for lessons LOL.
Last year, I bonded with travel bloggers Darwin, Edcel and Gael in Boracay when we won in a contest. On our first night, we were peeping at this show. We wanted to sit infront and watch the performance in a closer view, but the place was jampacked with people. Also, our other companions were in a hurry.
The next night, we didn't waste any time. Thanks to Edcel's determination to watch the show, we ordered one bottle of beer each so we can catch the performance in Sandbar Boracay. We're glad that the visitors seated in front left early that's why we sat there.
The star dancer of the night is Carla. Some tourists thought that he's a real woman due to her beautiful face and sexy body. Some of the songs included in their set are composed of sexy and upbeat songs. My favorite part performance of his/hers is her fire dance rendition of Whitney Houston's 'If I Don't Have You'. Whatta talented talent! (redundancy indeed).
We wanted to take a picture with her and since we're not used to taking pictures with fire, she volunteered to adjust the settings of our camera. She informed us that he/she is also into photography. I shouted her name on her next set just like a diehard fan and she gave her 100% in her dance numbers.
As expected, we asked her how she started to work as a fire dancer. She told us that the job might look easy, but it is not. Aside from the fact that you are literally playing with fire, you must also do a certain projection and the dancing skills too. She's not originally from Boracay, but she went there to try her luck. Her story was featured in Korina Sanchez' Rated K years ago although i will not disclose here what the episode is all about. Ok i'll give you a hint: It's all about sruvival 🙂
Right after the show, she invited us to a nearby bar – her treat! Together with the rest of the travel bloggers who won in the contest and some newfound companions, we went to the bar and we were able to dance the night away! We added each other on Facebook and from time to time, she travels to Manila to do some shows.
Last June, I went back to Boracay hoping to see her and the group perform live once more. Wrong timing because she's on leave and she's enjoying her free time in Cebu. I know that in my next Boracay trip, i'll see her again and who knows, she might give me a free poi dancing tutorial? 😀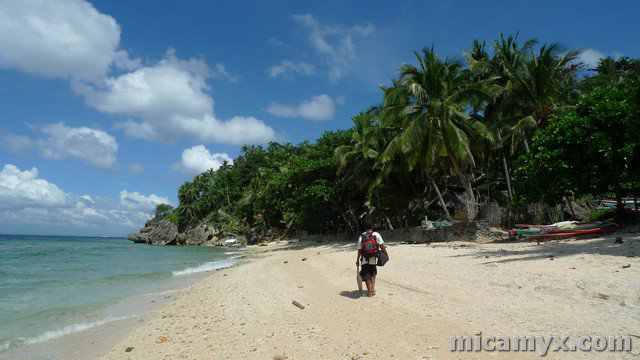 Gerald The Tricycle Driver
Meeting Date and Place: November 2010 in Guimaras
Ada and I embarked an Iloilo-Guimaras trip. Again, no itinerary! Our plan was to go there to swim, take pictures and stay overnight.
When we arrived in the Jordan Port in Guimaras from Iloilo, we were impressed upon seeing how organized their tourism crew was. Tricycle drivers were there trying to convince every passenger to pick them. After haggling prices, we ended up meeting Kuya Gerald.
I think most travelers can relate when we say that we can't help but feel paranoid that we might get scammed. When Kuya Gerald gave his suggestions on where we should go, we kept on reminding him that we will only pay a certain amount. He mentioned a lot of places and we thought the price of the tricycle rental will increase.
He recommended a certain carinderia for breakfast, helped us scout for accommodation and even carried our bags while we walked in the rocky Guisi Beach. We went to the different interesting spots which were far away from each other. My favorite part was when he brought us to the Trappist Monastery, where we met Brother Peter and sent a little prayer. Our short stay there refreshed our minds.
In that simple day trip (read my previous entry about it by typing 'Day Trip in Guimaras at the search box), we learned a lot and we were quite overwhelmed with Kuya Gerald's kindness. Maybe we're just not used to it. He narrated a lot of stories to us mostly on the simplicity of life in Guimaras. He even informed us about a book writer who went there and included his friend in the credits part of the published writing.
We're not really obliged to treat him for lunch, but we invited him. He volunteered to pick us up again the next day and said that our day trip to Guimaras is already free the next time we visit the place. Satisfied and happy with the trip, Ada and I blogged about him.
Last month, he sent me a text message using a new number saying thank you. I didn't know that our simple blog posts recommending him made him happy as a lot of tourists called him. I might just go to Guimaras next year.
Again, applause for a job well done! I can't wait to see them three again soon =) This also serves as my tribute to our hardworking Filipino workers 🙂
~0~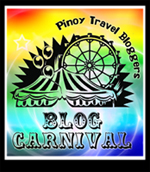 This is my contribution to Pinoy Travel Bloggers' Blog Carnival for the month of September with the theme "Unforgettable Human Encounters on the Road" compiled by Marky Ramone Go of Nomadic Experiences.