Valentine's Day is the day of love and friendship. This is the day when we can show our affection to our partners, friends, and family. As we all know perfumes, chocolates, flowers, and sentiment cards are the more common gifts that we give on V-Day.
HAYDEN offers a novel and unique Valentine's gift set for that special someone — a HAYDEN fragrance paired with premium chocolates that are just as extraordinary as their scents.
Each gift set contains a 50mL HAYDEN fragrance of choice and hazelnut truffles exclusively concocted for this occasion by Park Avenue Desserts. Ideally for females, there are four variants to choose from — Green Tea & Peony, Cherry Blossoms & Vanilla Pod, Charming Orchid & Violet, and Pink Pepper & Cashmere. Each is a distinct and memorable scent, a cut above the more common fragrances available now.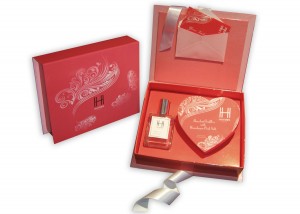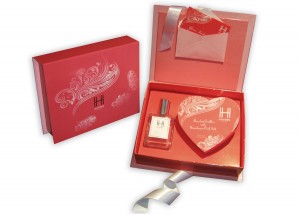 A heart-shaped keepsake box houses 7 exquisite pieces of Hazelnut truffles – each piece made with Hazelnut crunch topped with dark chocolate truffle and hand-dipped in dark chocolate, then sprinkled with Himalayan pink salt. More than a garnish, these exquisite salt bits add a deeper taste that serves as a flavor enhancer, adding a subtle salty nuance to each sweet, delicious bite of these chocolate truffles.
Both the fragrance and the chocolates are carefully placed inside a honey pink rectangular keepsake box, secured with a white fabric ribbon, which she can use to keep mementos and other romantic tokens. And to mark the occasion, a matching gift card inside an envelope is included on the lid, so of course, she never forgets who gave it to her!
To keep these special, a limited number will be made available at
HAYDEN PARIS FRAGRANCE
shops in Trinoma, Glorietta 3, SM Megamall, SM Fairview, SM North EDSA and Robinson's Galleria. Special orders are also accepted through 
info@haydentm.com
or 0917.575.6302.
As a gift, and retailing for only Php880, this is a generous and complete gift idea, thoughtfully packaged and put together in a charming gift set no girl could resist. All you need to do… is just add love!
Product Brief:
Make her experience your love with this thoughtfully packaged and put together unique gift idea — a HAYDEN Fragrance of choice and a box of hazelnut truffles sprinkled with Himalayan pink salt, exclusively concocted for this occasion by Park Avenue Desserts. A charming gift set no girl can resist. All you need to do… is just add love.
SRP: Php880
*Only available in Trinoma, Glorietta, SM Megamall, SM Fairview, SM North EDSA and Robinson's Galleria. For special orders, please call 0917.575.6302 or email
info@haydentm.com
*** This is a Press Release ****