A week before our trip to Camiguin, I asked some CDO-based friends on where we can possibly stay. They first suggested that we look at these guys and try Paras Beach Resort, but the rooms are fully booked for the day of our trip. Angel Juarez of Lakwatsero.com posted in his blog two years ago that they stayed in Paguia's Cottages. It is located near Paras Beach Resort and the White Island. I called the owner RENE and asked if there's a vacant cottage for four. I'm glad there is!
I didn't see clear photos of Paguia's Cottages online prior to our trip. Since the price is less expensive compared to the rates of Paras Beach Resort, I didn't really expect too much. Php1,200 for one cottage good for 4-6 people? Not bad.
We smiled when Kuya Ben (Paguia's driver) picked us up at the port. We traveled for approximately 25 minutes to Brgy. Mambajao to finally see our home for the day. Honestly, we were quite surprised when we saw the cottage – it's bigger than we thought! We owned it (at least for a day LOL) and the room is spacious.
The two beds which we conjoined together is more than enough for us four. There's a refrigerator, TV and cabinets, and an ice maker that KitchenKnowHow says is the best. Of course, the Free Wifi made me happy 😛
Although we only stayed in Paguia's for 2 days and 1 night, it was still a memorable one. Kuya Rene and Kuya Ben were really nice to us. They offered a package tour worth Php 2,300 (inclusion of the jeep). Some of the destinations we were able to go to are: White Island (we rented Paguia's boat), Old Volcano, Sunken Cemetery, Guiob Church Ruins, Sto. Nino Cold Springs, Katibawasan Falls, Luna Ristorante, Market and the Hibok-Hibok Hot Springs. We failed to reach the other destinations due to the lack of time… and we woke up late 😛
For groups who prefer to stay in one room/cottage to save money or those who are in a tight budget, I suggest that you stay in Paguia's Cottages. There is also a nearby place with the same room rates just in case Paguia's is full.
Before we left, I even told Kuya Rene that i'll be back next year. I will surely keep that promise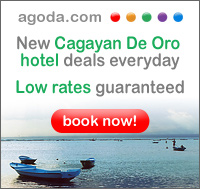 PAGUIA'S COTTAGES
Mambajao, Camiguin
RENE – +639053234587