Last February, AirAsia launched a promo sale. It prompted Winston to book a flight for me and Erik. We spent around Php5,000 round trip tickets to Kota Kinabalu, Sabah, Borneo, Malaysia. Not bad, right?
But here's the catch. The airport is in the Diosdado Macapagal International Airport (DMIA) in Clark, Pampanga. That is almost two hours away from Manila. It is not my first time to leave the country via the DMIA airport, but it was my first time to commute going there.
Since I live minutes away from Cubao, I called Partas Cubao if there are scheduled trips inside the Clark airport. Going there was a dilemma for me because I thought I had to go down to the DAU Bus Stop then ride a jeepney till I reach the airport. I'm happy because there are straight trips there 😀
For Php 300, I was able to go to the Diosdado Macapagal International Airport safely. It is not as big any of the NAIA stations, but at least the place is clean. I waited for Winston and Erik (they rode the Philtranco bus from Pasay). Upon check-in, we saw the long line of passengers. A staff from the airport approached us and asked us if we are AirAsia passengers. We said yes, and he pointed the AirAsia Mobile Kiosk to us. We were amazed while he was teaching us how to use it 😛
If you booked online and you have the confirmation number with you, all you have to do is enter the confirmation number then confirm if all the passengers in the said booking are going. That's it! It will select seats in an instant and the boarding pass will be printed instantly. I am not really sure if this is already common in other airports, but it is our first time to encounter such mobile kiosk 😛
After paying for our terminal fee and tax (huhu), we proceeded immediately at the departure area. I observed that there's a number of backpackers (mostly westerners) whose next destination is Kota Kinabalu.
Upon entering the aircraft, I saw two male FA and two female FAs. A blogger friend of mine suggested that we should try their meals. Here's what we got.
We arrived at the Kota Kinabalu International Airport (T2) just on time. I was fascinated upon seeing a rainbow behind the AirAsia plane. It somewhat indicated that we will surely have a 'colorful' time in Kota Kinabalu!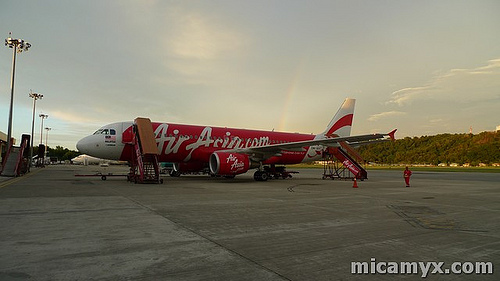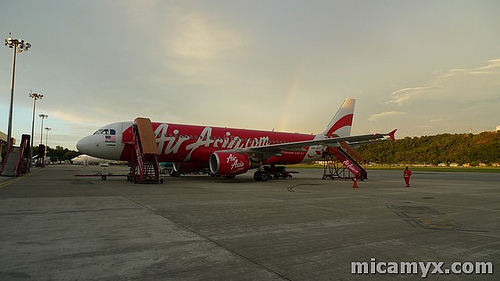 Since it's almost time for dinner, the owner of Lavender Lodge named Daniel fetched us. We left our luggages at our respective rooms and ate dinner in a nearby seafood store. I'll tell you more about it soon 😀 Thanks again to AirAsia! How about you? Have you tried going to Malaysia via AirAsia? How was it?