During my first visit at Beauty and Butter's SM Megamall branch months ago, I was able to try their facial and even played with their iPad! Going back to the yellow-ish yet youthful nail art salon completed my dull Saturday afternoon 😛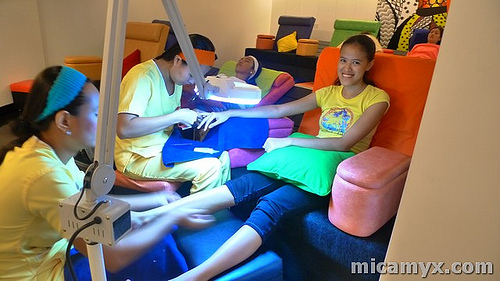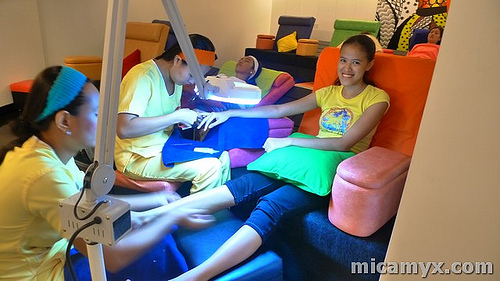 I declared July 24 as my Beauty &Butter Saturday Nail Pamper Day. It was my only time to finally enjoy and avail the manicure and pedicure service enclosed in the beauty pass given to us in the Blogger Event they organized last June.
To be honest, I am not really vain when it comes to my nails. I don't even know how to apply nail polish the right way 😛 The last time I had my nails at my hands painted was way back in my college graduation (so that's sometime in November 2007). I usually have my nails at the feet done thru a certain home service and usually, I only ask them to just clean it and if ever they'll apply nail polish, I choose the colorless coat.
I am lucky because even if I went to Beauty and Butter on a busy Saturday afternoon (peak of customers coming in), the staff and crew were all smiles when I entered. There were lots of girls (mostly mother-daughter tandems) enjoying the perks of being pampered by the "Buttercups".
While waiting for my mani-pedi treat, I had a relaxing Foot Reflexology service which lasted for 30 minutes. It felt soooo good! 😀 Fhe, the Buttercup assigned to do the mani-pedi treatment asked me on which nail polish color should she apply.
Since I am not really a fan of colorful nails (blame it on my constant work on the keyboard teehee), I ended up choosing a light brown shade. It's not even obvious that I have painted nails, but it does look clean and neat 🙂
While waiting for my nails to be colored and pampered, I got busy watching a cheering movie (forgot the title, btw). A part of me wished though that my girl friends were with me 🙂
I spent more than an hour being taken good care of by the buttercups. I had to leave immediately for an appointment in Quezon City and I was a bit worried with my nails not being dry before I walk my way to the MRT station. Thank God for nail dryers! 😀
Because of this nail pampering experience, I am now open to going to a nail salon more often. The staff and crew of Beauty and Butter were accommodating as expected. I checked their service menu and there were obvious additional services on the list. I noticed that there's a full body massage. Hmmm… I'll try that this Friday as a treat to my body this time. This hard-working body of mine deserves it 😛