Just like any other kids who grew up in the 90's watching Noli de Castro's Magandang Gabi, Bayan Halloween Special with the lights off, I had this misconception about Siquijor Island. Remember that Balete Tree? In some Pinoy Horror Movies, Siquijor is always pointed as a place where mambabarangs and mangkukulams are from. I also heard stories that the waves in one part of the island are aggressive and some unlikely creatures appear and eventually disappear in seconds. Boom!
As a grown up lady who wants to explore the Philippines, I got curious when Dylan mentioned that he is originally from Siquijor. It is very rare for me to meet someone who was born and raised in the 'mystical' island. Am I really talking to a human being? Haha just kidding 😛
I want to explore as many Philippine Destinations as possible while I'm still here in the Philippines. Last March, I asked my badet friends Ada and Maire on a trip to Bohol and Siquijor. The girls were with me in my Bohol Trip and I also introduced Dylan to them, who eventually became their close friend too. Fun, right? 😀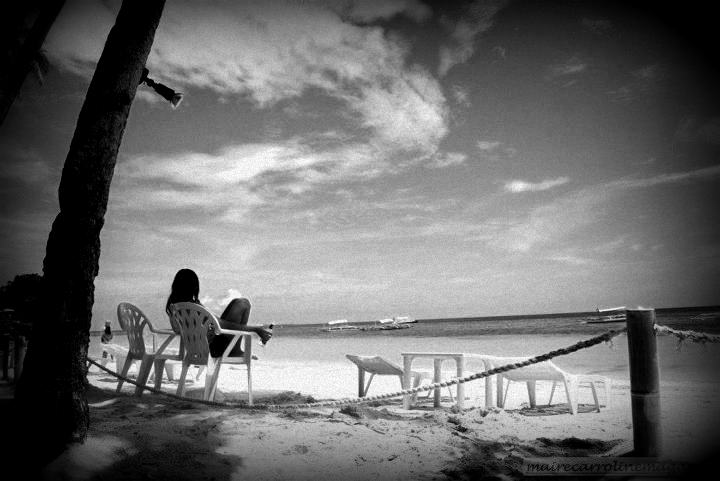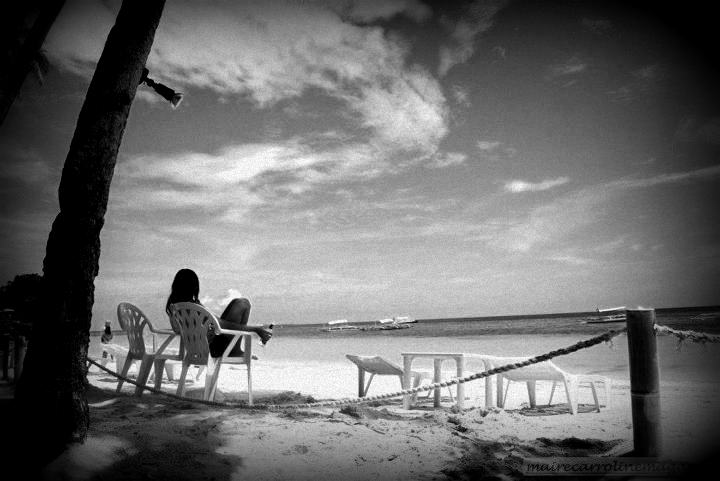 While I am enjoying my Php500 Moment while drinking under the coconut tree in Alona Beach that Lazy Sunday afternoon, Dylan kept on narrating stories about the beauty of Siquijor. He claims that they have a number of white sand beaches that are undeveloped, some diving spots were discovered and many, many more. He also mentioned that he is excited to go back home and drive around. I didn't really search in the internet for Siquijor pictures (ok, only once LOL) so I didn't expect much.
From Bohol, we rode a connecting ferry trip to Dumaguete then Siquijor. Last trip. When the ferry arrived in Dumaguete, the lights of the boulevard are too bright. On our way to Siquijor, Dylan gave me some last minute head ups on what to expect once I arrive in Siquijor at night – no bright lights in the port area, the place is quiet and dark because most people come home early and other random reminders. Yay, should I get scared now? If only I could back out and swim back to Dumaguete. The problem is I can't swim. Toinks.
"Nandito na tayo!" Dylan said.
"'Di nga? Bakit walang ilaw?" I asked
"Walang ilaw na parang sa Dumaguete dito. Halika na".
Hala uy. 0_0
Follow the leader LOL. I noticed that aside from Siquijodnons, I spotted more foreign travelers. Wow, they're not scared with the so-called stories about Siquijor!
"Malinaw na malinaw ang tubig dito sa umaga" Dylan said while I kept on observing people around me. Some carry flashlights with them.
Kuya Noni picked us up and we went straight to Dylan's ancestral home. I met Tita Gigi and some of their relatives. How come I didn't feel anything weird or strange upon arrival? I felt welcome and at home in an instant.
We went to the dining area and Ate Baby already prepared dinner for us. We were really tired and hungry that night (I think we arrived at around 9pm). Tita Gigi would check us and ask if we're ok and what else do we need. I went to my designated room. Right after checking my emails and social networking sites, I went straight to the room to sleep.
The next day, we went back to the port area and this is what I saw 😀
I stayed in Siquijor for Four Days and I can say that it is one of my best trips ever! I think the fact that I lived like a local that time and went on a Wrangler Road Trip made it really special. I am planning to write a series about my Siquijor adventures (with funny videos where my fail moments were caught on cam) but before that, check the pictures below for a preview!
Whew! If only I could post all the pictures here! I also have some videos here and I'll work on it soon. As of writing, the number of local tourists visiting Siquijor increased. I just hope that the blog entries of co-travel bloggers will help boost Siquijor's tourism although a part of me is afraid with too much developments. Toinks. Labo ko hehe.
Some bloggers claim that the best trips are the hardest to blog about because we want to document every detail with the best pictures and at the same time share a compelling story. The journey is too personal and special plus the fact that the destination is truly breathtaking with the various scenic spots it has to offer. I didn't drink any love potion or something, but I truly fell in love with Siquijor!