The S3X Tour Tres Day 01: From Davao to General Santos a.k.a. Foreplay: When I received the final itinerary for the SOCCSKSARGEN EXperience tour, I decided to rebook  my ticket to an earlier date even if i heard my pocket scream 'Ouch!'. I booked my trip last June when a local budget airline conducted a seat sale. I didn't mind spending a little extra since my main purpose in this trip is to visit the places I've never been to and at the same time escape from the stressful city of Metro Manila. It is also the perfect time to bond with my Mindanao-based friends.
I booked a one way ticket (Manila-Davao) via AirPhil Express three days before the departure date. I rarely sleep a night before my trip and I don't usually sleep at the plane. I guess I was too tired days before the trip that's why I slept in an instant.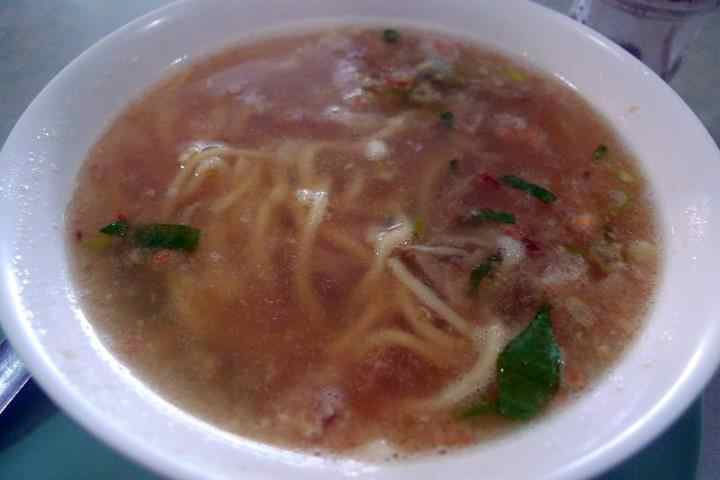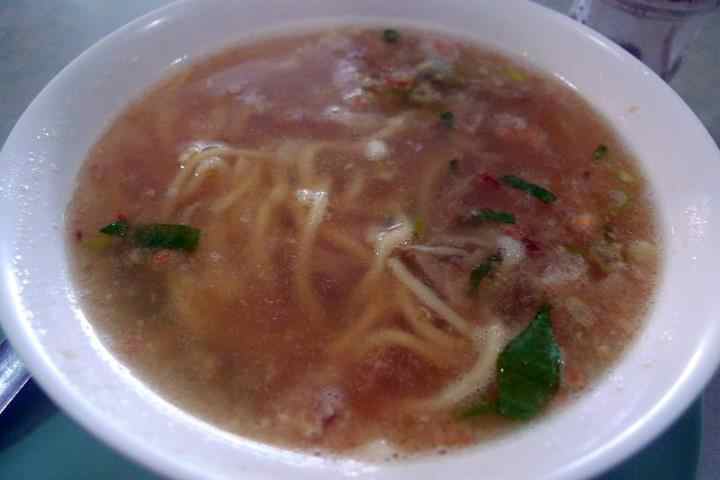 I slept for three hours when I arrived in Davao and met up with Drew for late breakfast at Mam Bebs Bakeshop. It is my ritual to eat breakfast there. I wanted to order Mami and Pansit Luglug, but he deprived me of ordering the latter. Worried much? Hehe 😛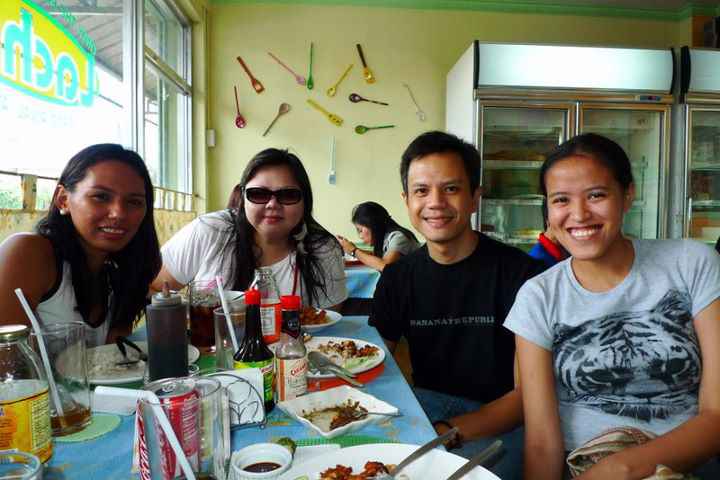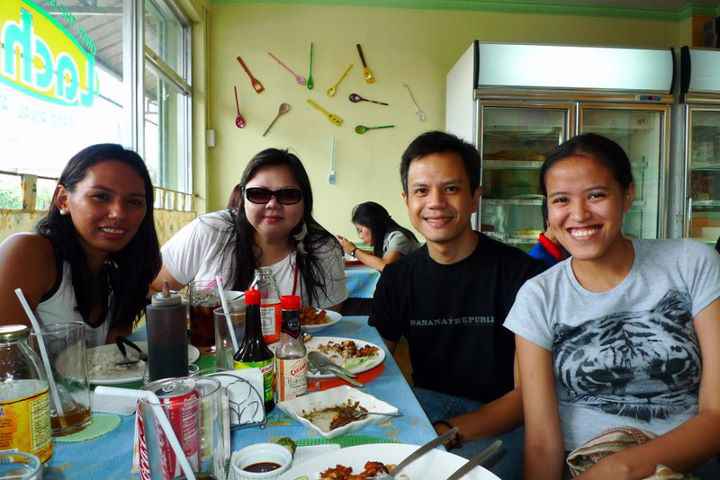 For lunch, we went straight to Lachi's to meet up with Ria, Karen and Tiara. In preparation to our first bus trip to General Santos, we ate our chosen Lachi's meal. It is also a good chance to catch up since we rarely see each other although Karen , Tiara and I are Manila-based LOL.
Drew brought us to this new affordable Milk Tea place in Davao called 360 Degrees Handshaken Tea. He is too addicted to this place and I wonder why. For Php35, you have your milk tea for the day!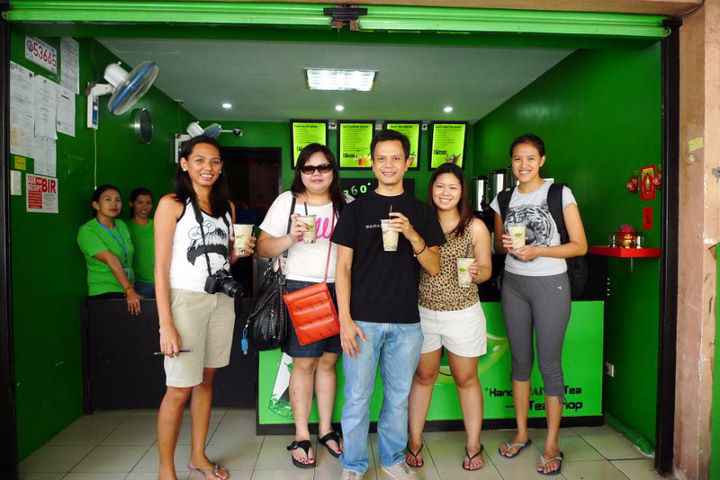 Most of us ordered the Pearl Red Milk Tea. The place is just small with outdoor chairs and tables. I am quite impressed because their milk tea is almost perfect! I would love to own a franchise and bring it to my beloved Pangasinan!
Now off to the Bus station! It is my first time to go on a bus trip from Davao to General Santos. Kuya Laurence told me that I must not sleep while on the road since the scenery is really nice. We took the air-conditioned Yellow Bus trip to General Santos (Php 250). The vehicle is clean and I am impressed! Â I bet they inquired a number of motorhome insurance comparison site just to re-assure the safety of every passenger and employees. Nice to travel without thinking much stress related to road safety, right? The scenery reminded me of Baguio and Puerto Princesa since I kept on banging my head on the window when I try to sleep LOL.
We reached General Santos at 5PM and went straight to KCC Mall for our late merienda. There, we found Don, Fitz, Rina, Laurence, Mars, Kuya Avel and Orman at Coffee Dream. The Cebuano original coffee shop has a lovely branch at the mall and it is my first time to taste some of their cakes and pastries. Yum!
For dinner, we went to Red Trellis Seafood Garden Restaurant. SEAFOOD GALORE!
At my first trip to General Santos, I remember how most of my co-bloggers enjoyed the food since we're all seafood monsters. I'm just happy that I rebooked the flight and had the opportunity to do a Seafood Buffet again hihi.
To make the nigh extra special, the good-looking Gov. Migs Dominguez joined us for dinner. We all exchanged ideas on how we can help promote the tourism of SOCCSKSARGEN and Mindanao in general since the media hype affects their tourism industry. He even told us that he'll visit our blogs. I wonder if he'd be able to read this one hehe.
Chikahan, kainan, tawanan, pikturan – This is truly the start of the S3X Tour! Foreplay time! LOL!
We went to Robinson's General Santos after dinner to hangout at Piyesta KTV Bar and Resto, which is owned by my kikay friend Donna Mae.
I truly admire this girl for being child-like yet responsible (like me LOL!). Being hands-on in this kind of business is a challenge especially with the fact that you need to have natural PR skills and since it is a service-oriented establishment, you must treat your employees well.
Donna relayed to us some of the improvements of Piyesta KTV Restobar and they were busy preparing for the Sashimi Night the next day. Some of their bartenders showed their bartending skills while Sean Kingston's Fire Burning on the Dancefloor plays at the background.
We went home at 10:30pm so we can rest and recharge for the next day. Tiara and I stayed at Dolores Hotel, which is known as a backpacker-friendly place. We didn't really sleep since we had to finish some work-related tasks and yep, tsismisan galore!
UP NEXT: Wet 'n Wild in Sarangani!
Red Trellis Seafood Garden
Owner and WELCOME DINNER Sponsor: Mr. George Sandoval
Address: Tiongson Road Extension, Lagao, General Santos City
SITE: www.redtrellis.com
Dinner Guest: Sarangani Province Governor Migs Dominguez
Piyesta KTV & RESTO BAR
Owner & Welcome Drinks Sponsor: Ms. Donna Mae Congson
Address: Robinsons Place GenSan