As countries go in Africa, Uganda is an outstanding choice for those who love the outdoors. While its safari options are outstanding, it also has a number of parks where hiking and biking are accommodated as well.
In this blog, we'll share our favorite spots in Uganda to engage in these activities.
Bwindi Impenetrable Forest
When people think of Bwindi Impenetrable Forest, most think about braving stinging nettles and slicing through thick brush in a heroic bid to find a family of mountain gorillas in the jungle the thought of hiking or cycling on its trails for pleasure is scarcely the first thing to come to mind.
It's true, though – cycle tours are led on established trails in this park. When you aren't in hot pursuit of the rare mountain gorillas, locals will lead you down trails which will provide you with the opportunity to learn more about the thick jungle, home to birding safaris in Uganda with guide ready to guide you as you explore all biking trails
While you may not be paying north of $1,000 to see the mountain gorillas, there is always the chance you'll happen upon one during your ride, so keep your eyes peeled. More than likely, though, you'll see more common monkeys or perhaps a chimpanzee if you're lucky.
Mount Morungole
Want to come face to face with one of Uganda's better known indigenous tribes? Climb Mount Morungole, and you'll come into contact with the Ik tribe, a formerly nomadic group which settled on this mountain after having their land claimed by the government two generations ago.
Here, people primarily keep goats and beehives instead of cattle, as they fear being raided by neighboring tribes. After hiking eight kilometers up a steep trail, learning about how they have kept their society going despite all the pressures around them will provide a profound reward that vistas on other peaks will struggle to replicate.
Mgahinga Gorilla National Park
Those who fancy themselves experienced mountain climbers won't want to miss the possibilities presented by the volcanic peaks situated within the bounds of Mgahinga national Park. Soaring as high as 4,100 meters above sea level, these summits are not a walk in the park to reach, so those planning on trekking here need to take a professional mindset in order to conquer them.
By packing warm clothes, plenty of water and food, and a headlamp for the pre-dawn start you'll need to reach the misty tops of these pinnacles, you'll ensure you have an enjoyable experience when you get there.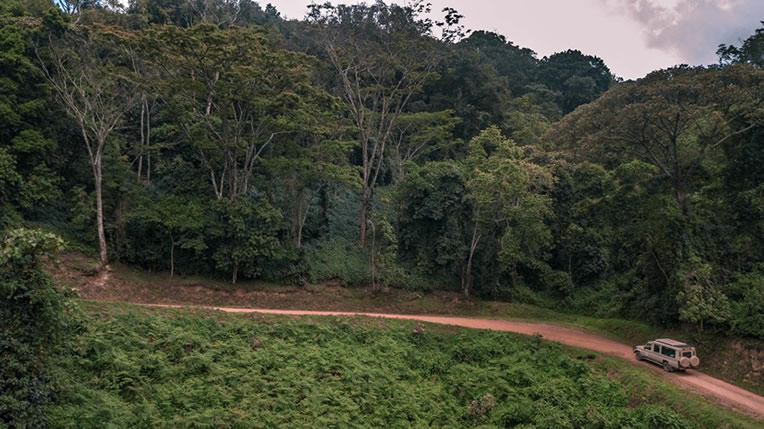 Queen Elizabeth National Park
A national park renamed in honor of the British monarch after a state visit in 1964, Queen Elizabeth National Park is mostly geared towards who go on motor safaris. That said, there are places within this protected reserve where hikers and cyclists can enjoy themselves.
Those wanting to go on a proper trek will want to turn their attention to the Kyambura Gorge. A sudden interruption of the flat savannah which defines most of Queen Elizabeth National Park, this 'lost valley'  is an invaluable habitat for a population of chimpanzees.
As for cycling routes, it should be noted that entry at the Katunguru gate is prohibited for bikers, as this road passes through prime habitat for lions and elephants. However, the Katwe Road and the one leading from Ishasha are considered safe for those on bikes and have no such restrictions.
Kalinzu Forest
Don't have room for Queen Elizabeth National Park in your itinerary, or bothered by the crowds which flock to this park? If either of these describes your situation and you want to lay your eyes on a chimpanzee before leaving Uganda, include a hike in the Kalinzu Forest in your plans.
Here, tour guiding companies tout a 95% success rate when it comes to finding chimps in this lush forest. It's a testament to the skill of the guides and the sheer abundance of chimps living in the area.
If you have lousy luck when it comes to spotting these primates,  this park has much more to offer than them – with 378 species of bird, countless butterflies, mammals like leopards, antelope, and wild pigs, and 414 different kinds of trees and shrubs, you'll have plenty of things to be impressed by here.
No matter your stamina level, this park has trails suited to you and your group. From short one hour strolls to full-day hikes to a stunning waterfall, you won't have to worry about biting off more than you can chew.  What's nice about this is that you can visit these trails again and again or if you're up for it, take several in a day.
Lake Mburo National Park
Have time to fit in one more outdoor adventure before leaving Uganda? Make tracks for Lake Mburo, as it lies within a short drive from the capital city of Kampala.
Due to the proximity of dangerous carnivores, though, any walk or bike ride within its bounds are required to be done with an armed park ranger.
With a loaded rifle in the capable hands of your guide, you'll be able to observe hyenas and lions go about their business without worrying about being on the lunchtime menu.  The guns are never for offensive but only as a protective measure and are very seldom if ever used. That said, you'll be glad the guide has one when you realize how far into nature you've gone.
NOTE: This is a guest post.